CAA Men's Basketball
CAA Men's Basketball Report | Dec. 5, 2022
CAA Men's Basketball Report | Dec. 5, 2022
Catch up on the CAA Men's Basketball weekly news, notes and awards.
Dec 6, 2022
by FloHoops Staff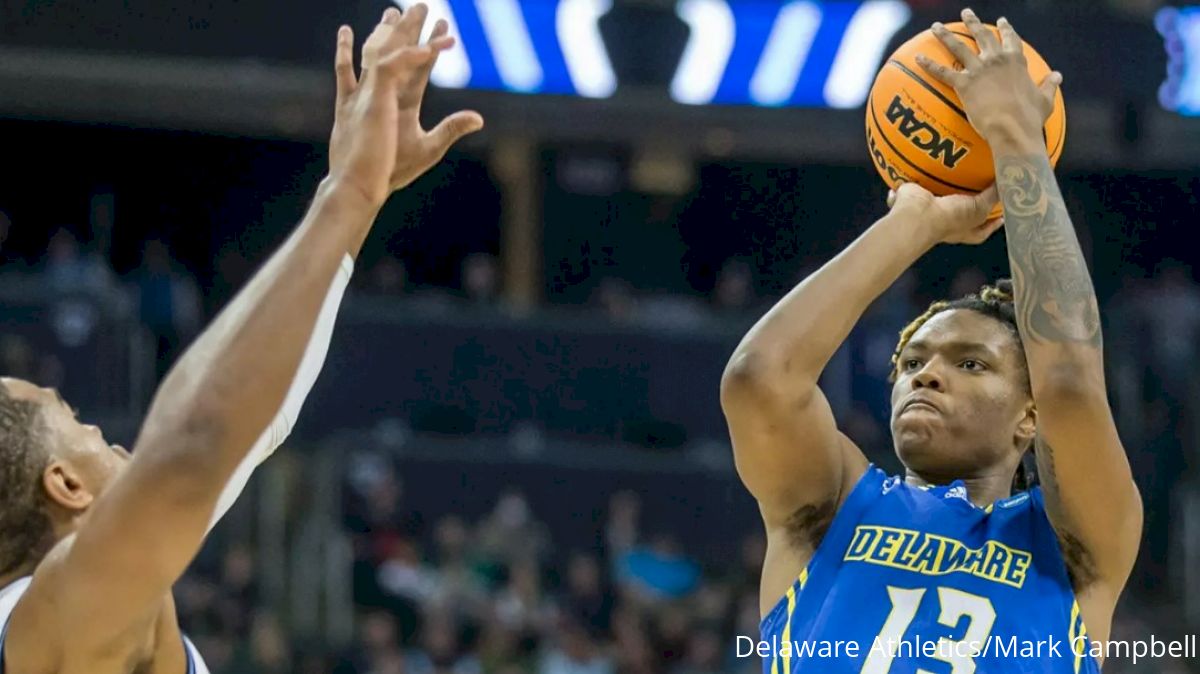 Catch up on the CAA Men's Basketball weekly news, notes and awards.
SCHEDULE AND RESULTS
Friday, Dec. 2
Towson 74, LIU 64
Georgia Tech 81, Northeastern 63
Saturday, Dec. 3
Charleston 79, The Citadel 57
Hampton 74, Howard 65
Delaware 69, Davidson 67
William & Mary 58, Richmond 57
UNCG 65, Elon 61
Yale 77, Stony Brook 72
Princeton 83, Drexel 63
Sunday, Dec. 4
Northeastern 66, Georgia State 46
Monmouth 76, Manhattan 67
Monday, Dec. 5
No games
Tuesday, Dec. 6
Charleston at Presbyterian (ESPN+), 7 p.m.
East Carolina at UNCW (FloHoops), 7 p.m.
Wednesday, Dec. 7
Loyola Maryland at Hampton (FloHoops), 7 p.m.
Delaware State at Delaware (FloHoops), 7 p.m.
Hofstra at 4/4 Purdue (BTN+), 7 p.m.
William & Mary at Old Dominion (ESPN+), 7 p.m.
Towson at Clemson (MASN, ACC RSNs), 9 p.m.
Thursday, Dec. 8
No games
WEEKLY AWARDS
CO-PLAYER OF THE WEEK
Jyáre Davis, Delaware
Redshirt Sophomore | Forward | Newark, Delaware / Newark
Davis' monster performance Saturday was pivotal to Delaware's victory over Davidson.
The forward from Newark posted a line of 25 points, seven rebounds, five assists, three blocks, three steals and zero turnovers, making Davis the first player nationally in at least 13 seasons to record that stat line.
Overall, Davis averaged 19.5 points, 5.5 rebounds, four assists, 2.5 steals and 1.5 blocks per game in a 1-1 week.
CO-PLAYER OF THE WEEK
Jordan Nesbitt, Hampton
Sophomore | Guard | St. Louis / St. Louis Christian Academy
Nesbitt averaged 19 points, 9.5 rebounds and 3.5 steals per game to help Hampton to a 1-1 week.
The guard from St. Louis recorded his second double-double of the year with 15 points and 11 rebounds at Georgia on Wednesday and followed that with a 23-point, eight-rebound, five-steal effort in Saturday's win over Howard.
ROOKIE OF THE WEEK
Jack Collins, Monmouth
Freshman | Guard | Manasquan, New Jersey / Manasquan/The Phelps School
Collins averaged nine points, five rebounds and two steals per game to help the Hawks to a 1-1 week with a win over Manhattan.
In the Sunday victory over the Jaspers, Collins scored 12 points, while knocking down three triples in a 76-67 victory.
Collins is tied for the league lead in steals and steals per game.
Men's #CAAHoops Weekly Awards presented by @PrimisBank:

▪️ Jyáre Davis, @DelawareMBB
▪️ Jordan Nesbitt, @Hampton_MBB
▪️ Jack Collins, @MonmouthBBall

➡️ https://t.co/3JlrN0R2Gx pic.twitter.com/U6xiaiS2gg

— CAA Basketball (@CAABasketball) December 5, 2022
2022-2023 CAA MEN'S BASKETBALL WEEKLY AWARD WINNERS
Player of the Week
Nov. 14: Nicolas Timberlake, Towson
Nov. 21: Aaron Estrada, Hofstra; Ryan Larson, Charleston
Nov. 28: Cam Holden, Towson
Dec. 5: Jyáre Davis, Delaware; Jordan Nesbitt, Hampton
Rookie of the Week
Nov. 14: Amar'e Marshall, Hofstra
Nov. 21: Amar'e Marshall, Hofstra
Nov. 28: Amar'e Marshall, Hofstra
Dec. 5: Jack Collins, Monmouth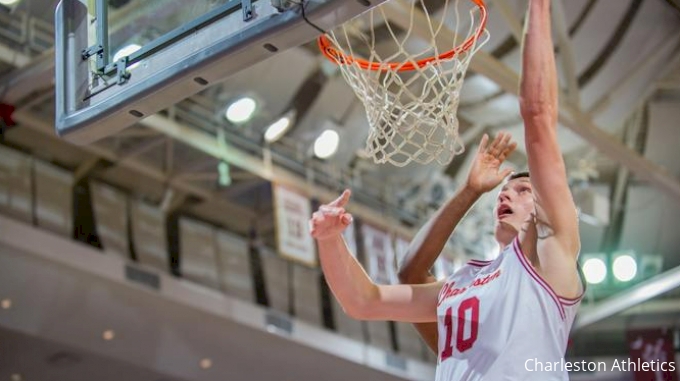 NEWS AND NOTES
CONTENDERS EMERGING
Charleston and Towson are the only mid-majors with eight Division I wins entering the week as both stand at 8-1 on the year.
Charleston is receiving votes in both national polls for the second straight week.
Hofstra and UNCW both check in at 6-3, following Wednesday night's results, while Delaware and North Carolina A&T are .500 on the year.
The CAA is 5-1 vs. the Sun Belt and 6-2 against A10 competition this winter.
UNCWWWWW
UNCW has won five straight games, with the latest a victory Wednesday night at Coastal Carolina.
The Seahawks held two of their three opponents under 60 points to win the Baha Mar Hoops title and lead the conference in KenPom defensive efficiency.
CHARLESTON, CHARLESTON CHAMPS
Charleston's stellar start to the season includes some hardware. The Cougars defeated Virginia Tech to win the Charleston Classic. The Cougars picked up wins over Davidson, Colorado State and Virginia Tech in the event.
Charleston holds wins over five NCAA Tournament teams and three defending conference champions (ACC, A10, SoCon), with the lone setback at preseason No. 1 North Carolina.
POLLING PLACES
Charleston is receiving votes in both national polls this week and slotted as high as No. 16 on one voter's AP Top 25 ballot.
CAA teams have 13 nonconference games against teams ranked or receiving votes in the AP poll and four against the current top five (No. 1 Houston, No. 3 Virginia, No. 4 Purdue, No. 5 UConn.)
Charleston is No. 2, Towson is No. 6 and Hofstra is No. 19 in this week's College Insider Mid-Major Top 25.
CAA teams will play 21 games against non-league foes ranked or receiving votes in that poll with wins over five: Kent State, Iona, Quinnipiac, Chattanooga, Princeton.
NET GAINS
Charleston opens the year at 49 in the NET, which is the best ranking for a CAA team since the new NCAA metric came into use. Towson (82), Hofstra (90) and UNCW (102) join Charleston as the CAA's top 4.
GETTING DEFENSIVE
Three CAA teams are holding their foes under 65 points per game: UNCW (62.2), Towson (63.2), Drexel (63.3).
The Dragons held UT Arlington to 38 points in a win at the Gulf Coast Showcase - the fewest points a CAA team has allowed to a Division I nonconference opponent since Charleston held East Carolina to 35 in 2016.
WE LIKE A CHALLENGE
Five CAA teams rank among the top 85 most-challenging nonconference schedules this winter, per KenPom.
UNCW is ninth nationally, North Carolina A&T is 19th, Monmouth is 60th, Hofstra is 68th, Hampton is 79th and Charleston is 85th. Stony Brook (102) and William & Mary (104) are just outside the top 100.
OH, SO WE'RE DOING THIS AGAIN
The KenPom servers, in their efforts to quantify an element of basketball represented in popular culture by four-leaf clovers and horseshoes, place a trio of CAA squads as some of the nation's luckiest teams.
UNCW ranks fourth, Hofstra 11th and Charleston 22nd in the factor.
For what it's worth, four of the nation's seven "luckiest" teams won 25+ games a year ago, including 27-win UNCW and Sweet 16 participant Providence, while four of the top 7 made the NCAA Tournament.
GET LOW
Charleston had a successful National Signing Day, with Pat Kelsey and the Cougars staff inking what one site calculated as the nation's top mid-major recruiting class.
At the time of Charleston's announcement, 247 Sports ranked the group headed to the Lowcountry at No. 40.
AND-ONES
One thing to know about each #CAAHoops team
• Charleston's 8-1 start is its best since opening the 2011-2012 season at 9-1. Both nonconference slates included wins over ACC and A10 opponents, while the 2011-2012 team also defeated Tennessee.
• Delaware's Christian Ray is sixth nationally with 11.5 rebounds per game.
• Drexel's Amari Williams is eighth in the league in scoring at 15.2 points, sixth in rebounding at 7.2 and second in blocks at 1.8 per game.
• Elon's Sean Halloran and Monmouth's Jack Collins are tied for the top spot in the CAA with 19 total steals and 2.1 per game.
• Hampton has gotten to the line 24.5 times per game, which ranks 18th nationally.
• Hofstra's Aaron Estrada leads the CAA at 21.7 points per game, which is good for ninth nationally. Estrada is fifth in total points and seventh in total field goals.
• North Carolina A&T's Kam Woods ranks third in the CAA at 17 points per game and has been the Aggies' leading scorer in six of their first eight games.
• UNCW defeated Missouri State, Vermont and North Texas to win the Baha Mar Championship. The Seahawks have climbed 65 spots in KenPom since the start of that tournament.
• Northeastern ranks ninth in the country in the percentage of minutes coming from its bench at 42.7%; the national average is 30.8%.
• Stony Brook has taken 49.3% of its field goal attempts from three this season, which ranks 10th nationally.
• Towson is 8-1 for the first time since beginning the season 10-1 in 2017-2018.
• William & Mary's five starters accounted for all 58 points in Saturday's win: Gabe Dorsey (15), Ben Wight (14), Anders Nelson (13), Noah Collier (10), and Chris Mullins (6).