2022 Iona vs St. John's - Women's
BIG EAST Women's Basketball: St. John's Looking To Continue Hot Start
BIG EAST Women's Basketball: St. John's Looking To Continue Hot Start
Teams in the BIG EAST got a taste of conference play, but before the conference slate kicks into high gear, there still are a few nonconference matchups.
Dec 7, 2022
by Briar Napier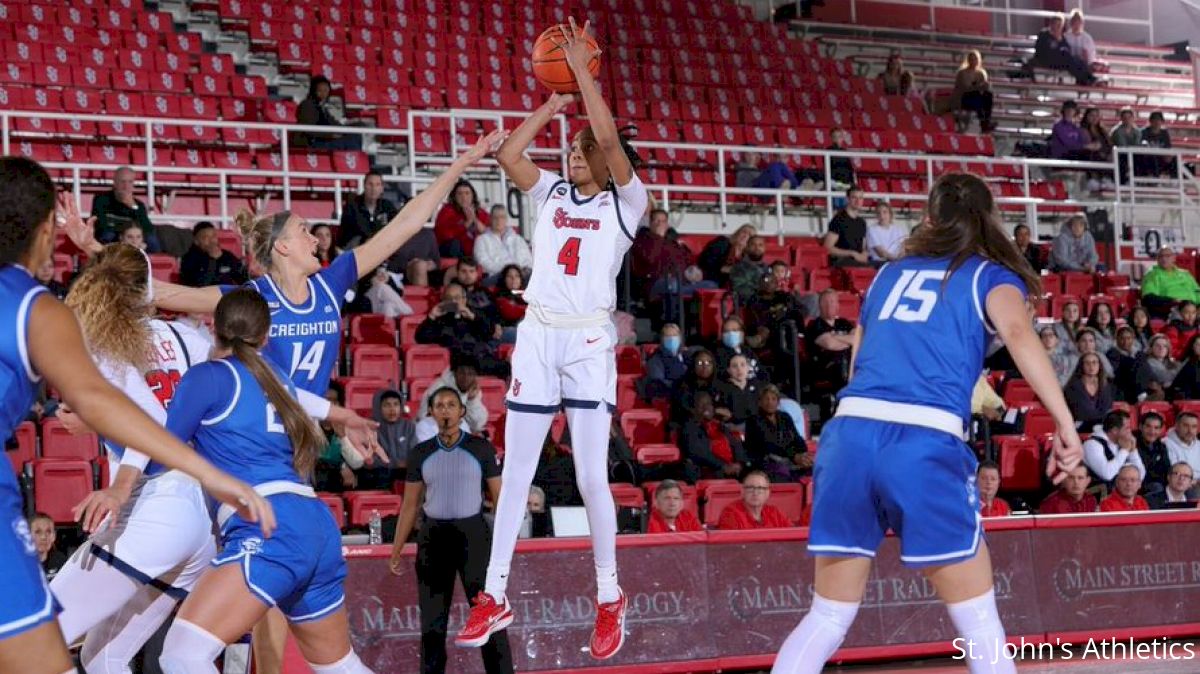 Women's basketball teams in the BIG EAST got a taste of conference play against each other last week.
But before the conference slate kicks into high gear, there still are a few nonconference matchups to get through first.
BIG EAST teams won't be playing each other this week, as some final nonconference meetings take place, giving the league's programs a final opportunity to fine-tune and work out their issues on the floor, before the meat of the unforgiving BIG EAST schedule gets under way.
The new year will be around before the hoops world knows it. And, ready or not, BIG EAST teams will need to be prepared for whatever may come with it.
Here's a look at the BIG EAST women's basketball games to check out this week on FloHoops, which will stream league games all season.
NOTE: All tipoff times are listed in Eastern Time and are subject to change.
Iona Vs. St. John's
St. John's is worth tuning in for at the moment, no matter which team it's playing.
The only unbeaten team remaining in the BIG EAST at 8-0 overall, the Red Storm are off to their best start to a season since the 2014-2015 season. It comes with help from a stellar defense (54.5 points allowed per game) that helped the team pull off the shock of the conference season thus far over the weekend - a 66-62 win over then No. 13-ranked Creighton.
The performance was fueled by a 20-point performance from offseason Pitt transfer and redshirt senior Jayla Everett (15.3 points, 3.3 assists per game on 40.5% 3-point shooting this season), who early on has the look of one of the BIG EAST's most shrewd transfers of the last portal cycle.
With another four straight games at Carnesecca Arena on the way, with only one (against Providence on Dec. 18) being in BIG EAST play, St. John's has ample opportunity to build off of the positive momentum by taking care of business in what should be some straightforward nonconference tune-up games.
Iona has seen better days, having made its only NCAA Tournament in program history in 2016, but last year's 11-win season broke a five-year drought of double-digit victories in a single year for the Gaels.
St. John's and Iona do have a common opponent in Stony Brook, however, and while the Red Storm cruised in a 78-52 win, the Gaels lost by two to the Seawolves, making St. John's likely the heavy favorite going into the matchup.
Watch and see if Red Storm coach Joe Tartamella cycles around with lineups if his team goes up big early on.
Drake Vs. Creighton
A popular dark-horse pick to take the BIG EAST (especially considering juggernaut UConn will be without star guard Azzi Fudd for around a month or more due to a knee injury), Creighton - which pulled off a statement 21-point win over Villanova last Friday - had a bit of a dud two days later as it lost to a strong St. John's squad that currently sits atop the BIG EAST standings.
There's a question that looms now for the Bluejays to answer soon: How will they respond?
Well, if precedent is any indication, Creighton might be OK.
One of the program's most key attributes on its way to a historic Elite Eight run a year ago was that it never let slip-ups turn to stretches, only losing consecutive games once in the 2021-2022 season.
more work to be done#GoJays // https://t.co/tq4qzvdwIV pic.twitter.com/A3BSkPm815

— Creighton Women's Basketball (@CreightonWBB) December 5, 2022
Now up against its first loss this season, a win at home against Drake would do wonders toward reestablishing the Bluejays' confidence and mojo. However, such a victory is going to be far from easy.
The Bulldogs are well known for being a dangerous mid-major, making three straight NCAA Tournaments under now-Oklahoma coach Jennie Baranczyk from 2016-2019, before assistant Allison Pohlman took over following her departure in 2021, winning 19 games in her first season last year.
With a wickedly productive offense that averages 85.5 points per game - making it one of the top-10 highest scoring teams in America - Drake's two defeats both have come in overtime, first against Caitlin Clark and Iowa and then against UMass.
It all makes the Bulldogs a team to be reckoned with, and the roster includes a fantastic two-way star in senior forward Maggie Bair (16.3 points, 7.5 rebounds, 2.0 blocks per game).
But, while Drake's offense focuses on production, Creighton's focuses on efficiency, as few teams in the country turn over the ball less per game (11.8) than the Bluejays, with guards Molly Mogensen and Lauren Jensen (combined 6.6 assists per night) leading the charge in the backcourt.
Illinois Vs. Butler
As two programs that have been through many, many defeats in the past two seasons, Butler and Illinois both are making waves early this season under new coaches who have helped jumpstart their respective teams.
The Bulldogs are 4-4 under Austin Parkinson - the all-time wins leader at crosstown rival IUPUI - which sounds modest on paper but actually equals the total amount of wins that Butler had the past two seasons combined, emphasizing just what state the program was in when Parkinson inherited it this offseason.
IUPUI transfer Rachel McLimore (12.9 points per game, 44.4% 3-point percentage) is one of the many new faces that have helped give the program a shot in the arm, though the Bulldogs still are looking for their first BIG EAST win since March 2021. They lost their first two conference matchups of the season against DePaul and St. John's, but both only by single digits.
A visit from Illinois will give them a chance to pick up a power-conference victory in the meantime, however, but the Fighting Illini are also off to a strong start to their season.
Shauna Green St has a nice ring to it 👌#Illini | #OneWay | @Shauna_Green pic.twitter.com/YqaB5xnXZI

— Illinois W Basketball (@IlliniWBB) August 4, 2022
Under new sideline leader Shauna Green, who qualified for four NCAA Tournaments in six seasons at Dayton, before moving to Champaign, Illinois has looked awesome to start the year at 7-2, with both a top-35 offense (82.8 points per game) and defense (56.4 points allowed per game), along with the best team 3-point percentage (43.5%) in the entire country.
Yes, perhaps a weak schedule plays a role in those rankings, but the Illini's first proper test in Big Ten play at No. 4 Indiana this past Sunday showed they deserve their flowers, nearly upsetting the Hoosiers in a 65-61 loss behind a 33-point outburst from Dayton transfer Makira Cook.
Butler is going to have its hands full, but for a team that has been through much, much worse over the past two years, what do the Bulldogs have to lose?