CAA Men's Basketball
CAA Notebook: Charleston Nears Top 25; UNCW Continues To Surge
CAA Notebook: Charleston Nears Top 25; UNCW Continues To Surge
Charleston's outstanding start to 2022-23 has the Cougars knocking on the door of the AP Top 25, and UNC Wilmington continues to defy expectations.
Dec 9, 2022
by Kyle Kensing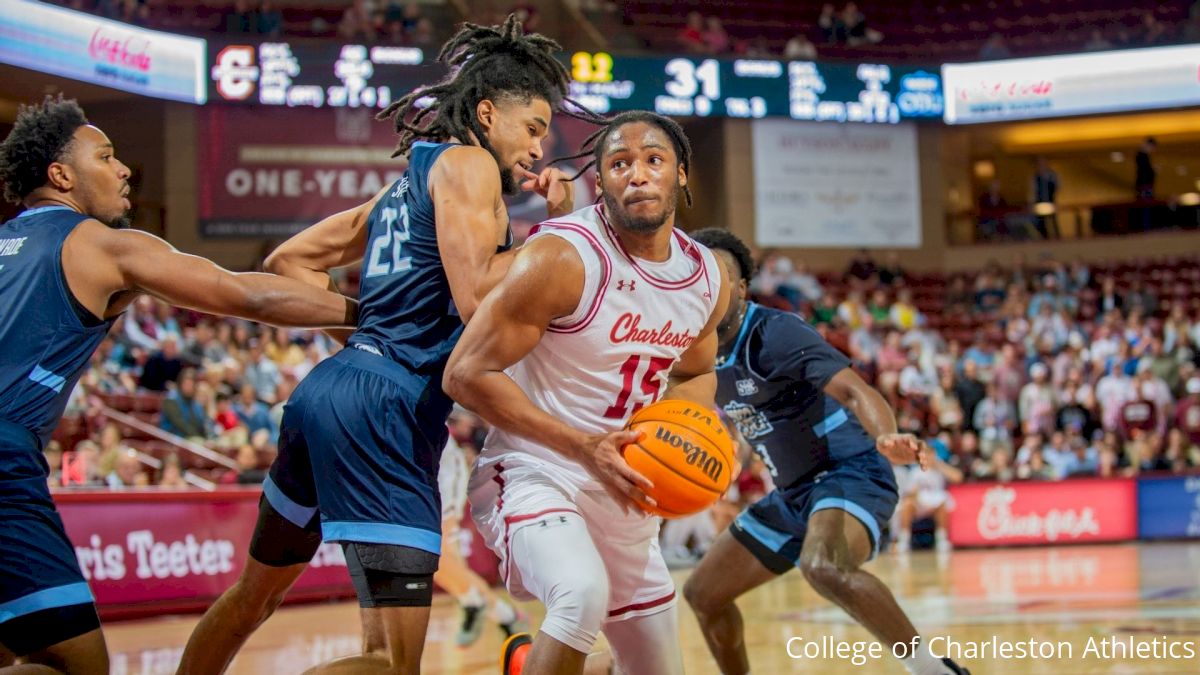 A new metric has been added to the equation of the Charleston Cougars' ongoing basketball experiment: 25.
Pat Kelsey took over at College of Charleston ahead of the 2021-22 season with a track record of winning conference titles and reaching NCAA Tournaments. Launching a "great experiment" with a roster made up primarily of newcomers, Kelsey's Cougars nearly accomplished both in Year 1, advancing to the championship round of last March's Colonial Athletic Association Tournament.
Ten games into Year 2, the Cougars are 9-1 and approaching another milestone of breaking into the Associated Press Top 25 poll.
Charleston sat second among Others Receiving Votes in the Dec. 5 AP Poll, behind Iowa but garnering more votes than a Miami team (coached by CAA legend Jim Larranaga) and Virginia Tech. The schedule works out well enough that the Cougars should be winners of 11 straight when they open conference play Dec. 29 at Hampton; given the continuous upheaval among the Top 25 experienced thus far into the season, it's hardly unrealistic to expect Charleston will sport a Top 25 ranking when the conference schedule opens.
Kelsey hasn't tinkered with the experiment as far as deviating from what has often worked for his teams. Charleston is flourishing with a high-flying style, boasting some of the strongest offensive numbers in college.
The Cougars rank 63rd in KenPom.com's adjusted tempo, and they play a frenetic defensive game that shortens opponent possessions to match the speed at which Charleston aims to play.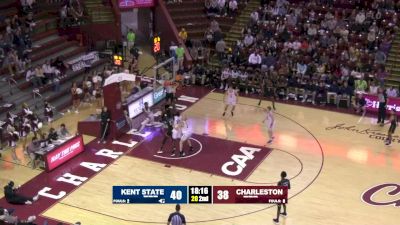 Unlock this video, live events, and more with a subscription!
Get Started
Already a subscriber? Log In
Charleston attacks the paint effectively, resulting in one of the nation's best 2-point field-goal shooting averages of 54.9 percent, to complement the Cougars' emphasis on 3-point shooting. Six Cougars have attempted at least 25 3-pointers through the first 10 games, led by Ryan Larson. Larson is shooting better than 45 percent from deep on 42 attempts.
Just one of those nights for @ryanlarson_11 🤷

CofC 73, ODU 51#OurCity 🌴🏀 pic.twitter.com/XKH6RxzxrS

— Charleston Basketball (@CofCBasketball) November 30, 2022
Now, a common refrain in basketball circles dictates that a team living by the three dies by the three. Certainly there's some truth to that, but Charleston is mitigating the risks inherent with taking a high volume of low-percentage shots with aggressive attention to the offensive glass.
The Cougars are rebounding 34.6 percent of missed shot attempts. Individually, Babacar Faye has emerged as one of the nation's best offensive rebounders with snares on 14.1 percent of opportunities. That translates to 2.5 offensive rebounds per game for Faye, and Charleston boasts 13 a contest as a team — good for 17th in Div. I.
However, Kelsey's Cougars also showed the ability to scrap through a slog with the Presbyterian win. On a night 3-pointers weren't falling and the opponent pulled the tempo to a grinding halt, Charleston countered getting into the lane and drawing fouls. Twenty of the Cougars' points came at the free-throw line.
Successfully mixing it up contrary to its usual approach against some of the more defense-oriented, offensively methodical teams the CAA has to offer — one of which is a UNC Wilmington bunch that continues to thrive under the direction of Takayo Siddle.
UNC Wilmington Defying Expectations — Again
College basketball may not have had a more surprising story in the 2021-22 than UNC Wilmington. The co-regular-season champions of the CAA and winners of the 2022 College Basketball Invitational returned plenty of production from last year's breakout team, yet the Seahawks again flew somewhat under the radar ahead of the 2022-23 season.
And, again, they are defying the expectations. The below is a nice visual representation that demonstrates how UNCW has out-performed its KenPom projections through the campaign's first month.
More of the same this week in terms of polarity. A month into the season and Charleston, UNCW, and W&M are the most improved teams from their preseason rating pic.twitter.com/RM0ESCcQ2h

— Noted CAA Basketball Blog (@RedshirtJunior) December 7, 2022
The Seahawks' 7-3 start included a championship at the Baha Mar Nassau tournament over Thanksgiving, where they beat recent NCAA Tournament fixtures Vermont and North Texas, as well as Missouri Valley Conference representative Missouri State.
UNCW returned to the U.S. for wins at Coastal Carolina and a romp of East Carolina, extending its winning streak to six games. The Seahawks last lost to a UConn team that looks like the class of the BIG EAST Conference.
An especially impressive facet of UNCW's success to start '22-'23 lies in the Seahawks winning with a different identity compared to a season ago. Jaylen Sims had the ability to take games over with his scoring, and versatile Mike Okauru's multifaceted game made him perhaps an underrated star of the CAA.
While Trazarien White has stepped up as UNCW's leading scorer and rebounder through the season's first month, Siddle explained following the East Carolina win how this season's squad is less reliant on individual star power.
"Our strength is our depth, and it has to continue to be that way," Siddle said. "We had Jaylen Sims and Mike Okauru, those guys were pretty good. We had star power last year. And we do have guys who are really good players. But I think we have the makings to be a really, really good team, and do it by committee more than we did last year."
Through 10 games, nine Seahawks are averaging between 4 and 12.6 points per game. Ten Seahawks average from 2 to 5.6 rebounds per game.
A Veteran Punch For William & Mary
A 58-57 win over a Richmond Spiders team that advanced to the Round of 32 in last season's NCAA Tournament marked a significant milestone for William & Mary basketball. And while the Tribe sits at 4-6 a month into the 2022-23 campaign, the victory over Richmond speaks to the potential Dane Fischer's squad has to be a dark-horse contender once CAA play tips off.
Against the Spiders, the inside-outside duo of Ben Wight and Anders Nelson stepped up with key plays down the stretch. Nelson hit a jump shot just before the penultimate media timeout, grabbed a key defensive rebound and came up with a pivotal steal.
Wight, meanwhile, scored the Tribe's two decisive buckets in the closing minute.
Along with Chris Mullins, William & Mary has an intriguing corps of upperclassmen around whom to build in conference play.
"We've seen a lot of basketball, so we know to stay calm through any situation," said Mullins per TribeAthletics.com. Mullins is a transfer from Rice; Nelson joined the Tribe from St. Thomas.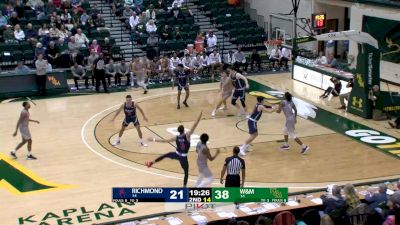 Unlock this video, live events, and more with a subscription!
Get Started
Already a subscriber? Log In
Individual Milestones
Jameer Nelson Jr. has taken the lead offensively for reigning CAA Tournament champion Delaware this season, averaging almost 19 points per game. His prolific output to open 2022-23 added to an impressive career for the Blue Hens standout, who reached 1,000 career points this week.
There it is. 1,000 career points for Jameer Nelson Jr. 👏 pic.twitter.com/BfsW3xCQ4E

— Delaware Men's Basketball (@DelawareMBB) December 8, 2022
And while one CAA standout adds to an impressive, career-long resume, another is just getting started.
Hofstra lost in its upset bid of a No. 4-ranked Purdue, playing without 21-point per game scorer Aaron Estrada. In the 2021-22 CAA Player of the Year's absence, freshman Amar'e Marshall stepped up in a big way.
Marshall shot 10-of-17 from the floor en route to a career-high 24 points, including 17 points in the first half.
AMAR'E MARSHALL!

✅ 17 points in first half
✅ vs. #4 team in nation
✅ new career-high#PrideOfLI pic.twitter.com/QNtLGg6opB

— Hofstra Men's Basketball (@HofstraMBB) December 8, 2022