CAA Men's Basketball
CAA Men's Basketball Report | Dec. 12, 2022
CAA Men's Basketball Report | Dec. 12, 2022
Catch up on the CAA Men's Basketball weekly news, notes and awards.
Dec 13, 2022
by FloHoops Staff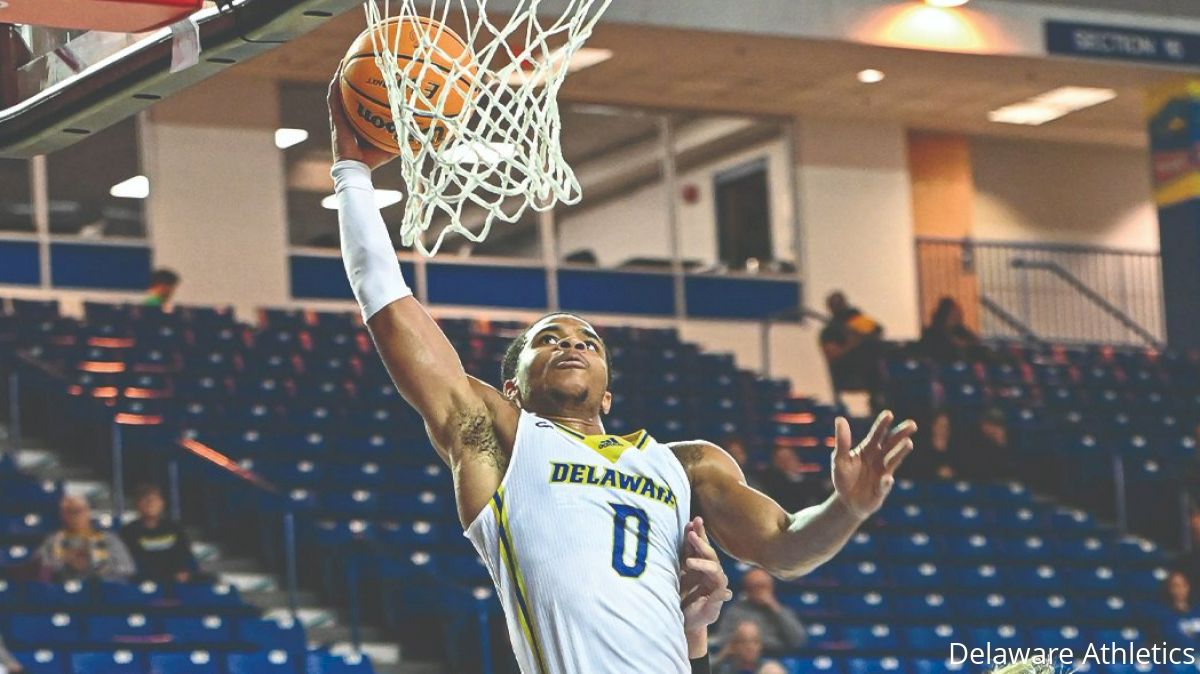 Catch up on the CAA Men's Basketball weekly news, notes and awards.
WEEKLY AWARDS
PLAYER OF THE WEEK
Jameer Nelson Jr., Delaware
Redshirt Junior | Guard | Haverford, Pennsylvania / The Haverford School
Nelson poured in 28.5 points per game in a 2-0 week for Delaware with victories over Delaware State and Siena.
The guard from Pennsylvania scored 27 to retain the Route 1 Rivalry trophy for Delaware on Wednesday night and matched his career high with 30 in Sunday's win over a Siena team with two high-major victories.
Nelson added 4.5 rebounds, 3.5 steals and 2.5 assists per game to his stat line while shooting 53% from the field.
ROOKIE OF THE WEEK
Amar'e Marshall, Hofstra
Redshirt Freshman | Guard | Montclair, New Jersey / Roselle Catholic
Marshall had a career performance in Hofstra's matchup with No. 4 Purdue on Wednesday, tallying 24 points on 10-of-17 shooting, while adding four rebounds and four assists.
The scoring output was the highest total by a Hofstra freshman against a ranked opponent in the Pride's tenure in the CAA and the fourth-most points by any Hofstra player against a top 25 opponent.
Marshall secures the honor for the fourth time in five weeks to begin the year.
𝘼𝙣𝙙 𝘼𝙉𝙊𝙏𝙃𝙀𝙍 𝙊𝙉𝙀❗

Not 1⃣, not 2⃣, not 3⃣, but now 🔢 (4⃣!) @CAABasketball Rookie of the Week Awards this season for Amar'e Marshall!

Fourth CAA Rookie Of The Week Award For Marshall - https://t.co/eqWlssqEtI#PrideOfLI

— Hofstra Men's Basketball (@HofstraMBB) December 12, 2022
2022-2023 CAA MEN'S BASKETBALL WEEKLY AWARD WINNERS
Player of the Week
Nov. 14: Nicolas Timberlake, Towson
Nov. 21: Aaron Estrada, Hofstra; Ryan Larson, Charleston
Nov. 28: Cam Holden, Towson
Dec. 5: Jyáre Davis, Delaware; Jordan Nesbitt, Hampton
Dec. 12: Jameer Nelson Jr., Delaware
Rookie of the Week
Nov. 14: Amar'e Marshall, Hofstra
Nov. 21: Amar'e Marshall, Hofstra
Nov. 28: Amar'e Marshall, Hofstra
Dec. 5: Jack Collins, Monmouth
Dec. 12: Amar'e Marshall, Hofstra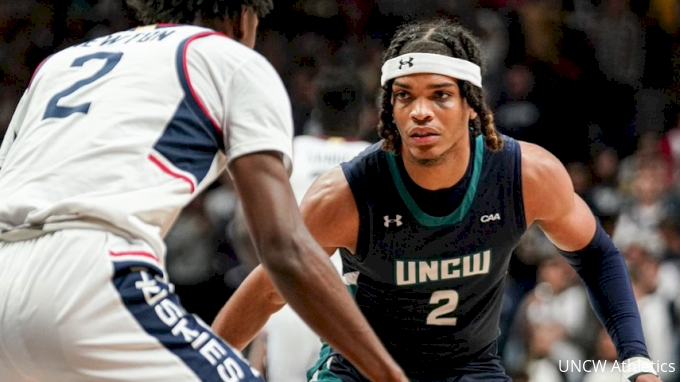 NEWS AND NOTES
NET POSITIVE
Five CAA teams enter the week above .500, with Charleston at 10-1, UNCW and Towson both 8-3, Delaware at 6-4 and Hofstra at 6-5.
Three are in the top 100 of the NET with Charleston at No. 56, UNCW at No. 72 and Hofstra No. 97.
The CAA is 5-2 vs. the Sun Belt and 7-3 vs. both the A10 and SoCon this winter.
The conference also holds wins over the ACC and American and seven Q1/Q2 wins between the top-4 teams, with three for Hofstra and two for Charleston.
SEAHAWKS SOARING ON AN EVEN KEEL
UNCW has won seven straight games following a convincing 81-53 win over Jacksonville on Saturday.
The Seahawks have climbed 96 spots in KenPom, won the Baha Mar Hoops event and defeated a member of the American during the streak.
The Seahawks are one of five mid-majors to earn a spot in the top 100 of the NET to begin the week, despite not having a player in their conference's top 10 in scoring, rebounding or assists, joining Florida Atlantic, James Madison, Middle Tennessee and Troy.
UNCW has featured five leading scorers and six leading rebounders in its first 11 games, with Trazarien White leading the team in both categories.
FIRST TO 10 WINS: CHARLESTON
Charleston's 10-1 start to the season includes some hardware, after the Cougars defeated Virginia Tech to win the Charleston Classic.
The Cougars picked up victories over Davidson, Colorado State and Virginia Tech to become the first mid-major to win the event since its inception in 2008.
Charleston holds wins over five NCAA Tournament teams and three defending conference champions (ACC, A10, SoCon), with the lone setback at preseason No. 1 North Carolina.
GET OUT THE VOTE
Charleston is receiving votes in both national polls this week and slotted as high as No. 17 on one voter's AP Top 25 ballot.
CAA teams have 13 nonconference games against teams ranked or receiving votes in the AP poll and four against the current top 5 (No. 1 Purdue, No. 2 Virginia, No. 3 UConn, No. 5 Houston).
Charleston is No. 2, Towson is No. 6 and Hofstra is No. 19 in the most recent College Insider Mid-Major Top 25, with the next arriving Monday night.
CAA teams will play 22 games against non-league foes ranked or receiving votes in that poll with wins over six.
GETTING DEFENSIVE
UNCW's 61.3 points allowed per game is good for the 35th-best average in Division I, while Drexel's 62.8 ranks 49th.
The Dragons held UT Arlington to 38 points in a win at the Gulf Coast Showcase - the fewest points a CAA team has allowed to a Division I nonconference opponent, since Charleston held East Carolina to 35 in 2016.
WE LIKE A CHALLENGE
Four CAA teams rank among the top 50 most challenging schedules according to the NET.
Hofstra has played the 27th-toughest schedule nationally, North Carolina A&T is ranked 33rd, UNCW 35th and Monmouth 50th.
NET calculations factor in results against Division I opponents.
WIN CITY
Hampton and North Carolina A&T will head to Las Vegas this weekend, as both teams play two games at the Chris Paul HBCU Challenge.
Sunday's doubleheader, with North Carolina A&T facing Norfolk State and Hampton taking on Texas Southern, will be televised nationally on ESPNU.
AND-ONES
One thing to know about each #CAAHoops team
• Charleston is 10-1 to start the year for the first time since the 2008-2009 season.
• Delaware's Jameer Nelson Jr. ranks second in the league at 19.9 points per game, which is good for 24th nationally.
• Coletrane Washington and Amari Williams combined for 35 of Drexel's 65 points in Saturday's overtime win at La Salle.
• Elon's Sean Halloran recorded 11 assists on Sunday to tie Elon's Division I program record, previously achieved in 2009 and 2019.
• Hampton's Jordan Nesbitt has contributed 15+ points and 8+ rebounds in each of his last four games.
• Hofstra's Amar'e Marshall scored 24 points in Wednesday's game at now-No. 1 Purdue, the highest point total by a Pride freshman against a ranked opponent since Hofstra joined the CAA in 2001-2002.
• Monmouth will play its next four games on television, with Monday's contest at Syracuse on ACC Network, the final two nonconference games against Charlotte and Yale on both SNY and NBC Sports Philadelphia, and the Hawks' conference opener against UNCW on CBS Sports Network.
• North Carolina A&T has been off since Nov. 30 and will return to action Wednesday at No. 5 Houston.
• UNCW has climbed 96 spots in the KenPom ranking in its last six games.
• Chris Doherty scored eight of Northeastern's final 12 points in Saturday's comeback win. It was Doherty's first action since exiting three minutes into the third game of the season.
• Stony Brook's Frankie Policelli has grabbed 29.2% of available defensive rebounds while on the court, which ranks 13th nationally.
• Towson has secured 35.7% of available offensive rebounds, which ranks 26th nationally.
• William & Mary's Matteus Case has played 174 minutes against Division I competition without a turnover this winter. He is the only player in the nation without a single miscue among those who have played at least 40% of their team's minutes.