2022 San Diego Invitational
San Diego Invitational: Arkansas Can Make A Major Statement
San Diego Invitational: Arkansas Can Make A Major Statement
Arkansas will be a surprise no more if the Razorbacks continue their undefeated start through the loaded San Diego Invitational.
Dec 15, 2022
by Kyle Kensing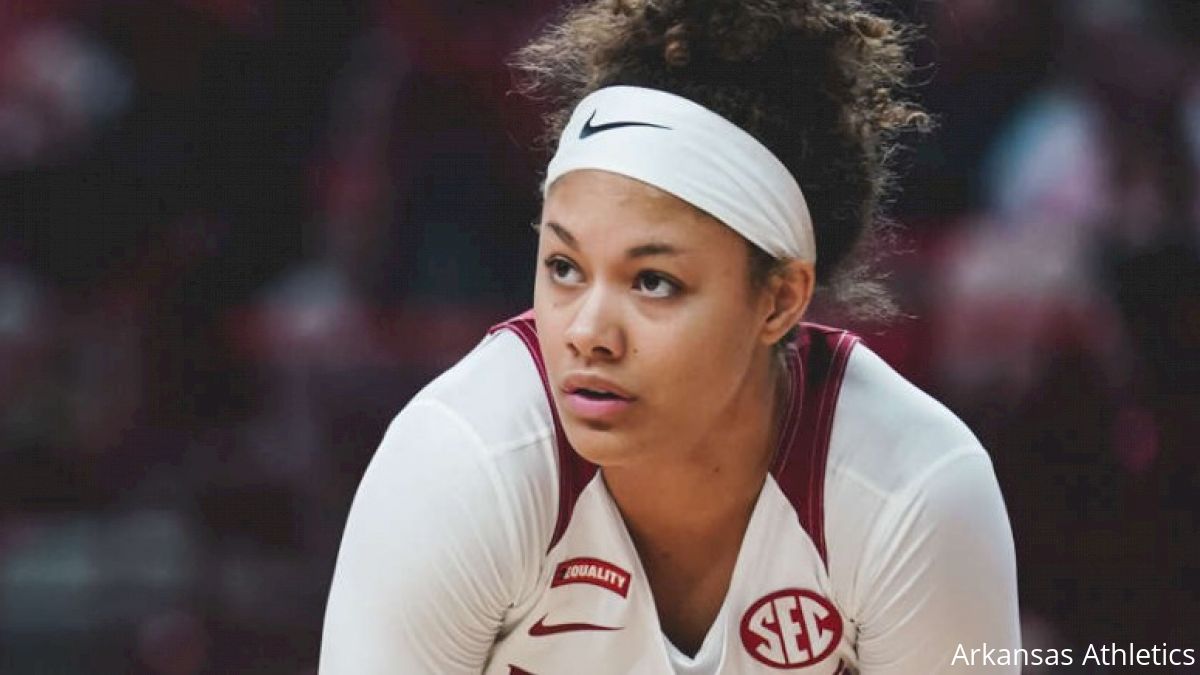 The Dec. 12 Associated Press Top 25 features eight undefeated teams, among them three representatives of the Southeastern Conference. Two of those SEC squads feature national championship-winning head coaches and boast impressive legacies, recent or historic.
The surprise of the group, No. 21-ranked Arkansas, is fast becoming one of the most pleasant surprises of the 2022-2023 season.
By the time Saint Nick has dropped down chimneys worldwide, the Razorbacks may be surprising no more.
Arkansas is embarking on a pivotal tour of high-profile matchups, following a visit to Creighton for a Top 25 showdown on Dec. 17 with two days at the loaded San Diego Invitational.
Arkansas tips off the San Diego Invitational on Dec. 20 against No. 16-ranked Oregon for a matchup between teams with similar statistical profiles. The Razorbacks head into their big, three-game stretch with the nation's No. 37 offensive rating, per HerHoopStats.com; Oregon ranks No. 12.
Both teams boast top 30 defensive ratings: Arkansas at No. 23 and Oregon at No. 28. An area in which the Razorbacks have really made their mark through their excellent start, however, is with their dominance on the glass.
Arkansas, which ranks fourth in the nation in rebounds per game and leads the country in HerHoopStats.com rebounding metrics, features one of the rangiest lineups in the country with 6-foot-5 Jersey Wolfenbarger, 6-foot-4 Maryam Dauda, 6-foot-3 Emrie Ellis and 6-foot-2 Saylor Poffenbarger.
"When you play smaller teams, they tend to be more aggressive just because they have to be," Wolfenbarger said following the Razorbacks' 77-63 defeat of Arkansas State on Dec 11. "We have a lot of big players, and I think that understanding that, just like we have to be aggressive, they're going to come back 10 times harder. So not only do we have to use our height advantage, but we use our speed and agility and all that to really dominant the boards."
As Wolfenbarger alluded, Arkansas isn't some big-bodied team relying solely on size and playing a plodding style of old-school basketball.
The Razorbacks can get up and down the court and score, putting up north of 78 points per game, and they do so with a balanced attack. Four Arkansas scorers average in double-figures scoring, from Chrissy Carr's 13 points per game to Samara Spencer's team-high 15.8 points per game.
And that only scratches the surface of Arkansas' scoring depth. Poffenbarger, the UConn transfer, is averaging almost nine points per game and is the Razorbacks' second-most productive assist distributor.
Wolfenbarger, an All-Freshman honoree in the SEC last season, brings a modern brand of almost positionless basketball to Arkansas' approach as the team's tallest player, but shooting the 3-pointer and attacking the rim off the dribble from the perimeter.
.@JerseyWolf4 just makes it look so easy! pic.twitter.com/1yr2OnlirB

— Razorback WBB (@RazorbackWBB) December 11, 2022
None of that's to imply Arkansas can't mix it up on the interior in traditional fashion, either. In fact, the breakout star of the Razorbacks' balanced play and strong start is Erynn Barnum, the 6-foot-2 forward who controls the paint offensively and defensively.
Barnum is blocking a shot per game, grabbing more than seven rebounds, and with a field-goal average of almost 70 percent, is among the most efficient scorers in college basketball. Barnum's outstanding play on the inside is a reflection of the Razorbacks' maturation, coach Mike Neighbors said following a November win over Tulsa.
Just call her Erynn And-1 Barnum at this point 🤷‍♀️@erynnbee_ leads the way with 5 early points

1Q, 4:49 | Arkansas 11, Kent State 8 pic.twitter.com/W3OX7yapHp

— Razorback WBB (@RazorbackWBB) November 18, 2022
"This is a kid who now is in our program for a fifth year," Neighbors said. "And she gets it. She knows when her number's called, she knows she can dominate."
The San Diego Invitational will be a fitting warmup for Barnum and the rangy Razorbacks to prepare for SEC play when the Arkansas forward matches up with counterparts like LSU's Angel Reese and South Carolina's National Player of the Year candidate Aliyah Boston.