2022 Arkansas vs Creighton - Women's
BIG EAST Women's Basketball Games Of The Week: Hogs, Jays Tussle
BIG EAST Women's Basketball Games Of The Week: Hogs, Jays Tussle
With nearly every BIG EAST women's team now at the 10-game mark of the season, where do the schools stand heading into the thick of the conference schedule?
Dec 15, 2022
by Briar Napier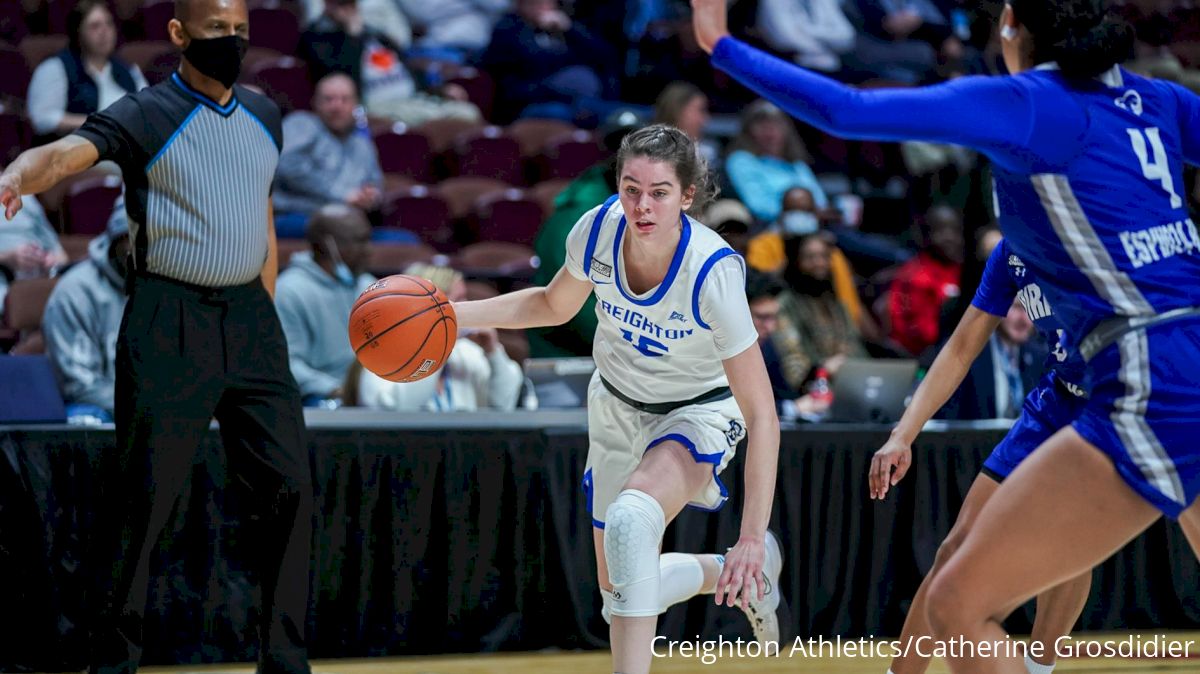 With nearly every BIG EAST women's basketball team now at the 10-game mark of the 2022-2023 season, where does each school stand heading into the thick of the conference schedule?
Short answer: Who knows.
Long answer: There still are a lot of unanswered questions about the programs of the BIG EAST, including if surprises can stick to their early successes throughout the entire year, if the elites can get it together in time to put up worthy fights or if the league is as top-to-bottom strong as it has been in a long time.
Nonconference tests and tune-up games are winding down - there's a big one in particular coming this week, by the way - but the BIG EAST conference season rages on right alongside it, likely to reveal answers for the questions above very, very soon.
Here's a look at the BIG EAST women's basketball games to check out this week on FloHoops, which is streaming league games all season.
NOTE: All tipoff times are listed in Eastern Standard Time and are subject to change.
Arkansas Vs. Creighton
Want to see if Creighton is as legit as advertised following an impressive 8-1 start? Then perhaps see how the Bluejays perform in Omaha against the red-hot Razorbacks in the only game between two Associated Press Top 25-ranked teams on Saturday's schedule.
Following its historic run to the NCAA Tournament Elite Eight a season ago, Creighton's good vibes haven't slowed down much from its epic surge in March, running one of the country's most efficient offenses with impressive victories over Villanova, South Dakota State and the always-hectic in-state rivalry game against Nebraska, of which the No. 16-ranked Bluejays wiped the floor with the Cornhuskers in a 77-51 blowout back on Nov. 15.
Guards Lauren Jensen (17.2 points per game) and Morgan Maly (17) form one of the best backcourt duos in all of the BIG EAST, and with four starters having knocked down at least a third of their 3-pointers so far this year - guard Molly Mogensen is shooting 53.8% from deep, in fact - Creighton is a dangerous unit that makes few mistakes and is tough to slow down.
But is it enough to take down No. 21 Arkansas, which is on its best start to a season since 2013-2014?
Head coach Mike Neighbors likely is taking the Hogs to their third consecutive trip to March Madness for the first time since 2001-2003, and this year's squad could be the best of the bunch - even including the 2020-2021 unit that had future WNBAers Destiny Slocum and Chelsea Dungee.
Sophomore guard and reigning Southeastern Conference Freshman of the Year Samara Spencer (15.8 points, 4.4 assists per game) is the heartbeat of the team, with redshirt senior forward Erryn Barnum (14.9 points, 7.1 rebounds, 1.1 blocks) amid a breakout campaign as one of the SEC's top interior presences, able to provide a change of pace and prevent teams from focusing solely on Spencer.
One of the best in the country 🎯 pic.twitter.com/xne9noIB8h

— Razorback WBB (@RazorbackWBB) December 13, 2022
Four-year starter Makayla Daniels (13.3 points, 40% 3-point shooting) could be back in time to return to the lineup. She missed three games missed with a foot injury, and her presence would add to the weapons Creighton must contain if it wants to have a chance to pick up its best win of the year so far.
Either way, expect a good one in Omaha this weekend.
Butler Vs. Marquette
Things are going strong for Butler, even with a 5-5 overall record that looks paltry at first glance.
Taking a much-improved Illinois team to the limit in a two-point loss wasn't a bad way to close a homestand prior to what will be a defining four-game road trip for the Bulldogs in the season's early goings.
The journey begins this weekend at Marquette, with Butler - which hired former IUPUI coach Austin Parkinson in the offseason - looking to bounce back in BIG EAST play following defeats to a white-hot St. John's and a strong DePaul team to start their conference campaign, plus win its first league game in almost two full years, following just four victories across the past two seasons.
It's also a major test for a much-improved Butler offense that's shooting the ball at an impressive rate (39% 3-point percentage, 16th in the country as of writing) and overall looks like a completely unrecognizable unit from the one that routinely got stomped in a dreadful 1-26 season a year ago.
The Golden Eagles, meanwhile, are a strong 8-2 to start the year (an overtime loss on a neutral court to UCLA and a defeat at Seton Hall are the only blemishes) and have prided themselves on defense within the philosophy of coach Megan Duffy, now in her fourth season with the program.
Now 6-0 when it allows 60 points or less after taking care of business against Loyola Chicago by over the weekend, 77-53, it actually might be the production of Marquette's offense against an improved, but still error-prone, Butler defense that will be the major factor in deciding Sunday's outcome in Milwaukee.
Fortunately for the Golden Eagles, things look so far, so good in that regard, as well.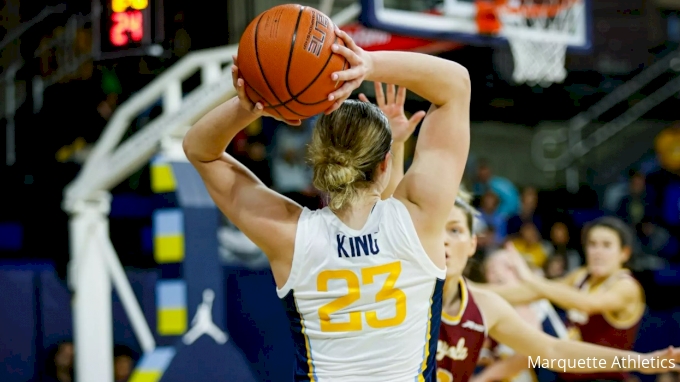 Jordan King, Chloe Marotta and Liza Karlen are averaging double figures in the lineup, and their assist-to-turnover ratio of 1.21 means the Bulldogs likely won't have many chances handed to them, either.
Georgetown Vs. DePaul
Surely DePaul sophomore forward Aneesah Morrow was bound for a regression after posting one of the greatest freshman seasons in women's college basketball history, right? Yeah, right.
All the native Chicagoan has done at the age of 19 has looked arguably even better.
Quite possibly the best two-way player in America, Morrow is averaging an eye-popping 26.1 points, 12.1 rebounds, three steals and 1.1 blocks per night for the Blue Demons, as coach Doug Bruno's high-octane, breakneck offense is a match made in heaven for Morrow, who played high school ball at legendary Chicago hoops institution Simeon - alma mater of Derrick Rose, Jabari Parker and Kendrick Nunn, among other future NBAers.
But even with Morrow and a fantastic sidekick in junior guard Darrione Rogers (19.5 points, six assists per game), it hasn't necessarily resulted in success for DePaul this year.
The Blue Demons' three losses have come to Northern Illinois, Cleveland State and Towson, a trio of perhaps underwhelming results that have soured slightly the feelings of the big wins - most notably, a 76-67 victory over No. 15 Maryland in November.
That tendency to underperform early in the season could be where Georgetown comes in to strike.
Like Butler in that it's seen some downtrodden times over the past few seasons, the Hoyas look rejuvenated with a 6-3 record to start the season under sixth-year coach James Howard, who was very much on the hot seat entering the year after winning less than 10 games three seasons in a row.
McConnell for THREEEEEEEEE!#HoyaSaxa #WeAreOne #ActWithENGIE pic.twitter.com/94YeolwktR

— Georgetown WBB (@GeorgetownWBB) December 10, 2022
But a solid defense (57.7 points allowed per game) this time around is helping GU establish a bit of momentum, going into the DePaul matchup on a three-game winning streak. The run includes wins over Xavier, Fairleigh Dickinson and Navy.
Also, when in doubt, the Hoyas can turn to the hack-a-Demon strategy - DePaul's free-throw percentage of 60.8% ranks among the worst in America, with Morrow (a heavily fouled player based on her usage) shooting below that mark from the charity stripe at 58.2% for the season.