2022 West Palm Beach Invitational
West Palm Beach Invitational: Georgia Headlines Holiday Lineup
West Palm Beach Invitational: Georgia Headlines Holiday Lineup
The four-team field at the West Palm Beach Invitational features NCAA Tournament hopefuls and potential dark horses of the 2022-23 basketball season.
Dec 16, 2022
by Briar Napier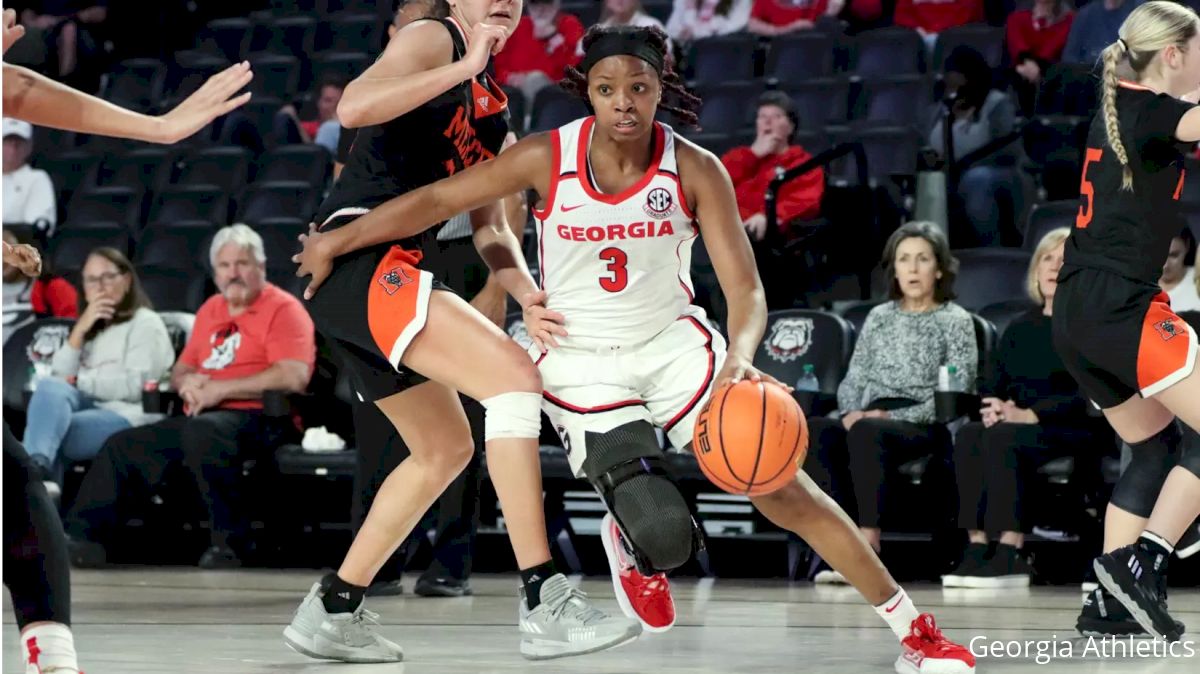 While many programs across the country are looking to rest up and take a slight break during the days leading up to Christmas weekend, a few in particular are looking to beef up their nonconference strengths of schedule.
The West Palm Beach Invitational — hosted by the NAIA's Keiser University at the Countess de Hoernle Student Life Center on its Florida campus — is bringing four NCAA Div. I teams to The Sunshine State before they all rest up for the holidays ahead of their separate conference showdowns to come in January and February.
Good basketball is set to take place for next week, as well, with plenty of accolades and recent NCAA Tournament appearances in the histories of the programs in the field. And when the powers that be evaluate team schedules and performances when it comes to selecting a NCAA Tournament field in March, the showing at the West Palm Beach Invitational in particular may become especially important for those participating teams.
Here's a look at the schedule and what to watch for from each team competing in the West Palm Beach Invitational, of which all games featuring D-I programs will be broadcast live on FloHoops:
NOTE: All tipoff times are listed in Eastern Time and are subject to change.
Georgia Bulldogs (9-2)
The lowdown: No more Jenna Staiti or Que Morrison? Losing your former Southeastern Conference Coach of the Year to an in-league rival?
So far, those departures have done little to slow down a Georgia team coming off back-to-back NCAA Tournament appearances — even one with a new leader on the sideline in former Missouri State, Albany and UCF coach and UGA player Katie Abrahamson-Henderson.
An impressive 14-point win over always-tough in-state rival Georgia Tech has been the highlight thus far, though defeats earlier this season in what could've been resume-building wins against Seton Hall and NC State have the Dawgs on the right side of the early-season tourney bubble, but still needing to pick up some quality victories outside of the SEC to make them feel truly safe.
Audrey Warren hits a HUGE three just under the midway point of the fourth quarter#GoDawgs pic.twitter.com/IRgwyUaKL5

— Georgia Basketball 🏀🐶 (@UGA_WBB) December 6, 2022
What better place to do that in West Palm Beach against two solid programs in West Virginia and San Diego State?
Georgia's biggest strength all year and its defining trait in the Sunshine State will almost certainly be rebounding as the Dawgs usually dominate on the boards, averaging 17.4 offensive rebounds per game (fifth in America) and having nine different players on the roster that average at least three boards per night. Plus, UGA's smooth transition into this year with all the turnover is largely due to the fact that Abrahamson-Henderson managed to bring some of the best parts of UCF's roster a year ago with her to Athens.
Georgia's current top-two scorers, Diamond Battles (14.5 points per game) and Brittney Smith (12.1), both played under Abrahamson-Henderson in Orlando and made the move up north right along with her when she was hired. Now, it makes for a duo that has the Dawgs entering West Palm Beach as arguably the hottest program in the field.
Games in Palm Beach: vs. West Virginia, 2:30 p.m. Tuesday; vs. San Diego State, 2:30 p.m. Wednesday
West Virginia Mountaineers (7-2)
The lowdown: Speaking of new coaches, West Virginia has one too in Dawn Plitzuweit, who had an .819 winning percentage over six years at South Dakota (a run which included a run to last season's Sweet 16) before being hired to take over in Morgantown in the offseason. Elite defense was the trademark of those Coyotes teams, and as WVU currently has one of the 10 lowest points allowed per game (50.8) of any program in the country, it's safe to say that Plitzuweit is getting her points across well — and the players are responding well to it.
Backcourt mates Madisen Smith and Ja'Naiya Quinerly are both averaging double-figure scoring numbers along with over 2.0 steals per game, a category of which the Mountaineers are among the nation's leaders in (12.0 team steals per game, 12th in the nation).
The one major knock on WVU thus far this year, however, is that its wins have come mainly against outmatched opposition, whereas its two major tests in nonconference play to this point — on a neutral court against NC State and on the road at Penn State — have seen the Mountaineers lose by double figures in both games, and to the Wolfpack specifically by a whopping 38 points.
Therefore, it's especially important for WVU to look strong against Georgia in its opening game to prove that it's not just beating up on teams that can't keep up and that it can pull out good results against strong competition in the hunt for a trip to the NCAA tourney.
Yes, it may be a long time before the selection show comes around, but moments like those matter when taking in and evaluating all of a team's resume and its performances.
Games in Palm Beach: vs. Georgia, 2:30 p.m. Tuesday; vs Miami (Ohio), noon Wednesday
San Diego State Aztecs (7-2)
The lowdown: San Diego State hasn't finished with a winning record in a decade (since 2012-13), but coach Stacie Terry-Hutson is currently amid her best start to a season since she's been at the helm with the Aztecs, positioning her team well for the rest-of-season stretch.
So far, SDSU has established more than merely a good foundation —it's established an excellent one to build off of. No team in Division I shoots a better 3-point percentage (43.8%) than the Aztecs, and it's not because they chuck up a bunch of long shots, either, as San Diego State only attempts around 14 from beyond the arc per game.
Rather it's the quality of those attempts that's been key, along with two fantastic deep shooters in the starting lineup with Mercedes Staples (11.3 points per game, 51.2% from 3) and Sophia Ramos (10.3 points, 46.9% from 3) that can knock down shots from the wing seemingly on-command.
Mixed with a very good defense (55.3 points allowed per game, 36% opposing field goal percentage allowed) that's really only had one off night — in its opener, an 86-48 loss at No. 2 Stanford — and perhaps the Aztecs could be a sneaky pick to go 2-0 in The Sunshine State next week and boost their confidence up even more heading into the Christmas break.
San Diego State has a tendency to get smoked on rebounding, however, averaging 31.8 total boards per game, which does not bode well matchup-wise against a Georgia team that crashes hard and gets opportunities by way of the glass.
No Aztecs player averages more than 5.0 rebounds, leaving it to someone on the roster to step up and grab down missed shots from amongst the trees to either continue possessions — or stop opposing ones for good.
Games in Palm Beach: vs. Miami (Ohio), noon Tuesday; vs. Georgia, 2:30 p.m. Wednesday
Miami (Ohio) RedHawks (3-5)
Peyton Scott was cleared to return to basketball just 7 months after ACL surgery. Get a glimpse of @pcity24's comeback mentality with this Front Row Feature: https://t.co/JKFA2rmHUt
This week, Scott could become the 3rd Miami player ever to reach 1,500 career points/500 rebounds. pic.twitter.com/eXa2YSnByA

— Miami University WBB (@MiamiOH_WBB) December 15, 2022
The lowdown: It's been a rough few seasons for the RedHawks, as since Megan Duffy left to take the head coaching job at Marquette prior to the 2019-20 campaign, Miami has only won a combined 22 games in the three seasons leading up to the current one. But give credit to the RedHawks as they aren't showing that they're scared to play some talented high-major competition and test themselves before MId-American Conference play kicks in after New Years' Day.
However, the major caveat is that those scoring performances often have to be mustered when the RedHawks are playing from behind, with Miami having allowed 75 points or more on five different occasions this season and at least 90 points twice, all games of which were defeats.
A total of 18.3 turnovers per game doesn't help matters much, either, as doesn't the RedHawks' lack of offensive rebounding (8.5 boards per game) in terms of the squad creating chances and second chances for itself in order to keep it in games.
It'll be tough for Miami to keep pace with the two opponents it has to face ahead in West Palm Beach.
Games in Palm Beach: vs. San Diego State, noon Tuesday; vs. West Virginia, noon Wednesday