2022 La Salle vs Villanova - Women's
BIG EAST Games Of The Week: Wild Wednesday Sets Stage For League Play
BIG EAST Games Of The Week: Wild Wednesday Sets Stage For League Play
If you're looking for a game involving a BIG EAST women's basketball team to watch this week, there's only one day you need to circle.
Dec 20, 2022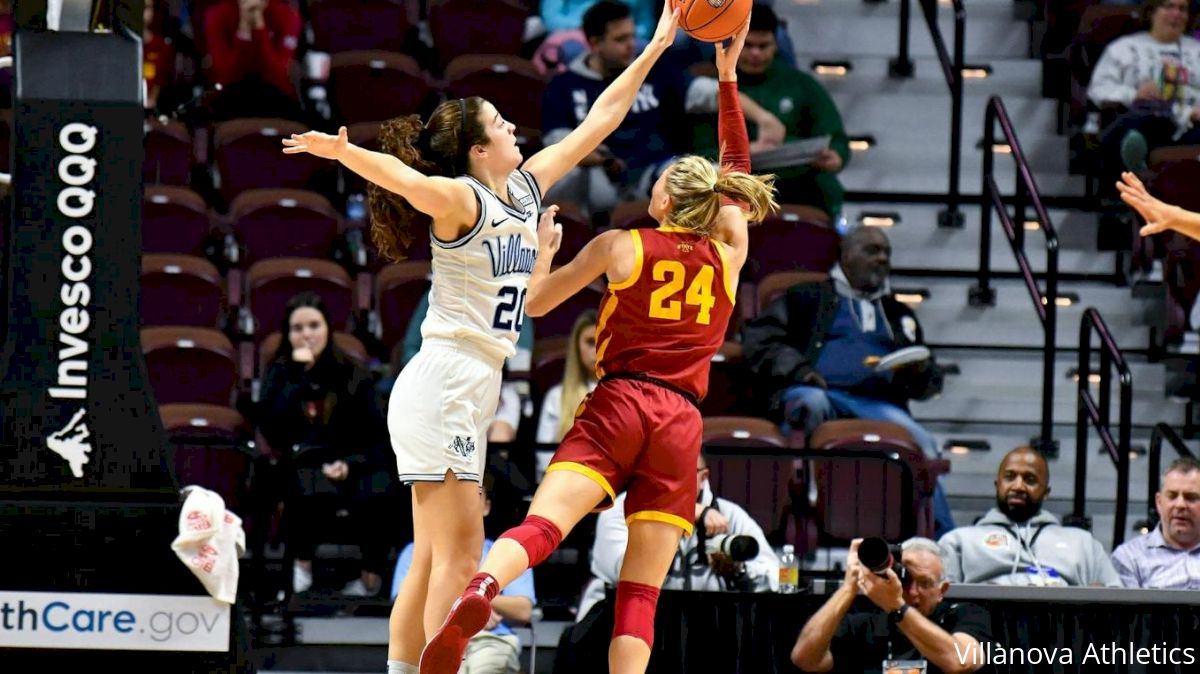 If you're looking for a game involving a BIG EAST women's basketball team to watch this week, there's only one day you need to circle.
Schools across the league will embark on a one-week break between Wednesday and Dec. 28, giving teams time off to relax and iron out some finer details, before conference play kicks into full force.
Hence, it makes games for those playing Wednesday that much more important - they're the last tuneups before pressure really starts to amp up for the unforgiving BIG EAST slate ahead.
With five games involving BIG EAST teams being streamed live on FloHoops on Wednesday, keep each game and score in mind during the holiday week. It could tell a lot about where all the competition stands heading into the new year.
Here's a look at the BIG EAST women's basketball games to check out this week on FloHoops,
which is streaming league games all season.
NOTE: All tipoff times are listed in Eastern Time and are subject to change.
La Salle Vs. Villanova
The Philadelphia "Big 5" - Villanova, La Salle, Temple, Saint Joseph's and Penn - features some of the most historic teams, names and figures in all of the hallowed history of college basketball, and whenever two hoops teams from the City of Brotherly Love tussle, there almost always are high stakes and plenty of local pride up for grabs.
It's no different this time around.
Villanova enters the matchup at a strong 9-3 overall, with all three losses coming to teams ranked in the latest Associated Press Top 25 Poll (No. 14 Iowa State, No. 21 Creighton and No. 24 Baylor).
Still firmly in the mix for an at-large berth to the NCAA Tournament for the second consecutive year, as they haven't had any inexcusable defeats to this point, the Wildcats will be looking to close nonconference play on a high note before the gauntlet of BIG EAST competition begins after the holiday break.
And, with a player with such on-court prowess as reigning All-American and BIG EAST Player of the Year Maddy Siegrist, who is averaging video-game numbers at 27.8 points and 9.6 rebounds per night, Villanova isn't going to be overmatched by many (if any) opponents this season.
Siegrist also loves a high-scoring night against a Big 5 foe.
Prior to today's game vs. St. Joseph's, @20sMaddy was presented with a commemorative ball in recognition of her 2,000th career point which she achieved earlier this season in a win over South Florida. 👏✌️ pic.twitter.com/5x1o01to2W

— Villanova WBB (@novawbb) December 10, 2022
Temple found that out the hard way earlier this season, as Siegrist dropped a ridiculous 41 points - including 18 in the fourth quarter alone - in a narrow 74-71 'Cats win.
But the Explorers are 8-4 and have been building a bit of an under-the-radar identity as an upset specialist this season.
La Salle has won two games this season (at Sacred Heart and against fellow Philly school Drexel), in which it had a 20% chance or less to win the game prior to tipoff, per women's hoops analytical site HerHoopStats.
La Salle also has a dangerous weapon of its own in fifth-year guard/forward Kayla Spruill (13.4 points per game, 45.5% 3-point percentage), a two-time All-Atlantic 10 and All-Big 5 pick.
Still, Villanova has the major advantages of 13 straight wins against the Explorers, with their last win in 2008, and Siegrist being able to take over the court like few players in America can, making a shock victory an uphill battle for La Salle.
Colorado Vs. Marquette
Expected to regress to the bottom half of the Pac-12 Conference for this season after losing Mya Hollingshed - the eighth overall pick in last year's WNBA Draft - Colorado instead has emerged at 9-3 to start the 2022-2023 season, perhaps giving the Buffaloes a bit more mettle than expected.
It'll give Marquette a tough nonconference task to tame.
The Golden Eagles have been more than solid in their own right, with victories over Gonzaga and Texas as the highlights, but expect the Buffs to make Wednesday afternoon's matchup in Milwaukee a knockdown, drag-out slugfest.
Marquette only allows opponents to score an average of 56.4 points per game, whereas Colorado only allows 55.5 a night in response, giving their game a foundation, which could result in a setting down the stretch where every possession matters and every made bucket is a crucial one.
If that's the case, ball security will become vital to emerging on top, which is where the Golden Eagles hold an advantage.
Coach Megan Duffy's team has an elite 1.22 assist-to-turnover ratio and is very good at following missed shots, averaging nearly 15 offensive boards per game to grant them many second-chance opportunities.
But Colorado counters that through its average of 10.9 steals per game, an effort led by pass-first, two-way senior guard Jaylyn Sherrod (nine points, 5.1 assists, 2.4 steals per game) and senior center Quay Miller, the leading scorer at 14 points, 7.7 rebounds, 1.8 steals).
It's a clash between two programs that are very good at what they do, and for Marquette, it's senior guard Jordan King (15.1 points, 4.2 assists, 4.1 rebounds, 2.3 steals) who has been the do-it-all anchor in the backcourt to help the Golden Eagles maintain their style and philosophy.
In yesterday's win over Butler, Jordan King became just the 8th player in program history with 1⃣,0⃣0⃣0⃣ career points and 4⃣0⃣0⃣ career assists#MUWBB pic.twitter.com/7CCQs4EzLz

— Marquette WBB (@MarquetteWBB) December 19, 2022
The most important piece both throughout Marquette's solid start - and maybe Wednesday - may be fifth-year forward Chloe Marotta (14.1 points, 8.6 rebounds), who has emerged as one of the BIG EAST's most improved players and as an elite playmaker out of the post (3.2 assists per night), sliding in to fill the gap nicely that was left behind by the departure of last year's leading scorer and All-BIG EAST first-team pick Lauren Van Kluenen.
Her battles with 6-foot-3 presences Miller and Aaronette Vonleh (sister of current Boston Celtics player Noah Vonleh) will be crucial to the game's final result.
St. John's Vs. Wagner
Is St. John's ever going to lose again? OK, maybe that's a bit of a rhetorical question as, yes, the Red Storm almost certainly will drop a game sometime this year.
But who expected St. John's to be one game away from being undefeated at Christmas - and the current BIG EAST leader, too - with a signature win against Creighton under its belt?
At this point, it's futile to put expectations on the Red Storm anymore.
The program's surge to begin the year has resulted in the best start in school history and has given the Red Storm the No. 25 slot in the latest AP Top 25 Poll, their first time being ranked in seven years.
The hottest team in the BIG EAST, St. John's has looked spectacular with an efficient offense (51.3% effective field-goal percentage) led by offseason Pitt grad transfer Jayla Everett, who has been the league's top newcomer thus far following 16.1 points, 3.4 assists and 1.3 blocks per game as the engine of the Red Storm's backcourt.
But the defense is the star of the show, holding opponents to just 54 points per night and a 40.1% effective field-goal percentage. Both rates rank within the top 35 of all teams in the country.
The defensive performance against the Bluejays was particularly impressive, with the Red Storm holding an offense that is one of the most assist-heavy in the country to just 10 for the game, while also forcing 12 turnovers.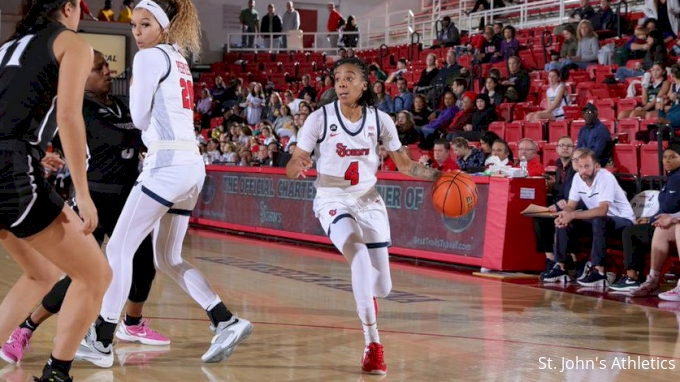 St. John's will be highly favored against Wagner, which is 5-5 out of the Northeast Conference and lost to Iona by 25 points. Iona is a team the Red Storm stomped by 26.
A 50-point swing probably is unlikely, as St. John's only averages 69.9 points per game, but if you haven't checked out the Red Storm during their excellent run, perhaps the game against the Seahawks would make for a good occasion to notice what St. John's does best.
It'll also need all the tuneups it can get before the upcoming hiatus, as fellow upstart BIG EAST squad Seton Hall (9-3) awaits Jan. 4, as does almighty UConn a week after that.