2022 San Diego Invitational
San Diego Invitational Day 1: Ohio State Rally Caps A Pair Of Great Games
San Diego Invitational Day 1: Ohio State Rally Caps A Pair Of Great Games
The San Diego Invitational featured a pair of outstanding games between four teams with March Madness chops.
Dec 21, 2022
by Kyle Kensing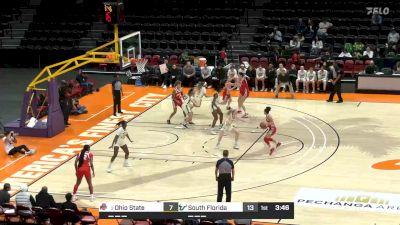 Unlock this video, live events, and more with a subscription!
Get Started
Already a subscriber? Log In
Eighty-five minutes of March-quality basketball reached a crescendo in the final 72 seconds, when No. 3-ranked Ohio State completed a raucous rally to cap the first day of the San Diego Invitational.
In the second of two games featuring teams destined for the 2023 NCAA Tournament, Ohio State and South Florida went to overtime — and an extra five minutes almost wasn't enough to determine a winner in the 88-86 contest.
USF, which led by as many as 18 points in the second quarter, took a six-point advantage on a pair of Daniela Gonlazez free throws with 1:12 left in overtime. The Bulls controlled much of the game, leading for almost 40 total minutes thanks to a career performance from post player Dulcy Fankam Mendjiadeau.
Mendjiadeau scored 34 points on 11-of-15 shooting, seemingly providing the answer every time it appeared Ohio State was poised to break through. She also grabbed 17 rebounds, seven of which were on the offensive end, and her blocked shot on the defensive side gave her 100 for her college career.
Q3 | 4:49

𝘾𝙊𝙉𝙂𝙍𝘼𝙏𝙐𝙇𝘼𝙏𝙄𝙊𝙉𝙎 to Dulcy on her 1⃣0⃣0⃣th career blocked shot recorded in the first half!

USF: 47
Ohio State: 37#HornsUp🤘 | #RunWithUs pic.twitter.com/mXTLkyuVzL

— USF W. Basketball (@USFWBB) December 21, 2022
It's perhaps no coincidence that Tuesday's contest flipped in Ohio State's favor once Mendjiadeau fouled out. However, hers was one of two keys disqualifications due to fouls in the game's closing stretch.
Rebeka Mikulasikova was whistled for her fifth, ending a quiet afternoon of just two points on 1-of-8 shooting for the Buckeyes post player. Eboni Walker checked in for the last of the just four minutes she logged on the game.
Walker's minutes weren't plentiful, but they were certainly meaningful.
Spurred on by her own personal cheering section, the Las Vegas native drove to the basket for a layup just seconds after entering the game. The following Ohio State possession saw Cotie McMahon, who scored a career-high 30 points, miss a foul shot after making her first 10 from the charity stripe.
As the miss caromed off the rim, Taylor Thierry slipped through to grab the offensive rebound and kick the ball out to open Taylor Mikesell.
Mikesell struggled through a trying offensive game, missing her first 11 field-goal attempts. She made her final two, however, including a game-tying 3-pointer with 15 seconds remaining. Mikesell initiated the four-point sequence with a steal on the other end.
With Mendjiadeau sidelined, USF went to one of its season-long leading scorers, Elene Tsineke, to break the tie.
Walker rejected Tsineke's shot, creating a fast-break for Thierry's game-winning lay-in. The bucket culminated a Thierry's career-high, 23-point performance, as well as one of the most wild minute-and-change of basketball played anywhere this season.
Taylor Thierry has matched her career-high 21 points and @cotiemcmahon23 has a new career-high 27 points today!#GoBucks pic.twitter.com/blLTqfoHLJ

— Ohio State WBB (@OhioStateWBB) December 21, 2022
The late-game heroics of Walker in limited playing time and of Mikesell after laboring through a difficult regulation were fitting reflections of Ohio State's game as a whole. The Buckeyes led Tuesday's contest for less than a minute in total, but that was enough for them to maintain their perfect record heading into Wednesday's San Diego Invitational finale.
Ducks Come Up Clutch In Game 1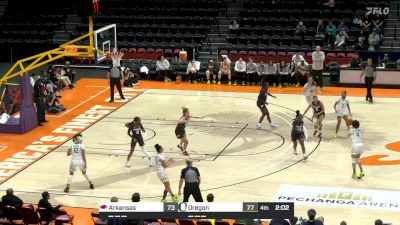 Unlock this video, live events, and more with a subscription!
Get Started
Already a subscriber? Log In
How back-and-forth was the first game of Tuesday's San Diego Invitational slate? Consider that the final 85-78 score in Oregon's favor marked the largest lead either team held all contest, and you have your answer.
Top 20-ranked counterpart Oregon and Arkansas traded haymakers for all 40 minutes, with the versatile Razorbacks utilizing ball movement and finesse and the Ducks attacking with physicality on the interior.
But while Oregon held a 40-26 advantage for points in the paint, and Arkansas knocked down 12 3-pointers to the Ducks' eight, UO delivered its knockout punches from beyond the arc.
First came a Chance Gray triple with three minutes remaining, which gave the Ducks a one-point lead. Later, Phillipina Kyei — who had a monster closing stretch on both ends of the floor — rebounded a Gray miss then kicked out to a wide-open Ahlise Hurst. Hurst knocked down her 3-point attempt, doubling the Oregon lead it never relinquished.
Clutch. @HurstAhlise from deep!

🎥 @FloHoops
📲 https://t.co/D9YKr8DA1x#GoDucks pic.twitter.com/MZgbK2fhj4

— Oregon Women's Basketball (@OregonWBB) December 20, 2022
But four points from the Razorbacks during a slugfest of a 90-second stretch pulled Arkansas to within two points. That's when Gray again answered the bell.
Big shot Gray#GoDucks x @chancegrayy pic.twitter.com/odCQEiPvVP

— Oregon Women's Basketball (@OregonWBB) December 21, 2022
Her second 3-pointer of the fourth quarter came with 59 seconds remaining and proved to be the effective difference-maker. Te-Hina Paopao, a native of nearby Oceanside, finished her San Diego homecoming off first with feeding Gray for the pivotal triple, then coming away with a steal to ensure the Ducks victory.
The win showed off the impressive balance that's defined Oregon thus far into the season. Freshman Grace VanSlooten led the way with a career-high 26 points, Endyia Rogers scored 20 points and dished six assists, and Kyei's 14-rebound effort included a number of critical boards down the stretch.
"It gives us a lot of confidence going forward," VanSlooten said of the win. "Which I feel is one of the most important parts of basketball."
Oregon carries that confidence over into Wednesday's contest, another AP Top 25 matchup against Ohio State.