2023 St. John's vs Seton Hall - Women's
BIG EAST Games of the Week: New Year Opens With Showdown Of Breakout Teams
BIG EAST Games of the Week: New Year Opens With Showdown Of Breakout Teams
A pair of the surprise breakout teams that have helped make the BIG EAST perhaps the deepest conference in women's basketball headline the New Year's slate.
Dec 30, 2022
by Ron Balaskovitz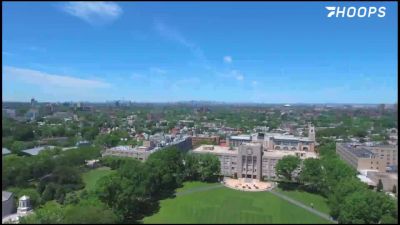 Unlock this video, live events, and more with a subscription!
Get Started
Already a subscriber? Log In
The BIG EAST has proven itself perhaps the deepest of league's in women's basketball this season, and thus every league game offers a tough test.
League favorites UConn and Villanova are off to strong starts, while surprises and in St. John's and Seton Hall have stormed out of the gate in the early-going to put themselves on the radar for March Madness.
While the year ends, there's no shortage of exciting matchups in the league as the calendar turns to 2023, including a surprise showdown of breakout teams looking to take over first place.
Here's a look at some of the best games on the upcoming schedule. All times are Eastern.
Marquette At UConn, Saturday, Dec. 31, 2 p.m.
Traditional power UConn is one of three teams still undefeated in BIG EAST play, but the Huskies can expect a test when they cap 2022 against a tough Marquette bunch.
Saturday's matchup is one between two teams heading in opposite directions, as UConn has won its last three games to climb to 10-2 overall. The last two were conference blowouts of Seton Hall by 25 last Wednesday, then Creighton on the road by the same 25 point margin.
The Huskies' average margin of victory in the BIG EAST now sits at a dizzying 31 points per.
Marquette started strong in the BIG EAST, winning its first two games, but dropped its last two to fall to 9-4 overall. If there is a silver lining, the second of the two league last losses was by just two points to a strong Villanova team.
The key for the Golden Eagles has been their offense. In three of the four losses, they were held to under 60 points, and scored 67 or more in each of their wins.
This is a measuring stick game for Marquette, where it can find out if it's among the BIG EAST contenders, or if its recent run of play is more indicative of the Golden Eagles' prospects.
Creighton at DePaul, Saturday, Dec. 31, 4 p.m.
The Blue Demons also count themselves among the trio of 3-0 teams left in the BIG EAST, finding their stride of late with wins in five of their last six games. All five wins came by six points or more, and the lone loss was against a Louisville team that tipped off the season with no shortage of Final Four buzz.
Some may call this "hoopin'" but we know it's just Aneesah being Aneesah 🤩

37th career double-double for the sophomore! pic.twitter.com/dQjGCjLMIt

— DePaul Women's Basketball (@DePaulWBBHoops) December 29, 2022
In their three league wins, the Blue Demons pulled out a road defeat of Butler, then home wins against Georgetown and Providence.
While nobody will turn down a 3-0 start in BIG EAST play, you might say DePaul is unproven in the conference; those three wins are against teams that are a combined 2-10 so far in the league.
Creighton is another team trying to figure out if it is contender or pretender for the league title chase after a 2-2 start to its conference slate. While ranked among the Top-25 at the moment, the Blue Jays have dropped three in a row after an 8-1 start.
It must be noted those three losses came against No. 21 Arkansas, No. 2 Stanford, and No. 8 UConn – hardly an easy stretch for any team. The Jays' league wins came on the road against Xavier and Villanova, before a road loss at St. John's and Wednesday's matchup against UConn. After Saturday, the Blue Jays get their next three league games at home.
St. John's at Seton Hall, Wednesday, Jan. 4, 7 p.m.
The surprises of the BIG EAST so far, St. John's sits at 12-0 on the season – the last undefeated team in the league – and 3-0 in the conference. The Red Storm have done it with a combination of home cooking, playing nine of their 12 games at home, and against what could be described as not the most difficult of schedules.
The only ranked opponent among those 12 victories came in a Dec. 4 home matchup against Creighton, which St. John's in an impressive, 66-62 showing. The Red Storm's other two league wins were both on the road against cellar-dwelling Butler, then a home win by eight over Providence.
Cue the celebration💦 pic.twitter.com/SB8BafWkI7

— St. John's WBB (@StJohnsWBB) December 21, 2022
St. John's has been the stingiest team in the league, giving up just 53.8 points per game. That's more than four points fewer than the next-lowest defensive yield in the BIG EAST.
The Pirates of Seton Hall have also been a pleasant surprise, opening at 3-1 in BIG EAST play, and are 8-1 overall since starting the season at 2-3.
During that stretch, Seton Hall scored wins over Big Ten and SEC opponents, plus a conference win over a Top 25-ranked Marquette. The Pirates' lone loss in the last nine games came to powerhouse UConn.
Not many people would have had this game on their radar when the schedules were released, but this one could go a long way in deciding both the BIG EAST title, as well as potential NCAA Tournament bids.