2023 UNC Wilmington vs North Carolina A&T - Men's
CAA Games Of The Week: A&T Hosts Two Marquee Contests
CAA Games Of The Week: A&T Hosts Two Marquee Contests
Following its buzzer-beating win at Hofstra, North Carolina A&T gets two more opportunities to make history in a pair of the CAA's Games of the Week.
Jan 3, 2023
by Kyle Kensing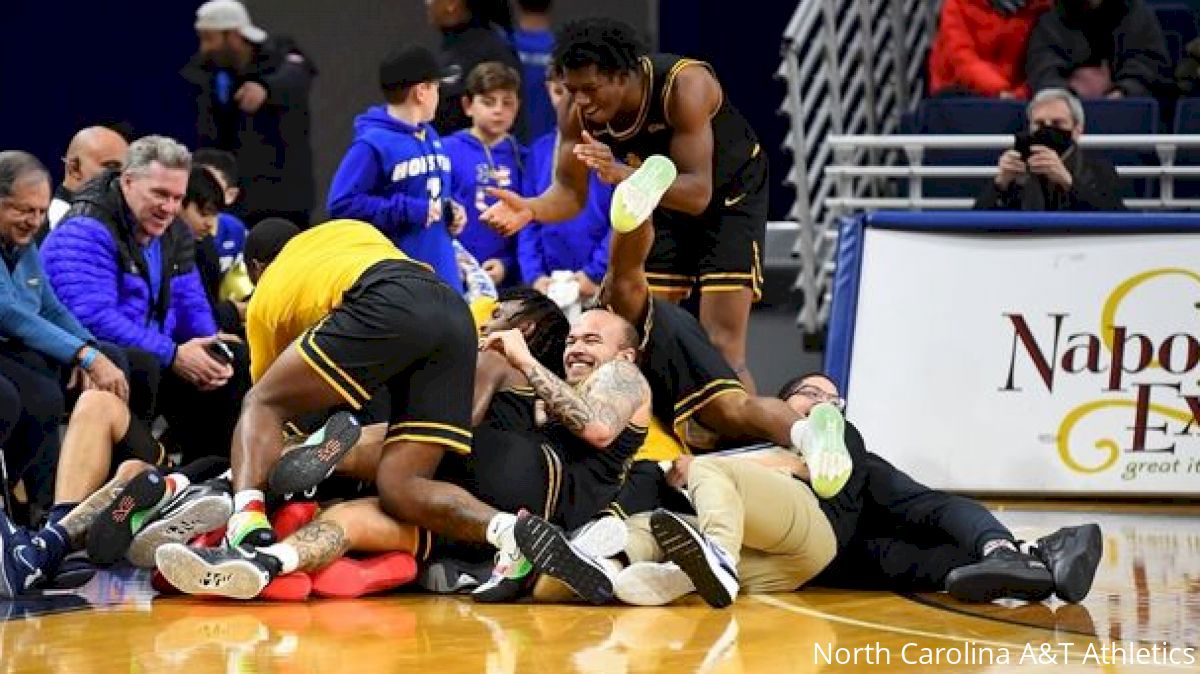 Opening week of Colonial Athletic Association competition set the bar for the coming months high. The second full CAA slate promises more jaw-dropping moments and nail-biting finishes — as well as a Top 25 team.
College of Charleston takes its newly gained status as No. 23 in the Associated Press Poll into a tough couple of contests, first going on the road to meet Colonial newcomer North Carolina A&T.
The Aggies have played one of the nation's toughest schedules through the first nearly two months of the 2022-23 season, a stretch that reached a crescendo in A&T's CAA-debut weekend. After a loss to Northeastern, the Aggies rebounded with an early New Year's Eve celebration, stunning Hofstra on the road, 81-79, on Tyrese Elliott's buzzer-beating tip-in.
Tyrese Elliott (@tyrese_elliott) tips back the ball AT THE BUZZER to win it for North Carolina A&T (NC A&T) 81-79 over Hofstra pic.twitter.com/VrIBx5xpl1

— NCAA Buzzer Beaters & Game Winners (@NCAABuzzerBters) December 31, 2022
'It feels great. It's historic. I'm ecstatic," A&T interim coach Phillip Shumpert said via NCATAggies.com. "To be in a high-level league like this and get our first win on the road against one of the best teams in the conference in Hofstra makes me so proud of our guys and our coaching staff."
Historic indeed, and statement-making: For the Aggies to beat an opponent the caliber of Hofstra — featuring the reigning CAA Player of the Year, Aaron Estrada — established them as immediate threats to the presumed contenders of the league.
And as the 2022 portion of the '22-'23 college basketball campaign gives way to 2023, no two teams look like more serious contenders for the crown than A&T's opponents this week. Charleston is in Greensboro on Wednesday, and UNC Wilmington visits on Saturday.
Both the Cougars and Seahawks head into the week on double-digit-game winning streaks. Charleston looks to extend its run to 14 and 15 games with its visit to North Carolina A&T, then a homecoming Saturday to face Delaware. Both games air on CBS Sports Network.
UNC Wilmington, meanwhile, could be on the precipice of surpassing last year's program-record 12-game winning streak when it heads to A&T on Saturday.
The Seahawks cruised in their two CAA-opening dates, beating newcomers Monmouth on Dec. 28, 68-55; and Hampton on New Year's Eve, 82-65.
UNCW continues its meteoric climb up the national KenPom.com rankings, heading into Wednesday's trip to Elon at No. 112. The Seahawks will thus be A&T's eighth opponents currently ranked in the KenPom Top 150, and third straight in CAA play after Hofstra (No. 134) and Charleston (No. 90).
Northeastern at William & Mary
Following its impressive win over North Carolina A&T, Northeastern suffered a 65-61 setback against Stony Brook. The Huskies battled back, trailing much of the way against the Seawolves, but Stony Brook provided enough answers to stave off a Northeastern rally.
NU aims to bounce back in its first CAA road trip, visiting William & Mary on Thursday. The much-improve Tribe gave Drexel a tough contest last week, but couldn't keep pace with the Dragons in the second half of a 66-56 loss.
"We really defended with good focus for the vast majority of the game," William & Mary coach Dane Fischer said following the game, via TribeAthletics.com.
Thursday's matchup promises to be a pivotal juncture for two teams with the potential to emerge as dark-horse challenges as the CAA season progresses.
Towson at Stony Brook
Around the same time Stony Brook was wrapping up its historic, first-ever CAA win at Northeastern, Towson was battling back to force overtime against Charleston.
The Cougars' march to the Top 25 very nearly was for naught, as Pat Skerry's Tigers demonstrated the guts and defensive intensity that made them the preseason favorites to repeat as regular-season CAA champs.
Coming off a heartbreaking, overtime loss, Towson heads on the road for a chance to regroup against a Seawolves side that appears to be figuring things out.
Stony Brook's win on the road over a Northeastern team that had momentum after beating Davidson and North Carolina A&T in consecutive contests made a significant statement. Part of that statement: Frankie Policelli can be a problem for opposing defenses.
Policelli connected on three 3-pointers and finished with 17 points for his fifth double-figure scoring game in Stony Brook's last six. That stretch includes a season-best 22 points against Army, and 18 points on six made 3-pointers against Bryant.
🎥 CAA Hoops S1E1: 𝗧𝗵𝗲 𝗙𝗶𝗿𝘀𝘁 𝗗𝘂𝗯

🌊🐺 x #CAAHoops pic.twitter.com/l5J1VvzTRM

— Stony Brook Men's Basketball (@StonyBrookMBB) January 3, 2023
Towson's always-scrapping defense will look to limit Policelli, while the Tigers offense attacks the interior. Stony Brook's defense is allowing 51 percent shooting from inside the 3-point arc, presenting Towson with a potential jumping-off point to get Charles Thompson rolling.
Before its visit to Stony Brook, Towson looks to snap its ongoing skid Thursday visiting Drexel. Zach Spiker's Dragons boast one of the premier big men on the East Coast in Amari Williams.
Drexel and Towson face off on CBS Sports Network.