CAA Men's Basketball
CAA Men's Basketball Report | Jan. 2, 2023
CAA Men's Basketball Report | Jan. 2, 2023
Catch up on the CAA Men's Basketball weekly news, notes and awards.
Jan 3, 2023
by FloHoops Staff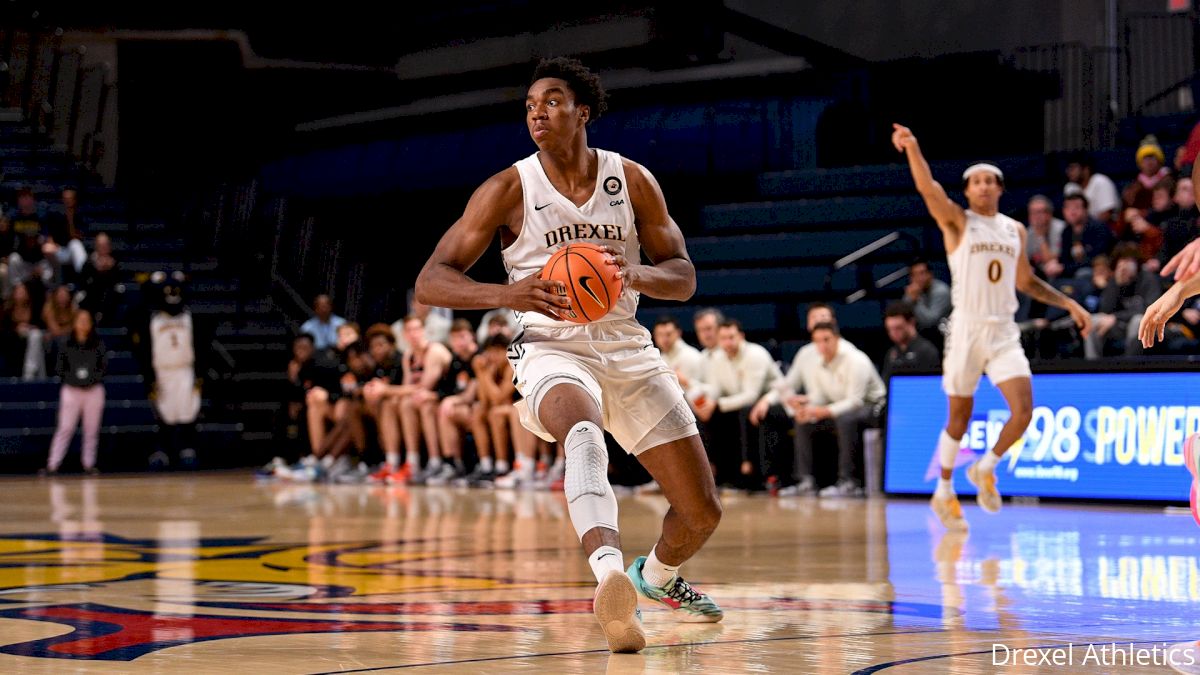 Wednesday, December 28
UNCW 68, Monmouth 55 *
Thursday, December 29
Drexel 62, Elon 50 *
Hofstra 87, Delaware 73 *
Northeastern 88, North Carolina A&T 76 *
RV/RV Charleston 89, Hampton 61 *
Saturday, December 31
Stony Brook 65, Northeastern 61 *
RV/RV Charleston 76, Towson 74 (OT) *
North Carolina A&T 81, Hofstra 79 *
Delaware 57, Elon 52 *
Drexel 66, William & Mary 56 *
UNCW 82, Hampton 65 *
Wednesday, January 4
23/RV Charleston at North Carolina A&T * (CBSSN).......... 5 p.m.
UNCW at Elon * (FloHoops)...................................... 7 p.m.
Thursday, January 5
Drexel at Towson * (CBSSN)...................................... 7 p.m.
Northeastern at William & Mary * (FloHoops).............. 7 p.m.
Hofstra at Hampton * (FloHoops)............................... 7 p.m.
Stony Brook at Monmouth * (FloHoops)...................... 7 p.m.
Saturday, January 7
Monmouth at Drexel * (FloHoops)............................. 2 p.m.
Hofstra at William & Mary * (FloHoops)...................... 2 p.m.
UNCW at North Carolina A&T * (FloHoops).................. 2 p.m.
Northeastern at Hampton * (FloHoops)....................... 4 p.m.
Delaware at 23/RV Charleston * (CBSSN)........................ 5 p.m.
Towson at Stony Brook * (SNY, FloHoops)............... 6:31 p.m.
* - CAA game
WEEKLY AWARDS
PLAYER OF THE WEEK
Amari Williams, Drexel
Junior | Forward | Nottingham, England / Myerscough College
Williams was Drexel's anchor defensively in a pair of all-around performances to get the Dragons started 2-0 in CAA play. The junior from England tallied 10 points, 14 rebounds, six assists, four blocks, and one steal in Thursday's 62-50 win over Elon before an effort of 18 points, nine rebounds, one assist, six blocks, and three steals in Saturday's 66-56 victory against William & Mary.
ROOKIE OF THE WEEK
Duncan Powell, North Carolina A&T
Redshirt Freshman | Forward | Dallas, Texas / DeSoto
Powell averaged 17.5 points and 9.5 rebounds per game while shooting 75% in a 1-1 week that included North Carolina A&T's first league win as a CAA member. The redshirt freshman from Dallas tallied 17 points and nine rebounds in Thursday's setback at Northeastern before a double-double of 18 points and 12 rebounds Saturday helped propel the Aggies to a last-second comeback win at Hofstra.
2022-23 CAA MEN'S BASKETBALL WEEKLY AWARD WINNERS
Player of the Week
Nov. 14: Nicolas Timberlake, Towson
Nov. 21: Aaron Estrada, Hofstra; Ryan Larson, Charleston
Nov. 28: Cam Holden, Towson
Dec. 5: Jyáre Davis, Delaware; Jordan Nesbitt, Hampton
Dec. 12: Jameer Nelson Jr., Delaware
Dec. 19: Jyáre Davis, Delaware
Dec. 26: Maleeck Harden-Hayes, UNCW
Jan. 2: Amari Williams, Drexel
Rookie of the Week
Nov. 14: Amar'e Marshall, Hofstra
Nov. 21: Amar'e Marshall, Hofstra
Nov. 28: Amar'e Marshall, Hofstra
Dec. 5: Jack Collins, Monmouth
Dec. 12: Amar'e Marshall, Hofstra
Dec. 19: Noah Ross, UNCW
Dec. 26: Max Mackinnon, Elon; Jared Turner, Northeastern
Jan. 2: Duncan Powell, North Carolina A&T
NEWS AND NOTES
THAT'S CALLED A WINNING STREAK
The CAA enters the day with two teams in the top 90 of the NET thanks to Charleston (49) and UNCW (86). Charleston (14-1) has won 13 straight with the only loss this year to North Carolina, while UNCW (12-3) has been victorious in 11 straight with its only setbacks this year against North Carolina, Oklahoma, and UConn.
STUDYING ON THE QUAD
CAA teams hold nine wins that qualify as Quad 1 or Quad 2 in the NET. Charleston's win over Kent State earns the Cougars a Q1 victory, while Hofstra has three Q2 wins (Iona, San Jose State, Princeton) and Charleston (Virginia Tech), UNCW (North Texas), Towson (UMass), Delaware (Princeton), and North Carolina A&T (Hofstra) each have one.
The CAA went 6-2 vs. both the Sun Belt and MAAC, 8-3 vs. the A10, and 7-3 vs. the SoCon this winter in addition to wins over the ACC and American.
#RANKCHARLESTON: ü
Charleston is No. 23 in this week's AP Top 25, making the Cougars the first CAA team ranked in the AP poll since Navy in January 1987. George Mason was ranked in the coaches poll in 2006 and 2011 along with VCU in 2011. Charleston is No. 2 and UNCW is No. 15 in the most recent College Insider Mid-Major Top 25.
ELEVEN FOR THE SEAHAWKS!
UNCW has won 11 straight games following Saturday's victory over Hampton. The Seahawks have climbed 113 spots in KenPom, won the Baha Mar Hoops event, and defeated a member of The American during the streak. UNCW shot 51.4% in its first two league games while holding opponents to 39.3%.
DREXEL GETTING DEFENSIVE
Drexel's 60.9 points per game allowed ranks 25th nationally and the Dragons have held their opponents under 60 in all eight victories. Drexel is 2-0 to start CAA play for the first time since 2006-07 after defeating Elon and William & Mary to begin its conference schedule.
KINGS OF KING STREET
Charleston is 14-1 with wins over five NCAA Tournament teams and three defending conference champions (ACC, A10, SoCon), a title in the Charleston Classic, and the lone setback at preseason No. 1 North Carolina followed by a current 13-game winning streak. Charleston is the second team in CAA history to open the year 13-1 or better, joining the 1985-86 Richmond squad (16-1).
DELAWARE DUO PRODUCING
Delaware is 6-2 in its last eight games with victories over Davidson, Delaware State, Siena, Princeton, Rider, and Elon. Jameer Nelson Jr. has scored 20+ points in five of the eight while Jyáre Davis has added three 20-point outings. The duo has earned CAA Player of the Week honors for the Hens in three of the last five weeks.
EYE ON THE PRIZE
CBS Sports Network is the home of 18 CAA Men's Basketball games this winter including the semifinals and title game of the CAA Championship. The 15-game regular season package includes at least one game for every CAA team and will feature John Fanta and Dave Ryan as play-by-play broadcasters and Tarik Turner, Terrence Oglesby, and Dr. John Giannini as analysts. Fanta will also join Karlie Smith for a weekly #CAAHoops breakdown on CAASports.com and @CAABasketball on Twitter.
AND-ONES
One thing to know on each #CAAHoops team
Charleston has defeated three reigning conference champions and five NCAA Tournament teams this season and has two Q1/Q2 victories (Kent State, Virginia Tech).
Delaware has won six of its last eight games and is 9-0 this year when holding opponents under 70 points.
Drexel's Amari Williams ranks in the top 50 nationally in the rate of both blocks (8.9%) and steals (4.3%) of possessions in his time on the floor.
Elon's Sean Halloran is sixth in the nation in free throw percentage at 92.7%.
Hampton's Marquis Godwin is averaging 15.7 points per game over his last six with 14+ in all of them.
Hofstra shot a league-best 53.8% in the opening weekend of league play.
Monmouth has played nine teams in the KenPom top 125 with a roster that ranks eighth in least Division I experience.
Tyrese Elliott's tip-in at the buzzer lifted North Carolina A&T to its first CAA win on Saturday at Hofstra.
UNCW's bench has outscored its opponent's reserves in every game of the current 11-game winning streak and by at least 21 points in seven of the 11.
Northeastern's 88 points in Thursday's win were the Huskies' most since scoring 88 in a victory at James Madison in December 2019.
Stony Brook's Frankie Policelli leads the CAA with a 29.5% defensive rebounding rate is tied for the top spot in the league with five double-doubles.
Towson's 36.3% offensive rebounding rate ranks 18th nationally.
William & Mary leads the CAA with a 36.4% three-point field goal percentage.