CAA Midseason Review and Second-Half Predictions
CAA Midseason Review and Second-Half Predictions
College of Charleston's emergence in the Top 25 headlined the first half of the CAA basketball season. What surprises does the second half have in store?
Jan 4, 2023
by Kyle Kensing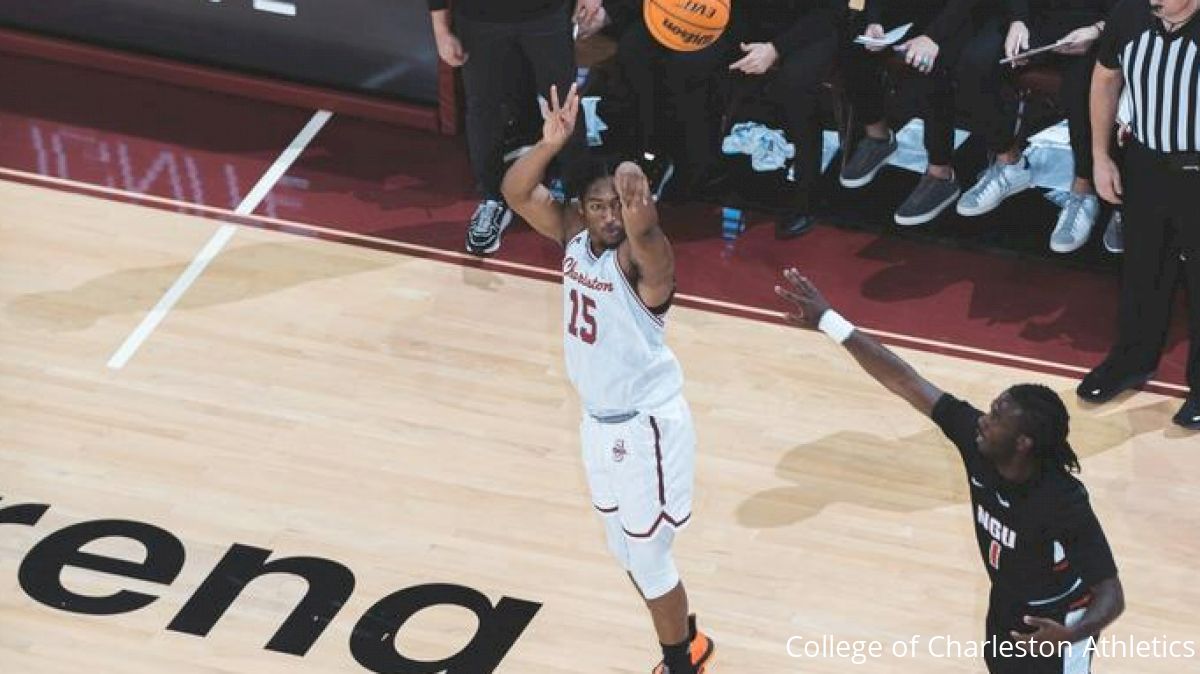 Two months down, two months now remain in the 2022-23 college basketball season.
With non-conference games and tournaments laying the foundation, the Colonial Athletic Association is in the early stages of what promises to be an intense league season. College of Charleston headlined the CAA's first month, rolling up a lengthy winning streak to climb into the Associated Press Top 25 for the first time in more than 20 years.
The Cougars have company among CAA teams rolling into 2023 with one of the nation's longest streaks, as UNC Wilmington's 11-game run through New Year's has the Seahawks in position to surpass last year's remarkable run.
Charleston and UNCW are two of the noteworthy storylines from the Colonial season's first half, with plenty more emerging since the season's start in November. Conference play heating up guarantees a variety more plotlines to develop in the coming weeks.
Midseason Honors
Most Valuable Player: Amari Williams, Drexel
Choosing a definitive MVP is an admittedly tall task. Standouts like reigning CAA Player of the Year Aaron Estrada (Hofstra) and Jameer Nelson Jr. (Delaware) have separated themselves as elite scorers. Trazarien White has been a pillar for UNC Wilmington's outstanding play, and Charleston's entire lineup has been invaluable to the Cougars' success.
Amari Williams stands above, however, both in the figurative and literal sense. The Dre_el big man is having an outstanding all-around campaign at 14.4 points per game on better than 50 percent shooting, almost nine rebounds and 2.4 assists per game. Williams doubles as the linchpin of the Dragons offense and the catalyst on defense, boasting what are some of the best individual defensive numbers in all of college basketball at 2.4 blocks and 1.9 steals per game.
Welcome to Amari Williams' block party

His 5th 🙅‍♂️ of the game for @drexelmbb#CAAHoops on @FloHoops:
📺 https://t.co/wNpIZzCxfq pic.twitter.com/Z04nKbqUru

— CAA Basketball (@CAABasketball) December 31, 2022
Most Improved: Dalton Bolon, Charleston
A scoring machine at the Div. II level, Dalton Bolon transferred to Charleston ahead of the 2021-22 campaign but failed to garner much playing time. Bolon stayed the course and is now a leader of the balanced Cougars attack.
His 12.3 points per game lead Charleston, and he's been virtually automatic at the free-throw line with a 91.2 percent average. Bolon crashes the glass effectively and creates takeaway opportunities with deflections, both of which contribute to the Cougars' uptempo pace-of-play.
Breakout Rookie: Amar'e Marshall, Hofstra
Already a four-time CAA Rookie of the Week honoree, Amar'e Williams is a no-brainer selection as the conference's breakout rookie from the first half. Williams scored a career-high 24 points against previous AP No. 1 Purdue, picking up the slack with Aaron Estrada sidelined.
Marshall also boasts games of 16 points, seven rebounds and four assists against MTSU, five rebounds and three assists against UMass, and nine points with four rebounds against San Jose State.
He was limited in the Pride's conference-opening weekend, but keep an eye on Marshall to be a key piece of Hofstra's back-half push to close the regular season.
Bench Spark Plug: Pat Robinson III, Charleston
Pat Robinson III with the CONTESTED LAYUP with 3.0 left for College of Charleston to take the lead over Virginia Tech (5-0) 77-75 late in this game pic.twitter.com/rKMKq7u1GV

— NCAA Buzzer Beaters & Game Winners (@NCAABuzzerBters) November 20, 2022
Just how deep is the Charleston rotation? Until he moved into the starting lineup over the Cougars' last five games, Ante Brzovic would have been an obvious choice for the Colonial's leading spark plug off the bench. Pat Robinson III continues to fill that role for Charleston just fine, operating as a CAA version of Vinnie "The Microwave" Johnson.
Robinson's instant cooking when coming into the game is producing 10.7 points per game on a 51.3 percent shooting clip. Robinson is also an effective rebounder at more than three per game.
Surprise Team: UNC Wilmington
It may not be as pronounced as a season ago, when the Seahawks were tabbed near the CAA cellar before claiming a share of the regular-season championship. But picked to finish fifth in this year's preseason poll without a first-place vote, UNC Wilmington is once again bypassing all expectations under head coach Takayo Siddle.
The Seahawks have impressively built on last year's success with a different blueprint, replacing the productivity of standouts Jaylen Sims and Mike Okauru with a committee approach that's paying dividends.
Siddle's going nine-deep with players who log more than 12 minutes per game. Seven of those Seahawks score 5.8 points per game or more, led by Trazarien White's 13.9 but no one else in double-figures. But while no other UNCW scorer is posting in double-figures per game, any number is capable of popping off for 15-plus in a given game — including North Dakota State transfer Maleeck Harden-Hayes, who has been one of the Seahawks' most effective scorers since Nov. 30.
Harden-Hayes with the two-handed flush‼️ @uncwmenshoops pic.twitter.com/jVmQImTVFl

— CBS Sports CBB (@CBSSportsCBB) December 28, 2022
Second-Half Predictions
Drexel Contends for the Conference Championship
Amari Williams' dominance in the paint and stellar defense set the bedrock for a Drexel team capable of beating any opponent in the CAA. The Dragons rank in the nation's top 150 for defensive efficiency per KenPom.com, and among the top 50 in allowing field goals off of assists.
The latter figure speaks to Drexel's ability to get into passing lanes. Williams, Justin Moore and Jaime Bergens average steals on 1.7 to 4 percent of all defensive possessions each.
Combine their defense with an offense that operates methodically and can frustrate opponents, and Drexel has the formula to emerge as the conference's dark-horse contender for the championship.
Towson or Delaware or Both Goes on a Tear
Towson — last season's co-CAA regular-season champion and recipient of an automatic bid to the NIT — and Delaware, the Colonial's representative in the NCAA Tournament, both experienced the Christmastime blues.
Losing skids around the holiday season have cast a pall over two of the CAA's most talented teams, but don't write off either. Delaware builds around one of the conference's premier players, Jameer Nelson Jr., and has plenty of scoring versatility with Jyare Davis and LJ Owens. The capacity to score isn't an issue for the Blue Hens, but rather mounting a consistent defensive effort.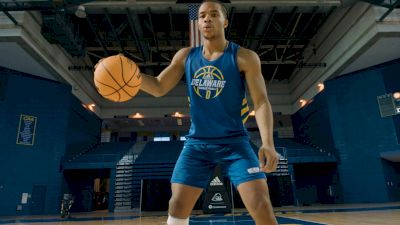 Once UD starts to click on that side of the ball, the Blue Hens should start to roll. The story is the same for Towson: Pat Skerry's teams typically thrive with aggression on defense, and a tenacious second half against Charleston very nearly scored the Tigers a huge win to start conference play.
Amid their recent downturn, the Tigers have allowed at least 69 points in each loss; opponents scored more than 67 in Towson wins just once.
Towson's scoring ability from both the interior with Charles Thompson and the perimeter with Nicolas Timberlake and Cam Holden is undeniably dangerous. Defense more typical of Towson teams should show up the deeper the Tigers go into the Colonial schedule.
Aaron Estrada Drops 40
The CAA's leading scorer and last year's Player of the Year Aaron Estrada is filling it up midway through the 2022-23 season. He's produced 31 points or more three times this season, including in the Pride's conference-opening win over Delaware. The next frontier for Hofstra's multidimensional shot-creator is a 40-point effort.
3️⃣1️⃣ for Aaron Estrada!#PrideOfLI pic.twitter.com/U0IvLXdpcK

— Hofstra Men's Basketball (@HofstraMBB) December 30, 2022
Estarda hit his career-high last February when he knocked down six 3-pointers and 13 total field goals against James Madison. His season-high for 3-pointers this season is five against San Jose State.
Look for him to exceed that mark at some point in conference play. Coupled with his smooth mid-range jumper and ability to finish at the rim, that's the recipe for Estrada to post a 40-point game.