2023 St. John's vs Seton Hall - Women's
BIG EAST Women's Basketball: Can St. John's Keep The Magic Going?
BIG EAST Women's Basketball: Can St. John's Keep The Magic Going?
The BIG EAST is in a strong state to start 2023, with three teams ranked in the most recent Associated Press Top 25 and one more receiving votes.
Jan 4, 2023
by Briar Napier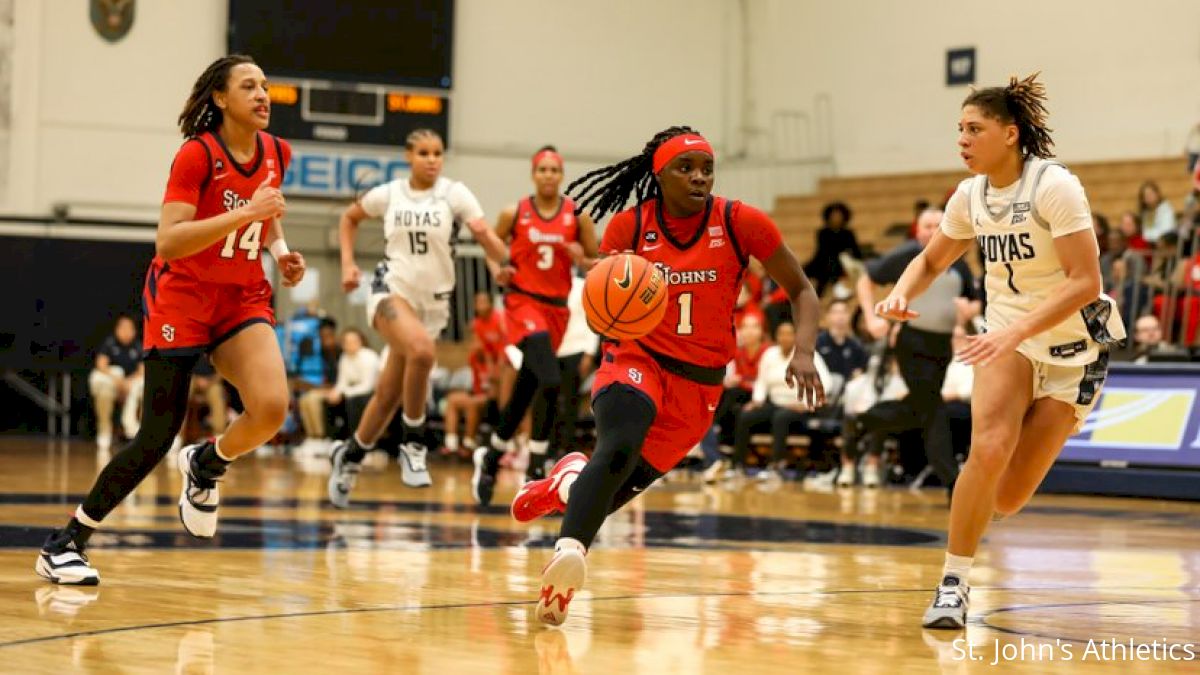 Welcome to a new year, BIG EAST women's hoops fans. Like what you see?
That question has a different answer, depending on which fanbase is being asked it.
The league is in a strong state to start 2023, with three teams ranked in the most recent Associated Press Top 25 and one more receiving votes. Also, 10 of the 11 programs have winning records.
It's also a wide-open league.
The longstanding juggernaut isn't leading the current conference standings, for instance, while formerly dormant, basement-dwelling programs are seeing jolts of life and are on the hunt for shocks to pull off on the hardwood.
That means the next couple of months are going to be a dog-eat-dog atmosphere in BIG EAST basketball. Every team is good, and no matchup is a guarantee.
Buckle up for the meat of the conference slate ahead, because it's sure to be a wild ride, as the chase for March glory really gets rolling.
Here's a look at the BIG EAST women's basketball games to check out this week on FloHoops, which is streaming league games all season.
NOTE: Tipoff times are listed in Eastern Time and are subject to change. Statistics and records are updated as of Monday evening.
St. John's Vs. Seton Hall
St. John's is rolling.
The team's unbeaten start to the season - and the best one in Red Storm program history - has extended into 2023 and resulted in more wins (13) by New Years' Day than it had all of last season (12). The latest win for St. John's was a 68-48 triumph at Georgetown on Saturday.
The No. 24-ranked team in the AP Top 25, and one of just five schools in America without a loss, the current BIG EAST leader - yep, it's the Red Storm, not Uconn - is rolling with momentum not seen in Queens since current Michigan coach Kim Barnes Arico's tenure with the women's hoops team over a decade ago.
It also means St. John's has a massive target on its back, and its No. 44 NET ranking (by far the lowest among the unbeaten teams) perhaps is indicative of the fact that the Red Storm's schedule has included few games in which they weren't highly favored.
With the team having to travel to New Jersey to take on rival Seton Hall - a unit that has been rolling in its own right in BIG EAST play thus far - conditions could be prime for a tough game, and even a possible upset by Seton Hall.
Since starting 2-3, the Pirates have since gone 9-1, with their only defeat coming at the hands of UConn, mimicking the epic 15-3 late-season run that got the program to last year's WNIT championship game.
The Seton Hall offense also appears to be hitting its stride with at least 70 points scored in nine of its past 10 games, led by the ridiculous play of senior point guard Lauren Park-Lane (20.9 points, six assists per game), who is having a career year among an already-decorated time in Jersey.
🚨🚨 NEWS 🚨🚨

For the third time this season, Lauren Park-Lane has been named to the BIG EAST Weekly Honor Roll.

Check it out... https://t.co/qjcNAcnCmt#HALLin 🏀🏴‍☠️🏀 pic.twitter.com/JBA4RdNiSJ

— Seton Hall Women's Basketball (@SHUWBB) January 2, 2023
But the Red Storm have gone unbeaten to this point, thanks to their ability to shut down talents like Park-Lane to the tune of just 53.3 points allowed per game - one of the 10 best marks in the country - and consistent outputs on offense from graduate guard Jayla Everett (17.1 points, 3.3 assists per game on 41.7% 3-point shooting), who has been one of the top-performing offseason transfers of all of women's college basketball. She moved to St. John's from Pitt.
Marquette Vs. DePaul
Plenty of buzz surrounded the DePaul program entering the season after returning superstar Aneesah Morrow blew away women's college basketball with her record-shattering freshman campaign a year ago. It left the wonder of what the program would become with such a dynamic, generational talent in her second season.
So far, have the Blue Demons lived up to the hype?
While Aneesah Morrow still is doing Aneesah Morrow things (26.3 points, 11.9 rebounds, 2.9 steals per game), that question has a debatable answer right now.
DePaul enters the new year at 10-5, with disappointing losses to Northern Illinois, Cleveland State and Towson, blunders that likely won't sit well with the NCAA Tournament selection committee down the line, if the Blue Demons don't suddenly emerge as conference contenders.
And, speaking of BIG EAST play, DePaul could've used a signature win for the season thus far against Creighton on New Years' Eve, but a defense that has more often than not been a bane (even with the Blue Demons' well-known, high-octane offensive attack), resulted in the Bluejays dropping 92 points in a 10-point victory on DePaul's home floor.
Took it all the way 🏠 Blue Demons back in front!#DePaulBall x @darrione_rogers pic.twitter.com/Uwvxb0C6fJ

— DePaul Women's Basketball (@DePaulWBBHoops) December 31, 2022
Meanwhile, at Marquette, a timely victory could come in handy right now for the program, following three straight defeats to Colorado, Villanova and UConn to close out 2022 - three tough teams, but all games in which subpar starts left the Golden Eagles down by multiple possessions by the end of the first quarter.
Therefore, the first 10 minutes of Marquette-DePaul likely is going to be telling for what the eventual result will be.
If the Blue Demons are able to run-and-gun with efficiency and ferocity early and often, a Golden Eagle offense that scored just 49.3 points per game in each part of that aforementioned trio of losses may not be able to keep up with the pace.
But let players like senior Marquette guard Jordan King (14.5 points per game, 41.2% 3-point percentage) get hot, and it could be a dogfight until the final buzzer in Chicago.
Villanova Vs. Butler, 2 p.m. Sunday
The Wildcats just missed a slot in the most recent AP Top 25 poll on Monday, receiving votes, while BIG EAST rivals UConn, St. John's and Creighton all got spots in the poll.
A 21-point loss to the Bluejays last month likely was a major influence in that, but 'Nova has only lost one game since (a nonconference matchup against No. 11 Iowa State) and got a pair of conference results it needed to test itself entering its two matchups for the week - a two-point win over Marquette, followed by a blowout victory over Xavier.
And though Butler has improved under first-year coach Austin Parkinson - its six wins to date are more than the program had in the 2020-2021 and 2021-2022 seasons combined - the Bulldogs still are going to have a tall task ahead of them in stopping the nation's leading scorer.
The distinction belongs to Villanova superstar Maddy Siegrist (28 points, 9.5 rebounds per game, 52.7% field goal percentage), who looks well on her way to a second straight All-America nomination and, possibly, a second consecutive BIG EAST Player of the Year honor, too.

Still, Butler has more of a shot in this game than you may think at first glance.
For starters, the Bulldogs are an elite shooting team from deep (37.5% team 3-point shooting) and do an excellent job of keeping their stars out of foul trouble, averaging one of the lowest team fouls per game averages (13.5) of any program in the country.
Graduate guard and IUPUI offseason transfer Rachel McLimore (11.8 points per game) and solid sophomore forward Sydney Jaynes (10.2 points, 4.7 rebounds, 2.1 assists per game) both are good options for Butler to lean on, and both should play plenty of minutes. If the team gets hot from beyond the arc, Villanova may need to watch out.
The Wildcats' counter is simple, yet enormously effective: give the ball to Siegrist (37.1% usage rate, seventh in the nation) and let her do things with it.
So far, it's a strategy that has little downside - the three-time All-BIG EAST first-team pick has scored at least 20 points in every game, at least 30 in six games and has a season-high of 41, which she dropped on Philadelphia rival Temple in November.