2023 Xavier vs St. John's - Women's
BIG EAST Women's Basketball Midseason Review And Second-Half Predictions
BIG EAST Women's Basketball Midseason Review And Second-Half Predictions
So, what can we all take away from the first half of the BIG EAST women's basketball season? To sum it up succinctly - chaos reigns.
Jan 6, 2023
by Briar Napier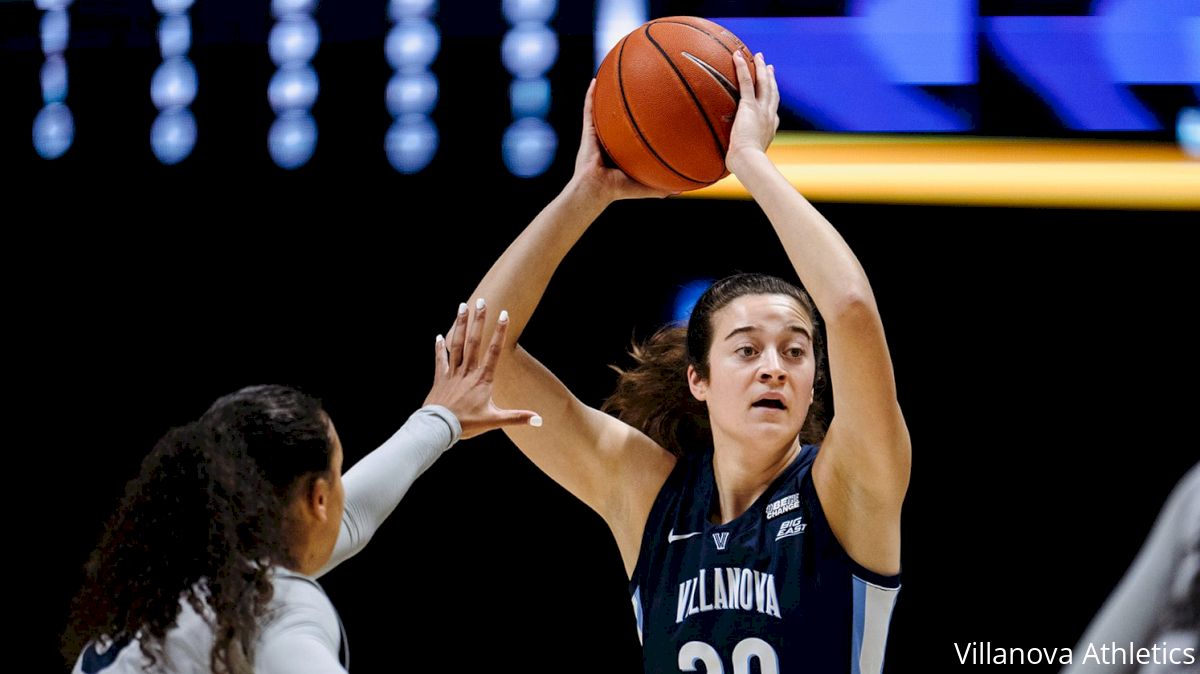 So, what can we all take away from the first half of the BIG EAST women's basketball season?
To sum it up succinctly - chaos reigns.
To sum it up in a more extended way, multiple NCAA Tournament teams, including some that were not considered near the postseason picture in the preseason, either should come out of the league, or are in strong position to possibly joust for an at-large bid.
All of that leaves the possibility for mad dashes as the season goes along for resume building and getting one over on a conference rival or two in a big late-season matchup.
There isn't much time to waste for the contenders of the BIG EAST, and if there are moves yet to be made, they must be done soon.
At the halfway point, there have been players, figures and programs that have made waves with their performances, earning them deserved recognition and eyeballs - on the league and national stages.
Keeping that same energy with the latter part of the season looming, however, is the real challenge.
Here's a look at the state of the BIG EAST women's basketball season at roughly the halfway point, with league games being streamed throughout the year on FloHoops.
NOTE: Records and statistics updated through Wednesday night.
Midseason Honors
Most Valuable Player: Maddy Siegrist, Villanova
How could it not be the Wildcats superstar?
The defending BIG EAST Player of the Year, Siegrist is the nation's leading scorer (28.1 points per game) and a player who can destroy opposing defenses like few others in college basketball.
Yes, DePaul's Aneesah Morrow deserves credit for her own ridiculous stats (26.1 points, 12.1 rebounds, 2.9 steals per game), while UConn's Aaliyah Edwards (17.4 points, 9.8 rebounds per game) has been excellent in keeping the Huskies in line amid lofty expectations, injuries and shakeups to the roster.
But in terms of sheer value to a team, no one in the conference comes close to Siegrist's at Villanova, as she takes nearly 20 shots a game, has a usage rate of 36.6% - 11th among all players in America - and has been vital to her team's 13-3 start with a resume that likely has it safely in the NCAA Tournament field at the moment.
Most Improved: Darrione Rogers, DePaul
Don't get it twisted by thinking DePaul coach Doug Bruno's fast-paced system is merely a plug-and-play experiment anyone can get loaded stats with, because Rogers has more than earned her right to be called one of the BIG EAST's best players.
An unsung starter a year ago (9.9 points per game), who often fell behind the production pecking order thanks to Morrow and a loaded backcourt featuring the likes of Sonya Morris and Lexi Held, Rogers has exploded into one of the Blue Demons' most important players, playing over 37 minutes a game. She is averaging 18.9 points and 5.6 assists per game, featured as the perfect backcourt compliment to Morrow's ferocity inside.
Oh, and opponents can't exactly put all their attention on Morrow, either. Rogers proved that when she dropped 36 points on 7-for-8 shooting from 3-point range on Miami (Florida) in November.
Breakout Rookie: Jayla Everett, St. John's
The engine behind the best start in St. John's history, Everett arrived from Pitt in the offseason. She led the Panthers in scoring a year ago.
She has averaged at least 12 points per game during every year of her career, dating back to her first two seasons, which she played at New Mexico.
Now, she's averaging a career-high 16.6 points per game in Queens as a two-way force (1.3 steals, 1.2 blocks per game). She gives the Red Storm an offense a spark, while simultaneously being a key part of a defense that has rocketed the program to the top of the BIG EAST.
A great deep shooter (41.4% from 3-point range), Everett is not only consistent, she appears to be improving and molding even more into her new system as the season goes along.
The St. Louis native has scored in double figures in every game this year and scored at least 20 points in each of the three games entering Wednesday, including a season-best 24 points in a win over Wagner on Dec. 21.
Bench Spark Plug: Unique Drake, St. John's
Drake's situation is, well, unique, because the senior has spent large chunks of her three prior seasons with the Red Storm as a starter, collecting 40 starts in her career.
Her role has been changed a bit this time around, and she's only been made a starter once in 13 games this season, but with St. John's currently undefeated, the method is working.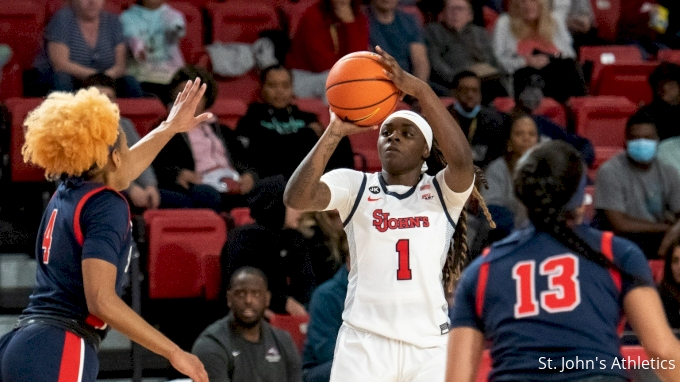 Drake is one of the top pieces off of the bench across the board in the BIG EAST, scoring 8.5 points per game and shooting 34.8% from 3 as a reliable part of the second wave of lineups the Red Storm can rely on.
Case in point: her season-best 18 points against Georgetown on New Years' Eve were scored across just 22 minutes, as she helped pick up the slack when Everett struggled from the floor (5-for-17 shooting).
Especially if St. John's keeps winning, keep an eye on Drake in the BIG EAST Sixth-Woman Award race.
Surprise Team: St. John's
Yes, St. John's first loss of the season on Wednesday - a 72-51 blowout by Seton Hall - does sting a bit, as the team was one of just five unbeaten teams remaining nationally.
Still, it's worth noting just how ridiculous the Red Storm's start to the season has been.
Picked to finish seventh in the league in the BIG EAST Women's Basketball Preseason Coaches' Poll, St. John's instead held the conference lead on New Years' Day, anchored by a spectacular defense (54.6 points per game) that frustrates offenses by preventing efficient play calling (9.4 assists allowed per game) and by causing havoc on the interior (11.8% block rate).
Pick & roll 👌 pic.twitter.com/pc2wXE1tCG

— St. John's WBB (@StJohnsWBB) January 5, 2023
There can be an argument made that coach Joe Tartamella's squad hasn't been properly tested yet, especially against the many heavy hitters of the BIG EAST, but a win over Creighton last month was a major boost to its credentials and helped the Red Storm's case for being ranked in the Associated Press Top 25 poll for the first time since 2015.
It's not quite time to call St. John's a regular-season title contender yet - it hasn't won one since 1985, after all - but at this point, with all expectations for the Red Storm out of the window already, who knows?
Second-Half Predictions
St. John's Fights Near The Top Until The End
The Red Storm's loss to the Pirates leaves the team at a crossroad: Is this the point programs have figured out the Red Storm, and they're going to fade down the BIG EAST standings in the coming weeks? Or is it merely a blip that St. John's will return stronger from?
Right now, even with the subpar performance Wednesday, it's hard not to lean with the latter option.
Everett and Kadaja Bailey (14.1 points per game) make up an elite, experienced backcourt duo that can hold its own against other units of similar stature and will give St. John's some key buckets every night, even during the Seton Hall rout, when the two combined for 29 of the Red Storm's 51 points.
Still, until UConn shows massive signs of regression (which doesn't look like it is coming anytime soon), the league is the Huskies' to lose, not to mention that more established names near the top of the table, such as Villanova and Creighton, will put up worthy challenges.
The goal for the Red Storm now likely is March Madness for the first time since 2016, and as they showed with their win over the Bluejays, they've got the muscle to snatch huge BIG EAST wins.
Bubblelicious Seton Hall Earns At-Large Bid
Seton Hall, buy stock now.
Over the past couple of seasons, the Pirates have loved nothing more than playing the spoiler role and ruining top-tier teams' days, like when they beat Creighton in last season's BIG EAST Tournament, before the Bluejays' magical run to the NCAA Tournament Elite Eight.
That trend continued Wednesday, when Seton Hall handed St. John's its first defeat of the year, and at 12-4 on the season, with a run of 10 wins in 11 games, arguably no program is in hotter form in the BIG EAST.

The victory likely boosted its March Madness stock, too.
ESPN "bracketologist" Charlie Creme had the Pirates listed as one of his "Last Four In" for the NCAA Tournament field during his latest update Tuesday morning.
Sure, the field isn't decided in early January, but it's much better to be on the right side of the at-large bubble as early as possible - and in Seton Hall's case, following strong wins in nonconference play over Georgia, UCF and Fordham, it can feel a bit more cozy about its chances right now.
Battered And Bruised UConn Remains On Top
UConn women's basketball almost certainly will win yet another BIG EAST title - how bold of a claim, right?
But, though the blue-blood program has options to turn to that most teams can merely dream about, not very many of those same options are 100% healthy right now, either.
The Huskies only dressed eight players and had legendary head coach Geno Auriemma sit out due to illness during their league game Tuesday at Butler, yet still demolished the Bulldogs in an 80-47 blowout, in which UConn shot 58.6% from the field behind five scorers in double figures.
OK FRESHMEN

Inês Bettencourt ➡️ Ayanna Patterson pic.twitter.com/Df4wUeFaBr

— UConn Women's Basketball (@UConnWBB) January 4, 2023
Superstar point guard Paige Bueckers is missing the entire season due to an offseason ACL tear, sophomore guard Azzi Fudd is recovering from a knee injury and fellow sophomore Caroline Ducharme is in concussion protocol for an injury suffered in Monday's practice, among other various ailments to players throughout the year.
Despite all of that, the Huskies have won all five conference games thus far by double digits (and four by 25 points or more), running depleted lineups the rest of the competition still can't keep pace with.
Nonetheless, keep a watchful eye on matchups like the home-and-home against Villanova later in the season. The Wildcats were the ones who shattered UConn's then 169-game conference winning streak with a victory last February, after all.