2023 Charleston vs UNC Wilmington - Men's
UNCW Vs. Charleston Enter CAA Matchup With Nation's Longest Winning Streaks
UNCW Vs. Charleston Enter CAA Matchup With Nation's Longest Winning Streaks
Teams with college basketball's longest winning streaks collide Wednesday, Jan. 11, when UNC Wilmington hosts No. 22-ranked Charleston live on FloHoops.
Jan 10, 2023
by Kyle Kensing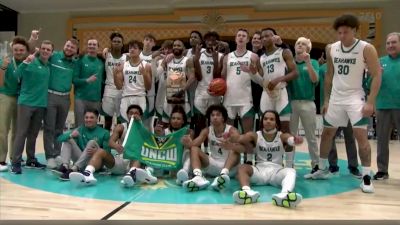 College basketball's two longest winning streaks belong to Colonial Athletic Association pace-setters UNC Wilmington at 13 games, and No. 22-ranked College of Charleston at 15 games. One is guaranteed to end Wednesday in Trask Coliseum.
A sell-out crowd will be on-hand to watch the most intriguing matchup of the college hoops slate this week. Not going to be in attendance? No worries, as FloHoops.com has your ticket for a showdown with potential March Madness implications.
To say Takayo Siddle-coached teams know how to stack wins is an underestimate. The host Seahawks head into Wednesday's matchup on the longest run of consecutive victories in program history, surpassing a mark set just last season.
"We have great support around us in the community," Siddle said following the 13th win, a 66-61 defeat of a tough North Carolina A&T bunch on Jan. 7, via UNCWsports.com. "Our culture is as strong as anybody's right now. Those 13 wins are all culture."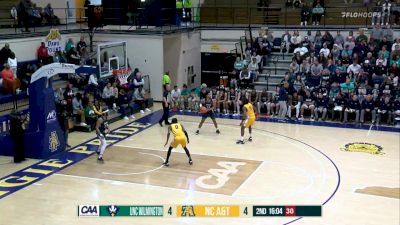 Unlock this video, live events, and more with a subscription!
Get Started
Already a subscriber? Log In
Charleston continues its own brush with history, climbing to No. 22 during its first stay in the Associated Press Poll since 2002. The Cougars own both the nation's single-longest win streak, as well as the most total wins of any program at 16.
Pursuit of the 23-game winning streak that legendary coach John Kresse's 1996-97 Cougars put together — a streak that only ended in a four-point, 2nd Round loss of the NCAA Tournament to eventual champion Arizona — isn't unrealistic.
But getting past UNC Wilmington in Trask, where the Seahawks are undefeated on the season, may be Charleston's toughest order to date.
"The big thing we always try to focus, and that coach [Pat] Kelsey really emphasizes, is just doing 'the next thing,'" said Cougars wing Dalton Bolon. "No matter what it is, whether that's the next scouting report, the next film session, the next practice, the next game, just never getting ahead of ourselves. Then, letting the possessions, letting the games, letting the wins stack up."
So far, that approach has worked both at home, where Charleston owns wins over Richmond, Virginia Tech and Kent State — all KenPom.com Top 101 opponents — and in a major road test early into CAA competition with the Cougars' New Year's Eve, overtime victory over Towson.
"It's hard to win Div. I basketball games. I don't think people realize that," Kelsey said. "Especially on the road."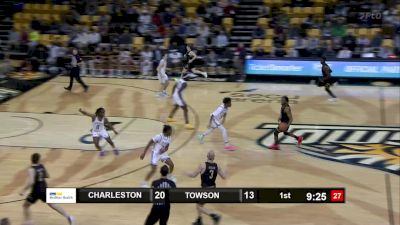 Unlock this video, live events, and more with a subscription!
Get Started
Already a subscriber? Log In
Winning in the SECU Arena carries significance from a multitude of perspectives: To Kelsey's point, road wins are not easily secured. Scour the top of the poll Charleston shares with 24 teams, and power-conference heavyweights like UConn, Arizona and Virginia have dropped road games to such opponents as Providence, Utah and Pitt.
The Cougars faced their own road conference drama against the Tigers, but successfully regrouped against an opponent that plays a much different style of basketball.
What's more, Charleston pairs its defeat of last year's CAA co-regular-season champion and this year's preseason favorite with the 15th win of its streak, a 75-64 handling of 2022 CAA Tournament champion Delaware.
A win at UNCW completes a trifecta for the Cougars against each of the Colonial's 2021-22 champions. The Seahawks claimed a share of the regular-season crown thanks in part to its 12-game winning streak midway through the campaign.
Completing that trifecta in just the third week of the conference schedule would leave no doubt which team is the one to beat for the 2023 CAA title. But in the same vein, UNCW running this historic stretch to 14 with a win over a Top 25 opponent sets the bar for the rest of the league — and just might get the Seahawks Top 25 consideration of their own.
Stakes this high for an early January contest may be unique, but Charleston and UNCW are two unique squads in how they've reached this point. Neither features a definitive star around which the rest of the team builds, instead relying on some of the most unselfish basketball played anywhere in the country.
Six Seahawks score between 7 and 14.1 points per game. Leading scorer Trazarien White accounts for 19.7 percent of UNCW's points, Shykeim Phillips for 13.4 percent, and Maleeck Harden-Hayes — coming off his biggest game as a Seahawk with 25 points against A&T — for 12.7 percent.
.@MaleeckH put on an absolute masterclass yesterday in Greensboro!

Career-high 25 points and 6 rebounds, plus the Toughness Chain. pic.twitter.com/sRg03WkaF8

— The SeahaWWWWWWWWWWWWWk Perch (@TheSeahawkPerch) January 8, 2023
Harden-Hayes became the third difference UNCW high-scorer in as many straight games, joining White and Jamarii Thomas.
"Whatever it takes for my team to win, and I just appreciate my guys for putting me in the right spots to do what I did tonight," Thomas said following his 17-point effort Dec. 31 against Hampton.
Charleston has five scorers averaging in double-figures, but none with more than Bolon's 12.9 points per game, which is just 15.9 percent of the Cougars' scoring offense. Kelsey called the balance "one of our strengths."
"It starts with identifying that quality in the recruiting process," Kelsey said of building out such a roster. "It's important to have the right type of make-up. In society in general, there's a lot of 'What's in it for me? My numbers, my stats, my points, my rebounds.'
"Our guys don't think that way," Kelsey added. "They think about winning. We've got a lot of winning guys that contribute a lot of different ways, and a lot of different pieces that fit together."
Similar balance and similar chemistry translate to similar win streaks. But after Wednesday, there can only be one.