2023 Charleston vs UNC Wilmington - Men's
"Spoiled" Yet "Selfless," Dalton Bolon Is Flourishing For Charleston Hoops
"Spoiled" Yet "Selfless," Dalton Bolon Is Flourishing For Charleston Hoops
A three-time Div. II All-American, Dalton Bolon returned from injury to make a splash at the Div. I level as a leader for College of Charleston.
Jan 11, 2023
by Kyle Kensing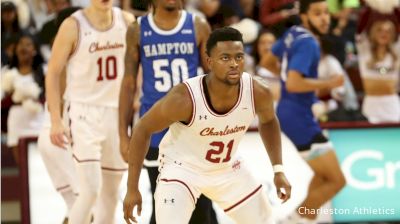 A college basketball career spanning three presidential administrations produced three All-American selections, a national championship pursuit derailed by a global pandemic, and a season lost to early injury for College of Charleston's Dalton Bolon.
In the stretch run of a remarkable tenure lasting seven years, through the highs and lows, Bolon says confidently, "I'm just blessed."
The super-senior wing is the leading scorer of the No. 22-ranked Cougars, college hoops' hottest team more than midway through the 2022-23 season. Bolon provides a unique blend of smooth ballhandling, explosiveness driving to the rim, and a soft jump shot with the physicality and pugnaciousness of a prize fighter.
Did we mention Psycho D is back?#OurCity takes the lead on the Dalton three. pic.twitter.com/8bJG8gpaPF

— Charleston Basketball (@CofCBasketball) November 8, 2022
"What he brings to the table is obviously talent," said Charleston coach Pat Kelsey. "He's a really good player, he can really score. But more than anything, his special special gift is his toughness, his tenacity. He's one of the toughest players I ever coached. He's one of the fiercest competitors I ever coached."
High praise, to be sure, given the stops in Kelsey's career. The Charleston head man spent time alongside Skip Prosser at Wake Forest, where Kelsey worked with future Hall of Famer Chris Paul. In his nine years at the helm of Winthrop, three of Kelsey's teams earned NCAA Tournament berths — a feat that no doubt takes some considerable toughness.
The 2020-21 Eagles lost just once in the regular season before bowing out of the Big Dance to Villanova. Afterward, two-time national champion Jay Wright opened his postgame address praising Winthrop for being "very disciplined and well-coached."
So when Kelsey calls Bolon one of the toughest he's ever coached, Kelsey is placing Bolon in some elite company. And along with toughness, Kelsey invoked another quality he said most describes Bolon.
"He's such a selfless kid, too."
Selflessness is a defining trait of a Charleston team boasting the nation's longest winning streak ahead of a marquee showdown with UNC-Wilmington, a Colonial Athletic Association foe sporting a program-record 13-game run of its own.
The Cougars rank 28th in Div. I at 80.8 points averaged per game, yet no player is producing more than 12.9 points per game, Bolon's output. That's a dip of almost nine points per game from his average in his last full season of basketball, when he was one of the most prolific scorers in NCAA Div. II.
Bolon averaged 21.8 points per game at West Liberty in 2020-21 en route to his third consecutive All-American selection. He scored 19.1 points per game in 2019-20 to lead a Hilltoppers team that, at 27-4, earned a No. 2 seed in the NCAA Tournament — a tournament that never happened due to COVID-19.
The pandemic had an unforeseen positive for Bolon, with athletes granted an additional year of eligibility. A tenure at West Liberty that began with a redshirt season in 2016-17 — putting Bolon in the same freshman class as noteworthy hoopers like De'Aaron Fox and Lauri Markannen — ended in 2021. The extra year of eligibility provided an opportunity for Bolon to play on; though he wasn't expecting two more years after transferring to Charleston.
Part of what Kelsey deemed "The Great Experiment," Bolon arrived at Charleston ahead of 2021-22 as part of a roster loaded with transfers and newcomers.
"It really was [a great experiment]," Bolon said of the roster. "One thing we had last year we faced was guys wanted to go out and prove themselves...And there was a lot of things being implemented as far as the culture coach Kelsey wanted. We had a lot of great guys like John Meeks, Dimitrius Underwood [who] implemented the culture on last year's team and really set the way for people like Ben Burnham, Reyne [Smith], Baba [Babacar Faye]."
It's Benny's world we're just living in it.#OurCity 🌴🏀 pic.twitter.com/M21nJizpLv

— Charleston Basketball (@CofCBasketball) January 7, 2023
Bolon's ability to similarly set the tone a year ago alongside Meeks and Underwood was limited due to a broken foot sustained after just three appearances.
"It kind of put a perspective on things," Bolon said of the injury. "Life's a little bit more about [appreciating] basketball. Being able to go out and play with my friends, my teammates, great coaches that trust me and playing for a great city.
"I'm spoiled, man," he added.
Bolon may feel spoiled representing Charleston and getting to continue his college career on a team with historic potential. His play is anything but spoiled.
As noted, Bolon sacrificed All-American status and dizzying point totals for a system built on sharing the ball. Per KenPom.com metrics, every player who has appeared for Charleston this season has a possession percentage from 14.2 to 28.4. Six Cougars have shot percentages ranging from Smith's 21.9 percent to Ante Brzovic's 31.7 percent.
Amazed by @CofCBasketball's offense, and this sequence illustrates it. They can come at you in 3-4 seconds. Love what Ben Burnham brought off the bench tonight + Dalton Bolon matched career-high with 22. Five Cougars scored in double digits - so balanced!pic.twitter.com/Lt14M2zJnW

— John Fanta (@John_Fanta) January 5, 2023
"It's just fun," Bolon said of the Cougars' brand of basketball. "The selfishness isn't there, and that's what's special about this year. There's been no drama, there've been no cliques. We're all boys. It's just been really fun to play with a group of guys that's about the team first."
And while that team is no longer The Great Experiment, Charleston's make-up remains quite unique. Bolon praised youngsters like Burnham, Faye, Smith and Raekwon Horton, all of whom "might be sophomores, but they're leaders of the team."
They combine with a group of upperclassmen, which includes Bolon's former West Liberty teammate Pat Robinson III, Jaylon Scott and Ryan Larson, all of whom are graduate students. The dynamic works.
Then there's Bolon. Few have ever had the college experience comparable to his, but that journey is part of what makes this Charleston bunch special.