2023 DePaul vs Georgetown - Women's
BIG EAST Women's Basketball Games Of The Week
BIG EAST Women's Basketball Games Of The Week
Revenge is best served cold. For some BIG EAST teams, as they play their first repeat opponents of the league slate, they'll be looking to deal it out.
Jan 18, 2023
by Briar Napier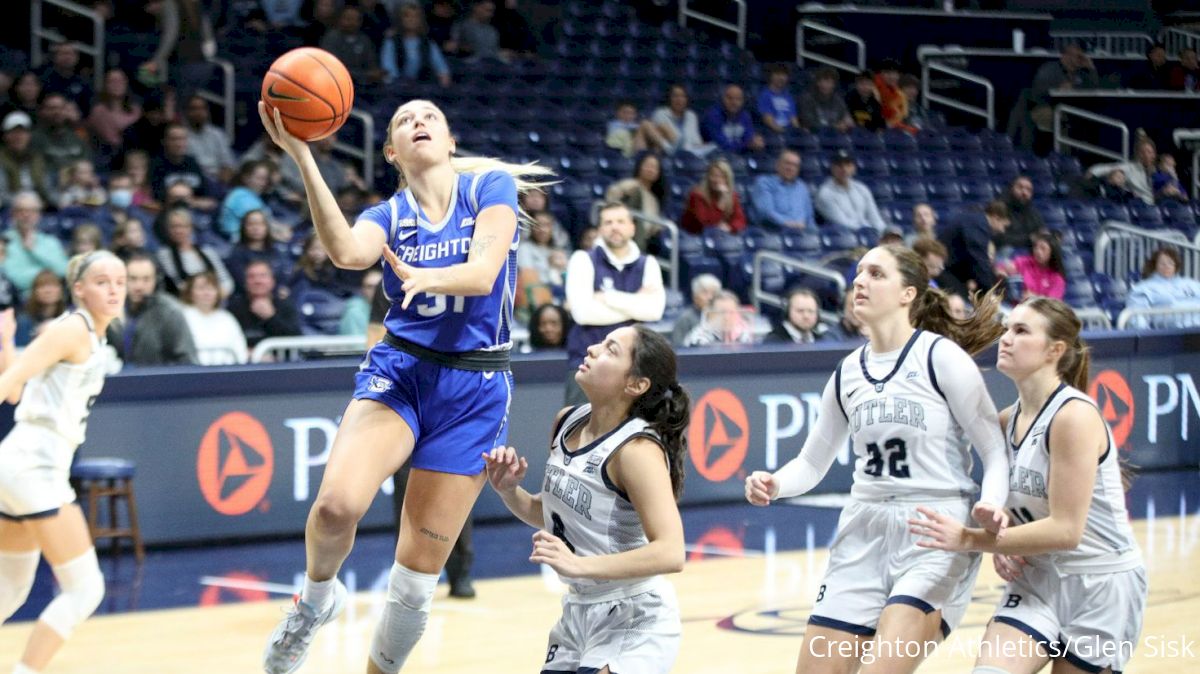 Revenge is best served cold, and for some BIG EAST teams, as they play their first repeat opponents of the league slate in the next few weeks, they'll be looking to deal it out in the most inconvenient of ways.
That's up to, and including, bursting NCAA Tournament bubbles.
With less than two months before The Big Dance, everything from resumes to analytics to "eye tests" are going to get more and more important as the days progress, all the way up until the selection show in mid-March, sealing postseason fates for programs across the country.
And until that day comes, the rush to look better and more deserving of March Madness in front of those who choose the field will not stop - and the battles league-wide will only get more and more tense with seasons on the line.
Here's a look at the BIG EAST women's basketball games to check out this week on FloHoops,
which is streaming league games all season.
NOTE: All tipoff times are listed in Eastern Time and are subject to change. Stats and records are updated as of Monday evening.
Marquette Vs. St. John's
After rocketing out to a 13-0 start - the best start to a season in program history - St. John's has lost three of its past four, is outside the Associated Press Top 25 poll and has dropped down to bubble territory for NCAA Tournament selection purposes, with ESPN "bracketologist" Charlie Creme placing the Red Storm in his "First Four Out" category in his latest update Friday.
Creme's thoughts came before St. John's lost a critical three-point game on the road at Villanova over the weekend.
Sure, a 14-3 record for the Red Storm at this point in the season is a great achievement, all things considered, especially considering that coach Joe Tartamella's squad was picked to finish seventh in the BIG EAST in preseason by the league's coaches.
For a team that was one of the last five remaining unbeaten teams in America at one point, a few signature wins to boost its postseason resume are dearly needed. Beating Marquette could be one of them.
Taking on Marquette at Carnesecca Arena tomorrow night.

📰: https://t.co/WhxbgXrDJE
🎟️: https://t.co/ujuCl25ypv pic.twitter.com/25hgU5e0Yj

— St. John's WBB (@StJohnsWBB) January 17, 2023
The Golden Eagles are 11-6 with a 4-4 record in BIG EAST play, but the more important metrics are who exactly they lost to - all four conference defeats were to teams currently among the top 4 in the league (UConn, Villanova, Seton Hall and Creighton) - while the other losses came in nonconference play to Colorado and UCLA, both teams likely bound for March Madness.
If the Red Storm want to get back on track and ease their concerns a little bit, a win against Marquette would go a long way, though the Golden Eagles looked very strong in a wire-to-wire rout of Providence on Saturday, despite no Liza Karlen and just 13 minutes from Chloe Marotta due to foul trouble, but Jordan King erupted for 31 points.
DePaul Vs. Georgetown
DePaul's past week was a bit up-and-down.
After losing by seven points at home - in a game in which a win would've done wonders for resume-building purposes - to white-hot Villanova on Wednesday, the Blue Demons got back to form with a 35-point blowout of Xavier on Saturday in their signature style.
They overwhelmed the Musketeers with an efficient offense (56.7% team percentage from the field) and total domination on the glass (DePaul won the rebounding advantage 47-28).
A similar result very well could come against the Hoyas, who enter the contest having lost five straight games, but Georgetown did give the Blue Demons a ginormous scare the last time the two teams met.
On Feb. 13 of last year, DePaul and Georgetown had a 105-104, double-overtime war in Washington, D.C., as the Hoyas were seconds away from pulling off a massive upset. Guard Kelsey Ransom putting the team on her back at moments, as she surged to a game-high 29 points.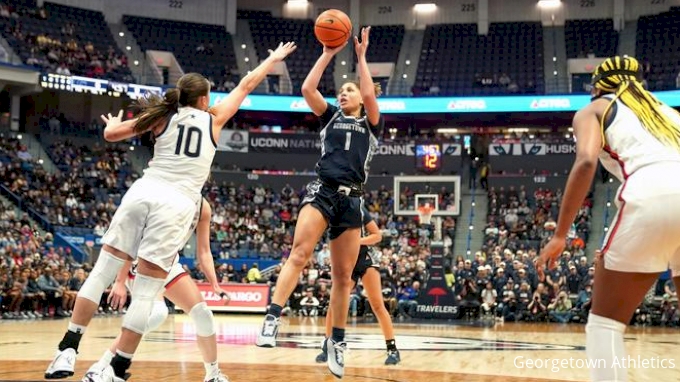 Ransom returned to the program this year and makes up a solid backcourt tandem with talented freshman Kennedy Fauntleroy. Currently, they're the leading scorers (Fauntleroy with 11.5 points per game, Ransom with 11.3) on the GU roster.
But can those two repeat the near-feat of last season and give DePaul another run for its money?
That's yet to be decided, especially as the Blue Demons' high-scoring style that comes in waves is extremely difficult to keep pace with - even more so, as Aneesah Morrow (25.6 points, 11.9 rebounds, 2.7 steals, 1.2 blocks per game) still is the team's focal point and playing at an All-America-caliber level.
Still, DePaul has had a tendency of playing a bit inconsistently this season. Solid nonconference wins against Maryland and Miami (Florida) have been balanced out by poor defeats to Northern Illinois, Cleveland State and Towson.
St. John's Vs. DePaul
Wait, DePaul and St. John's are both worth watching twice in the same week? Yes, especially if they're scheduled to face each other on top of it.
After their midweek games, this weekend's clash between the Blue Demons and Red Storm in Chicago could mean a top-four spot in the BIG EAST by week's end (if other games go favorably, that is) and a resume-boosting victory for whoever emerges on top.
At its most barebones level, this is a classic clash of styles—DePaul's ability to overwhelm opponents with speed and attacks at the rim facing St. John's impressive defense that is among the best in the league at stifling efficiency and making opponents work for their baskets. Where this matchup will likely be decided, however, is on the glass.
The Blue Demons are among the top-10 nationally in offensive rebounds per game (16.1), whereas the Red Storm rank in the top-10 nationally in defensive rebounds per game (20.2), meaning something's got to give in the boards department when DePaul throws up shots.
Total rebounding rate is also nearly even for both teams (53.7 percent for DePaul compared to 54 percent for St. John's), leaving the game's outcome up to the team that has the better night rebounding the basketball.
The Blue Demons have the early advantage in that regard thanks to Morrow's All-American-caliber rebounding ability along two other players (Anaya Peoples and Jorie Allen) averaging at least six boards per game, but the Red Storm also have two elite rebounders of their own in Rayven Peeples (9.0 per game) and Jillian Archer (8.6) who each have their own separate abilities to dominate a game on the glass.