2023 Drexel vs North Carolina A&T - Men's
CAA Games Of The Week: Colonial Standouts Clash; Charleston Shoots For 21
CAA Games Of The Week: Colonial Standouts Clash; Charleston Shoots For 21
Two of the standout players in the CAA, Marcus Watson and Amari Williams, led their teams into one of the Colonial's games of the week.
Jan 23, 2023
by Kyle Kensing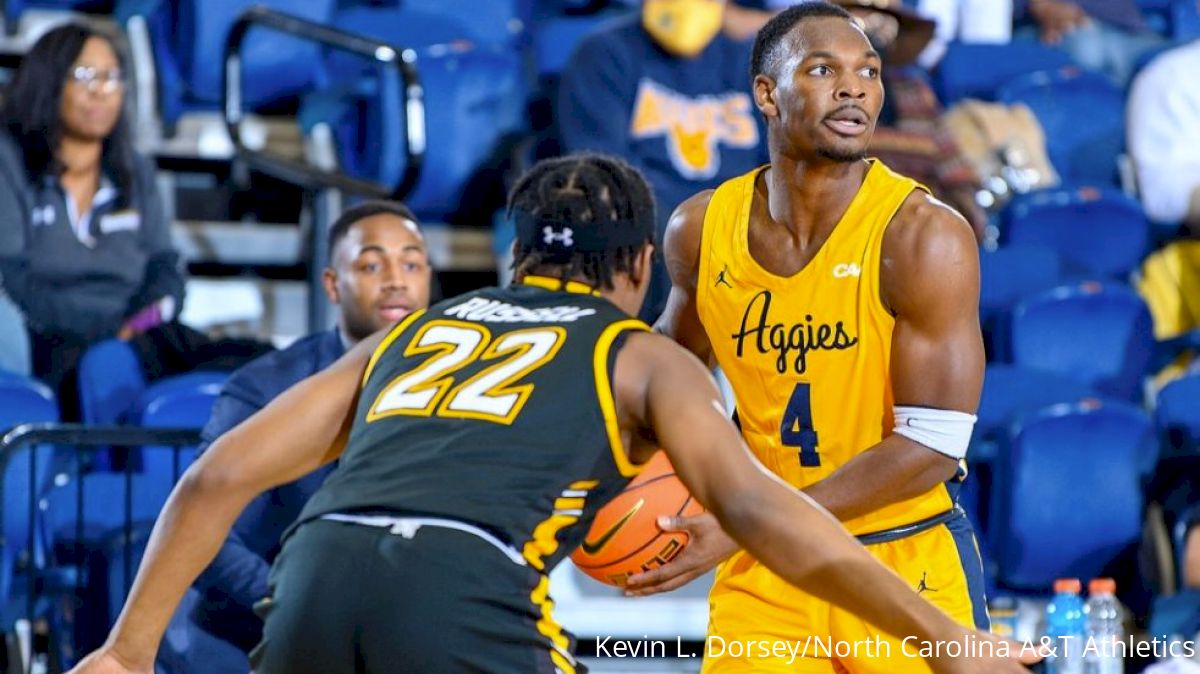 Jan. 21 was a big Saturday for standout big men Marcus Watson and Amari Williams. On Jan. 26, two of the Colonial Athletic Association's top forwards square off in a marquee matchup.
North Carolina A&T welcomes Drexel to "Club Corbett" for a Thursday night showdown between two of the teams in the conference's top-half logjam. Drexel moved to 6-2 in CAA play last week, tied with Hofstra and Towson in second place, with a dramatic win over Delaware in overtime.
Williams' 17 points, six rebounds and three assists were important to the Dragons' 77-74 victory, but perhaps most significant were his five blocked shots. The conference's leader in rejections with 2.2 per game came through in the clutch with that rim-protecting energy.
Amari Williams with the game clinching 𝗕𝗟𝗢𝗖𝗞(𝘀)#FearTheDragon#GatoradePlayOftheGame pic.twitter.com/zfffZnHJL4

— Drexel Men's Basketball (@DrexelMBB) January 22, 2023
Drexel's inside-outside offensive dynamic is also clicking of late, with the Dragons posting no fewer than 76 points in its last three contests — all wins. CAA Rookie of the Week Justin Moore was electric with 21 points against Delaware, one game removed from posting 14 points with seven assists in the win over Hampton.
For the week @drexelmbb's Justin Moore averaged 17.5 points on 46% shooting and added 4.0 rebounds and 5.0 assists per game on his way to being named #CAAHoops Rookie of the Week pic.twitter.com/Kzb5umq6ma

— CAA Basketball (@CAABasketball) January 23, 2023
The pairing of Williams and Moore faces off this week against North Carolina A&T's own outstanding forward/guard combination of Marcus Watson and Kam Woods.
Watson has had a brilliant four-game stretch for the Aggies, scoring a combined 76 points after his 28-point burst against William & Mary. Watson's all-around play was just as impressive. He dished seven assists, grabbed five rebounds and swiped four steals to help power A&T's rally against the Tribe, improving the Aggies to 5-4 in the conference.
Woods, meanwhile, is one of the CAA's most consistent scorers at 19.2 points per game, including his 29-point effort against Towson. With a 30-point showing Jan. 4 vs. Charleston also to his credit, Woods has shown the willingness to step up against the Colonial's toughest competition. Second-place Drexel certainly qualifies.
Count Towson among the teams locked in second heading into the final weekend of January. The Tigers are winners of four straight after escaping with a 66-62 win last Saturday at Elon — their first single-digit-point victory of the current streak.
Nicolas Timberlake's 24 points against the Phoenix matched his CAA-high, and his 3-point shooting proved difference-making. He is the CAA Player of the Week heading into a stretch with 3-of-4 at SECU Arena for Towson, starting Thursday against Northeastern .
Timberlake with the big three as we head into the final media timeout with Towson leading 62-54!#GohTigers | #UnitedWeRoar#GohTigers | #UnitedWeRoar pic.twitter.com/zhdPkTzJ8T

— Towson Men's Basketball (@Towson_MBB) January 21, 2023
The Huskies' recent momentum was slowed against the buzzsaw that is Charleston, an 87-61 loss halting a stretch in which Northeastern won 3-of-4. However, Bill Coen's team has proven capable of bouncing back against quality competition; it rebounded from a 76-55 loss to Drexel to down Delaware just two days later.
Northeastern faces the Blue Hens again on the second leg of this weekend's road swing, traveling to Newark for a Saturday affair on CBS Sports Network. Scoring at least one win on this trip could be crucial for the Huskies, currently sitting at 4-4 in the Colonial. They're a game above the loss-column line to avoid the extra game at the CAA Tournament, and staying in that position heading into the final month of the regular season — with road games at UNC Wilmington, Charleston, Drexel and Hofstra all still on the docket — may prove vital.
No time for rest on Drexel's North Carolina road trip. After Thursday's encounter with A&T, the Dragons make the short trip from Greensboro to Elon for a visit to the Schar Center.
Now, the Phoenix are just 2-18 and 0-7 in CAA play — not exactly the most obvious potential trap opponent for a team very much in the conference title hunt, as Drexel is. But consider the context of some recent Elon losses:
Held a second-half lead in its 57-52 loss at Delaware on Dec. 31.
Led North Carolina A&T by seven points at halftime on Jan. 11.
Led Charleston by a bucket at intermission on Jan. 14.
Held a second-half lead at UNCW on Jan. 16 and went into the U12 timeout tied.
Rallied from down 15 in the second half vs. Towson to be within a basket of the Tigers in the closing seconds last Saturday.
Elon has indeed been knocking on the door of a milestone win this season, and the Phoenix are dangerous because of their streaky shooting. Sean Halloran, Zac Ervin and Torrence Watson have combined to make 102 3-pointers on the campaign, and the average more than 33 points per game.
If the trio can all hit and Elon avoid the sort of sustained scoring lulls that has denied its previous upset bids, the Phoenix can shock any opponent in the league.
Charleston welcoming Hofstra to TD Arena on Saturday isn't just the game of the week in the CAA; it's maybe the best matchup of the week across all non-power conferences.
The Cougars remain No. 18 in the Associated Press Top 25 after a dominant trip to the Northeast last week. As the weekend demonstrated, too, game recognize game: The NBA-leading Boston Celtics welcomed the team with college basketball's top record in for practice.
🏀 x 🍀

A massive thank you to @celtics for having us today.#OurCity 🌴🏀 pic.twitter.com/PviIbEybJO

— Charleston Basketball (@CofCBasketball) January 20, 2023
Charleston returns home for one of the biggest matchups on its slate, hosting second-place Hofstra.
The Pride bounced back from a lackluster offensive showing on Martin Luther King Jr. Day against Towson, routing UNC Wilmington last Thursday. Tyler Thomas' 28-point eruption fueled Hofstra's rebound, and more importantly, complemented the Pride's best defensive showing of the campaign.
"We locked up," Hofstra coach Speedy Claxton said in Thursday's postgame press conference. "We need to guard like that every game and we're going to be a hard team to beat."
Hofstra needs the defensive electricity against one of the most explosive and well-rounded offenses in the country.
Charleston combines uptempo pace-of-play with an abundance of capable 3-point shooters — the Cougars are No. 20 nationally in the percentage of their offense that comes from beyond the arc, via KenPom.com metrics — and aggressive crashing of the offensive glass.
Dalton Bolon and Aaron Estrada are two of the premier players in the CAA, but each side boasts plenty more than just their respective leading scorers.