2023 Creighton vs Providence - Women's
BIG EAST Women's Hoops Games Of The Week: Seton Hall Hopes For Bounceback
BIG EAST Women's Hoops Games Of The Week: Seton Hall Hopes For Bounceback
With the final week of January coming, and the latter half of the conference slate about to tip off, grudge matches are on the docket in the BIG EAST.
Jan 24, 2023
by Briar Napier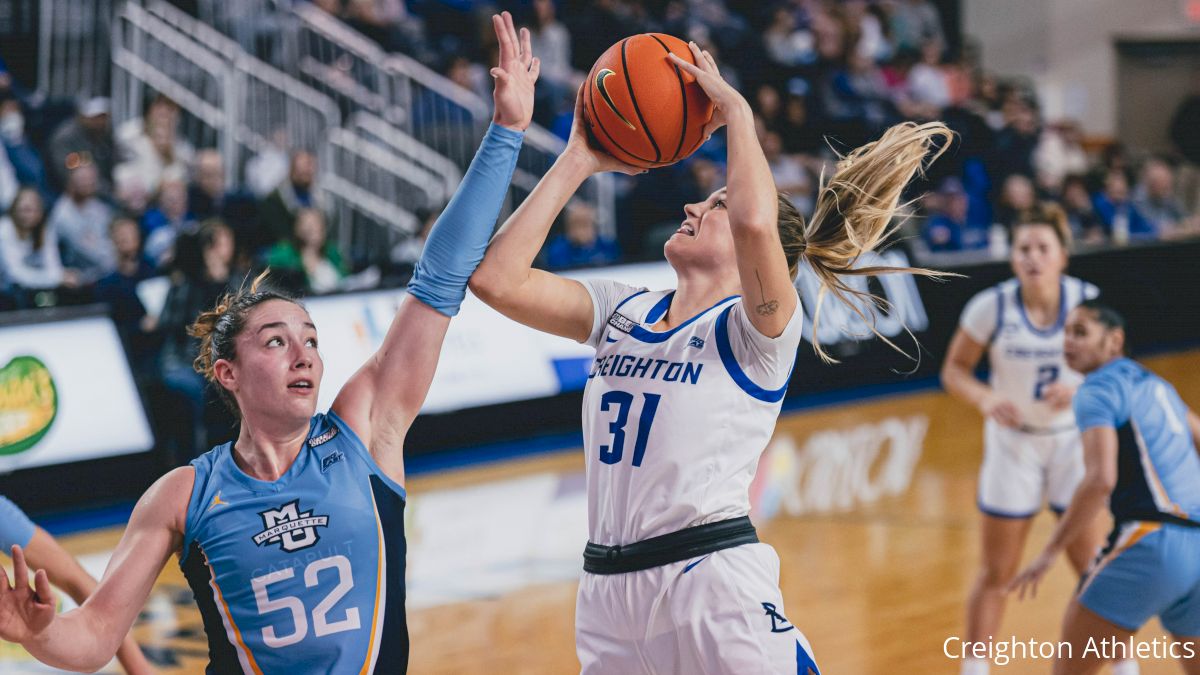 It might just be gut-check week for many of the women's basketball teams in the BIG EAST.
With the final full week of January on the horizon, and the latter half of the conference schedule about to tip off, grudge matches are on the docket - and opportunities to improve standing in the conference hierarchy are running out.
Some programs are hoping win streaks and high rankings can keep going, continually building momentum into the all-important February.
Others need a boost in their programs soon to get out of the gutter and rise back into contention, though those moves need to come sooner than later, as chances are quickly dwindling.
Here's a look at the BIG EAST women's basketball games to check out this week on FloHoops,
which is streaming league games all season.
NOTE: All tipoff times are listed in Eastern Time and are subject to change. Statistics and records are updated as of Monday evening.
Creighton Vs. Providence
Creighton (understandably) likely has its eyes locked on an upcoming showdown with Villanova on Friday night in Omaha - a game with heavy BIG EAST implications, since they're two of the league's top-4 teams - but once the Bluejays get past that, they can't look past their approaching tussle with the Friars, either.
That's because Providence already has defeated Creighton once this season.
In one of the major shocks of the BIG EAST schedule this year, the Friars defeated the Bluejays in a 79-75 upset Jan. 4, thanks to a career night from Grace Efosa (27 points) and four players overall in double figures.
Providence has lost 2-of-3 since picking up that massive victory and currently sits in the bottom-half of the league, but now that the Friars get the rematch against Creighton at Alumni Hall in Rhode Island - where Providence is 8-2 this season - the cozy confines of home court may give the Friars a little bit of an extra edge as they attempt to go 2-0 on the year against the Elite Eight squad from a year ago.
Highlights from last night's victory over #25 Creighton pic.twitter.com/NPjd3mtnCR

— ProvidenceWBB (@ProvidenceWBB) January 5, 2023
Still, since they lost to Providence, the Bluejays seem to have fixed any mistakes they had and have gone on a three-game tear as of this writing, beating Marquette, Seton Hall and Butler by 19 points or more each to surge their way back among the elites of the BIG EAST.
Wickedly efficient (1.51 team assist-to-turnover ratio), with one of the most lethal shooting units in the league (51.9% effective field-goal percentage), Creighton, on paper, looks more likely to get redemption for its early-season slipup than let Providence get the second win.
But this is the BIG EAST, after all, where crazier things have happened in the league's women's hoops scene this year alone.
Seton Hall Vs. Georgetown
A couple of weeks ago, when Seton Hall had won 11-of-12 games, and Georgetown had lost 6-of-7, a Pirates-Hoyas matchup would've seemed a bit more predictable, especially considering that The Hall already defeated GU once, 72-62, in New Jersey on Dec. 28.
Now, that outcome isn't as certain.
The Pirates have lost each of their past three games in blowout fashion - albeit two of those losses came at the hands of top-tier BIG EAST teams Creighton and UConn - while the Hoyas have found a little bit of form by picking up back-to-back wins over DePaul and Providence, both of which came by double digits.
Georgetown freshman guard Kennedy Fauntleroy scored 21 points per game across those two matchups to pick up her fifth BIG EAST Freshman of the Week honor of the year, and her recent hot streak will be tested against a Seton Hall defense that suddenly has been a bit leaky as of late, allowing an average of 86 points per game across the Pirates' past three defeats.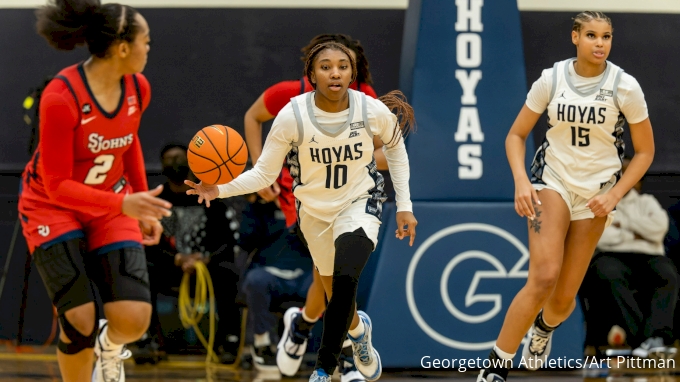 Still, it's also the same defense that held Fauntleroy to just 10 points on 4-for-13 shooting in their first meeting as Seton Hall guard Lauren Park-Lane had an excellent offensive night in the meantime, scoring 23 points and providing eight assists in the win.
Park-Lane has been held below her 19.3 points per game season average in each of her past three outings (including a season-low nine points against UConn), with the rematch against the Hoyas giving her ample opportunity to restart a high-scoring burst once again.
But against a Georgetown team playing arguably its best basketball of the season right now - and perhaps sneakily one of the best turnover-forcing defenses in the BIG EAST at a league-best 8.7 steals per game in conference play - that task is going to be much easier said than done.
Marquette Vs. Butler
Even with a highly anticipated showdown going on simultaneously between BIG EAST superpowers UConn and Villanova, the clash between the Golden Eagles and the Bulldogs is worth cycling back to, as well.
Miserable a season ago, as it only picked up one win, Butler has taken a major step forward in the first season of head coach Austin Parkinson, already picking up a pair of BIG EAST wins and a tendency to put up a stunning performance or two.
Butler's 24-point win over Georgetown on Jan. 11, after all, came after the Bulldogs were only given a 26.6% chance to win the game outright prior to tipoff, per the women's basketball analytics site Her Hoop Stats.
McLimore ends the first half with this step-back jumper pic.twitter.com/1SyslxADaU

— Butler Women's Basketball (@ButlerUWBB) January 14, 2023
Graduate guard Rachel McLimore (10.8 points per game) has been a key part of the equation all season, but an overall ability from Butler to light up games from deep (37.2% 3-point percentage in conference play, which ranks second in the BIG EAST) keeps the Bulldogs in games, that on paper, they seemingly would be out of in a hurry.
That being said, Marquette did take care of Butler handily in a 67-46 victory Dec. 18, with the Golden Eagles' multi-pronged offensive attack seeing four players finish in double figures and junior forward Liza Karlen finish with a 10-point, 11-rebound double-double in just 24 minutes.
Karlen has been inactive with an injury since Marquette's New Year's Eve's loss at UConn, however, which has left the team short-handed and a bit up and down. The Golden Eagles have flip-flopped between wins and losses for the past six games.
A player who hasn't seemed to let that inconsistency slow her lately, however, is Jordan King - she averaged 23.5 points per night in the four games leading up to Marquette's big win against Seton Hall over the weekend, where against the Pirates, she was limited to just six points in 20 minutes due to foul trouble.
And, after just 10 points against Butler the first time she squared off against them, the senior guard will look to have a hot hand against the Bulldogs in the rematch.