2023 Hofstra vs Elon - Men's
Mid-Major Notebook: Antoine Davis, Emoni Bates & A Week Full of Buckets
Mid-Major Notebook: Antoine Davis, Emoni Bates & A Week Full of Buckets
Antoine Davis' pursuit of Pete Maravich's scoring record and Emoni Bates' career-best showing headlined a week of six 40-plus-point games.
Jan 28, 2023
by Kyle Kensing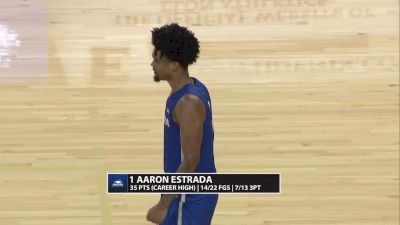 Aaron Estrada's eighth 3-pointer in an 82-65 Hofstra win at Elon on Thursday gave the reigning Colonial Athletic Association Player of the Year a career-high 40 points — and marked Div. I basketball's sixth 40-plus-point effort in a five-day span.
Almost one-third of the 20 games in which players scored 40 points or more this season spanned Jan. 21-26, including each of the three-highest scoring performances of the 2022-23 campaign thus far:
Marcus Tsohonis scored a Long Beach State record 46 points in 54 minutes played during the Beach's 112-110 win at UC San Diego.
Western Illinois' Trenton Massner connected on 9 of his 12 3-point attempts, leading Western Illinois to the third win of its current four-game streak on Monday, 92-80 vs. North Dakota.
Drew Pember shot 8-of-10 from beyond the arc in his second 40-plus-point game of the season, finishing with a Div. I-best 48 points in UNC-Asheville's 88-80, overtime win over Presbyterian.
Drew Pember scored a D1 season-high 48 points for UNC Asheville last night.

Opened the game with 5 straight threes (8-10 in the game) & then made plays as a cutter in the second-half.

6'10" senior who spent his first 2 years at Tennessee.

Daily Dish: https://t.co/1L8UHKujG8 pic.twitter.com/LeoYIsITjd

— Adam Finkelstein (@AdamFinkelstein) January 26, 2023
Those three games and Estrada's 40-pointer on Thursday combined with games of 42 points from Detroit Mercy's Antoine Davis on Saturday against IUPUI, and 43 points from Eastern Michigan's Emoni Bates against Toledo on Tuesday.
Davis' showing marked his second straight surpassing 40, coming off a 41-point outing Jan. 14 against Robert Morris in which Davis sank 11 3-pointers. In the process, he became the NCAA's all-time career leader for made triples, surpassing recent Wofford star and 2019 March Madness standout Fletcher Magee's mark of 509.
Davis continues his pursuit of Pete Maravich's almost mythic college scoring record of 3,667 career points. A 29-point performance on Jan. 27 in the Titans' rematch with Robert Morris pushed Davis past another scoring machine of yesteryear, Portland State legend Freeman Williams, who died last spring.
Maravich's record may be too lofty for Davis to catch, but that he's in the conversation is special on its own. It's a record that has long felt impossible for anyone to even approach, let alone catch.
As far as records that may never be touched, Bates' 43 points against Toledo proved particularly noteworthy with 29 of them coming in succession.
"You're watching one of the greatest individual halves in the history of college basketball!"

EMONI BATES HAS SCORED EASTERN MICHIGAN'S LAST 27 POINTS 🤯 @EMU_MBB pic.twitter.com/RCPjelo6sG

— CBS Sports CBB (@CBSSportsCBB) January 25, 2023
Incredibly, Bates notched barely more than half of the all-time record scored consecutively; that record belongs to Bill Mlkvy, who scored 54 in a row for Temple in March 1951. Imagine if Mlkvy had a 3-point line in his era.
Of course, that's a common refrain for scoring records of yesteryear, including Frank Selvy's 100-point game at Furman and "Pistol Pete" running up three straight seasons averaging north of 40 points per game at LSU. The 3-pointer's impact on college basketball has been expressed ad nauseum since its inception 36 years ago, yet still can't be overstated.
Of the 20 performances producing 40-plus points this season, 15 were a byproduct of those players hitting at least four from beyond the arc; they made at least five in 14.
Given how integral the 3-pointer is both to individual scoring specifically, and the modern game in general, that makes the season Saint Francis University forward Josh Cohen is having all the more remarkable.
The 6-foot-10 Cohen is responsible for two of the 20 40-plus-point games, dropping an even 40 against Lehigh and Hawai'i. He didn't make a 3-pointer in either game — in fact, Cohen hasn't attempted a single triple on the season.
Cohen has, however, shot 61.4 percent from the floor while maintaining the seventh-highest scoring average in the nation. The Red Flashes are tied atop the Northeast Conference in the loss column with Fairleigh Dickinson before embarking on a three-game road swing at Central Connecticut State, Stonehill and Merrimack that could determine their regular-season championship fate.
Dunks of the Week
North Dakota State's Grant Nelson just missed making it seven players hitting at least 40 this week, finishing with 36 points in the Bison's win Friday over North Dakota.
However, Nelson put perhaps the most jaw-dropping exclamation point on his scoring eruption of any from the past week. The 6-foot-11 hybrid player emulated Julius Erving in the ABA Dunk Contest with a full-extension, one-handed dunk, taking off from one step inside the lane.
you break it, you buy it Grant pic.twitter.com/tpQ1zGBWCZ

— NDSU Basketball (@NDSUmbb) January 28, 2023
Nelson wasn't the only player paying in-game homage to a Dunk Contest-winning slam this week, either.
Channeling Isaiah Rider from the '94 Dunk Contest, North Carolina A&T's Marcus Watson brought the East Bay to Greensboro for the exclamation in the Aggies' win over Drexel.
Are you kidding, Marcus Watson?!

The @ncatmbb dunk contest gets better and better.#CAAHoops pic.twitter.com/y9Y9N3NyLn

— CAA Basketball (@CAABasketball) January 27, 2023
No specific throwback to compare Iona's Berrick JeanLouis going hard to the rim on Jan. 20; just a classic posterization from the Gael.
#SCTOP10 Look at that man fly!

Berrick JeanLouis WOW#GaelNation #MAACHoops
📺@ESPNPlus pic.twitter.com/Le3xdllveQ

— Iona Men's Basketball (@IonaGaelsMBB) January 21, 2023
We're Going Streaking
Nationally ranked Florida Atlantic and College of Charleston continue to roll along with the nation's two longest winning streaks — though both draw serious challenges this week.
FAU travels to UAB on Thursday, while Charleston welcomes in a Hofstra team that has gotten hot in its own right for a marquee Colonial Athletic Association showdown here on FloHoops.com.
A few more noteworthy winning streaks through Jan. 27:
Saint Mary's has won nine straight heading into West Coast Conference matchups with BYU and San Francisco.
Quinnipiac and Kennesaw State, two programs that have never reached the Div. I NCAA Tournament, are winners of six straight.
Delaware State has won one in a row. That may not seem like much, but the Hornets' 88-85, overtime victory over South Carolina State last Monday marked DSU's first win against a Div. I opponent in almost two calendar years.
The drought is over!

Delaware State, which last defeated a D1 opponent on March 6, 2021, takes down South Carolina State 88-85 in overtime.

The win snaps the school's 41-game losing streak vs. D1 opponents, which was the nation's longest D1 losing streak. pic.twitter.com/UFsSpwkn3q

— Heat Check CBB (@HeatCheckCBB) January 24, 2023
First Place on the Horizon
The Horizon League features one of the most heated championship races of any conference with February looming. Youngstown State and Cleveland State survived home tests on Friday against Oakland and Purdue Fort Wayne, both improving to 8-3 in conference play.
A Saturday showdown between Milwaukee and Northern Kentucky has significant implications. The Norse are alone atop the Horizon — thanks in part to Marques Warrick's buzzer-beater to sink Cleveland State on Jan. 19.
.@marques_warrick CALLED BALL GAME!!!!!!!!!!!!!!!!

NORSE WIN!! NORSE WIN!! NORSE WIN!!

(@ESPNAssignDesk + #SCtop10)@mid_madness | @MarchMadnessMBB pic.twitter.com/oB6Ml7VSG3

— NKU Men's Basketball 🏀 (@NKUNorseMBB) January 20, 2023
The Panthers come to town one game back of NKU. A Milwaukee win ties the Panthers and Norse for first place in the win column, but creates a four-team logjam in the loss column with Cleveland State and Youngstown State.
An Emotional Win for Siena
Siena's Michael Bear told the Daily Gazette, "It's not too far-fetched to think there was some divine intervention" following the Saints' 70-53 win Friday over Iona.
The matchup for first-place in the Metro Atlantic Athletic Conference went Siena's way with Baer scoring 18 points on 7-of-11 shooting from the floor and grabbing 12 rebounds. But more significant than what Baer put in the box score was for whom he played on Friday.
Siena's Michael Baer, back from Iowa after his father's death, warming up while wearing a shirt in honor of honorary team member Evan Franz, who died Monday: pic.twitter.com/iMEfJbPHGS

— Mark Singelais (@MarkSingelais) January 27, 2023
Baer's star performance captures the importance of basketball in its purest essence; an exercise of expression and celebration of life.