2023 DePaul vs Creighton - Women's
BIG EAST Women's Basketball Games Of The Week: Can DePaul Bounce Back?
BIG EAST Women's Basketball Games Of The Week: Can DePaul Bounce Back?
February doesn't quite hold the prestige of March in the college basketball world, but plenty of seasons are won and lost in the month before the madness.
Feb 1, 2023
by Briar Napier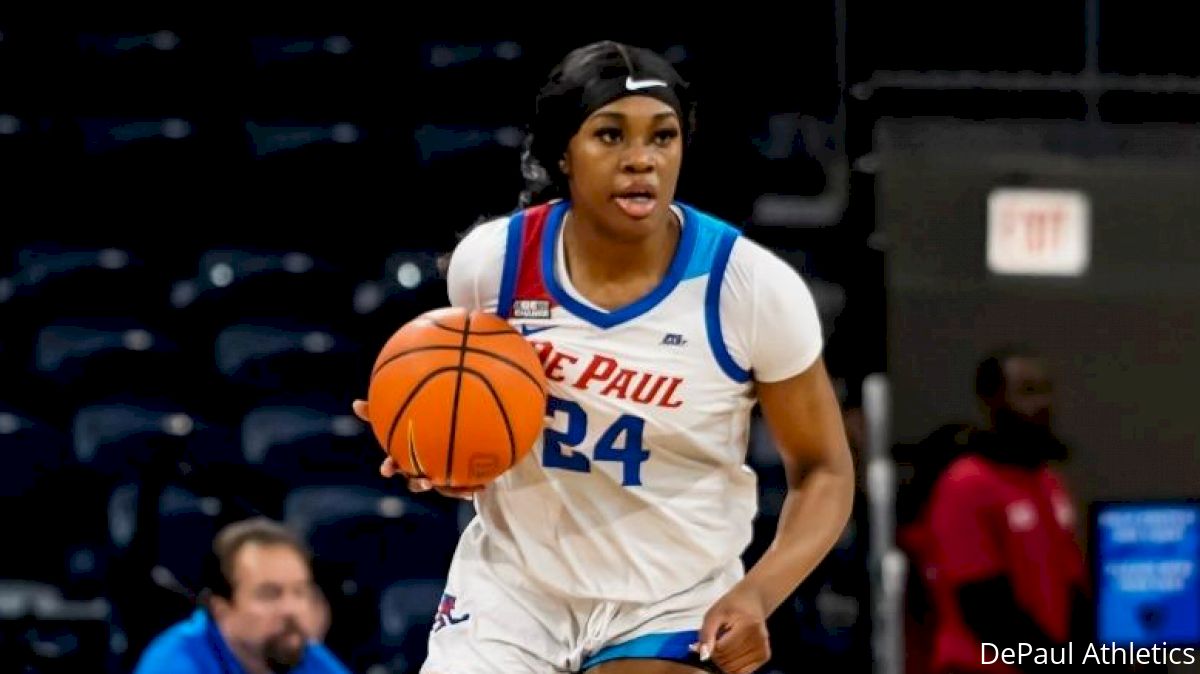 February doesn't quite hold the same prestige as March in the college basketball world, but plenty of seasons are won and lost in the month before the madness.
And now, as the BIG EAST women's basketball scene heads into the penultimate full month of its season, it's on.
With the conference tournament and a shot at the league's automatic bid to the NCAA Tournament quickly approaching, chances to boost stock and standings for the postseason are running low for many of the league's teams.
It should make for an electric final few weeks of the regular season.
The final push starts now, and things are about to get exciting.
Here's a look at the BIG EAST women's basketball games to check out this week on FloHoops,
which is streaming league games all season.
NOTE: All tipoff times are listed in Eastern Time and are subject to change.
DePaul Vs. Creighton
DePaul, to put it simply, is in crisis mode, and it's not really the Blue Demons' fault, either.
Decimated by injuries over the past few weeks, DePaul had lost three straight games and 6-of-7 heading into its scheduled matchup against Seton Hall on Saturday, which was forced to be postponed due to the Blue Demons not meeting the conference-minimum of seven available scholarship players, mirroring what UConn had to do against the Blue Demons themselves for a scheduled game in early January.
As of this writing Monday night, DePaul still is set to travel to Creighton (which is fourth in the BIG EAST) and take on the Bluejays for their second conference meeting of the season, but as the situation remains fluid in the DePaul locker room, things could change quickly from now until Wednesday night.
If tipoff does come, however, what's likely to be a shorthanded (yet still dangerously powerful) Blue Demons team will look to pluck a key win in Omaha and keep their miniscule NCAA Tournament at-large hopes alive with a fiery start to February.
Superstar sophomore Aneesah Morrow (25 points, 11.9 rebounds, 2.6 steals per game) has been unaffected by DePaul's injury bug and started every game, unsurprisingly keeping up her pace through the adversity of being one of the most-used players in America.
Tonight at 4:35 on @cbschicago: The reigning nat'l freshman of the year, @AneesahMorrow24 is still racking up the stats for @DePaulWBBHoops (3rd in Big East in scoring, 2nd in rebounding) but also adjusting to extra attention & being more of a leader in year two. pic.twitter.com/FG2x1sWTAU

— Matt Zahn (@mattzahnsports) January 31, 2023
Morrow is being used on her team's plays on a whopping 38.3% of possessions, per women's basketball analytics site Her Hoop Stats.
But the overall ability of one of the most efficient and well-rounded teams in the BIG EAST in the Bluejays will be a challenge for the Blue Demons to handle, with Creighton's 27-10 fourth-quarter surge to pull away in their first meeting Dec. 31 a prime example of the Bluejays' effectiveness and ability to turn on the jets in a hurry.
Providence Vs. Seton Hall
After rocketing out to a 6-1 start in BIG EAST play, defeats in quick succession to Creighton, UConn and Marquette were disheartening (especially by double digits in all three games), but also somewhat understandable, as they all are in the top 5 of the league standings.
The Pirates' loss to Georgetown last week, which has been toiling near the bottom of the conference table for much of the season, was not as understandable, and with a game against St. John's also looming this week, Seton Hall is in danger of falling into a serious backslide - if it isn't amid one already.
That's where Providence could step in and get itself a big win to improve upon its potential BIG EAST Tournament seeding down the line.
The Friars already have shown they have an ability to pull off wins as the underdog this season, most notably by taking down Creighton in a 79-75 victory Jan. 4.
Highlights from last night's victory over #25 Creighton pic.twitter.com/NPjd3mtnCR

— ProvidenceWBB (@ProvidenceWBB) January 5, 2023
Providence additionally has a player in Grace Efosa, who has seemed to find her mojo in conference play, averaging 11.4 points per game against BIG EAST competition this year and knocking down a game-winning jumper with 4.4 seconds left just this past weekend in a wild 50-48 triumph at Xavier.
Still, Seton Hall got out to such a good start in league play for a reason - when its offense is clicking and in high gear, few others in the conference can keep up.
The main difference in the past four games, however, is that same offense hasn't really showed up: 75.4 points per game over the Pirates' 6-1 start has given way to just 59.5 points per game over their past four matchups.
Lauren Park-Lane (18.6 points per game) and Sidney Cooks (14.9) are doing their parts in trying to keep the ball rolling, but they're probably going to need some help on the offensive end, if the Pirates are to return to consistent winning ways again this season.
Villanova Vs. Butler
After only losing by five points on the road against another loaded UConn team this past weekend, Villanova has further solidified itself as a monstrous team that could be posed for a dark-horse NCAA Tournament run, a la Creighton's push to last year's Elite Eight.
At the same time, though, the Wildcats also have been prone to a few close calls in conference play, winning four games by single digits against BIG EAST foes this season and two by a single possession.
Yes, All-American Maddy Siegrist - Villanova's recently crowned all-time leading scorer, man or woman, after she crossed the mark in a win against Creighton late last month - is a one-woman wrecking crew, unlike few other players in the country, and her influence late in games has undoubtedly played a role in 'Nova sneaking by in some close ones.
"I'm just so grateful to play at Villanova."@20sMaddy took to the mic after becoming Villanova's all-time leading scorer. pic.twitter.com/y16XN39dFL

— Villanova WBB (@novawbb) January 21, 2023
But considering that Butler kept somewhat within striking distance when it visited Villanova on Jan. 8, losing 68-58, don't dismiss the Bulldogs (who are trying to find their way out of the BIG EAST basement in second-to-last place) right away in this one, especially in Indianapolis.
As of late, Butler also is playing some of the best basketball it has this year, almost pulling off back-to-back upsets over St. John's and Marquette. The Bulldogs ended up losing to each team by just two points apiece and shot over 50% from 3-point range in both games.
Here's the more pressing issue for Butler heading into the rematch this weekend, though: it has shown no clue about how it plans to stop Siegrist.
The reigning and defending BIG EAST Player of the Year dropped a ridiculous 36-point, 13-rebound double-double on the Bulldogs the first time out, and if she gets anywhere close to those numbers again (Villanova is 7-1 when Siegrist scores 30 or more), 'Nova probably is walking out of the Hoosier State with a W.