2023 Marquette vs Providence - Women's
BIG EAST Women's Games Of The Week: How Will Marquette Follow UConn Win?
BIG EAST Women's Games Of The Week: How Will Marquette Follow UConn Win?
Something that hadn't occurred to a certain BIG EAST team in 30 years happened – and it still might not have been the league's craziest moment last week.
Feb 15, 2023
by Briar Napier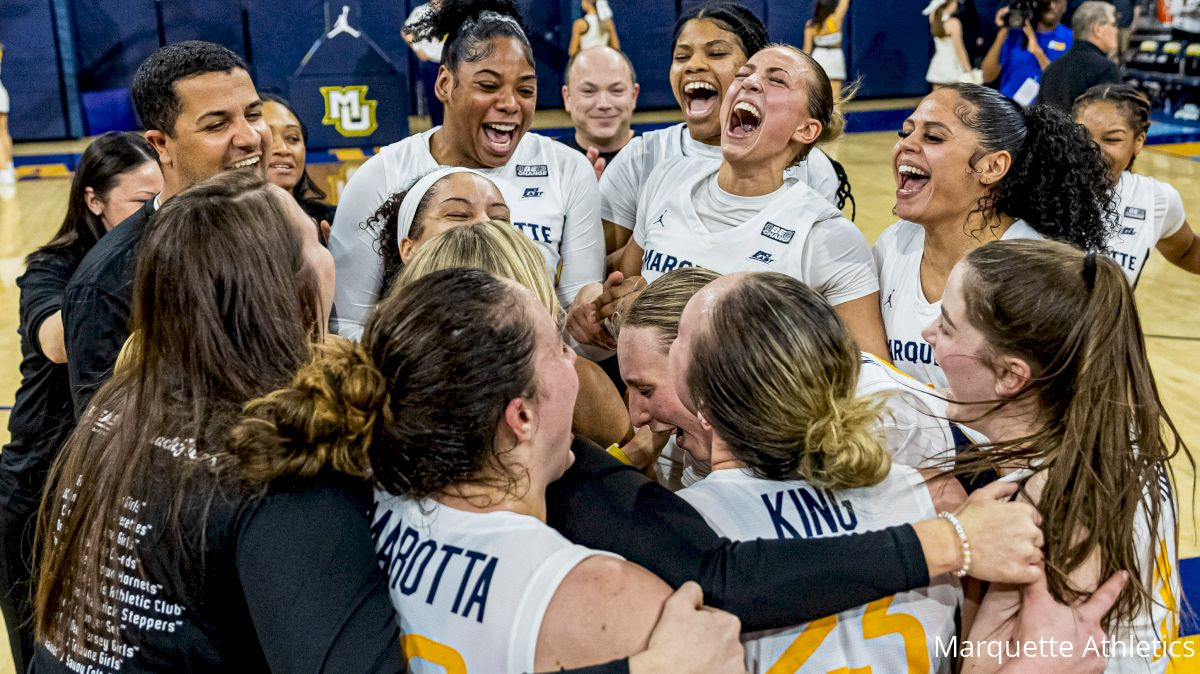 Something that hadn't occurred to a certain BIG EAST team in 30 years happened – and it still might not have been the craziest moment across the league last week.
If that's not enough to get you to check out the remainder of the BIG EAST women's basketball regular-season title chase (and everything else surrounding it), what is?
Between a race for the conference's top spot suddenly being blown wide open, a 50-point game and all else that's gone on, the final two weeks before the BIG EAST Tournament next month are going to be critical for postseason trajectories, whether that's gunning for a top seed, hosting opening-weekend games or just making the national tournament in the first place.
The phrase "anything can happen" can get a bit overused, yes. But in the BIG EAST, it's truly an every-night occurrence.
Here's a look at the BIG EAST women's basketball games to check out this week on FloHoops,
which is streaming league games all season.
NOTE: All tipoff times are listed in Eastern Time and are subject to change.
Villanova Vs. St. John's
The race for the BIG EAST regular-season title just got very, very interesting, and Villanova, as long as it wins this game against St. John's, could be in prime position to make a big move toward the top.
UConn shockingly was defeated in league play (more on that later in this article) recently, and with just under two weeks remaining in the regular season, the Huskies hold just a one-game lead in the league table over the Wildcats as of this writing Monday evening.
Sure enough, 'Nova is scheduled to take on the Huskies on Saturday for the second time this season (UConn won the first meeting at home on Jan. 29, by a score of 63-58) and potentially have a chance to have an identical conference record to coach Geno Auriemma's team in the process.
But before it can do that, Villanova first must get through the Red Storm, who are playing for their NCAA Tournament lives every time they step onto the court.
ESPN "bracketologist" Charlie Creme, in his latest women's March Madness bracket projection released Friday, has St. John's listed as his "First Team Out" of the field, meaning the Red Storm need resume-building wins, and fast, to stay afloat and not have their bubble burst.
Beating the Wildcats, who are solidly in the tourney as a No. 4 seed in Creme's projection, certainly would fit the bill there, and St. John's took 'Nova to the limit once already in a 64-61 thriller Jan. 14, a game in which the Wildcats needed a 25-7 fourth quarter to pull off an epic comeback win.
50 points. 😮😳🤯

During Saturday's game, @20sMaddy broke the Villanova AND @BIGEASTWBB single game scoring record! pic.twitter.com/nGuwJDRXNe

— Villanova WBB (@novawbb) February 13, 2023
There's just one major problem that stands in St. John's' way: Maddy Siegrist, who might be playing better basketball than she ever has, which is saying something.
The Villanova superstar dropped 50 points against Seton Hall over the weekend in the greatest scoring performance in BIG EAST history, becoming the league's all-time leading scorer in the process. She put up the best single-game scoring output in Division I – man or woman – this season.
Marquette Vs. Providence
Yes, Villanova-St. John's and Marquette-Providence are tipping off at the exact same time, and both deserve watching.
But something needs to be said about the week Marquette just had, so maybe try and get a dual-screen setup going if you can.
Reeling off a nonconference loss to No. 1 South Carolina three days earlier, UConn traveled to Milwaukee to face the Golden Eagles on Wednesday in its return to BIG EAST play.
But, for the second time this season against a team ranked in the top 5 of the Associated Press Top 25 Poll (against No. 3 Texas on Nov. 19 was the first occasion), Marquette shocked the No. 4 Huskies 59-52 to hand UConn (which while still elite has been ravaged by injuries all season) its first back-to-back defeats since – and this is not a typo – March 1993.
It was a historic victory for the Golden Eagles and a pretty vital one for their NCAA Tournament chances, too, as a bubble team like coach Megan Duffy's can't get much better of a win than by beating a potential No. 1 seed.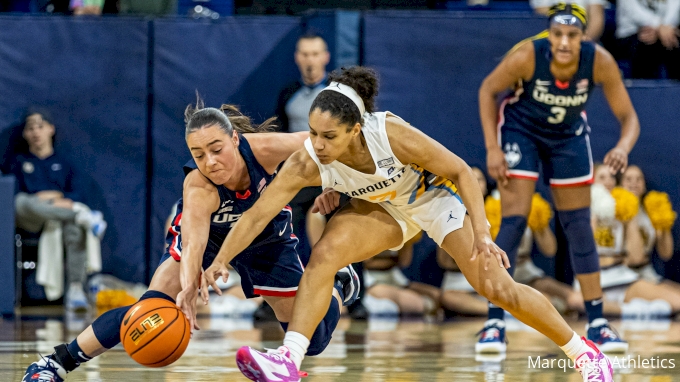 Therefore, it's especially important that there is no hangover by the Golden Eagles in their first game back from the UConn victory by way of a rematch against Providence, which Marquette defeated handily Jan. 14 by a score of 80-57.
As for the Friars, they will be looking for a boost after losing three straight games, including one over the weekend to Butler, but perhaps Providence can catch Marquette off guard after such an emotional victory. After all, the Friars can show up in spurts, like when they upset Creighton 79-75 on Jan. 4.
Still, Marquette guard Jordan King and forward Chloe Marotta make up one of the best 1-2 punches in all of the BIG EAST, with the duo each scoring in double digits together for four straight games. Marotta went for 19 and King dropped 18 against the Huskies as critical pieces of the win.
Georgetown Vs. Creighton
There isn't a hotter team in the BIG EAST right now than the Bluejays, who have won six straight games and nine of 10 as of this writing, before they take on UConn midweek.
That consistency largely is helped by the cool-headed presence of junior guard Lauren Jensen, who in 24 games, has failed to score in double figures once and has knocked down multiple 3-pointers in five straight matchups, including four triples in a 73-53 win over Xavier over the weekend.
That streak started against the Hoyas during Creighton's win over them Jan. 28, in fact, giving her another opportunity to show out against a BIG EAST opponent she's already been productive against.
What's important context-wise about that previous matchup, however, is that it did not come easy for Creighton.
The Bluejays won by eight points, but as a squad that normally is among the nation's best at taking care of the basketball (11.8 turnovers per game this season, the sixth-lowest in the country), Georgetown forcing 19 turnovers that afternoon in D.C. against undoubtedly was unusual.
I'll take that thank you very much 😌@k_ransom34 #HoyaSaxa #WeAreOne #ActWithENGIE pic.twitter.com/rsa3l8Mzdf

— Georgetown WBB (@GeorgetownWBB) January 28, 2023
Hoyas junior guard Kelsey Ransom, on both ends, was a big reason why Creighton had fits (24 points, nine rebounds, five steals, four assists), but a simultaneous two-point game from promising freshman backcourt mate Kennedy Fauntleroy (11.9 points per game average) hurt GU's ability to keep up with an efficient Creighton offense.
Now that Fauntleroy seems to have found her mojo again – dropping a game-high 24 points in a 67-59 loss to UConn over the weekend – this could be a trap game for the Bluejays, if they aren't careful, even when playing in Omaha.
Still, Creighton has a major advantage in that its white-hot offense that has been electric as of late, scoring 78.5 points per game over its last four outings. In comparison, the Hoyas have only scored over 78 points once all season.