CAA Men's Basketball
CAA Men's Basketball Report | Feb. 13, 2023
CAA Men's Basketball Report | Feb. 13, 2023
Catch up on the CAA Men's Basketball weekly news, notes and awards.
Feb 15, 2023
by FloHoops Staff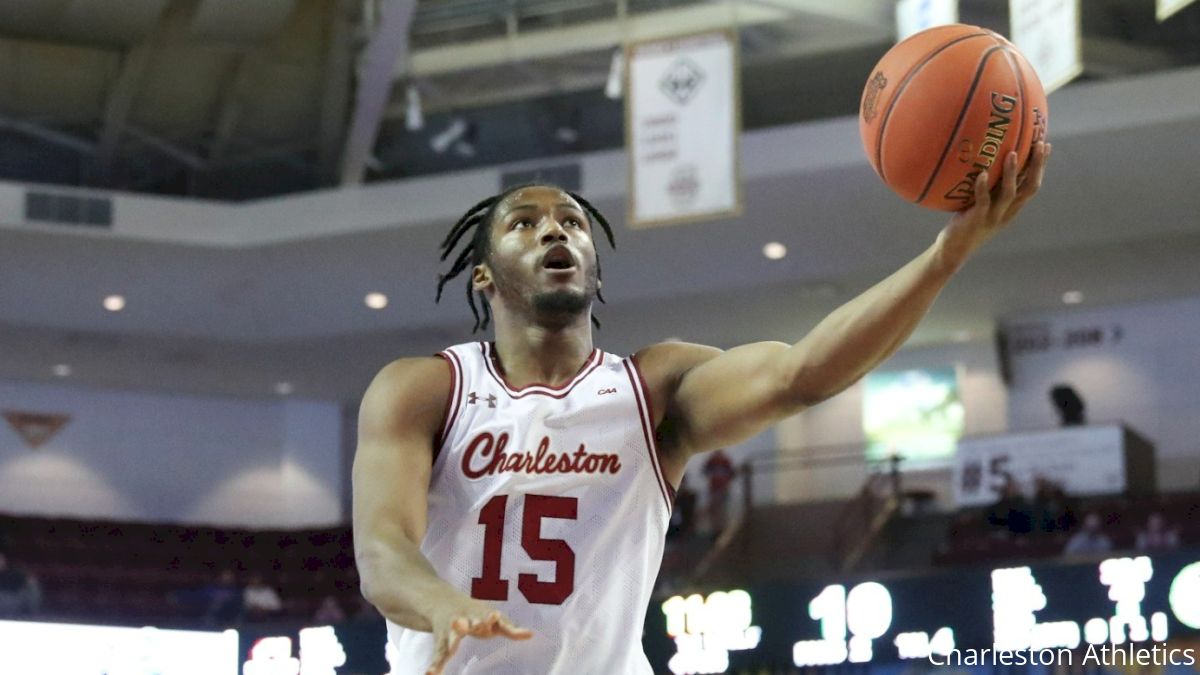 Catch up on the CAA Men's Basketball weekly news, notes and awards.
Click here for the schedule and results.
WEEKLY AWARDS
PLAYER OF THE WEEK
Pat Robinson III | Charleston
Robinson averaged 24 points, four rebounds, 2.5 assists and one steal per game in a 2-0 week to keep Charleston tied for first place.
The guard from New Jersey was the star of Saturday's win at Hampton, scoring 30 points on 10-of-14 shooting in 25 minutes off the bench to help Charleston out of a 15-point hole and improve to 12-2 in league play with a double-digit victory.
Robinson scored 18 points in Wednesday's season sweep of UNCW and shot 68% overall, 83% from 3 and 81% from the free-throw line in Charleston's 2-0 week.
Charleston is the only team in the CAA to have three different players earn CAA Player of the Week honors this season.
ROOKIE OF THE WEEK
Max Mackinnon | Elon
Mackinnon repeats as Rookie of the Week and wins his third of the year after two more strong performances for Elon. The freshman from Australia averaged 16.5 points and 8.5 rebounds per game for the Phoenix, scoring 11 points and grabbing eight rebounds in Wednesday's setback at North Carolina A&T before tallying 22 points and nine rebounds in Saturday's win over William & Mary.
PHOENIX TAKES THE LEAD!! @maxxmackinnon with the big-time triple!#phoenixrising pic.twitter.com/Yp2ieVgBe5

— Elon Men's Basketball (@ElonMBasketball) February 14, 2023
2022-2023 CAA MEN'S BASKETBALL WEEKLY AWARD WINNERS
Player of the Week
Nov. 14: Nicolas Timberlake, Towson
Nov. 21: Aaron Estrada, Hofstra; Ryan Larson, Charleston
Nov. 28: Cam Holden, Towson
Dec. 5: Jyáre Davis, Delaware; Jordan Nesbitt, Hampton
Dec. 12: Jameer Nelson Jr., Delaware
Dec. 19: Jyáre Davis, Delaware
Dec. 26: Maleeck Harden-Hayes, UNCW
Jan. 2: Amari Williams, Drexel
Jan. 9: Aaron Estrada, Hofstra; Nicolas Timberlake, Towson
Jan. 16: Dalton Bolon, Charleston
Jan. 23: Nicolas Timberlake, Towson
Jan. 30: Aaron Estrada, Hofstra
Feb. 6: Tyler Thomas, Hofstra
Feb. 13: Pat Robinson III, Charleston
Rookie of the Week
Nov. 14: Amar'e Marshall, Hofstra
Nov. 21: Amar'e Marshall, Hofstra
Nov. 28: Amar'e Marshall, Hofstra
Dec. 5: Jack Collins, Monmouth
Dec. 12: Amar'e Marshall, Hofstra
Dec. 19: Noah Ross, UNCW
Dec. 26: Max Mackinnon, Elon; Jared Turner, Northeastern
Jan. 2: Duncan Powell, North Carolina A&T
Jan. 9: Duncan Powell, North Carolina A&T
Jan. 16: Charlie Williams, William & Mary
Jan. 23: Justin Moore, Drexel
Jan. 30: Jack Collins, Monmouth
Feb. 6: Max Mackinnon, Elon
Feb. 13: Max Mackinnon, Elon
🎥🎥🎥

EIGHT IN A ROW! What a run. Let's take a look at the highlights from Monday's rout of Drexel!#PrideOfLI pic.twitter.com/K83U3RMHef

— Hofstra Men's Basketball (@HofstraMBB) February 14, 2023
NEWS AND NOTES
THE PRIDE OF LONG ISLAND
Hofstra is 12-1 in its last 13 games and in a first-place tie at 13-2 in the CAA, with a head-to-head tiebreaker over Charleston.
Aaron Estrada is 16th in the nation at 20.9 points per game, and Hofstra has defeated a ranked opponent in each of the last two seasons.
The Pride have held 11 of their last 13 opponents under 70 points.
Hofstra's current eight-game winning streak is the fifth-longest in the nation and gives the Pride a run of 5+ games in five straight years - a feat achieved by just 41 programs nationally.
Hofstra's 20 wins are tied with Fordham for the most in the tri-state area.
CHARLESTON: 25-3
Charleston is 25-3 with a win total (25) that leads the nation and a win percentage (.893) that ranks third among all 363 Division I teams.
The Cougars are receiving votes in the AP Poll for the 13th consecutive week and were ranked for four, while CofC is 7-1 against last year's NCAA Tournament field and 5-0 against defending conference champions.
The Cougars are the first mid-major to win the Charleston Classic, as they captured the title with a victory over Virginia Tech in November.
Charleston's resume also includes wins over Kent State and UNCW, with the lone setbacks coming at preseason No. 1 North Carolina, a four-point loss to Hofstra and a one-point defeat at Drexel.
The Cougars are clear of a Q4 loss.
OT, OT, DREXEL WINS WHEN GOING TO OT
Drexel's overtime victory against Towson was the Dragons' third in as many games to go beyond 40 minutes this season.
The results in an extra five minutes are a turnaround from last season, when the Dragons were 0-2 in OT, including an MTE opener against Tulane that was upended by a multi-hour facility delay.
Drexel's overtime win Saturday was made more impressive by the Dragons being short two starters.
NO THREES, NO PROBLEM
Monmouth won 61-54 last Wednesday without the benefit of a 3-pointer, making the Hawks one of five teams nationally to win a game this year without one.
Monmouth is the first CAA team to win a game without making a 3-pointer since William & Mary defeated Old Dominion on Dec. 1, 2015.
QUAD WORKOUT
CAA teams hold 13 wins that qualify as Quad 1 or 2 in the NET.
Hofstra has a Q1 win at Charleston and Q2 victories over Iona, Princeton and San Jose State, while Charleston has earned three Q2 victories (Virginia Tech, Kent State, UNCW).
UNCW (North Texas) has a Q1 win, while Towson (UNCG), Drexel (Charleston), North Carolina A&T (Hofstra), William & Mary (UNCW) and Delaware (Princeton) each have one in Q2.
The CAA went 6-2 against both the Sun Belt and MAAC, 8-3 against the A10 and 7-3 against the SoCon, in addition to wins over the ACC and American.
EYE ON THE PRIZE
CBS Sports Network is the home of 18 CAA Men's Basketball games this winter, including the semifinals and title game of the CAA Championship.
The 15-game regular-season package includes at least one game for every CAA team and will feature John Fanta and Dave Ryan as play-by-play broadcasters and Tarik Turner, Terrence Oglesby and Dr. John Giannini as analysts.
Fanta also will join Karlie Smith for a weekly #CAAHoops breakdown on CAASports.com and @CAABasketball on Twitter.
The Feb. 25 game between Stony Brook and Charleston was selected for the CBS Sports Network wild-card game to be played at noon on the final day of the regular season.
AND-ONES
One thing to know about each #CAAHoops team
• Charleston's 25 wins are the most in the nation. The Cougars' .893 winning percentage ranks third out of all 363 Division I teams.
• Delaware made a season-best 11 3-pointers in Monday's win over Stony Brook.
• Drexel has held 21-of-27 opponents under 70 points and two under 40 points.
• Elon has won 5-of-6 games for the first time since its seven-game winning streak to reach the 2021 CAA title game.
• Hampton's 15.6 turnover rate is the 24th-best nationally.
• Hofstra is 12-1 in its last 13 games and has held its opponent under 70 points in 11 of those contests.
• Klemen Vuga is averaging 12.7 points per game for Monmouth during a stretch in which the Hawks are 5-1. Vuga poured in a career-high 29 points in Monday's victory.
• North Carolina A&T's Kam Woods ranks second in the CAA in made 3-pointers and third in made 3-pointers per game, while placing fourth in made field goals.
• UNCW is 6-2 in its last eight games and has held 22-of-27 opponents to 70 points or less.
• Division I opponents have taken just 29.5% of their field-goal attempts from 3 against Northeastern, a rate that is the 11th-lowest nationally.
• Stony Brook's final three games of the regular season are against the teams currently occupying the top 3 spots in the standings.
• Towson is 7-3 in its last 10 games. The Tigers have won their last six home games.
• William & Mary leads the CAA in 3-point field goal percentage (37.4%).