CAA Women's Basketball
CAA Women's Player Of The Year: Can Anyone Stop Keishana Washington?
CAA Women's Player Of The Year: Can Anyone Stop Keishana Washington?
Drexel's Keishana Washington has had a season for the ages. How much competition will she have for CAA Player of the Year in 2022-23?
Feb 22, 2023
by Kyle Kensing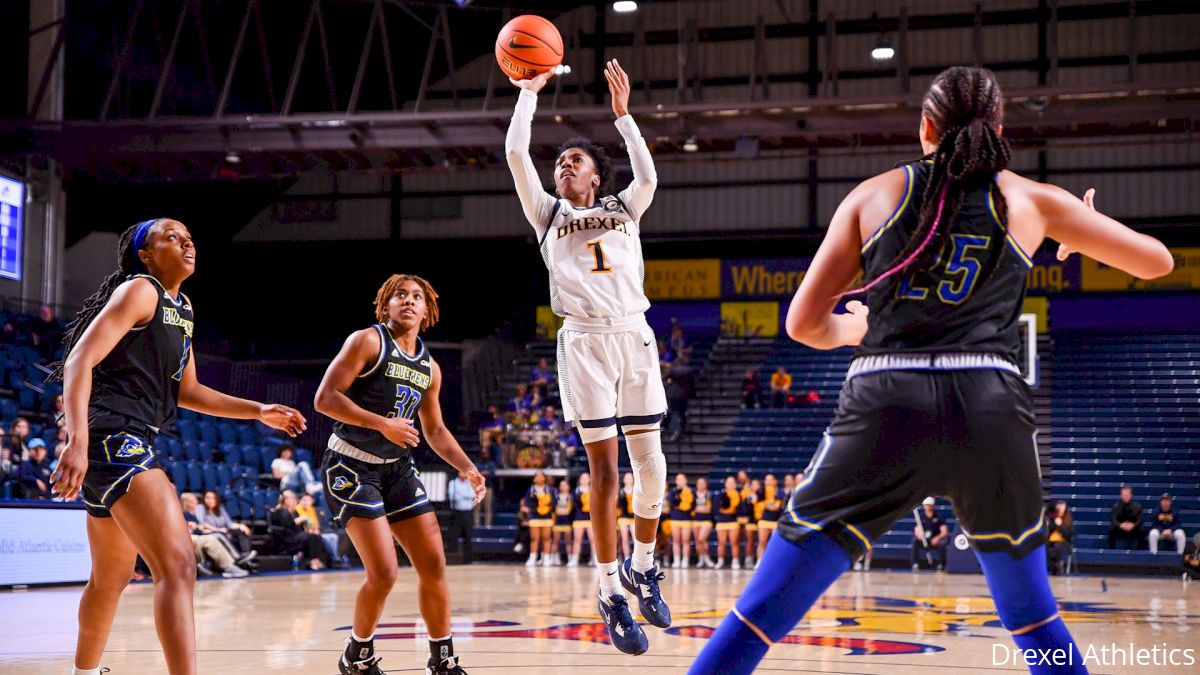 She's outscoring Iowa's Caitlin Clark, LSU's Angel Reese, and...well, everyone in Div. I basketball save Villanova's Maddy Siegrist. She has won five Colonial Athletic Association Player of the Week selections. She is a semifinalist for the national Becky Hammon Award.
Drexel wing Keishana Washington has had a 2022-23 season for the ages, and her selection as the CAA Player of the Year may well be a foregone conclusion.
Keishana Washington put on a show today 🔥

Beat the shot clock ✔️
Secure 40 points ✔️#NCAAWBB x 🎥 @DrexelWBB pic.twitter.com/Qkbq6IktRe

— NCAA March Madness (@MarchMadnessWBB) February 6, 2023
Should Washington claim the conference's top individual honor, it's certainly well-earned. Washington's 27.7-point per game average is more than nine points a contest higher than the Colonial's next-most prolific scorer, and nearly 2.5 points per game more than Delaware sensation Jasmine Dickey averaged a season ago.
In fact, no scorer in the CAA has ever put up Washington's current average for an entire season since Delaware legend Elena Della Donne posted 28 points per game in her junior campaign.
Washington's contributions to Drexel leading the conference standings ahead of the Feb. 24 slate also include more than four assists per game and 1.4 steals a contest. All told, the Pickering, Ontario, Canada import has a case not only as the CAA Player of the Year, but the 2022-23 National Player of the Year should the Dragons advance to the NCAA Tournament.
Keishana Washington leads NCAAW D-1 with THREE 40-point games this season 🤯

📸: @DrexelWBB pic.twitter.com/GuXZpjpbHs

— Just Women's Sports (@justwsports) February 20, 2023
But while Washington's march to the league's top honor may be inevitable, she isn't the only individual standout to shine in the Colonial this season.
Jazmin Harris and Maleia Bracone, North Carolina A&T
CAA newcomer North Carolina A&T finds itself in the hunt for a regular-season championship thanks in part to its outstanding defense. The Aggies are holding opponents to 62.7 points per game, and a key reason is the interior presence of Jazmin Harris.
Harris is one of the conference's leading shot-blockers, but just as significantly, she alters opponents' looks effectively. On offense, Harris is the interior part of a dependable inside-outside combination with Maleia Bracone — an Aggie leader worthy of mention among the CAA's best in her own right.
The 🏦 is open for Jazmin Harris!@ladyaggiesball takes the lead with 17.4 seconds remaining#CAAHoops on @FloHoops:
📺: https://t.co/wNpIZzBZpS pic.twitter.com/umxYZ3Q6Kd

— CAA Basketball (@CAABasketball) February 19, 2023
Bracone matches Harris as A&T's scoring leader with 13.7 points per game, and she's been a driving force of the Aggie defense with 2.5 steals per game. Bracone also leads A&T with more than three assists per game.
Maura Hendrixson, Drexel
The Drexel backcourt is a dangerous one-two punch, pairing Washington with expert distributor Maura Hendrixson. The fifth-year senior Hendrixson is averaging 7.6 assists per game, good for the third-best average in the nation. She's also second on the Dragons roster in 3-point shooting with 38 made.
Hendrixson complements Washington — and vice versa — just as nicely on the defensive end. The have combined for 69 steals on the season, with Hendrixson averaging 1.3 a game.
Annie Warren, Stony Brook
Another first-year CAA member that has played its way into title contention, Stony Brook, features one of the Colonial's top scorers in guard Annie Warren. Warren is shooting a blistering 40.9 percent from 3-point range with 79 made, bolstering her team-best 17.2 points per game.
She's leading the Colonial in triples made, and ranks in the top 15 nationally. Warren's resume includes two games with six made 3-pointers, and a seven 3-point outing against Charleston.
AW4 is catching 🔥🔥🔥

Warren leads us with 26 points so far, 7-of-11 from DEEP 👀

🌊🐺 x #CAAHoops x @_Annielovee pic.twitter.com/Y0T4558edk

— Stony Brook Women's Basketball (@StonyBrookWBB) February 18, 2023