2023 CAA CHAMPIONSHIP - Men's
CAA Championship: Jack Collins Makes A March Splash For Monmouth
CAA Championship: Jack Collins Makes A March Splash For Monmouth
Monmouth guard Jack Collins made his March college basketball debut with a career-high 32 points and hustle plays.
Mar 3, 2023
by Kyle Kensing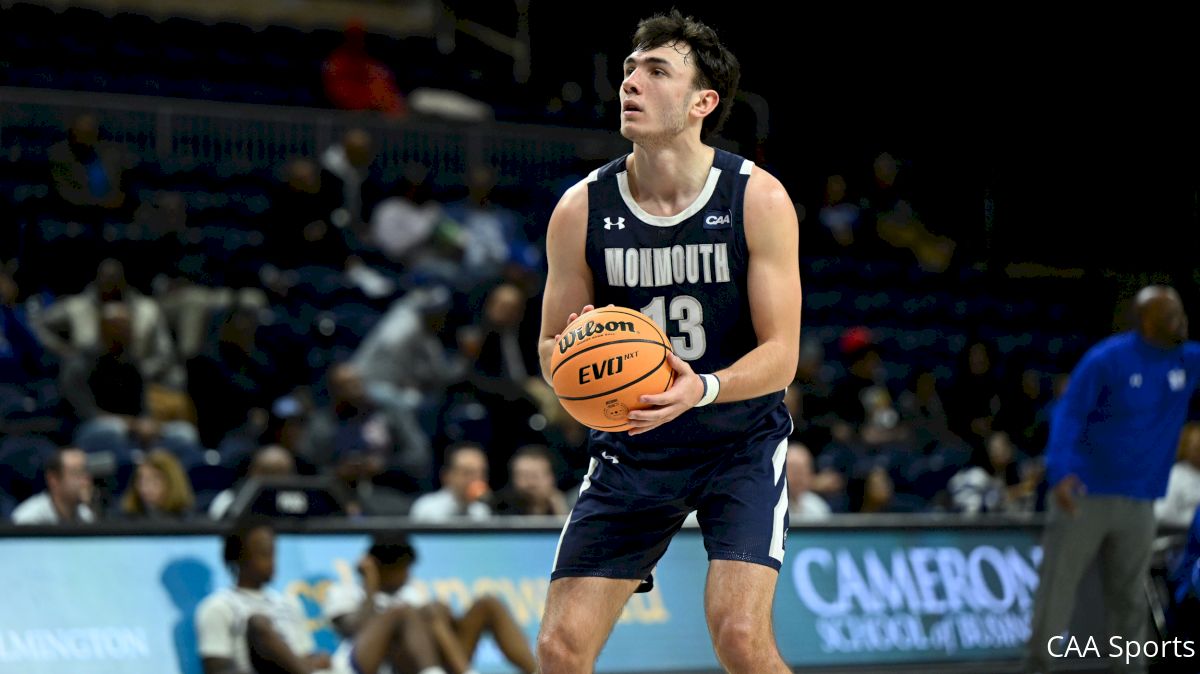 Minutes after crashing to the hardwood of Washington D.C.'s Entertainment and Sports Arena in pursuit of a loose ball, Monmouth guard Jack Collins leapt into Hampton bench chasing another possession.
Both hustle plays came in the second half of a 100-64 win, after the freshman Collins already reached a career scoring high. He finished the afternoon with 32 points, 25 of which came in a first half where Collins went 9-of-9 from the floor and 5-of-5 from deep.
It's Jack Collins world and we are living in it

The @monmouthbball freshman ties his career-high in the first half #CAAHoops on @FloHoops:
📺: https://t.co/wNpIZzBZpS
📊 https://t.co/HzzBvGkZ2o pic.twitter.com/097ylPR3u4

— CAA Basketball (@CAABasketball) March 3, 2023
"I don't really change how I play, whether we're up 30 or we're down 30," Collins said. "We've had situations this year we've been down 30, but we've had situations now where we've been up 30 and I try not to play any different."
The 2022-23 campaign was a trying one for Monmouth in its first as a member of the Colonial. The Hawks came into Friday's opening-round matchup with Hampton 6-25 on the season and finished in last-place of the conference.
The ostensible play-in game is a spot that Monmouth coach King Rice vowed to avoid in future CAA Championships. But as long as the Hawks were here, they all-in.
Collins' play reflected that approach — though that's also just status quo for the Manasquan, New Jersey native.
"He's really like this," Rice said. "And he dives in practice, too, even when we tell him not to dive anymore because we weren't winning games. If he'd have broke his arm like my son did" — Rice gestured to his 11-year-old, Julian, sporting a cast — "we'd have been in a jam.
"He tells you all the time, 'Coach, this is how I get down,'" Rice added.
Collins also showed how he gets down from 3-point land. He closed the game 6-of-8 from beyond the arc, surprising the career-best mark of five he reached twice in the regular season — once at Syracuse and Feb. 13 against North Carolina A&T.
The Syracuse game proved especially relevant. Collins cited it as the last time he felt in that zone before tip-off.
His shooter's sense similarly tingled on Friday.
"Two times before in pregame we've had this year I told my teammates, 'If I'm missing, it's because [of] your passes' — jokingly, obviously," he said. "But I went to them and was like, today I'm feeling good. The ball was feeling good, and it was going in a lot."
The first attempt in-game went down at 15:40. About 90 seconds later, Jack Holmstrom created a transition opportunity off a rebound, snapping a quick outlet to Jakari Spence. Spence pushed the pace and found Collins on the wing for an open look.
The fifth with 27 seconds to go before intermission gave Monmouth 55 first-half points.
Collins hit just the one after halftime, but it was worth four points.
The triple and the foul!

Jack Collins completes the 4-point play for @monmouthbball#CAAHoops on @FloHoops:
📺: https://t.co/wNpIZzBZpS
📊 https://t.co/HzzBvGkZ2o pic.twitter.com/R712Vakxy0

— CAA Basketball (@CAABasketball) March 3, 2023
"We wanted to pay better attention to him," Hampton coach Edward Joyner said. "A couple of times, we felt like he got open because they'd set a cross-screen, then a down-screen, and we were late on the switch. A couple of times in transition, when we were running he wasn't located the way we feel he should be located."
Collins scored 18 and 10 points in two previous meetings with the Pirates, not paltry numbers. But he also shot 2-of-11 and 2-of-7 from deep in those contests, both of which were Hampton wins.
This time, however, there was no containing the first-year shooter.
"Jack had it rolling today," Rice said. "And of course, as a coach, you're going to say, 'Hey, let's keep trying to get it to him, let's keep looking for him.'"
And it sure doesn't hurt feeding a player who will chase down the ball on hustle plays as readily as he'll spot up for a shot.