2023 BIG EAST WBB Tournament First Round
BIG EAST Women's Basketball Tournament: First-Round Recap
BIG EAST Women's Basketball Tournament: First-Round Recap
The BIG EAST women's basketball scene got its own tourney underway Friday with its first round of competition. The excitement will amp up over the weekend.
Mar 4, 2023
by Briar Napier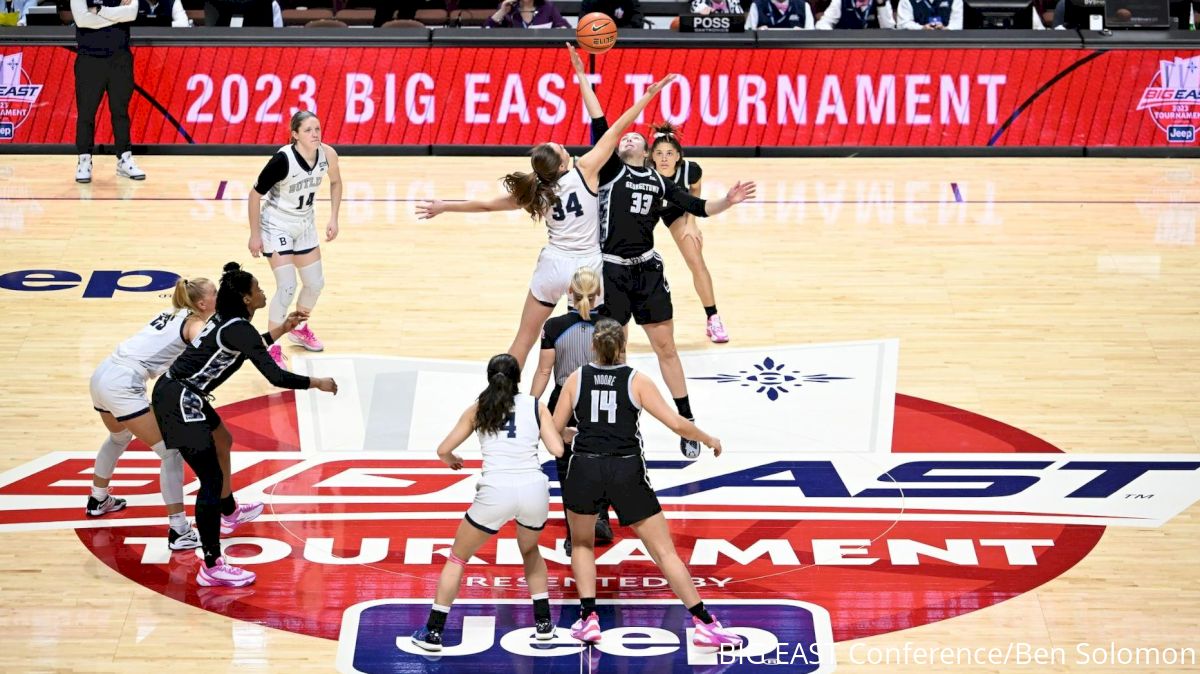 It's March.
With mere days remaining until March Madness dominates screens across America and spawns the creation of millions of brackets and subsequent office pools to throw them into, conference tournament season already is underway, giving a last chance for many teams to show they belong (either automatically or otherwise) in the NCAA Tournament field.
The BIG EAST women's basketball scene got its own tourney underway Friday with its first round of competition.
Though the marquee matchups are still to come, and the first day of play at the Mohegan Sun Arena in Uncasville, Connecticut, was rather anticlimactic, the stage has been set for some intriguing quarterfinal showdowns.
Prepare for madness.
Here's a look of all that went down during the trio of games that tipped off BIG EAST Tournament on Friday, with quarterfinal action starting Saturday at noon.
Georgetown Finally Gets One On Butler, Will Meet UConn In Quarters
From losing by 24 points at home to the Bulldogs in January to knocking them out in March, Georgetown broke away from its recent misfortune against Butler and won a BIG EAST Tournament game for the second straight year in the process.
In the tourney opener at Mohegan Sun Arena on Friday morning, the No. 9 Hoyas defeated the eighth-seeded Bulldogs 53-46 in a defensive battle that saw neither team shoot better than 37% from the field for the game. They also combined to go 1-for-20 from 3-point range.
For Georgetown, however, with leading scorers Kelsey Ransom and Kennedy Fauntleroy each being held under their season scoring averages, others on the roster came out of the woodwork to help coach James Howard's team move on to the quarterfinals.
Junior forward Jada Claude scored a season- and team-high 17 points, while pulling down eight rebounds, and sophomore forward Brianna Scott was efficient with her playing time, posting 11 points, six rebounds and two blocks in just 15 minutes.
After leading @GeorgetownWBB with 17 points in GU's First Round win, Jada Claude joined Lisa and Pam on the Fast Break set postgame! pic.twitter.com/g26wF88Mzx

— BIG EAST WBB (@BIGEASTWBB) March 3, 2023
Butler sophomore forward Sydney Jaynes (game-high 21 points on 9-for-12 shooting) did all she could in trying to lead the Bulldogs to a postseason victory, but an abysmal stretch for the Butler offense in the second and third quarters – in which it went a combined 2-for-23 from the field – did the Bulldogs in.
The sluggish run let the Hoyas chip away at a seven-point first-quarter deficit and eventually build a lead to ride to victory.
Mighty top-seeded UConn awaits Georgetown at noon (Eastern) Saturday, but history notes that the Hoyas might be able to give the Huskies a better game than paper suggests.
Georgetown lost to UConn by 15 and eight points in their two regular season meetings, showing in each matchup that the Hoyas can run with the best of the BIG EAST in spurts.
DePaul Cruises Past Providence, Setting Up A Morrow-Siegrist Clash
Thanks to seventh-seeded DePaul utilizing a 23-8 second quarter on its way to a tourney-opening 67-54 win over No. 10 Providence in Friday's second game, the BIG EAST Tournament quarterfinals will feature a showdown between the conference's leading scorers.
While the pair of teams in the day's opening matchup only made one 3-pointer between them, the Blue Demons by themselves made seven, including a team-high three from sophomore dynamo Aneesah Morrow, who stuffed the stat sheet once again with a powerful double-double (26 points, 15 rebounds), her 24th of the season.
Of those 26 points from Morrow, 24 came in the first half (which was two shy of tying the BIG EAST tourney record for points in a half), while her teammates chipped in to help handle the scoring load across the board.
Beautiful team basketball 😍 pic.twitter.com/fRKqgxBAsa

— DePaul Women's Basketball (@DePaulWBBHoops) March 3, 2023
Four Blue Demons (Morrow, plus Anaya Peoples, Kendall Holmes and Darrione Rogers) reached double-figure scoring numbers.
DePaul's defense also excelled, holding the Friars to a lowly 33.9% from the field, while also cleaning up the glass, winning the rebounding battle by a cozy 49-34 margin.
No. 2 Villanova awaits in the quarterfinals at 7 p.m. on Saturday, and though the Wildcats emerged victorious in both regular-season meetings against DePaul, they only did so by a combined 10 points.
Maddy Siegrist closes out the regular season as the @BIGEASTWBB Player of the Week! #GoNova pic.twitter.com/AYzyUIoN2C

— Villanova WBB (@novawbb) March 1, 2023
Also, expect a tit-for-tat, high-octane shootout between Morrow and now back-to-back BIG EAST Player of the Year Maddy Siegrist of Villanova, both of whom scored 28 points or more in each of their previous matchups this season.
Now that there's a berth to the BIG EAST tourney semifinals on the line, however, the stakes and subsequent pressure for each star to perform, have ramped up tremendously.
Seton Hall Clobbers Xavier To Confirm Late-Game Date With Creighton
Placed in the lucky No. 6 slot – a sixth-seeded team has advanced to the semifinals in four of the past five BIG EAST Tournaments – the first objective for Seton Hall, which played spoiler and made a semifinal run at that same seed a season ago, was to not lay an egg in its tourney opener against a hapless 11th-seeded Xavier team that lost every game in conference play and hasn't won a game at all in nearly three months.
With a game-high 26 points from guard Lauren Park-Lane and 18 points off of the bench from guard Victoria Keenan, no sudden letdown occurred for the Pirates in an 84-58 rout of the Musketeers, moving The Hall on to face third-seeded Creighton in the quarterfinals at 9:30 p.m. on Saturday.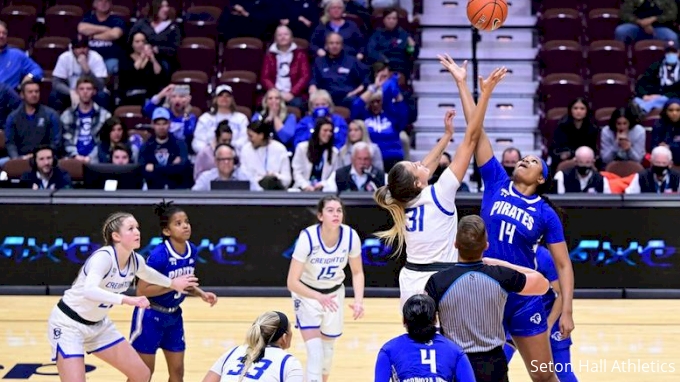 Park-Lane, who notched at least 25 points for the seventh time this season, achieved her scoring tally across limited court time due to foul trouble, as she made her 26 minutes on the floor count, shooting an efficient 8-for-9 from the field.
However, it was the performance of Keenan – a sparingly used player who's never averaged more than 8.8 minutes per game across her three seasons at Seton Hall – who was perhaps the most eye-popping one for the Pirates.
The Delaware native sunk six 3-pointers for one of the best performances of her college career.
The Pirates will need all of the points that they can get against the likely NCAA Tourney-bound Bluejays, who dumped 75, then 77, points on Seton Hall in their two regular-season games, while making at least 11 3-pointers in the pair of double-digit victories.
But after the offense sputtered when it scored just 56 points against Villanova in its regular-season finale, perhaps The Hall needed a game like Friday's to let off some steam, get things cooking again and restore some confidence, before heading into a postseason meeting with one of the BIG EAST's top programs.