2023 CAA CHAMPIONSHIP - Men's
CAA Championship: Frankie Policelli Joins Legendary Company
CAA Championship: Frankie Policelli Joins Legendary Company
Stony Brook's Frankie Policelli reached a CAA Championship milestone not seen since David Robinson in his legendary 1986 postseason run.
Mar 5, 2023
by Kyle Kensing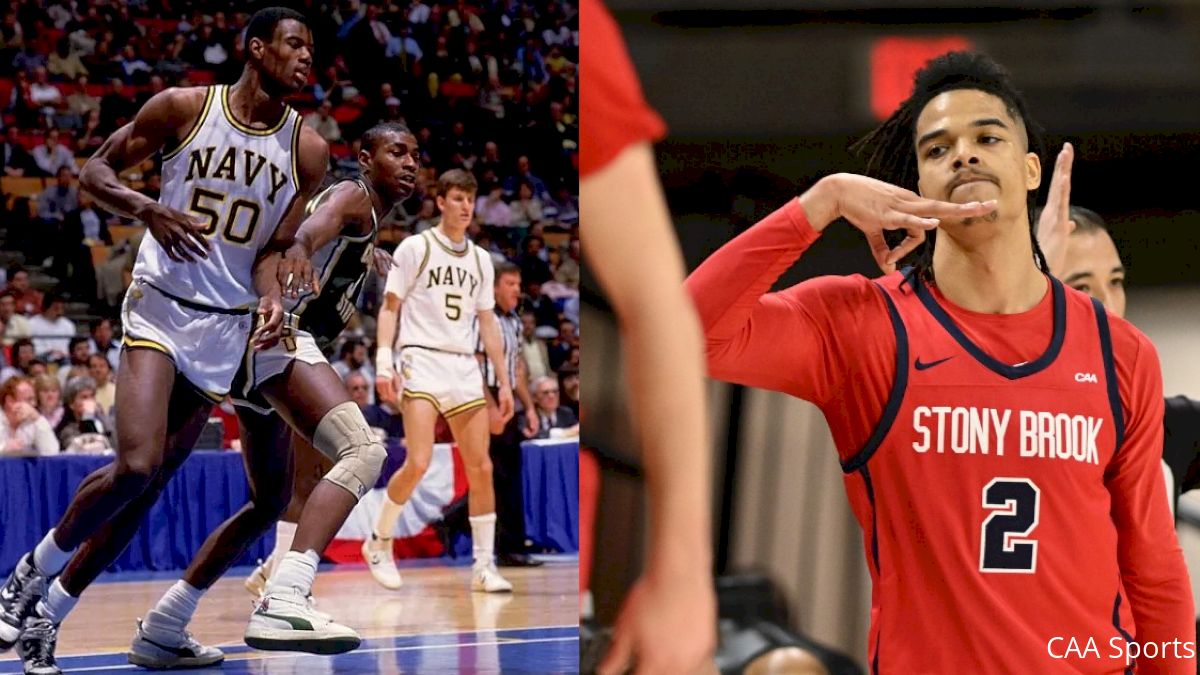 In 1986, Hall of Famer David Robinson became a college basketball legend with one of the most remarkable March runs in history. His postseason for the ages, which culminated in Robinson's Navy Midshipmen reaching the Elite Eight, began with a dominant performance at the Colonial Athletic Association Championship.
The Admiral opened the '86 CAA tournament with 32 points and 19 rebounds in a win over James Madison, establishing a milestone no player in almost four decades ever matched — until Frankie Policelli.
Policelli powered Stony Brook to its first-ever CAA Championship win on Saturday with 30 points and 16 rebounds, becoming the tournament's first player with 30-or-more points and 15-or-more rebounds in one game since Robinson.
Policelli's performance in a 76-61 win over North Carolina A&T showcased the veteran's dynamic inside-outside game. His 16 boards beefed up what was already the CAA's leading rebound average at 9.4 per game. Saturday marked the 16th double-digit rebound effort of Policelli's season.
While mixing it up on the glass as effectively as he has all season, Policelli also matched a season-best with six made 3-pointers. He shot 11-of-18 from the floor overall.
Frankie Policelli with another one!

That's his fourth triple for @stonybrookmbb and the Seawolves have a 43-34 lead#CAAHoops on @FloHoops:
📺: https://t.co/wNpIZzBZpS pic.twitter.com/2dNyfgUbyP

— CAA Basketball (@CAABasketball) March 5, 2023
"I played pretty confident," Policelli said in the understatement of the weekend. "I played at my own pace. We did a good job cutting off the ball, finding gaps, and my teammates trusted me to make shots."
The historic showing from Policelli put emphatic punctuation on the case he had for All-CAA honors that Stony Brook coach Geno Ford said voters whiffed.
"I don't know that there's another guy in the nation [who] led a league in rebounding and led a league in double-doubles and wasn't some type of all-league," Ford said. "I know he's used that as motivation, and will need to use that as motivation tomorrow."
The Seawolves' defeat of North Carolina A&T sends them into a quarterfinal matchup with a powerful College of Charleston team, co-champion of the CAA regular season and a hopeful for NCAA Tournament at-large consideration.
The Cougars sewed up their share of the CAA regular-season title with a 92-52 rout of Stony Brook on Feb. 25.
Even with the lopsided nature of the last encounter, Policelli still managed his 12th double-double of 2022-23 with 22 points and 11 boards against Charleston.
Win or lose against CofC, Frankie Policelli will leave the 2023 CAA Championship having earned his place alongside one of the greatest March Madness runs in college basketball history.