BIG EAST Women's Basketball
BIG EAST Women's Basketball Tournament: Quarterfinal Recap
BIG EAST Women's Basketball Tournament: Quarterfinal Recap
After a mainly straightforward first round of play kicked off the festivities at the BIG EAST Women's Basketball Tournament, the quarterfinals were haywire.
Mar 5, 2023
by Briar Napier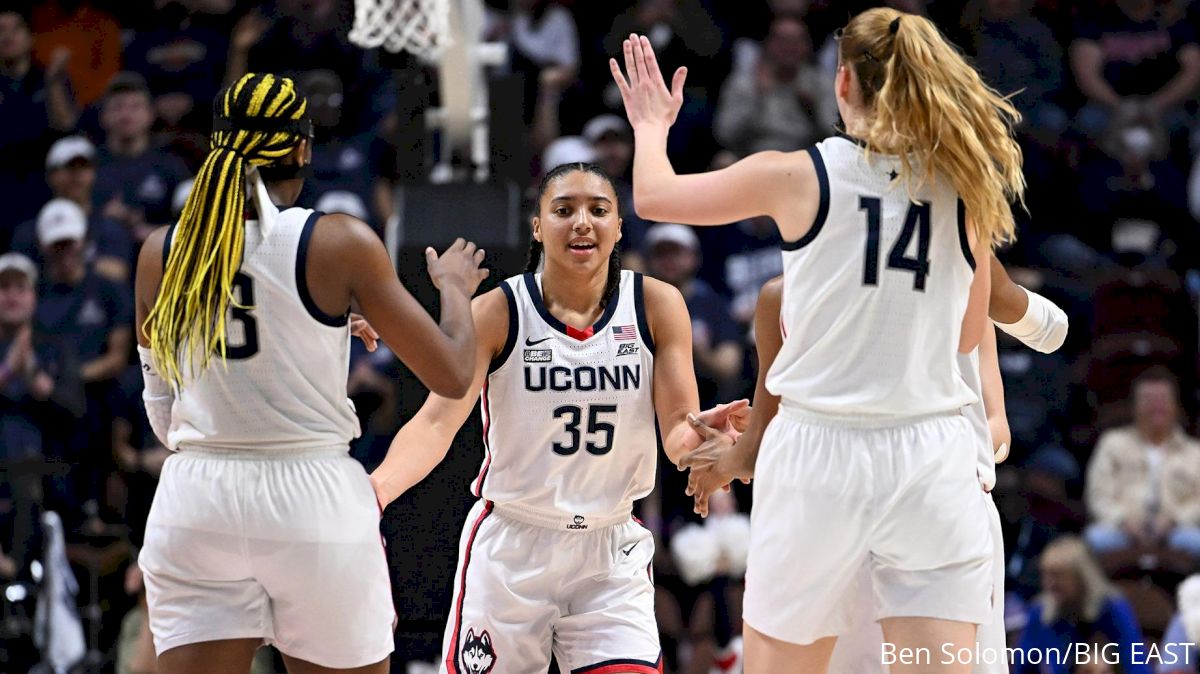 After a mainly straightforward Friday, when first-round play kicked off the festivities at the BIG EAST Women's Basketball Tournament, Saturday went haywire.
Buzzer-beaters, late comebacks, bubble-team battles and everything in between dotted a thrilling day of play at the Mohegan Sun Arena in Uncasville, Connecticut.
After all the mania that ensued during the quarterfinals, four teams remain in contention for the league's automatic bid to the NCAA Tournament.
All programs left standing for Sunday's semifinals finished in the top 5 of the regular-season conference table – though nearly all of them went through plenty of adversity Saturday to get there.
And, for whomever eventually emerges on top of the pile following Monday's title game, they'll certainly have earned their spot and right to be called BIG EAST Tournament champion.
Here's a look at all that went down during a dramatic quarterfinals Saturday at the BIG EAST Tournament, which romps on to the semifinal round, starting with UConn-Marquette at 3 p.m. Eastern.
Azzi Fudd Returns, Gives UConn A Spark In Rout Of Georgetown
Considering how beat up, battered and bruised No. 1-seeded UConn has been over the course of the year, most probably would feel bad for the Huskies, if they weren't both still really good and already the most successful women's college basketball team in history.
It's automatic for Aaliyah Edwards

She's up to 20 points! pic.twitter.com/fZdBAhLmBh

— UConn Women's Basketball (@UConnWBB) March 5, 2023
Well, with sophomore guard Azzi Fudd returning to the fold Saturday after missing 14 games due to a knee injury, UConn's getting at least one of its heavy hitters back at just the right time.
The former No. 1 overall prep recruit scored 10 points in 17 minutes, as the Huskies rolled over ninth-seeded Georgetown (which defeated Butler in Friday's first round) by a 69-39 margin, to advance on to Sunday's semifinals.
UConn comfortably dispatched the Hoyas after they had given coach Geno Auriemma's squad some fits in their regular-season meetings – UConn only won those two games against Georgetown by eight and 15 points.
The vibes are GOOD in Mohegan rn pic.twitter.com/HAEzbmr2bl

— UConn Women's Basketball (@UConnWBB) March 5, 2023
After losing twice in BIG EAST play this season, and perhaps taking a bit of a ding to its reputation as a house-cleaner in conference play that doesn't even make league title races competitive, UConn on Saturday looked a lot like the UConn of years' past – utterly dominant.
The Huskies were up 35-12 at half, getting double-doubles from Aaliyah Edwards (19 points, 13 rebounds) and Dorka Juhasz (13 points, 10 rebounds) – the latter of whom also returned to the court after missing UConn's regular-season finale against Xavier with a sprained ankle.
A Marquette team, which shocked the Huskies in Milwaukee by a 59-52 margin about a month ago and is fighting for its NCAA Tournament life, stands in the Huskies' way of playing for a 10th consecutive conference tournament championship, dating back to the beginning of their seven-year stint in the American Athletic Conference.
Marquette Prevails Over St. John's In Battle Of The Bubble Teams
And speaking of the Golden Eagles, they picked up a vital victory Saturday that has a lot of potential postseason implications, allowing them to go into their rematch with UConn knowing they've already made positive strides for their postseason resume.
Despite shooting just 1-for-9 (11.1%) from 3-point range and only seeing five players score, No. 5 Marquette utilized a 17-6 fourth quarter to pull away from No. 4 St. John's in a showdown of teams that are doing all they can to ensure their March Madness bubbles don't burst.
Coach Megan Duffy's team got 50 points from the three-headed force of Chloe Marotta (18 points), Jordan King and Liza Karlen (16 points each), with Marotta hauling in 14 rebounds to secure a crucial double-double on a big stage.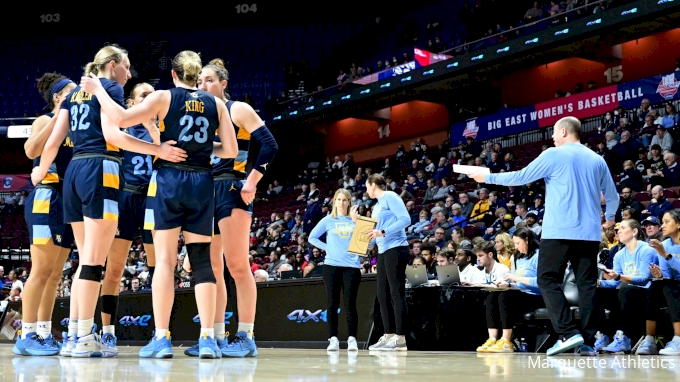 Holding recently named All-BIG EAST first-team pick and the Red Storm's leading scorer in Jayla Everett to just seven points on 3-for-13 shooting was key for the Golden Eagles to pick up one of their most important wins of the year, too.
The result shook up the national bubble watch, and according to ESPN "bracketologist" Charlie Creme in his latest bracket projections update early Sunday morning following Saturday conference tournament games, the result bumped Marquette up to "Last Four Byes" territory, while St. John's is stuck in the "Last Four In" category.
Those statuses could change dramatically for both programs one way or the other, depending on other conference tournament results around the country.
The only difference between the two, however, is that one has further opportunities to play in the BIG EAST tourney and prove it belongs in the Big Dance – and one does not, leaving it up to fate to decide what happens next.
Villanova, Creighton Escape Upsets In Thrilling Ways
No. 2 Villanova and No. 3 Creighton both are almost certainly locked into the NCAA Tournament field, but perhaps complacency almost got the best of the duo, as both the Wildcats and the Bluejays were nearly upset Saturday by DePaul and Seton Hall, respectively.
'Nova just barely escaped the Blue Demons, 71-70, with now two-time BIG EAST Player of the Year Maddy Siegrist and unanimous All-BIG EAST first-team pick Aneesah Morrow duking it out in a showdown of the league's top scorers, and both notched double-doubles.
Siegrist had 26 points and 14 rebounds, and Morrow with 24 points and 17 rebounds.
Play hard. Play smart. 𝐏𝐥𝐚𝐲 𝐭𝐨𝐠𝐞𝐭𝐡𝐞𝐫.

Quarterfinal Game Recap: https://t.co/XQOe3wD52p pic.twitter.com/TAtYCNl870

— Villanova WBB (@novawbb) March 5, 2023
Still, with just over 90 seconds remaining in the game, it was DePaul that was up 70-64 and had Villanova on the ropes, before a late Wildcats surge – in the form of a 6-0 mini-run in just over a minute – tied the game up at 70. Siegrist nailed a jumper with 22 seconds remaining to tie the game.
When DePaul's Anaya Peoples missed two foul shots with seven seconds to play, giving Villanova a chance at the win, sophomore Lucy Olsen capitalized, sinking a free throw with 0.7 seconds left to ensure the Wildcats survived.
But, as 'Nova outlasted its threat in regulation, Creighton needed an extra period to do it – and its late-game heroics arguably were even better.
With 16 seconds left in regulation, the Bluejays were down to Seton Hall 62-57 and seemingly out of it, until Morgan Maly knocked down a 3-pointer. Then, after split free throws from the Pirates' Lauren Park-Lane (who scored a game-high 36), Emma Ronsiek drained the game-tying bucket with 8.2 ticks left to force overtime.
New year, same teams, same seeds, same time, different outcome #GoJays pic.twitter.com/mvCkFp6NdT

— Creighton Women's Basketball (@CreightonWBB) March 5, 2023
Facing a 74-73 deficit in OT after a Mya Bembry layup with 11 seconds left, Maly corralled an offensive rebound from a Ronsiek miss and put it back in for a buzzer-beater, giving both Creighton and Villanova heart-stopping quarterfinal victories ahead of their semifinal clash at Sunday at 3 p.m. Eastern.