BIG EAST Women's Basketball
BIG EAST Women's Basketball Tournament: Final Recap
BIG EAST Women's Basketball Tournament: Final Recap
Despite injuries and a few slip-ups for the sport's most successful program in history, the Huskies secured their third consecutive BIG EAST Tourney title.
Mar 7, 2023
by Briar Napier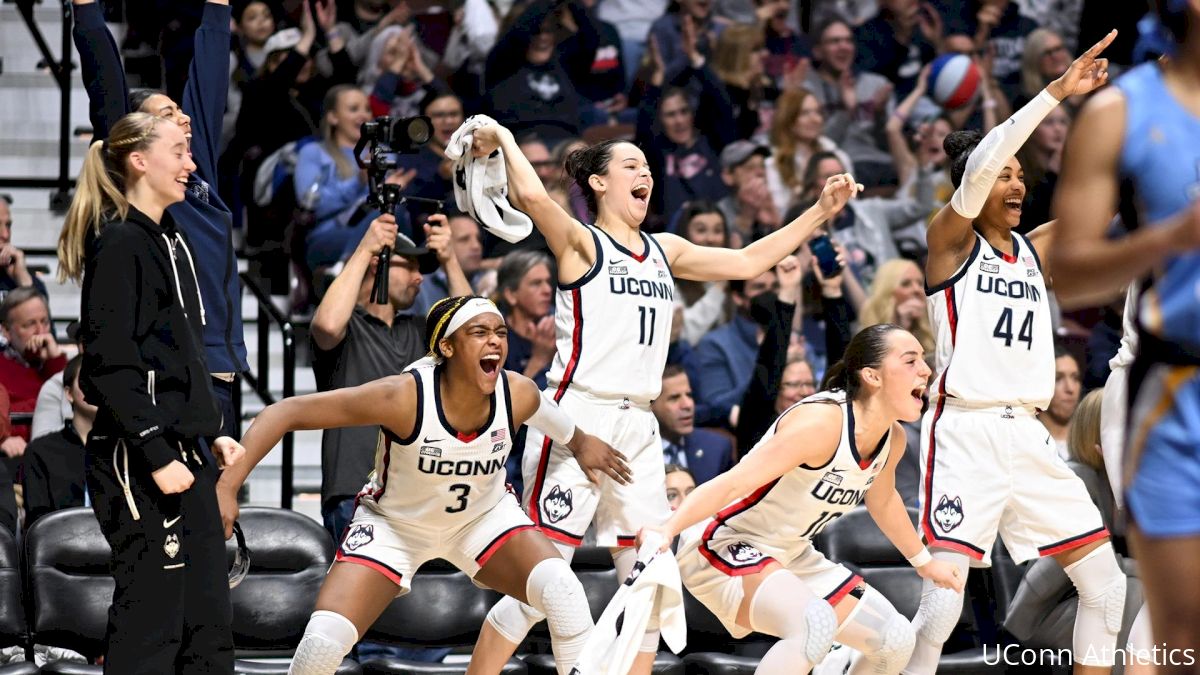 Try as the rest of the BIG EAST's women's basketball programs may, UConn is unshakable.
The blue-blood program took home yet another piece of conference hardware Monday night after beating Villanova to capture the BIG EAST Women's Basketball Tournament title The Huskies were the last team left standing after four days of action at the Mohegan Sun Arena in Uncasville, Connecticut.
Thus ends an enthralling year of play in the BIG EAST, and what a year it was.
UConn, even as the undisputed top team in the league, got its toughest challenge for the top of the conference table in years as other programs had historic seasons and gave the Huskies a run for their money.
Now, as only the NCAA Tournament remains for numerous teams in the BIG EAST, those that will be (or hope to be) dancing have done all they can to prop themselves up to the selection committee. UConn has clinched its spot in the field, but others in the league will be patiently waiting to see where they stand.
Here's a look at what went down in Monday's BIG EAST Tournament championship game, along with what comes next for the league's teams as they all await their postseason fates.
A Decade Of Dominance
No matter what seemed to be thrown at it during a wild BIG EAST women's basketball season, UConn remained in a familiar place at the end of the year—on top of the conference. Despite several key injuries and a few more slip-ups than usual for the sport's most successful program in history, the Huskies secured their consecutive third BIG EAST Tournament title (and 10th straight overall) by shooing away Villanova and All-American Maddy Siegrist for the third time this season in a 67-56 win in Monday night's tourney title game.
Never playing with a fully-healthy lineup for the entire season after superstar guard Paige Bueckers tore her ACL in the summer, UConn still proved that it's the class of the BIG EAST until further notice by clinching its third straight league regular season and tournament championship double. This all was helped by the fact that the Huskies got sophomore guard Azzi Fudd (who missed a 14-game stretch entering the BIG EAST tournament due to a knee injury) back for their three games in the past three days.
Fudd finished with 11 points against the Wildcats as she was one of four Huskies (along with Aaliyah Edwards, Dorka Juhasz and Lou Lopez Senechal) to reach double-figure scoring numbers, with Edwards—following a 19-point, 15-rebound double-double in the title game—being named the tournament's Most Outstanding Player. Now winners of 21 BIG EAST Tournament crowns throughout its two stints in the league, UConn now moves on to a place—the NCAA Tournament—where it's seen a little bit of success over the years, like a record-setting, ongoing run of 14 straight Final Four appearances with six national titles in that span.
Historic Villanova Squad, Despite Loss
Take out a trio of defeats to UConn over the past few months, and Villanova hasn't lost to anyone since Iowa State on Dec. 18. Few teams probably want to see the Wildcats on their side of the bracket this NCAA Tournament.
A loss to UConn that would've given 'Nova its first BIG EAST regular season or tournament championship since 2003 stings, but as they sit with 28 wins (two shy of breaking the school record) in tow and with a resume that will likely see the program be a first- and second-round host site during March Madness' first weekend, the Wildcats have plenty to be proud of.
Two-time BIG EAST Player of the Year Siegrist, the nation's leading scorer with a 28.9 points per game average, was held in check by the Huskies on Monday night, scoring 22 points on 9-for-21 shooting as their defense focused on stopping the league's all-time leading scorer. Still, expect Siegrist and 'Nova (which is likely bound for a No. 3 or 4 seed in the Big Dance, per several bracket projections as of Monday night) to roar back with a vengeance as it likely plays its opening matchup on its home floor at Finneran Pavilion.
The Wildcats will be looking to build upon their 2022 appearance, when they snuck into the field as an at-large 11 seed and beat No. 6 BYU before losing to eventual Elite Eight squad No. 3 Michigan. With underrated running mates around Siegrist like sophomore guard Lucy Olsen (12.3 points, 4.4 assists per game) and defensive presence Christina Dalce (7.8 rebounds, 2.2 blocks per game), 'Nova has the personnel at its disposal to make a deep run if things click.
Where Does The Conference Stand?
Realistically, it appears as if up to five BIG EAST women's basketball teams could be selected for the second year since the NCAA Tournament's expansion to a 68-team field, mirroring the men's tournament's feature of the First Four play-in games that have been in place there since 2011.
UConn is officially in for March Madness as the league's tournament champion (though would've easily been in the field as an at-large anyway) while Villanova and Creighton—which made an epic run to the Elite Eight a year ago as a No. 10 seed—seem to be solidly in place to earn bids.
When discussing the next two teams in the pecking order, Marquette and St. John's, things get interesting. ESPN "bracketologist" Charlie Creme has had the Golden Eagles and the Red Storm each sitting on the bubble for parts of the year, and both programs are currently there now, but on the right side of the chopping block.
Marquette (21-10 overall), which looked in danger of being out of consideration for selection after starting 11-7, has now won 10 of its past 13 games including a victory—a 59-52 triumph over UConn on Feb. 8—that was critical for the Golden Eagles to get as it came against a powerhouse opponent. What probably sealed Marquette's ticket to the Big Dance, however (and had Creme put it in his "Last Four Byes" category), was a win over St. John's in quarterfinal play Saturday at the BIG EAST Tournament, with the Red Storm in their own bubble pickle.
After rocketing out to a 13-0 start and being one of the nation's last unbeaten teams, St. John's (22-8) sputtered the rest of the way, going just 9-8. But like Marquette, the Red Storm nabbed a critical win over UConn (69-64 on Feb. 21) as the duo combined to hand the Huskies their only two league losses of the year—and gave St. John's a resume-boosting victory that currently has it the "Last Four In" column of Creme's projections.
The rest of the BIG EAST is likely on the outside looking in for the NCAA tourney, but look for Seton Hall (18-14) to make an appearance in the WNIT, where it made a surge to the title game last year before losing to South Dakota State in the final.