2023 Discount Tire - College Basketball Invitational
2023 College Basketball Invitational Players To Watch: Five Standouts
2023 College Basketball Invitational Players To Watch: Five Standouts
Five CBI players that could make an impact at the CBI, including Eastern Kentucky's Isaiah Cozart, Rice's Quincy Olivari and San Jose State's Omari Moore.
Mar 14, 2023
by Briar Napier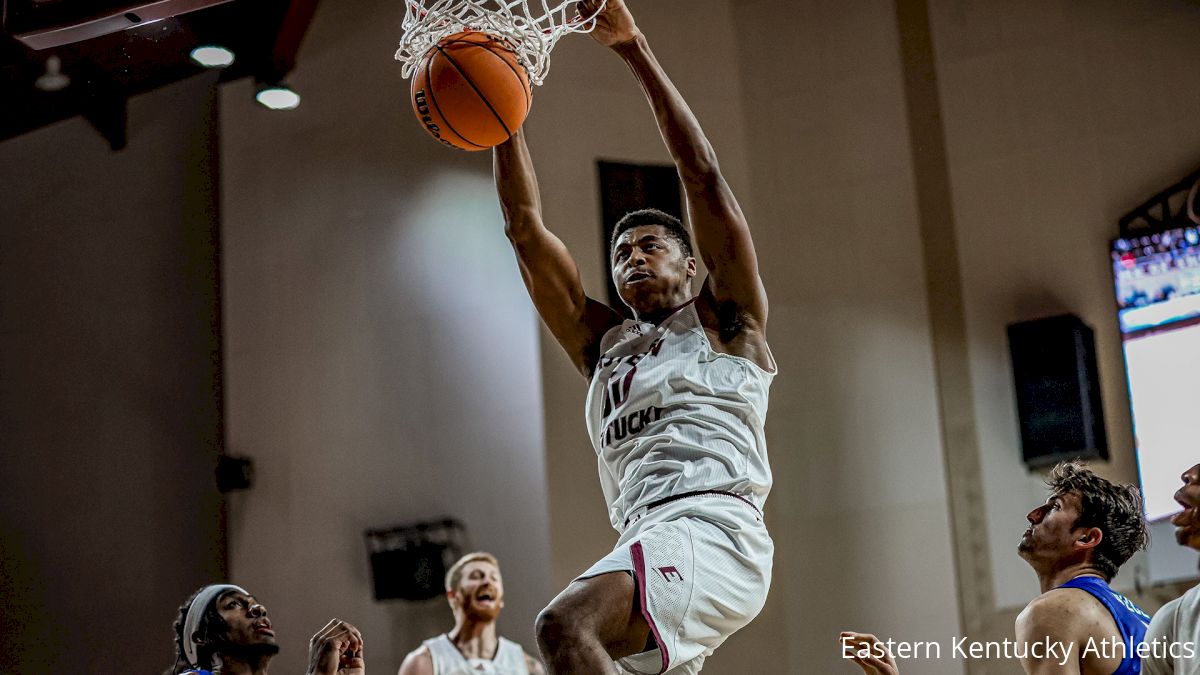 An event for ‌teams that slipped through the cracks. For the teams that shook up their mid-major leagues. For ‌teams that are on the rise and ready to use this season as launching pads to sustained success.
It's the College Basketball Invitational—and its 2023 field has been finalized.
One of the top non-NCAA college hoops postseason tournaments, the CBI—now having rolled on for well over a decade—grants another opportunity for talented programs to close their seasons with some postseason hardware. The first round and quarterfinals of the tournament will be broadcast live on FloHoops from the Ocean Center in Daytona Beach, Florida, with the five-day mad dash of matchups closing out with the title game March 22.
It'll be no walk in the park. Just like any tournament, the CBI requires plenty of talent and some sprinkles of luck mixed in to emerge on top. Players will shine down in Florida starting this weekend, but there are some particular difference-makers in the field that could be the driving forces behind their teams making deep runs to the CBI title.
Here's a look at five CBI players that could make a major impact in Daytona Beach and stamp their names down as standouts that help lead their schools to postseason glory.
NOTE: All game times are listed in Eastern Time and are subject to change.
Courvoisier McCauley, Sr., G, Indiana State
The Sycamores have picked up the program's most wins since 2013-14, and a lot of that surge has to do with McCauley's smooth game. A former Division II All-American under current ISU coach Josh Schertz at Lincoln Memorial, McCauley first made the jump to D-I with DePaul for the 2020-21 season. He didn't become the breakout star that the Blue Demons were potentially hoping for as he averaged just 4.7 points per game across two years in Chicago.
A move to Terre Haute this past offseason saw him reunite with his old coach, and the results from that change of scenery have been fantastic. McCauley has been the man for the Sycamores since arriving onto the scene, averaging 15.7 points and 5.6 rebounds per game with 37.7 percent shooting from 3-point range.
Indiana State now finds itself as the CBI's top seed, playing 16-seeded South Carolina Upstate at 11 a.m. ET Saturday in its return to the tournament after first playing in the event in 2010. But unlike 13 years ago, when the Sycamores were dispatched early by Saint Louis, they'll be among the favorites to win the whole thing—and if they do, McCauley will almost certainly be a massive part behind that push.
Quincy Olivari, Jr., G, Rice
A two-time All-Conference USA player for the Owls, Olivari bounced back from a season-ending injury suffered in 2021-22 to post career-highs this season, including in points (18.8), rebounds (5.9), assists (2.3), steals (1.1) and field goal percentage (42.2 percent).
He's also been remarkably consistent for Rice for much of the year. Before UAB uncharacteristically held him to just four points in a Conference USA Tournament defeat, Olivari had been on a 29-game double-figure scoring streak, the highlights of which include a 34-point, 12-rebound outburst in a win over Western Kentucky last month and and another game against Florida International in which he knocked down six 3-pointers.
Consider the Georgia native to be one of the most dependable scorers in the field—and by that account, one of the most dangerous as No. 12 Rice will look to upend fifth-seeded Duquesne at 1 p.m. ET Sunday. Speaking of double-digit seeds, three made it out of last year's first round, making Olivari and the Owls—who took a then seventh-ranked Texas squad to overtime in December—one of the favorites in the field to continue on that trend of upsets.
@quincyolivari 🤝@travise3_

The top two three-point shooters in Rice history!! pic.twitter.com/VewrkOLRDa

— Rice Men's Basketball (@RiceMBB) March 6, 2023
Omari Moore, Jr., G, San Jose State
Having usually been seen languishing near or at the bottom of whatever league it's bounced around over the past few decades (since 2013-14, it's been the Mountain West Conference), San Jose State has been revitalized this season in Year 2 of the tenure of well-traveled leader Tim Miles (former coach of North Dakota State, Colorado State and Nebraska). The program won 20 games for the first time since 1980-81 and for just the third time in school history.
No player on the roster deserves the spoils more than Omari Moore, a four-year starter for SJSU who won a combined 20 games in the three seasons before the current one. This year he's scoring 17.5 points (and 20.1 in conference play) while dishing 4.8 assists per game.
He captured the Mountain West Player of the Year award, making him the first Spartan to ever snag the league's top individual honor.
In a historic season for San Jose State basketball, the hits may keep on coming this weekend as second-seeded SJSU plays No. 15 Southern Indiana at 3:30 p.m. ET Saturday—a game which if the Spartans win would be their first postseason win in any capacity ever across three NCAA tourneys, one NIT and one previous CBI appearance.
Tyzhaun Claude, Jr., F, Western Carolina
Want more reason to think twice before overlooking a double-digit seed in the field? Take note of Tyzhaun Claude and the 14-seeded Catamounts, who play No. 3 Charlotte at 5:30 p.m. ET Saturday in their second CBI trip (first of which was in 2016).
Having struggled to find a fit across two seasons at Morehead State, Claude has become a double-double machine since getting an increased role at his new stop. He's posted 11 double double-performances across 30 games played and is averaging 15.4 points and 8.6 rebounds per game in his first season with WCU.
Claude was an All-Southern Conference selection who was integral in nearly upsetting eventual conference tourney champion and top-seeded Furman in the semifinals (a game in which the Catamounts took the Paladins to overtime after trailing by as much as 20 points in the second half).
The forward gives teams problems on the interior, and he should have some epic battles with 6-foot-11 49ers center Aly Khalifa (11.9 points per game) in the paint throughout their clash this weekend. If Claude gets the better of the Egyptian big man, WCU could be celebrating its first-ever postseason victory.
Isaiah Cozart, Sr., F, Eastern Kentucky
This entry is for the folks who prefer some hard-nosed defense with their college hoops. Cozart is among the country's best at blocking shots, rejecting an average of 2.5 attempts per game despite only playing just 22.8 minutes a night and standing a bit shorter than other elite rim protectors at 6-7.
He's been an excellent addition for Eastern Kentucky since arriving from in-state rival Western Kentucky this past offseason, posting four games in which he's tallied five blocks or more with a high of eight coming against Queens on New Year's Eve. It was a performance in which he flirted with the rare triple-double that includes blocks in an eight-point, eight-rebound night alongside his stellar defensive outing.
With the No. 8 Colonels' first-round CBI opponent being ninth-seeded Cleveland State (at 11 a.m. ET Sunday), a team that ranks among the top-10 in America in 2-pointers attempted per game (43.5), Cozart is going to have plenty of ample opportunity in Daytona Beach to make a massive impact on the game in EKU's favor with his elite shot-swatting abilities.
If all goes well, his offense-minded teammates like All-Atlantic Sun pick Devontae Blanton (16.6 points per game) may be able to do their own thing and move the Colonels on.