CAA Women's Basketball
Monmouth Falls To Tennessee Tech In NCAA Tournament First Four
Monmouth Falls To Tennessee Tech In NCAA Tournament First Four
The Tennessee Tech women knocked down a season-high 12 3-pointers Thursday night to defeat Monmouth 79-69 in the First Four of the NCAA Tournament.
Mar 18, 2023
by FloHoops Staff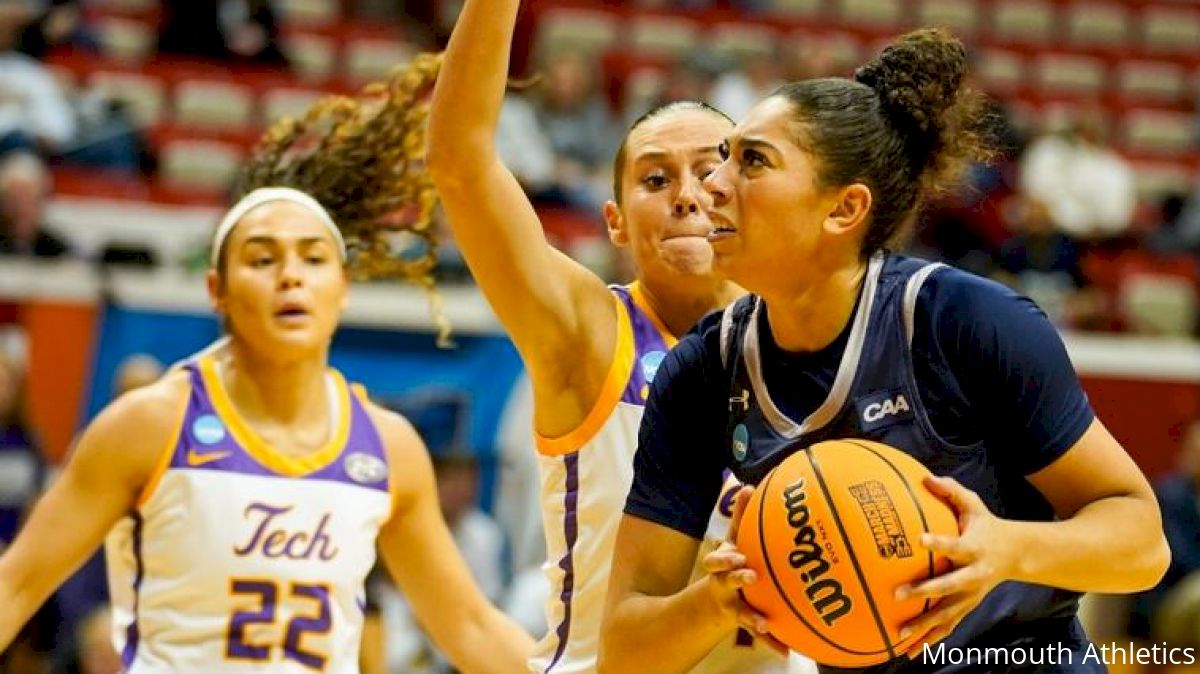 Tennessee Tech knocked down a season-high 12 3-pointers, shooting 46.2% from behind the arc Thursday night, to defeat Monmouth 79-69 in the First Four of the NCAA Tournament at Assembly Hall in Bloomington, Indiana.
Tennessee Tech extended its winning streak to nine games and improved to 23-9, setting up a date with top-seeded Indiana in the first round of the NCAA Tournament on Saturday at 11:30 a.m.
Monmouth, which made its first NCAA Tournament appearance since 1983, finishes its inaugural CAA season 18-16.
Maaliya Owens and Jada Guinn were two of Tennessee Tech's four players in double figures, leading all scorers with 18 points each. In addition, Jordan Brock matched a season-high with 16 points for the Golden Eagles off the bench.
Ariana Vanderhoop scored a team-high 17 points for the Hawks, while Lucy Thomas added 16 points and a team-best six rebounds in 23 minutes off the bench.
It was a highly competitive first quarter, with six lead changes and three ties. Monmouth led 10-8 with 5:48 remaining, before Tennessee Tech hit three 3-pointers in its next four possessions to take a 17-12 advantage. The Hawks responded with five straight points, including Vanderhoop tying the game at 17 at the end of the frame.
After a free throw by the Golden Eagles, Monmouth rallied off a 6-0 spurt, taking a 23-18 lead three minutes into the second quarter. However, Tennessee Tech caught fire, going 8-of-8 from the floor and 5-for-5 from behind the arc over the final 6:38.
A 10-0 run allowed the Golden Eagles to open a 38-29 lead with two minutes remaining in the half. Vanderhoop cut the deficit to 40-33 at the break with a jumper in the final minute.
The teams traded 3-pointers over the first 2:49 of the third quarter. Bri Tinsley converted a three-point play at the 5:08 mark, pulling Monmouth with four at 43-39. The Golden Eagles responded with an 11-3 run to gain a 54-42 lead, before Lovin Marsicano scored the final bucket of the quarter.
Tennessee Tech gained its largest lead after back-to-back baskets gave the Golden Eagles a 62-49 advantage with 6:51 remaining.
Monmouth made one last effort, putting together a 7-0 run that was capped by a 3-pointer from Jen Louro, to pull the Hawks within six (62-56), but that's as close as they would get.
Tennessee Tech pushed the lead back to double-digits and made 7-of-8 free throws down the stretch.
Golden Eagle women top Monmouth, advance to Field of 64 with No. 1-seed Indiana looming | RECAP: https://t.co/sUPpQoDw7T #WingsUp #OVCit #MarchMadness pic.twitter.com/P4x1R3HHVp

— Tennessee Tech Women's Basketball (@TTUWBB) March 17, 2023
The Golden Eagles, who average 6.5 3-pointers per game, tallied their season-best total, while limiting Monmouth to six trifectas and 26.1% shooting from long range.
It marks the first time in eight games the Hawks failed to make at least seven 3-pointers in a game.