2023 Discount Tire - College Basketball Invitational
2023 College Basketball Invitational: Omari Moore, Tim Miles Invest In SJSU
2023 College Basketball Invitational: Omari Moore, Tim Miles Invest In SJSU
Omari Moore's investment in San Jose State basketball and Tim Miles' arrival has lifted the Spartans to unprecedented heights, including the 2023 CBI.
Mar 19, 2023
by Kyle Kensing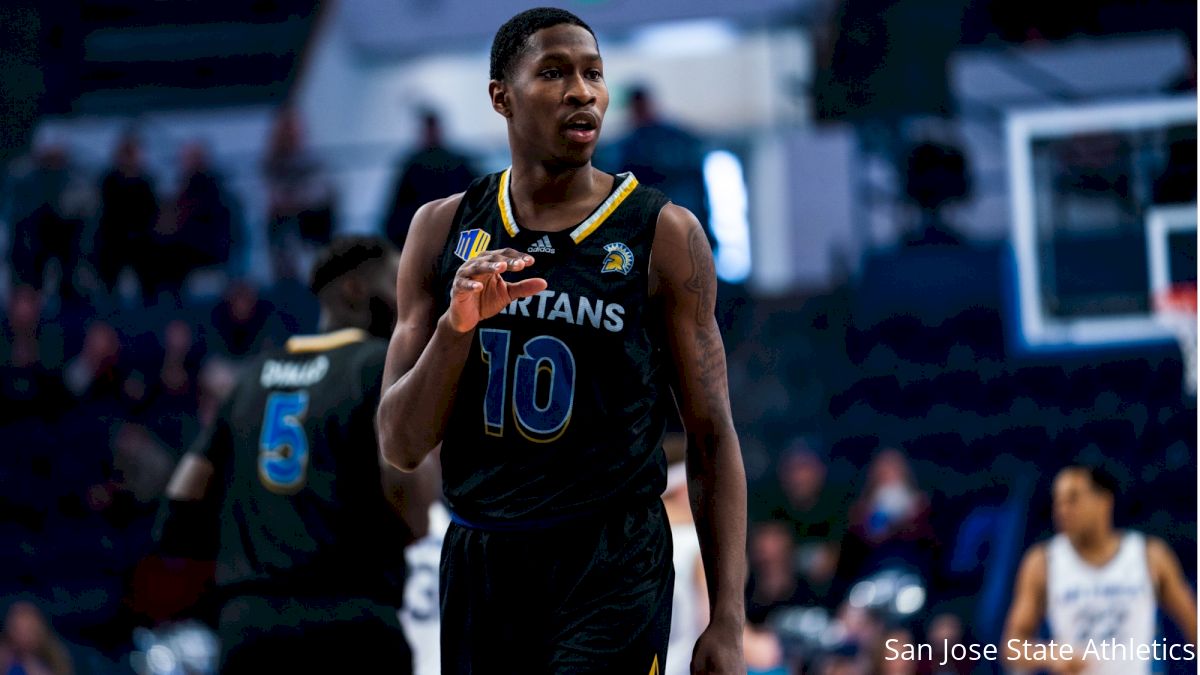 Recruiting feelers not coming his way, Omari Moore received the opportunity he deserved when San Jose State came calling. In his fourth season as a Spartan, Moore has made the most of his chance — and Spartans basketball benefits from providing him that chance.
"When I wasn't very looked at, [SJSU] was the one place that was all-in on me," Moore, the 2022-23 Mountain West Conference Player of the Year told FloHoops.com. "Because of that, I'm definitely hardcore San Jose."
A native of Pasadena, Moore came to a program that ranked among the most hard-luck in all of college basketball. San Jose State failed to reach the double-digit win mark 10-of-11 seasons prior to 2022-23, and 15 times since 2002-03.
Never mind competing for March Madness, which San Jose State has not reached since 1996, or postseason championships like the opportunity before this season's Spartans at the College Basketball Invitational; SJSU wasn't winning conference tournament games.
But with a cohesive unit and Moore as its heart, the '22-'23 Spartans reached 20 wins — a milestone not achieved at SJSU since 1980-81 — and did so with the program's first-ever Mountain West Tournament win. San Jose State knocked off a Nevada team that landed in the NCAA Tournament, 81-77.
It was a magnum opus in a special season for Moore, who set the pace with 26 points and 10 assists in the win. The outstanding performance doubles as a reflection of both where Moore has come and the progress of San Jose State basketball.
"Seeing your hard work pay off, there's nothing better than that," he said. "There's times you're working really hard and want to see results right away, and that can be really discouraging."
Discouragement could easily have overtaken this program, too. In Moore's three seasons prior to 2022-23, the Spartans won 20 games — combined. The last of those three campaigns, 2021-22, marked the first of coach Tim Miles' tenure at SJSU.
Miles came to the Bay Area with an impressive resume, succeeding in Div. II, mid-major Div. I with an NCAA Tournament appearance at Colorado State, and at a power-conference program with Nebraska. The Cornhuskers' trip to the 2014 NCAA Tournament marked Nebraska's first since 1998, and the last to date.
But after winning 41 games his final two seasons in Lincoln and reaching consecutive NITs, Nebraska released Miles following the 2018-19 campaign.
The coach's return to the Mountain West Conference a decade after his successful stint at Colorado State parallels Moore landing with the Spartans: SJSU offered an opportunity.
"After Nebraska fired me, I was on TV," Miles, the 2022-23 MWC Coach of the Year said. "When I came in, I wanted to be in the Mountain West. The league had some change-over [since 2012], of course, even when I was in it [with the departures of Utah, BYU and TCU and additions of Nevada, Fresno State, Utah State and San Jose State]. But at the same time, I knew the league, I knew the travel, I knew the teams and coaches. And I knew it was a multiple-bid league."
Indeed, the Mountain West stands out among so-called mid-major conferences for consistently sending multiple members to the NCAA Tournament. This season, four advanced to March Madness; champion San Diego State is headed to the Sweet 16.
Those four teams — SDSU, Boise State, Utah State and Nevada — were the only four to finish ahead of the Spartans in the conference standings. SJSU can separate itself at the CBI as a postseason champion, an almost surreal reversal of fortunes for the program.
Miles compared San Jose State to his first head-coaching post, Mayville State. He guided the Comets to consecutive NAIA Tournaments despite it winning a combined four games in the two seasons prior to Miles' arrival.
"I know it was different circumstances, but at the same time, it felt like I was starting over again for me personally," Miles said of taking over at San Jose State. "It's NAIA basketball with three scholarships [compared] against Div. I in the fifth, sixth-best league in the country, but that's just kind of what it reminded me of. I had the confidence I'd done it once before and could do it again."
The coach's confidence meshed with the players' confidence to bring life to dreams that, at SJSU, had no precedent. But it's also rare that a group like the current Spartans come together donning blue-and-gold.
Alvaro Cardenas has established himself as an electric combo guard, able to set up teammates for scores when attacking off the dribble, or spotting up to knock down 3-pointers. Ibrahima Diallo's low-post offensive game is growing to match his shot-blocking prowess on the other end. Sage Tolbert III is an athletic and energetic difference-maker in multiple phases of the game.
Then, there's Omari Moore.
💪🪟
Strong on the glass for Omari Moore putting back his own miss. @SanJoseStateMBB is in control in its @CBITourney matchup: https://t.co/oeCfdmggoo pic.twitter.com/xa4quBouNc

— FloHoops (@FloHoops) March 18, 2023
Moore's growth from an under-recruited prospect into a potential NBA player, while remaining committed to the program that gave him his chance, speaks to his importance in the history of the San Jose State program.
"He could have left last year after a bad year [in which the Spartans went 8-23]," Miles said of Moore. "We recruited the whole team on Zoom. We had COVID [limitations] and everything; it was a debacle. And the league was good. We put four teams in the NCAA Tournament.
"He stayed though. He had chances to go. He was honorable mention All-Conference," Miles said. "He stuck with us. I love seeing that loyalty pay off for him, just in life. That loyalty, it says a lot about him and it's a great thing...He's going to be a pro. He's going to play professional basketball, and he's going to do it for a long time."
And when that time comes, Moore will carry the banner of San Jose State basketball in a way no one before him has.