2023 Discount Tire - College Basketball Invitational
CBI Tournament Quarterfinals Feature 3 Underdogs Looking To Upset Top Seeds
CBI Tournament Quarterfinals Feature 3 Underdogs Looking To Upset Top Seeds
Each of the top four seeds in the CBI moved on out of its first-round matchups, including Indiana State, San Jose State, Charlote and Southern Utah.
Mar 20, 2023
by Briar Napier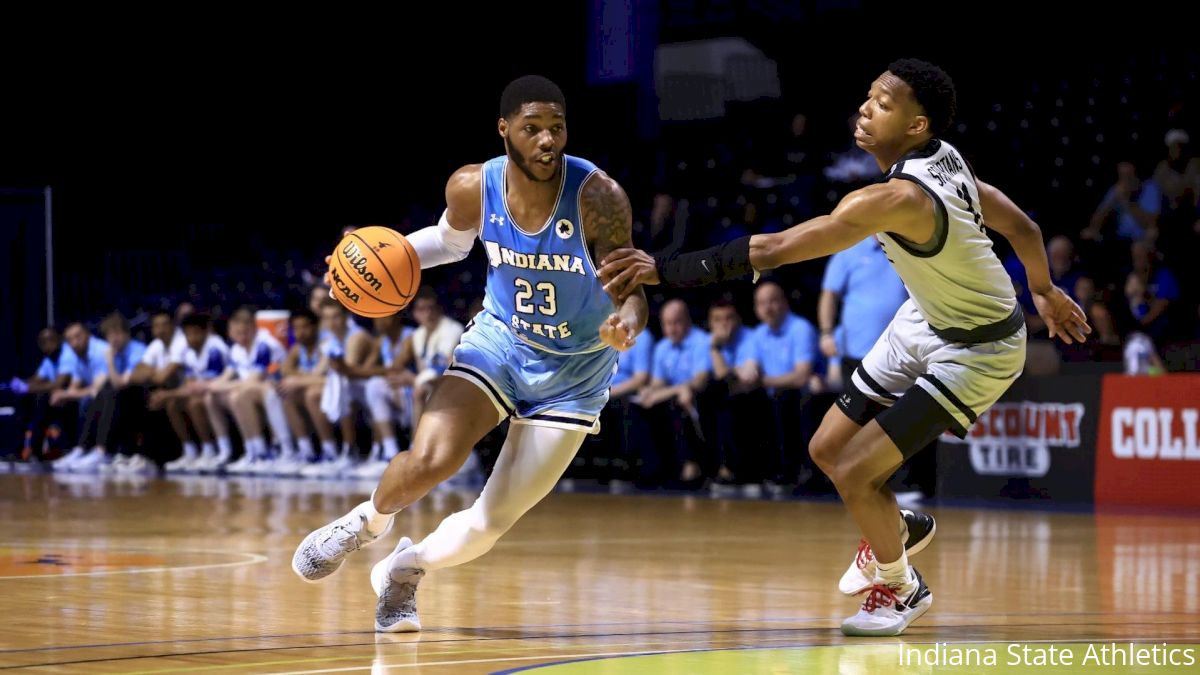 After the conclusion of the first round of the 2023 College Basketball Invitational, one thing is for certain.
There are two types of programs—the favorites and the upstarts—that are going to duel it out for the remainder of the tournament, which goes on until Wednesday's championship game.
Each of the top four seeds in the CBI moved on out of its first-round matchups, but so did a trio of seeds 10 or higher, with the latter category showcasing with a statement that there is no such thing as a "gimme" matchup in the CBI this year.
It's a three-day mad dash the rest of the way to the title trophy. Monday's quarterfinals, then, will act as the firing pistol to start the closing sprint.
Here's a look ahead at every game to come in the quarterfinals of the College Basketball Invitational on Monday at The Ocean Center in Daytona Beach, Florida—all games of which from the round will be streamed live on FloHoops:
NOTE: All tipoff times are listed in Eastern Time on Monday and are subject to change.
No. 1 Indiana State Vs. No. 8 Eastern Kentucky, noon
The tournament's top-ranked team got a scare from 16-seeded South Carolina Upstate in its CBI opener, but thanks to a double-double from Courvoisier McCauley (20 points, 11 rebounds) and a cool head late to withstand a Spartans comeback attempt when they were down by as much as 12 points with under 7:30 to play, Indiana State won 67-62 to emerge victorious in a postseason game for the first time since 2001. But fresh off an emotional overtime victory over Cleveland State in its own first-round game, Eastern Kentucky has the look of a team that can play the role of a dangerous spoiler the rest of the way in Daytona Beach. The Colonels were deadlocked with the Vikings at 74-74 at the end of regulation, coming back from 13 down to get to that point, then EKU ripped off a 17-1 run in overtime for one of the more lopsided overtime wins (91-75) you'll ever see, with Devontae Blanton (game-high 22 points) looking razor-sharp on 10-for-15 shooting while big man Isaiah Cozart (20 points, 17 rebound, five blocks) had a double-double in the second half alone (10 points, 11 rebounds) as one of the main catalysts behind the surge. EKU pulled down 21 more rebounds as a team than Cleveland State did and had 20 offensive boards in total, whereas the Sycamores are one of the best teams in the country (8.0 offensive rebounds allowed per game on average) at preventing second-chance opportunities. Something's got to give, especially when both teams average over 77 points per game and prefer to fill up the scoreboard any opportunity they get.
No. 4 Southern Utah Vs. No. 12 Rice, 2 p.m.
And speaking of filling up the scoreboard, the Thunderbirds are fourth in the nation in scoring (82.7 points per game) for the year, and though SUU didn't quite reach that average in a first-round win over North Alabama, it still cruised comfortably with a 72-50 victory. The Lions were held to just 7-of-37 (18.9%) shooting in the second half and for the game as a whole struggled to contain a fearsome foursome of Thunderbird double-figure scorers, with Jason Spurgin leading the way for SUU with a 16-point, 17-rebound double-double. As for Rice, its 84-78 win over Duquesne was heavily thanks to standout Quincy Olivari catching fire after halftime, with the All-Conference USA guard racking up all 19 of his points in the final 20 minutes as the Owls across the game shot 57.1% from the field and dumped in 47 points in the second half. Rice is the lowest remaining seed left in the event, but the comfort of playing in this particular tournament (in it for the second year in a row and third time since 2017) can potentially help the Owls as they try to pick up an upset over a top-four seed and get to the CBI semis for the first time. They could have an advantage in the fact that SUU is dealing with some internal turmoil — Todd Simon, who had coached the Thunderbirds since 2016-17 and taken them to three straight 20-win seasons, left the program this past week to take the open job at Bowling Green, leaving assistant Flynn Clayman to take over in the interim for the remainder of the season.
No. 2 San Jose State Vs. No. 10 Radford, 4:30 p.m.
The magic continues for San Jose State in its historic ride this season under second-year coach Tim Miles. Having never won a postseason game in the over century-old history of the program entering this season, the Spartans picked up their first one ever Saturday as it rolled to a 77-52 victory over Southern Indiana in their CBI opener, paced by an efficient career high 22 points in 23 minutes from sophomore guard Alvaro Cardenas. Considering that No. 1 Indiana State sputtered out the gates earlier in the day, it wouldn't be preposterous to suggest that SJSU enters the quarterfinals as the favorite to take this year's title. Not only that, but a title win would give the Spartans a school-record 24 wins on the year, further cementing the quality of job that Miles (formerly of North Dakota State, Colorado State and Nebraska) has done since arriving in retooling a program that's been downtrodden for most of its history. Before San Jose State can celebrate that, however, it's got to get through the Highlanders first. Radford skated by Tarleton State 72-70 in overtime on Sunday, storming back from a 12-point deficit in the second half to force an extra period and eventually prevail through eight points in overtime from team-leading scorer DaQuan Smith (20 points) and forward Souleymane Koureissi, who scored the go-ahead bucket with 36 seconds left. The Highlanders will have a tough assignment in guarding Mountain West Conference Player of the Year Omari Moore (17.4 points per game), but with a strong defense that held Big South Conference foes to just 65.1 points per game (second in the league), expect Radford to hang tough, refuse to fold and give the Spartans something to worry about.
No. 3 Charlotte Vs. No. 11 Milwaukee, 6:30 p.m.
In the finale of a trio of wild overtime games from Sunday, Milwaukee — in its 87-83 extra-period win over Stetson — saved the gutsiest individual performance of the first round for last. Sophomore guard/forward BJ Freeman was a man aflame in willing the Panthers to their first postseason win since 2006, scoring a CBI-record 43 points on just 20 shots and seven in overtime to make Milwaukee the third double-digit seed to advance to the CBI quarterfinals this year. His second act of the tourney will come against the 49ers and their rock-solid defense that allows an average of just 62.5 points per game (a top-20 rate in the nation this season) and held Western Carolina to just 3 for 20 (15%) from 3-point range in Charlotte's 65-56 win over the Catamounts on Saturday. Coach Ron Sanchez's squad showed some guts of its own against an in-state rival in that victory, seeing itself behind by 11 points at halftime before scoring 45 points the rest of the way as the Niners were dominant out of the locker room and spurred on by 20 points (all in the second half) by redshirt junior guard Brice Williams, who also had 10 rebounds to tally a double-double. That defensive prowess will need to continue against Freeman and Co. if Charlotte wishes to move on, with one of the magic numbers for the Panthers being 28 — if Freeman scores that many points, Milwaukee is 5-0 this season, including in its game this past weekend.