2023 Discount Tire - College Basketball Invitational
2023 College Basketball Invitational: Lower Seeds Shake Up Quarterfinals
2023 College Basketball Invitational: Lower Seeds Shake Up Quarterfinals
Eastern Kentucky and Radford knocked off the No. 1 and No. 2 seeded teams in the 2023 College Basketball Invitational quarterfinals.
Mar 21, 2023
by Kyle Kensing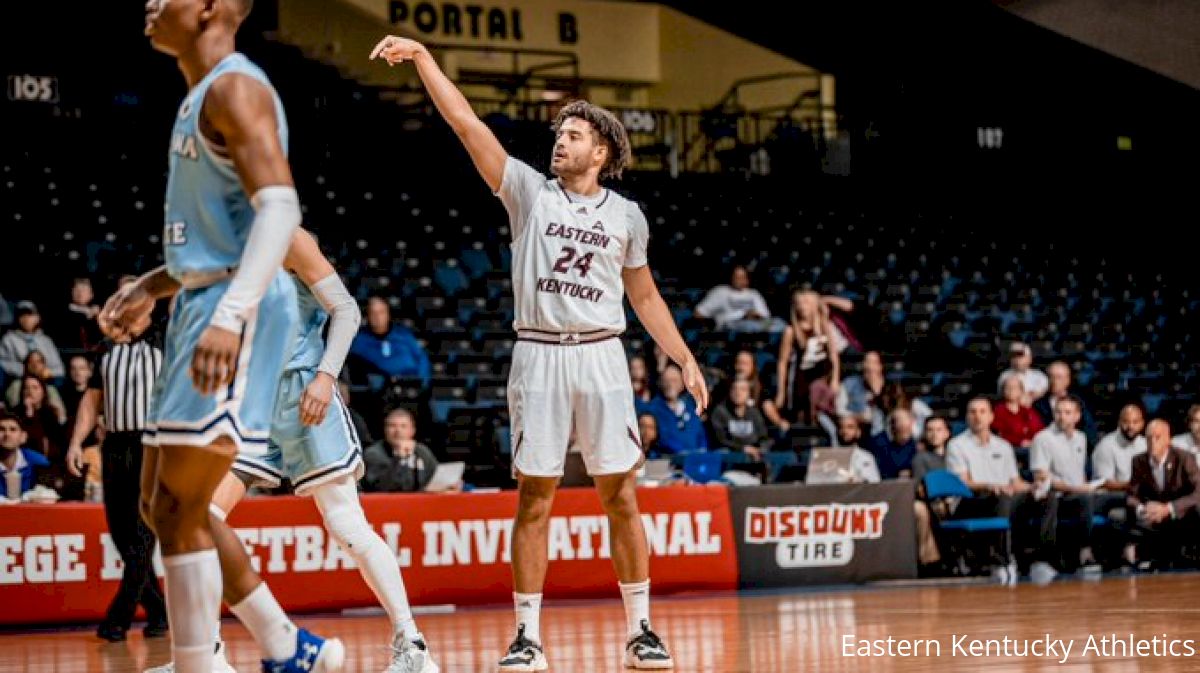 One incredible moment from the first game of the 2023 College Basketball Invitational quarterfinals set the tone for a top-to-bottom outstanding day of basketball.
Putting on a dribbling exhibition from the floor reminiscent of Harlem Globetrotters legend Curley Neal, Eastern Kentucky's Devontae "Tae Tae" Blanton bought himself time to fire off a pass, reposition and square up from 3-point range.
😮😮😮

Tae Tae Blanton, are you kidding?! The handles and the clutch shot-making cap a 32-point game for the @EKUHoops standout.

Watch the @CBITourney live: https://t.co/oeCfdmggoo pic.twitter.com/zWYS0G0EOe

— FloHoops (@FloHoops) March 20, 2023
The sequence capped Blanton's monster 32-point performance as eighth-seeded Eastern Kentucky opened Monday's quarterfinal round of the CBI with a thrilling, 89-88 win over No. 1 seed Indiana State.
The Colonels and Sycamores went back-and-forth throughout, reaching a crescendo in an overtime period that featured five lead changes.
Blanton's big triple with 1:13 accounted for one of those exchanges of the advantage, but lasted just 18 seconds before Indiana State's Cooper Neese answered with a go-ahead three of his own at the 55-second mark.
Trailing by a point in the waning seconds, Isaiah Cozart reached a double-double in most spectacular fashion. His board gave him 10 rebounds for the game — six on the offensive end — and his made foul shots earned on the ensuing putback pushed him to 11 points. What's more, it sealed the win for the Colonels.
Monday's overtime win marked the second in an extra frame scored in as many days for Eastern Kentucky, which will face Southern Utah in Tuesday's CBI semifinals.
A career-best 32 points
and @devontaeblanton gets the belt!
and the Colonels are going to the @CBITourney Final 4⃣#MostExciting40MinutesInSports pic.twitter.com/zXJHlDcJuK

— EKUHoops (@EKUHoops) March 20, 2023
SUU Weathers Furious Rice Rally
Jason Spurgin's layup with 6:03 remaining gave Southern Utah a 71-57 lead over Rice in the second of four CBI quarterfinals, and the Thunderbirds appeared well on their way to advancing to Tuesday's semis.
And they did — but not without facing a furious rally from the No. 12-seed Owls. Quincy Olivari led Rice on a raucous comeback over the final five minutes, scoring five quick points to ignite a 22-8 Owls run that culminated in Travis Evee's 3-pointer with 24 seconds remaining.
That set the scene for Tevian Jones.
TEVIAN FOR THE WIN 🤯

📱: @FloHoops
📺: https://t.co/X5dBXmD2AG#TBirdNation pic.twitter.com/xNauhvO86P

— SUU Men's Basketball (@SUUBasketball) March 20, 2023
Jones' fadeaway from the baseline elevated Southern Utah to a dramatic, 81-79 win and berth in Tuesday's semifinals. His bucket also tied Jones for the most points ever scored a Thunderbird in a postseason game with 27.
Cameron Healy came off the bench to add 14 points and dish five assists for the Thunderbirds, who at 24-12, now sit one win away from matching the program's all-time single-season win record.
In the loss, Rice got 25 points from Evee and 22 points with 16 rebounds from Max Fiedler.
Riding High Into The Semis
Indiana State's loss sent the CBI's No. 1 seed packing. Second-seeded San Jose State didn't last much longer, bowing out in the day's third game against Radford.
The Highlanders successfully forced San Jose State into a defensive struggle, limiting the Spartans to just 20-of-56 shooting from the floor and 8-of-24 from 3-point range. Meanwhile, Radford limited its mistakes with just six total turnovers and capitalized at pivotal moments.
Kenyon Gill's jumper with a little more than a minute remaining proved especially clutch, as he helped put the Spartans away.
🗡️🏀
Kenyon Giles delivering an absolute dagger for @RadfordHoops pic.twitter.com/i4C7BXVsMx

— FloHoops (@FloHoops) March 20, 2023
Giles scored 11 points in 18 minutes off the bench as one of four Highlanders in double-figures. DaQuan Smith led Radford with 16 points, Shaquan Jules went 5-of-5 from the floor for 10 points, and Bryan Antonie was key to the defensive effort with three steals to complement his 10 points.
Jules also delivered on one of the most impressive dunks thrown down in Daytona Beach throughout the tournament.
PUT IT ON A POSTER!!! 😱😱😱

🎥 » @FloHoops ⤵️https://t.co/svwna09GbV#RiseAndDefend🛡 pic.twitter.com/ReoOTuMez1

— Radford Men's Basketball (@RadfordHoops) March 19, 2023
Radford draws Charlotte on Tuesday with a spot in the CBI Championship at stake.
Digging for CBI Gold
Two to go. 💚 pic.twitter.com/ZrabrADle4

— Charlotte Men's Basketball (@CharlotteMBB) March 21, 2023
Charlotte reached 20 wins for the first time in a decade with Monday's 76-65 quarterfinal win over Milwaukee. Doing his part in the 49ers' 17th 20-win season all-time was Brice Williams, who had a monster all-around game.
Williams — coming off an opening round in which he made one of the most improbable shots seen yet in the CBI — followed up with 25 points, five rebounds, four assists and three blocked shots in the quarterfinal.
Starting off 💪 is @CharlotteMBB, Brice Williams throwing down on the fast break. 🔨🏀

Check out the finale of the quarterfinal round in the @CBITourney live: https://t.co/oeCfdmggoo pic.twitter.com/HcqhuJkZtZ

— FloHoops (@FloHoops) March 20, 2023
Williams' outstanding game shouldn't overshadow a special performance from Isaiah Folkes. He shot 4-of-6 from the floor en route to eight points, matched Williams and Aly Khalifa with the game-high of four assists, and came away with a career-high seven steals.
Charlotte's defensive effort included limiting Milwaukee's explosive scorer BJ Freeman to 15 points. Freeman erupted for 43 points in Milwaukee's opening-round, overtime defeat of Stetson.
The 49ers now wear the target as the CBI's top remaining seed, No. 3. Their pursuit of the CBI title continues against the lowest remaining seed, No. 10 Radford. The 49ers and Highlanders last met in the 2012-13 season when Charlotte won, 68-52.
A Charlotte win this time would match the 2022-23 49ers with the 2012-13 bunch at 21 wins.