2023 Tennessee vs Lithuania U21 - Foreign Tours
What To Know About Tennessee's 2023 Foreign Tour Opponents
What To Know About Tennessee's 2023 Foreign Tour Opponents
For Tennessee men's basketball in its aim to get to a Final Four, the grind for the 2023-2024 season starts this week in Italy with a three-game tour.
Aug 2, 2023
by Briar Napier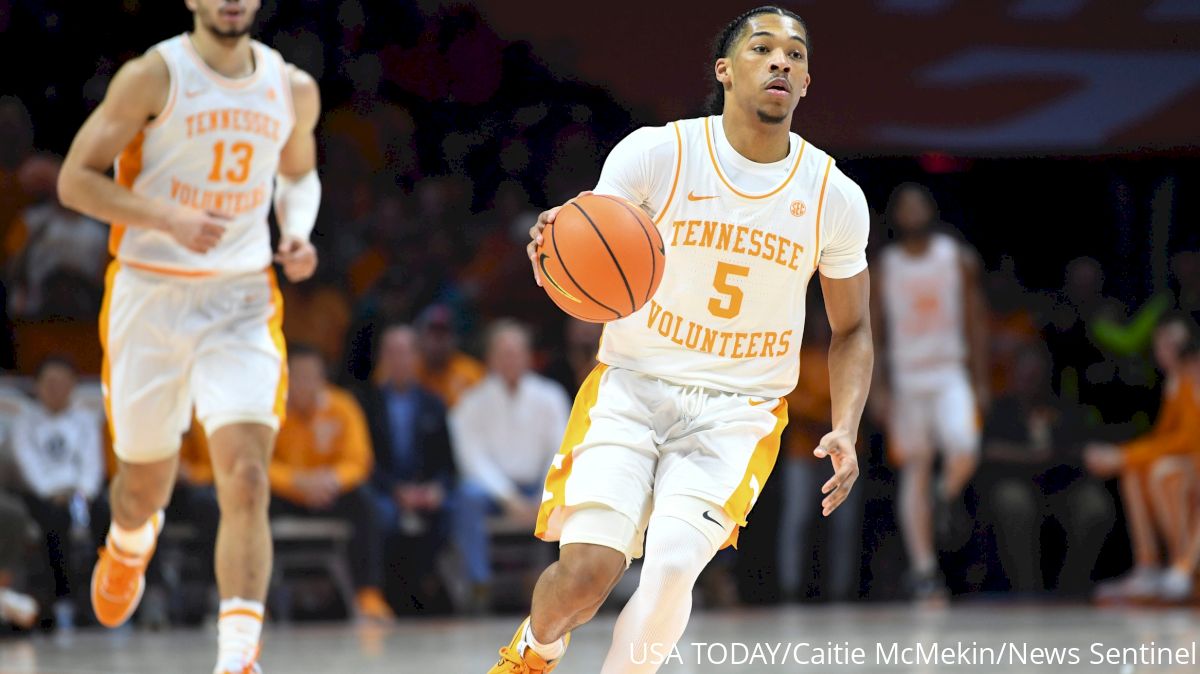 For Tennessee men's basketball in its aim to get to a Final Four, the grind for the 2023-2024 season starts in Italy.
The Volunteers will land in Europe on July 31 for a three-game exhibition tour, in which they'll be playing the Lithuania U21 national team twice and Italian club team A.S. Stella Azzura once.
The trip will be full of sightseeing, building team camaraderie and chemistry and, perhaps most importantly for coach Rick Barnes in staff, it will be a preliminary look at UT's lineup and how it meshes a few months out from the college hoops season.
All three games on the tour will be streamed live on FloHoops, and in the Vols' return to the continent after last going for a run of exhibitions in Spain and France in 2017, they'll hope to improve on their all-time international exhibition record of 19-7.
Here's what to know about the opponents Tennessee will face across the pond – the Lithuania U21s on Aug. 4-5 in Florence, followed by A.S. Stella Azzura on Aug. 7 in Rome.
Lithuania U21 National Team
This is one of Europe's most successful national squads. The senior team has captured the bronze medal at the Olympics three times, in fact.
Lithuanians in the NBA include All-Star Domantas Sabonis and veteran center Jonas Valanciunas, who've added to a decorated history of hoops in the Baltics.
Lithuania's U20 team is just off a quarterfinal exit from the FIBA U20 European Championship a few weeks ago, and they'll likely bring a number of players from that squad to take on UT.
That U20 group was led by 6-foot-7 shooting guard Liutaurus Lelevicius – who participated in some pre-NBA Draft workouts this summer, before deciding to withdraw and continue playing in his homeland – and his 17.6 points per game in the tournament, and he could be paired with a player Tennessee may see again deep in the NCAA Tournament one day.
Arizona signee Motiejus Krivas, a 7-foot-2 center who averaged nearly a double-double at the U20 Euros and is regarded as one of Europe's top prospects in the 2023 class, will join the Wildcats as a freshman for the 2023-2024 season and may be another foreign recruiting hit for coach Tommy Lloyd, who made his name by helping bring a swath of international stars to Gonzaga during his longtime stint as an assistant in Spokane.
Throw in some more names already packing Division I college hoops experience or are bound to get some soon – such as La Salle forward Rokas Jocius and High Point signee Titas Sargiunas – who could make an appearance, and Lithuania is going to be far from a pushover and a talented team that will require the Vols to be on their A-game.
A.S. Stella Azzura
Based in Rome, A.S. Stella Azzura – the first professional club of native Italian and former No. 1 overall draft pick Andrea Bargnani – played this past season in Serie A2, the second tier of Italy's professional basketball pyramid (Italy's basketball league system operates with a soccer-style promotion and relegation setup), and as of the roster on its website, may have some names familiar to college hoops fans.
Former Marquette and Texas A&M guard Duane Wilson, who was a BIG EAST All-Freshman selection with the Golden Eagles during the 2014-2015 season, was the team's leading scorer a year ago and made a nice pairing with another American in Samme Givens, a two-time All-Coastal Athletic Association nod at Drexel, who was the CAA's leading rebounder as a junior in during the 2010-2011 season.
Full of veterans – second-leading scorer Jacopo Giachetti, for instance, is 39 – the youth in Tennessee's lineup will be tested against grown men who have played a lot of basketball in high-stakes environments.