2023 Tennessee vs Lithuania U21 - Foreign Tours - Game 2
Tennessee Basketball Foreign Tour Takeaways: Knecht Shines In Italy
Tennessee Basketball Foreign Tour Takeaways: Knecht Shines In Italy
Tennessee played a trio of games in Italy, winning all three, as fans got a look at what the Vols are bringing to the table for the 2023-2024 season.
Aug 9, 2023
by Leanza Pieroni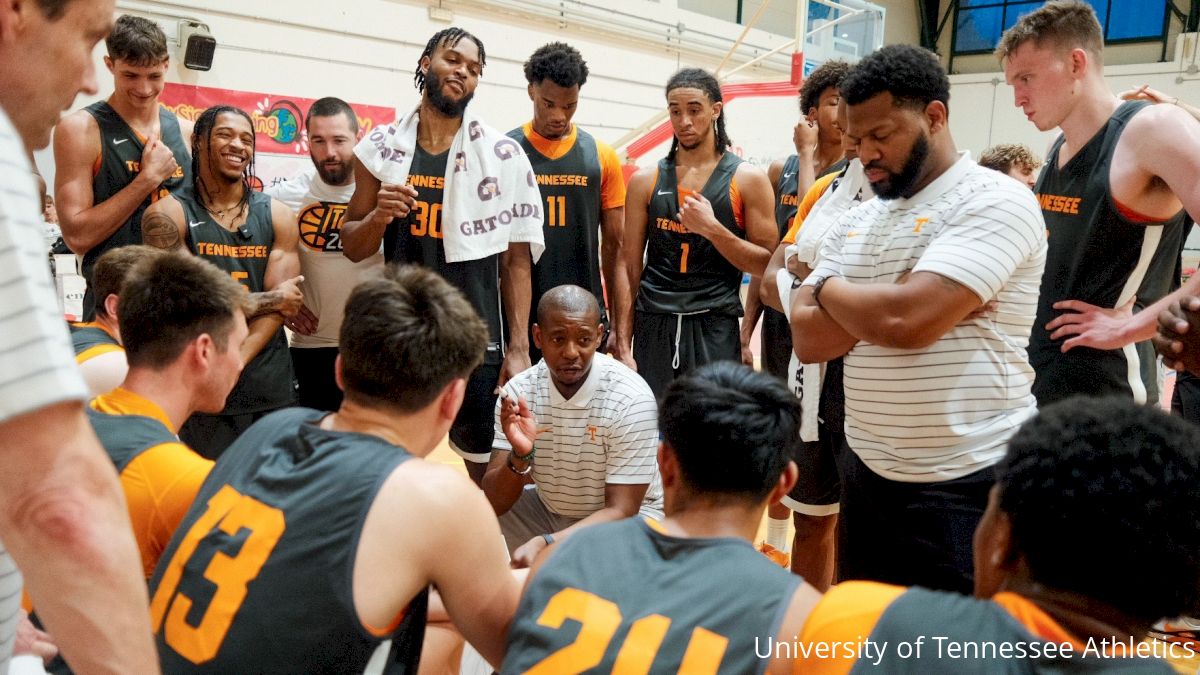 Throughout all of its sightseeing and memories made in Italy over the past week, the Tennessee men's basketball team also had a little bit of work to do.
After a job well done on the court, the Volunteers were able to enjoy their vacation abroad that much more.
UT played a trio of games in a foreign exhibition tour earlier this month on the peninsula, winning all three handily in beautiful, historic territory, as fans and coaches got their first look at what the Vols are bringing to the table for the 2023-2024 season in a competitive environment against another team.
Grazie @StellaAzzurraRm! pic.twitter.com/wdlPKMg84U

— Tennessee Basketball (@Vol_Hoops) August 7, 2023
Still awaiting its first Final Four appearance, UT made the Sweet 16 for the ninth time a year ago. The Vols still are pushing to take that next step to truly being the elite of the elite in college hoops, after toeing the line for decades with numerous coaches.
If things in the future go this well, however, Tennessee might just be in business when the heart of winter hits.
Here's a look at Tennessee's 3-0 tour of Italy, part of FloHoops' broadcast of numerous college basketball foreign exhibition tours being held this summer:
Successful Business Trip
Winning by an average margin of 37.3 points, Tennessee — widely expected to be one of the nation's top teams in the 2023-2024 season — steamrolled past its opposition in Italy.
The Vols defeated the Lithuania under-20 national team twice (97-57 and 116-90) in Florence and Italian club A.S. Stella Azzurra 97-51 in Rome.
That's about as good as it possibly could've gone for the Vols, as their offseason transfers and recruiting additions made their competitive debuts at UT, even if they were in exhibition games.
Associate head coach Justin Gainey handled the in-game adjustments and coaching responsibilities throughout the tour, as head coach Rick Barnes went into spectator mode, and among the players he coached in Italy were South Carolina Upstate transfer and son Jordan Gainey, who twice was named to an All-Big South Conference team during his two seasons with the Spartans.
Tennessee's opener in Italy against Lithuania saw the Vols (playing 10-minute quarters, per FIBA rules) run away with the game early, scoring at least 22 points in every quarter and holding a 24-point halftime lead, as UT's two major offseason transfers — Gainey and former Northern Colorado standout Dalton Knecht — combined to knock down eight of the team's 3-pointers, while Lithuania was held to just a 4-for-24 clip (16.7%) from deep.
DK rise + fire

📺 @FloHoops
📲 https://t.co/rCuIfC0UKp pic.twitter.com/Nf9acPswkZ

— Tennessee Basketball (@Vol_Hoops) August 4, 2023
Lithuania's deep shooting was much better in Game 2, as Nojus Kuliesa, who had a game-high 25 points, was red-hot with seven 3s, but thanks to seven Vols in double figures and a 48.8% team field-goal percentage, Tennessee was able to shoo away the Lithuanians in the second game with a cozy 116-90 victory.
The finale in Rome was Tennessee's biggest win of the tour, a 97-51 triumph, holding the professional team on its home floor to just 28.6% shooting from the field. Beside Eylon Poleg — who had a game-high 23 — no A.S. Stella Azzurra player scored more than six points in the game.
Benvenuto, Dalton Knecht
Last year's scoring champion in the Big Sky Conference, Knecht, who starred in JUCO before starring at Northern Colorado, has played his past few seasons of college ball as if there isn't a ceiling to his game.
It may be (very) early in his Tennessee career, but if the 2023-2024 season goes as well as it did over his debut games with the Vols in Italy, Knecht is going to be one of the home-run transfer-portal additions of the season.
DeeeKaaay 👊 pic.twitter.com/a5Surl82sP

— Tennessee Basketball (@Vol_Hoops) August 5, 2023
The Coloradoan either solo led or tied for UT's scoring lead in all three games overseas, with the fifth-year wing finishing with a team-high 16.3 points per game. That included percentages of 52.9% from the field and 48% from 3, as he seemingly had no problems shouldering the scoring load when needed.
He knocked down four triples in every game, too — a very good sign if you're Tennessee, considering that the Vols shot a below-average 32.9% from deep a season ago — and did it while being heavily rotated in and out of the game like the rest of his teammates. Knecht never played more than 24 minutes in any of the three matchups.
He only started once in Italy, though that should be taken with a grain of salt, as the Vols' coaching staff tweaks lineups and helps establish a core in advance of their season opener in a few months.
Knecht, standing 6-foot-6, will give UT a little bit of extra size in the backcourt, and he should be a major option on offense.
Pairing with savvy veteran Santiago Vescovi and reigning Southeastern Conference assist champ Zakai Zeigler (who sat out the Italy tour as he recovers from a torn ACL suffered late last season) will help unlock scoring opportunities for him, too.
DK runnin
Santi findin pic.twitter.com/rXsFZ2JMm9

— Tennessee Basketball (@Vol_Hoops) August 8, 2023
Awaka Makes Moves Down Low
There is a lot of playing time available in the Vols' frontcourt following the departures of forwards/centers Olivier Nkamhoua (transferred to Michigan), Julian Phillips and Uros Plavsic (both to the pros) from a year ago, and arguably no one on the Vols' roster, especially among returners, made more waves in Italy than 6-foot-8 sophomore forward Tobe Awaka.
everywhere you look, Tobe

📺 @FloHoops
📲 https://t.co/rCuIfC1szX pic.twitter.com/NtNL54EQba

— Tennessee Basketball (@Vol_Hoops) August 4, 2023
Having already been in line for a great summer after playing for Team USA in the FIBA Men's U19 World Cup (starting 6-of-7 games and averaging a double-double), the New York native only reached double-figure scoring numbers twice during his freshman season but managed to do exactly that in all three games in Italy, averaging a double-double across the tour — 13.7 points and 10.3 rebounds — as a force down low.
All in all, Awaka shot a fantastic 16-for-20 (80%) combined from the field and probably had his most efficient outing in the second matchup against Lithuania. He had 16 points and nine rebounds in just 19 minutes, going 5-for-5 on shot attempts, while also going 6-for-6 from the free-throw line, much improved from the abysmal 46.2% mark he shot from the charity stripe during the 2022-2023 campaign.
The talent that the Vols lost on the low block, especially Nkamhoua (a double-figure scorer who started all 36 games last season) and Phillips (a second-round NBA Draft pick, now with the Chicago Bulls), is a heavy burden to replace, but if Awaka keeps up his promising past few months and becomes a breakout player on the interior, that process will become much, much easier for Barnes and his staff.
taking in the Colosseum on our final day in Rome pic.twitter.com/gGd3AjUYIs

— Tennessee Basketball (@Vol_Hoops) August 8, 2023