Big Ten
Why Do College Basketball Teams Take Foreign Tours?
Why Do College Basketball Teams Take Foreign Tours?
Whether it was with the sizzling Mediterranean sun or the pristine beaches of the Bahamas, many college programs took summer trips abroad last month.
Sep 9, 2023
by Briar Napier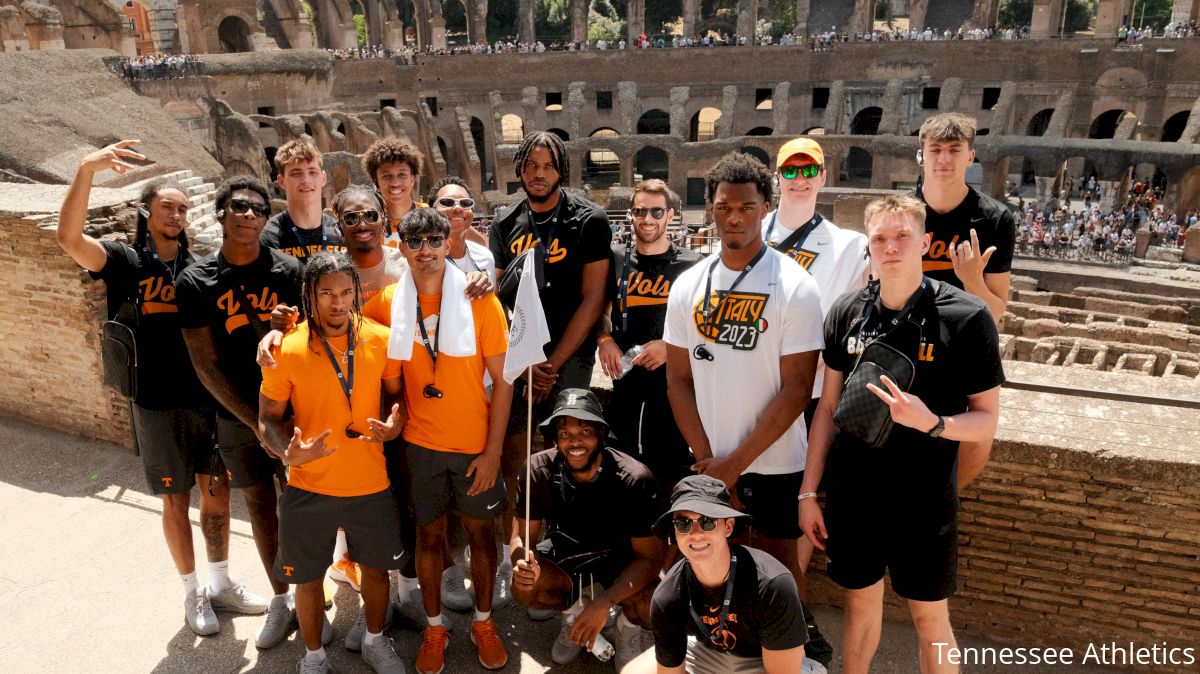 Whether it was with the sizzling Mediterranean sun or the pristine beaches of the Bahamas, numerous college basketball programs took summer trips abroad last month for a series of exhibition games. The goal? To get better.
But with it, there are questions worth asking: Why and how do they occur? And what do teams on these trips do?
Foreign tours, as designated by the NCAA, are a common part of college basketball preparation schedules for many Division I programs, allowing them to get a sneak peek at the squad they'll have for the season ahead, but in an easygoing environment full of bonding opportunities.
All in all, with hoops to be played, any tour a team does very much still is a business trip. However, the downtime, as coaches who take their teams on tours will tell you, is almost equally as important.
Ever wondered why college basketball teams occasionally take trips outside of the United States during the summer? FloHoops is here to explain why, and if you want to see what went down on some of these tours yourself, check our archives for highlights of several that happened last month.
🇩🇪🇦🇹🇨🇿🇸🇰🇮🇹 Thankful for an incredible trip with an incredible family.

You're gonna love this squad. pic.twitter.com/6xFEuXbduN

— Purdue Men's Basketball (@BoilerBall) August 18, 2023
What Is A Foreign Tour In College Basketball?
Foreign tours in college basketball are semi-frequent trips from hoops programs allowing them to play a series of summer exhibition games in a location outside of the United States.
These trips often last one to two weeks – most programs opt to take their trips sometime in August – and see teams play a variety of unique programs in a chosen location.
Almost 100 NCAA Division I men's programs took a trip abroad this year (along with plenty of women's programs, too) in places from ranging from the Bahamas to France to Australia and everywhere in between.
The trip also acts as an early team bonding experience and an opportunity for teams to get a head start on preparation for the season with an extra 10 practice days ahead of the tour. It also gives coaches a chance to see their incoming season's roster perform competitively against another team for the first time.
How Often Can Teams Take Foreign Tours?
NCAA rules permit teams to take foreign tours once every four years, meaning that every four-year player in a program – if said program opts to take advantage of that rule and there are no hiccups, such as the COVID-19 pandemic affecting travel – will get to experience a foreign tour at least once.
There is a bit of a loophole as per Bylaw 17.32.1.2 of the NCAA rulebook, trips to a United States territory, such as Puerto Rico or the U.S. Virgin Islands do not count against the once-every-four-years limit, meaning teams like Kansas, which visited Puerto Rico on a tour in early August, wouldn't be subjected to the four-year wait because of this summer's trip.
That period would only take effect if they've taken a "foreign" trip (as designated by the NCAA) in the past four years.
So, for instance, Tennessee won't be able to travel for a summer tour outside of the United States or its territories for the next four years after visiting Italy last month. If the Volunteers wanted to play in Puerto Rico, the Virgin Islands or another territory of the United States during that time frame, however, they could.
Nothing better than spending the final afternoon in paradise with family! 💙💙#GoJays pic.twitter.com/dospxk8i5K

— Creighton Men's Basketball (@BluejayMBB) August 8, 2023
Can Incoming Freshmen Play On Foreign Tours?
Yes, but that wasn't always the case.
Foreign tours have been a common offseason team-building exercise for many programs for many years, but until 2010, incoming freshmen weren't allowed to practice or join their teams on summer trips.
That changed that year when the NCAA adjusted its rules to allow freshmen to play in the summer with their teams – provided they meet academic eligibility requirements and are working on/have finished summer school classes at their college of choice – and gave programs the ability to get an early look at their first-year players and a head start on their development process.
If you want to be technical, freshmen who suit up and play for programs on foreign tours are making their team debuts there, rather than when the regular season gets underway, though due to the games being exhibitions, no official stats are counted. Still, the experience for freshmen can be full of valuable time on the floor and teaching moments for both coaches and players.
What Types Of Opponents Will Teams See?
Unless you're a hardcore follower of overseas basketball, odds are that neither you, nor the vast majority of college hoops fans, will have heard of the types of teams schools play on foreign tours, with the exception of the national teams that sometimes schedule exhibitions against touring programs.
Club teams, professional squads and youth academies often make up the bulk of the field schools face on their trips abroad, though college teams do have some variety to choose from depending on where they are playing and which opponents are available for them to play.
For instance, when Purdue trekked to Europe for a four-game European tour earlier this summer, they visited multiple countries on the continent and played a German youth academy, as well as pro teams based out of Austria and the Czech Republic.
It's a series of unique games against opponents the programs otherwise wouldn't see at home that, in many cases, can provide a similar talent level and quality to the college game in a looser environment. Teams get to test out what works and what doesn't work with for the upcoming season, without too much risk.
leftovers from Italy:

zz on the mic 🔊 pic.twitter.com/0tHH9cGm3D

— Tennessee Basketball (@Vol_Hoops) August 31, 2023
Why Not Just Play In The United States?
It's because a major part of a foreign tour in the first place isn't regarding the basketball itself – it's the memories made and the sights seen.
It's not uncommon for players who never had the means/opportunity to travel abroad to be out of the United States for the first time and see a completely different world than what they're used to, carrying back with them stories about things they may never get to experience in a similar way again.
Plus, it's a great way to build team chemistry and bonding off the court and close out a summer of hard work with a reward. And, if all goes well, programs will return home in better shape, both on the court and as a tight-knit group.
The basketball games and practices are a major reason why programs take foreign tours, of course, but the stuff that happens behind the scenes that most fans don't see can play key roles in building a bond ahead of all the regular season adversity that is to come in a few months' time.