NCAA
What Conferences Are In Division II For Basketball?
What Conferences Are In Division II For Basketball?
With three NCAA divisions for athletics, what does Division II hoops look like? How many teams are there? Who makes the playoffs? FloHoops breaks it down.
Sep 13, 2023
by Matt Cannizzaro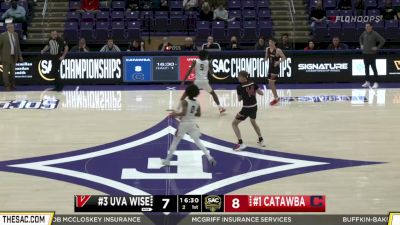 Unlock this video, live events, and more with a subscription!
Get Started
Already a subscriber? Log In
In NCAA Division II, student-athletes typically have a more balanced college experience than their Division I counterparts, as the athletic commitment is less demanding. This allows them to invest more in their studies and still compete in the sports they love.
While the Division II offers less scholarship opportunities than the Division I level, many student-athletes combine athletic scholarships with academic scholarships, grants and any other financial aid. Playing at the Division II level can mean a better chance at athletic financial aid, though, as 60 percent of the athletes receive some.
Division II has the lowest amount of schools among the three NCAA levels and includes approximately 310 institutions across 47 states. It makes up about 28 percent of the more than 1,100 schools that participate in NCAA athletics.
And, according to NCAA.org, Division II is the only division with schools in Alaska, Puerto Rico and Canada.
Subscribe To FloHoops To Watch The Cayman Islands Classic In 2023

What Conferences Are In Division III For Basketball?

How Does The NCAA Division II Basketball Tournament Work?
Across all of its sports, Division II offers 25 national championships (12 for men and 13 for women), and is unique in the fact that it has been known to host championship festivals that include multiple sports and championships over several days in a single location.
What does all of that really look like for Division II basketball, and how does it compare to Division I and Division II? Let's break it down.
How Many Conferences Are There In NCAA Division II Basketball?
Division II is the smallest of the three NCAA classifications, and that is reflected in the number of conferences within the division–23 for athletic purposes, plus a handful of independents.
What Are The Conferences For Division II Basketball?
California Collegiate Athletic Association
Central Atlantic Collegiate Conference
Central Intercollegiate Athletic Association
Conference Carolinas
East Coast Conference
Great American Conference
Great Lakes Intercollegiate Athletic Conference
Great Lakes Valley Conference
Great Midwest Athletic Conference
Great Northwest Athletic Conference
Gulf South Conference
Lone Star Conference
Mid-America Intercollegiate Athletics Association
Mountain East Conference
Northeast-10 Conference
Northern Sun Intercollegiate Conference
Pacific West Conference
Peach Belt Conference
Pennsylvania State Athletic Conference
Rocky Mountain Athletic Conference
South Atlantic Conference
Southern Intercollegiate Athletic Conference
Sunshine State Conference
If The Division II Basketball Championship Events Include 64 Teams, How Do They Qualify?
It's true, despite being the smallest division with the fewest conferences, the Division II championship brackets still include 64 teams.
Each of the 23 conferences gets one automatic bid to the national tournament, and that typically goes to the conference champion. The other 41 spots are at-large bids, given out evenly among the eight regions—Atlantic, Central, East, Midwest, South, South Central, Southeast and West.
The process works the same for men and women.
When Do They Hold The Division II Basketball Conference Tournaments?
The Division II conference basketball tournaments typically happen from late February into early March.
Teams advance to the big national bracket, and the field continues to get whittled down until the champion is determined in late March.
Who Were The NCAA Division II Basketball National Champions In 2023?
Ashland, from Ashland, Ohio, won the women's national title in 2023, defeating Minnesota Duluth in the championship game.
The Eagles finished the season with a 37-0 record, which made the 2023 Ashland team the sixth in history to complete an undefeated season. The Eagles matched a feat they first accomplished on their way to the title in 2017.
Ashland qualified for the tournament as the Great Midwest Athletic Conference champion, while Minnesota Duluth won the Northern Sun Intercollegiate Conference.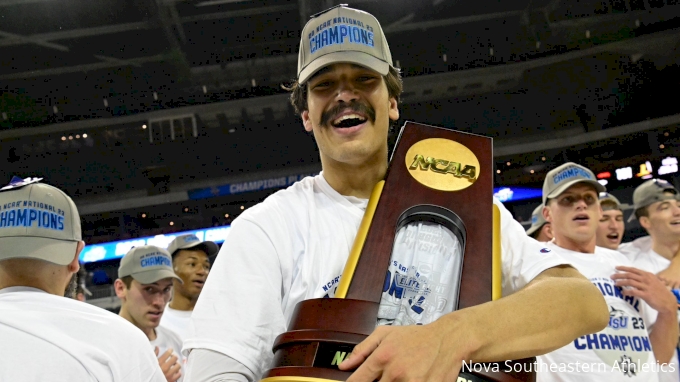 On the men's side, it was Nova Southeastern that took the 2023 crown.
The Sharks defeated West Liberty in the final, 111-101, marking the highest-scoring championship game in history. The 111 points also was a record for a Division II final, men or women.
It was the program's first basketball national championship and completed a 36-0 season, making Nova Southeastern the sixth undefeated Division II men's champion.
Nova Southeastern entered the bracket as the Sunshine State Conference champion, and West Liberty qualified as the winner of the Mountain East Conference.
The 2024 Division II Women's Basketball Championship will conclude at the St. Joseph Civic Arena in St. Joseph, Missouri, from March 25-29.
The 2024 Division II Men's Basketball Championship will take over the Ford Center in Evansville, Indiana, from March 26-30.
What Schools Have The Most Division II Basketball Titles?
Kentucky Wesleyan has won a record eight men's Division II national championships.
The women's record belongs to Cal Poly Pomona and North Dakota State with five apiece.
How Is Division I Different Than Division II and Division III?
At Division I schools, there are more students, greater funds, larger fan bases, larger stadiums, greater media attention, and more athletic teams (they must meet a certain number to be eligible for Division I). There are also more scholarships available, and the higher level of competition provides more visibility for top athletes.
What Makes Division III Unique?
Division III is about 80 percent private universities, with the lowest average number of students across the three divisions. But it's also the largest division now, featuring more than 430 active schools and 44 conferences. There are more than 200,000 student-athletes.
Student-athletes in Division III are more focused on academics, so there is less time spent practicing and competing. At the Division III level, there are no athletic scholarships, by rule.
Watch Division II Hoops Action All Season Long On FloHoops
Subscribe to the FloSports app and FloHoops to watch more action.
FloHoops Archived Footage
Video footage from past season is archived and stored in a video library for FloHoops subscribers to watch for the duration of their subscription.
Join The Conversation
Follow us on Twitter: @FloHoops
Follow us on Instagram: @flohoops
Like us on Facebook!