2023 Women's Gulf Coast Showcase
Iowa Hawkeyes Sensation Caitlin Clark Can Lead The Game To New Heights
Iowa Hawkeyes Sensation Caitlin Clark Can Lead The Game To New Heights
Iowa Hawkeyes basketball star Caitlin Clark has already become a breakout name, and she may just be scratching the surface of her lofty potential.
Oct 11, 2023
by Kyle Kensing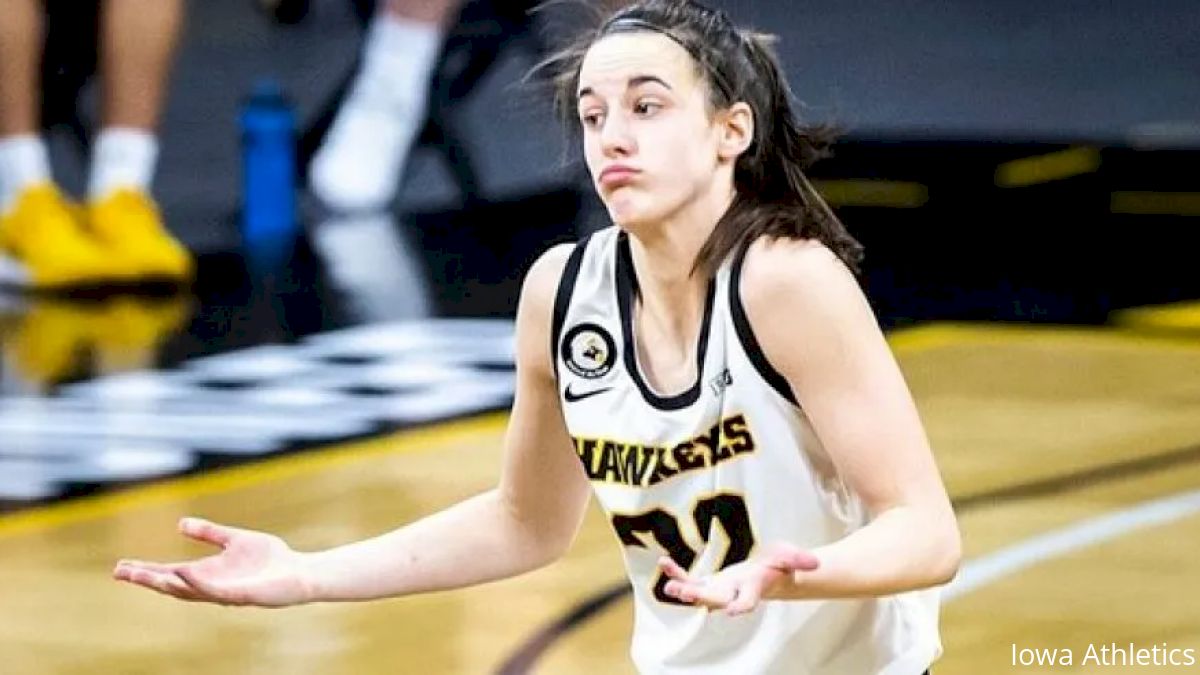 Caitlin Clark fired from near mid-court during a 2022 matchup between her Iowa Hawkeyes and their Big Ten Conference counterpart Ohio State Buckeyes. SWISH.
After connecting from Steph Curry range, Clark reacted with a low-key shrug that carried high-profile connotations. The homage to Michael Jordan's reaction to hitting his sixth first-quarter 3-pointer in the Chicago Bulls' Game 1 1992 NBA Finals win over the Portland Trail Blazers feels particularly symbolic almost two years ahead of Clark's 2023-24 campaign.
Recent years have been pivotal for growing women's basketball in the United States. March Madness ratings are skyrocketing and WNBA standouts like Sabrina Ionescu are prominently featured in advertising campaigns — like for the new Nike signature shoe bearing the New York Liberty guard Ionescu's name released in September 2023.
Ionescu's otherworldly, all-around game captivated audiences during her time at the University of Oregon. Her star began to rise there, where she demonstrated both a multifaceted scoring touch and uncanny court vision that manifested in jaw-dropping passing.
Ionescu made plays at Oregon and continues making plays in the WNBA reminiscent of NBA legend Magic Johnson — fitting, given Magic's transcendent style ignited a boom period for the NBA at the outset of the 1980s that made the league the cultural mainstay it is today.
On the foundation that Magic laid four decades ago, however, Michael Jordan arrived and his presence was vital to the NBA's growth. Likewise, if Ionescu is women's basketball Magic, Clark may be the game's Jordan.
Now, drawing parallels to Jordan is viewed as downright sacrilege in some basketball circles. No. 23 is widely considered the greatest to ever play — and those who rank someone else as the best almost assuredly have Jordan as second.
But consider the following about Caitlin Clark's already Hall of Fame-worthy career at Iowa:
In three seasons at Iowa, Clark has averaged 27.2 points, eight assists, and seven rebounds per game.
Last year, she became the fastest player in history to reach the 2,000-point mark for a career, set the NCAA Tournament scoring record.
Clark is on the cusp of surpassing both current Las Vegas Aces star Kelsey Plum as the highest-scoring women's player in Div. I history, and the late, great Pete Maravich as the most prolific scorer in all of NCAA basketball history.
Clark's game is certainly unlike anything witnessed at the level she's done it. Jordan combined his excellence on the court with unparalleled marketability, however, which helped ensure his impact on the sport for generations to come.
Well, consider that Clark in April had a Name Image Likeness valuation of about three-quarters of a million dollars per On3.com — part of endorsements that included the shoe brand that both launched Jordan into the stratosphere and that Ionescu currently wears, Nike.
On Oct. 10, Clark was introduced as the first-ever college athlete signed to an endorsement deal with State Farm; not a bad start to a week in which Clark leads the Hawkeyes in an exhibition matchup against DePaul played at the Hawkeyes football venue, Kinnick Stadium.
Honored to be the first college athlete joining team @StateFarm ! 🥳 So, where do I get the freshest khakis @JakeStateFarm ? #ad pic.twitter.com/nTrhjlLBle

— Caitlin Clark (@CaitlinClark22) October 10, 2023
This whirlwind stretch leads into the start of what should be a history-making season for Clark, and a schedule that should prove grueling. The Hawkeyes host fellow 2023 Final Four qualifier Virginia Tech on Nov. 9, two weeks before Iowa heads to Florida for this year's edition of the Gulf Coast Showcase.
Last year's Gulf Coast Showcase was a launching pad for Michigan and Villanova, two teams that won games in the 2023 NCAA Tournament.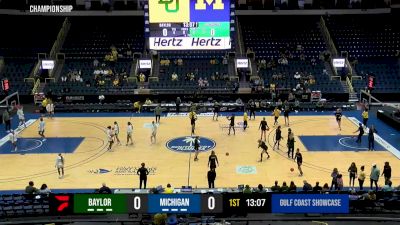 Unlock this video, live events, and more with a subscription!
Get Started
Already a subscriber? Log In
The 2023 Gulf Coast Showcase features Clark and the Hawkeyes, as well as a North Carolina Tar Heels bunch likely to vie for the Atlantic Coast Conference championship.
From a football stadium in the heart of Big Ten Country to Hertz Arena in Florida; on advertising campaigns and in venues across the nation, eyes will be firmly affixed to Caitlin Clark in the coming season.
With every bucket she scores, dime she drops, or MJ-like shrug she hits, Clark's continued ascent in the national spotlight is a huge win for the game.