2023 Cayman Islands Classic - Women's
Can Paige Bueckers Further Stamp Her UConn Legacy During Her Return Year?
Can Paige Bueckers Further Stamp Her UConn Legacy During Her Return Year?
UConn's Paige Bueckers quickly made a name for herself in the college basketball ranks. She's now back from injury and ready to contribute for the Huskies.
Oct 21, 2023
by Briar Napier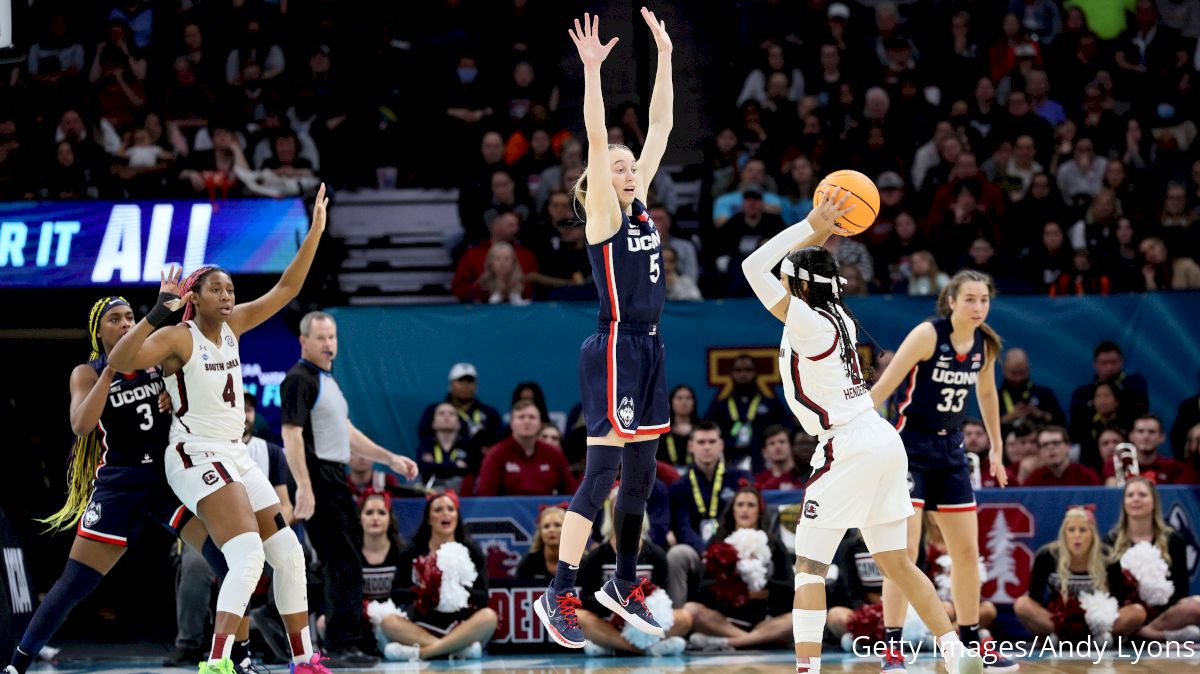 When many college basketball fans were stuck at home during the pandemic-plagued 2020-2021 season, those who kept up with the sport on their screens at home were introduced to a new star.
Paige Bueckers, then a freshman with UConn after one of the most decorated high school careers ever in her home state of Minnesota, was lighting up the women's game at a level a first-year player had never previously done.
After just one year and plenty of production, the comparisons to Huskies stars of the past were coming in, and for justifiable reasons.
One of the college game's biggest draws and superstars, Bueckers has name, image and likeness deals with giants Nike and Gatorade, among others, and should be one of the top picks in next spring's WNBA Draft, should she decide to forgo the rest of her eligibility following this season.
However, due to injuries, Bueckers has only played in 17 games over the past two seasons.
In the meantime, other superstars have emerged and increased the star power of the women's game that much more, with Bueckers stuck on the sidelines for much of the sport's recent explosion of growth.
The good news about that, however, is that Bueckers' own star power hasn't been dinged at all.
She's now back to full health and looking to finally get to business. UConn – chasing the heights it reached during its decades of domination in the past – appreciates it, too.
And, with another full campaign on the court with plenty of accolades, Bueckers, if she wasn't considered one already, officially can claim being one of the Huskies' all-time greats.
How can Bueckers, already one of basketball's most well-known names, continue to put her claim down as one of the best Huskies is history? In an important year for UConn, she may just have the answer to that question.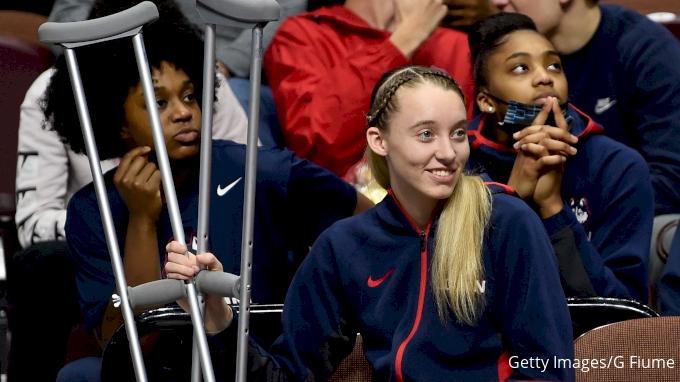 Long Road Back
Bueckers' return to the court when she's been 100% healthy has been long-awaited and something that arguably, college hoops fans haven't seen out of her since her record-smashing freshman season.
After being the consensus national player of the year that year and winning just about every award she could earn, injury troubles then began to strike shortly after.
During Bueckers' sophomore season, she suffered a knee injury late in a win against Notre Dame and missed a significant chunk of the season because of it, only getting back up to starter's minutes by the NCAA Tournament, where she helped take the Huskies to their 14th consecutive Final Four.
With expectations remaining sky-high for Bueckers' junior campaign, it instead ended before it began.
Bueckers tore her ACL during an offseason pickup game and missed the entire 2022-2023 season, and it was clear that UConn missed her production and presence, as it was eliminated from the NCAA tourney by Ohio State in the Sweet 16 – the first time since 2008 the Huskies failed to reach the Final Four.
August 9, 2023
Having been completely cleared to return to basketball activities in August (as she announced via social media), however, Bueckers seemingly is full speed ahead for 2023-2024 as the women's game, even in the two years since her epic debut season, has dramatically grown and seen multiple superstars be created/heightened in her absence, such as Iowa's Caitlin Clark and LSU's Angel Reese.
Where Bueckers and UConn – amid a long title drought by the program's lofty standards, having not won the national championship since 2016 – fit into an exciting new era after dominating the sport for so long should make for one of the more interesting elite-team storylines of the 2023-2024 season.
But wherever the Huskies end up at year's end, a healthy and productive Bueckers being at the forefront of it should make them one of the most exciting teams to watch in all of college hoops.
Where She Stands
It's hard to quantify at this moment where Bueckers stands among the many, many women's basketball legends who have played at UConn, mainly due to the obvious fact that she's only had one full, healthy season.
If you're basing Bueckers' case on individual achievements alone, however, it's hard to not put her among the top tier of Huskies greats already.
Bueckers' freshman season wasn't just considered to be one of the best freshman years of all time, but also one of the best seasons ever – regardless of year.
She immediately stepped into the fire and emerged as UConn's leader following her massive hype as a blue-chip high school recruit, and she finished the year with averages of 20 points, 5.8 assists, 4.9 rebounds and 2.3 steals, while shooting 46.4% from 3-point range.
She was the NCAA leader in win shares (9.2), confirming her impact and showing how important Bueckers was (and is) to UConn's success.
It was a freshman season other ex-UConn standouts such as Breanna Stewart, Maya Moore, Tina Charles and Diana Taurasi couldn't have even said they had in terms of just being a force that was that influential to the Huskies right away, making Bueckers' injury-plagued past two seasons that much more brutal to witness, knowing what she brings to the table when she's firing on all cylinders.
CLEARED.

We can't wait to get Paige back on the court 💙 pic.twitter.com/wjo79QKDU9

— UConn Women's Basketball (@UConnWBB) August 10, 2023
If Bueckers were to not miss a beat, stay healthy and lead UConn to similar heights this season – and, let's say, hypothetically captures the Naismith College Player of the Year award for the second time in her career – she'd become the fourth Huskies player to capture the award at least twice, along with Moore, Taurasi and Stewart (who won it three times), adding to her legacy that much more.
But what would especially confirm Bueckers' place in the upper echelon of UConn lore would be if she did something all three of those players listed did in their college careers – win a national title.
Back To The Top?
Remember when UConn women's basketball reigned supreme over everyone else and was unbeatable for years at a time?
The two longest (men's or women's) college hoops winning streaks in history both belong to the Huskies, first with a 90-game win streak from 2008-2010 and the now-record 111-game winning run from 2014-2017, showing through sheer numbers just how dominant UConn was in women's basketball throughout much of the early and mid-2010s.
Women's hoops is a very different game than it was then, however, and the sport top-to-bottom arguably is in the strongest place it's ever been, as it no longer is an essential given that a program is just going to romp its way to a national championship.
That's a very good thing for the growth of the game but a new challenge for UConn; still an elite, national championship-caliber program, the increase in parity in women's basketball (with no repeat champions since UConn's four-peat from 2013-2016) has meant there are more programs out there in the upper tier along with the Huskies, and someone wouldn't be crazy for picking against UConn to win it all this year.
Getting better with the GOAT pic.twitter.com/LUosd0Skeq

— UConn Women's Basketball (@UConnWBB) September 27, 2023
How Bueckers fits into that would be her helping re-establish with authority that UConn is, and remains, the gold standard in women's basketball, in case people forgot, and it by all means has the opportunity to do so with Bueckers and a supporting cast that includes talented junior (and backcourt partner) Azzi Fudd and guard/forward Aubrey Griffin, who had a career year last season after missing her entire junior season due to injury.
Many of the eyes and attention will be locked in on Bueckers, though, and for good reason. She's lived up to the hype once before, and doing it again after so much missed time arguably would be her best act yet in a UConn jersey.