CAA Men's Basketball
CAA Basketball: Transfer Portal Makes For A Family Affair In 2023-24
CAA Basketball: Transfer Portal Makes For A Family Affair In 2023-24
The transfer portal is a hot-button topic around college basketball. For CAA programs Monmouth and William & Mary, the portal provides family reunions.
Oct 27, 2023
by Kyle Kensing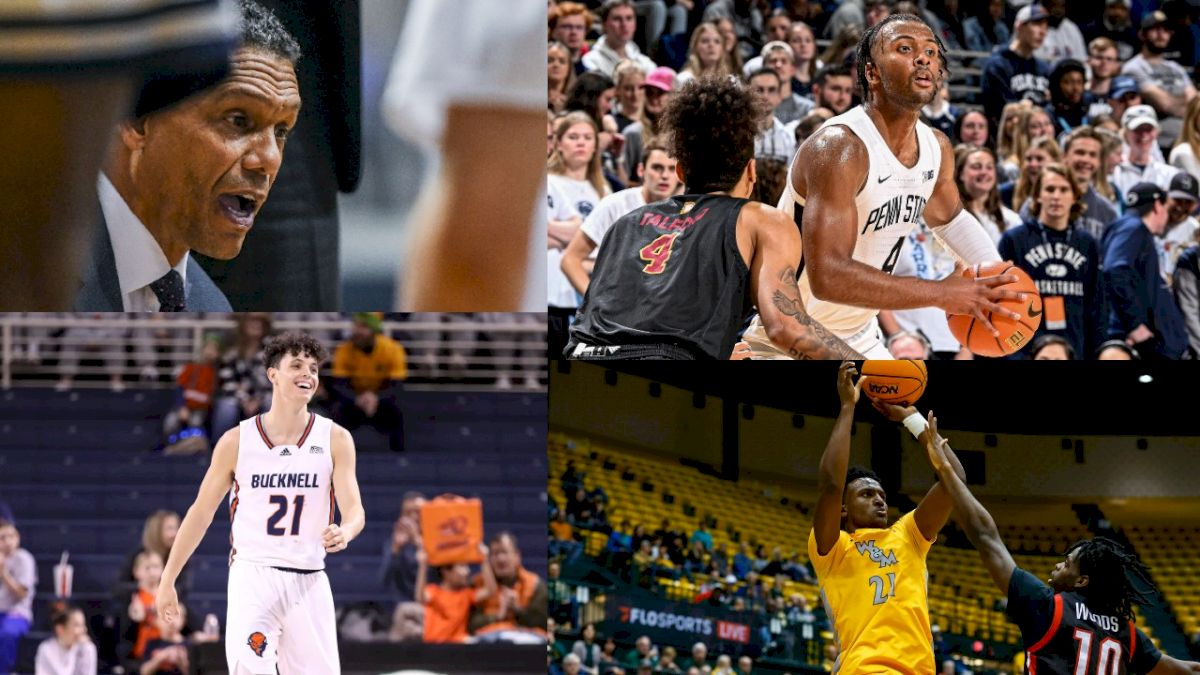 Questions of chemistry and fit could be an issue for college basketball teams welcoming transfers onto their rosters. Not so for William & Mary, where a returning member of the Tribe and one of the leading newcomers know each other's game inside and out.
Brothers Caleb and Gabe Dorsey grew up playing together and helping build each other's games.
"In high school," begins Caleb, reminiscing on being teammates at The Hill School in Westminster, Maryland, "I'd drive, kick to [Gabe] in the corner for a 3[-pointer]. Our games complement each other very well."
The Dorseys' complementary style is renewed in 2023-24 thanks to the transfer portal, through which the elder brother Caleb joins the William & Mary roster. The move from Penn State, where Caleb played the three previous seasons, reunites him with younger brother Gabe, an established standout for the Tribe.
Gabe Dorsey averaged 10.9 points per game before a season-ending injury cut his 2022-23 short in the final weeks. He knocked down 76-of-171 3-point attempts, good for 44.4 percent; against Div. I opponents, Gabe's 45.3 percent average ranked No. 19 among all qualifying players in the nation.
𝙋𝙧𝙚𝙨𝙚𝙖𝙨𝙤𝙣 𝘼𝙡𝙡-𝘾𝘼𝘼@gabedorsey21

➡️ 4th nationally in 3FG%
➡️ 11 ppg last season
➡️ 3.04 3-pointers per game

📰 https://t.co/1rK3BqWmfo#GoTribe pic.twitter.com/N6Eu2i8qYo

— William & Mary Tribe Men's Basketball (@WMTribeMBB) October 19, 2023
Caleb's natural ability to slash into the paint off the dribble then dish the rock to his brother should only enhance Gabe's already-outstanding long-range shooting. And it was one motivation for Caleb transferring to William & Mary.
"Coming here gave me the opportunity to play my game," said Caleb, who described his role at Penn State as more of an interior bruiser than the dynamic face-up player he looks to be for the Tribe. "Being with my brother has been great, and it's kind of giving me a fresh start on my college basketball career. It's been exciting so far."
Stay ready so you don't have to get ready 🎯@__cd23 comes in the game with a guaranteed bucket for @PennStateMBB pic.twitter.com/UTA6wagoGi

— FOX College Hoops (@CBBonFOX) February 17, 2022
Exciting is indeed the recurring theme when describing the Dorsey Family Reunion in Williamsburg. When vetting Caleb's fit with the Tribe, coach Dane Fischer consulted with Gabe and gleaned as much.
"Gabe and I talked about this spring where our roster was at and if this was going to make sense and just kind of how he felt about wanting to play again with Caleb," Fischer said during CAA media day. "And they were both obviously really excited about that."
"I just wanted to primarily make sure that it would be the right fit...on the court, off the court," Gabe added. "I did a lot of recruiting myself trying to bring him along just because not only are we obviously tight off the court, but like coach said our games are very compatible."
Basketball rosters are "families" of their own kind, so part of finding if Caleb would be the right fit for William & Mary meant evaluating his rapport with the rest of the Tribe.
It didn't take long at all for Caleb to feel right at home with his surrogate family.
"As soon as I touched down on campus for my first visit and seeing how close the team was sealed the deal," he said.
Both Caleb and Gabe described reestablishing their on-court chemistry as a smooth process. This season could be much like their childhood hooping together, only with Fischer as coach instead of Dorsey family patriarch Stephen.
Stephen Dorsey, a forward at Towson from 1987 through 1989, coached the brothers in their youth. The Dorseys will have their father's support from the audience, but another newcomer to the Coastal Athletic Association this season via the transfer portal has his dad on the sideline.
Xander Rice, a graduate transfer at Monmouth, was among the most coveted prospects in the portal this offseason. He averaged in double-figures scoring each of the previous three campaigns at Bucknell, peaking with last year's 14.1-point per game output.
Coming out of St. Patrick High School in New Jersey, Rice garnered from plenty of programs in the as-determined-by-football "power" conferences — teams like Rutgers that reached the 2022 NCAA Tournament, and last year's March Madness participant, Pitt.
After proving himself an elite college guard, Rice commanded even more interest — and, with the NCAA's adoption of Name Image Likeness opportunities, financial incentives to go with it.
"Yeah, there were a lot of other good opportunities from bigger schools," Rice said when asked of at least one NIL offer worth a rumored $250,000. "It was a lot of new kind of shiny stuff that they were offering. But... [coming to Monmouth] was just the opportunity of a lifetime."
You can't put a price on family, in other words.
"Our dream, when he was a kid, was for him to play basically at North Carolina or a high major program, and then he earned that opportunity," coach Rice said. "[Xander] came home and he said, 'Dad, that could be cool for eight, nine months. What we could do here [at Monmouth] together could be cool for a lifetime."
Special season upcoming.

12 years after stepping on campus for the first time, Xander Rice will suit up for his dad this season 🤝

Happy Father's Day 💙 pic.twitter.com/CfiMnmEP1I

— Monmouth Basketball (@MonmouthBBall) June 18, 2023
Just like there's no price for family, King Rice described Xander's sentiment as having significance no paycheck can match: A father and son overseeing a turnaround from last-to-first; taking Monmouth from the play-in round of the CAA Tournament to a spot in the NCAA Tournament.
Monmouth struggled in their debut campaign with the conference, but a young corps of promising talent gained invaluable minutes in 2022-23.
A roster that returns versatile and energetic wing Jack Collins and big man Klemen Vuga added Nikita Konstantynovskyi, a rangy forward with a ton of upside; and a proven scoring threat and veteran leader with Xander Rice.
Monmouth projects to be immediately more competitive in Year 2 — perhaps even a dark-horse CAA title contender — with father-and-son leading the way.
The pairing is perhaps more fulfilling now, after Xander had the opportunity to develop elsewhere, as the elder Rice explained.
"I always wanted to coach my son," King. "I always wanted to coach Alexander. But when he went through the recruiting process, I thought it was important for our family that he find the best fit for him. And I think he did that."
King Rice's approach was patterned after that of his own father, the late Astor Rice. A 2013 New York Times profile of King Rice details late, great North Carolina coach Dean Smith making his recruiting pitch when King was a Tar Heel prospect in the 1980s.
A key point of emphasis from Smith that mattered most to Astor was that King would be encouraged to make the right educational choices to earn his degree.
"[Astor] was strong about education and pushed me to understand education was the way — not sports," King said. "For me to have my son go to a prestigious university like Bucknell on a basketball scholarship was just incredible."
Now a graduate student, Xander Rice is furthering his education in the Monmouth communications Masters program. He'll continue to develop as a student and as a basketball player, the latter with his lifelong teacher and coach.