5 CAA Women's Basketball Players To Watch In 2023-24
5 CAA Women's Basketball Players To Watch In 2023-24
These breakout players throughout the conference will help shape the 2023-24 Coastal Athletic Association women's basketball season.
Nov 8, 2023
by Kyle Kensing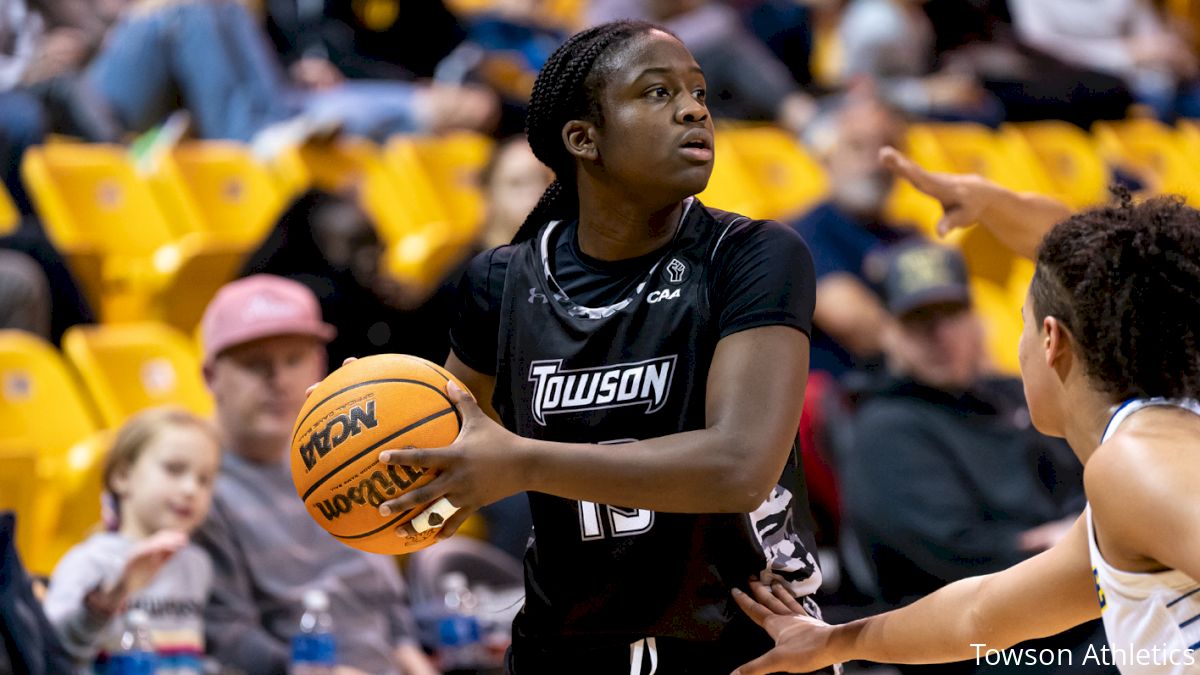 The Coastal Athletic Association is rife with star power at the outset of what promises to be a wide-open 2023-24 season.
But in addition to standouts like preseason Player of the Year Kylie Kornegay-Lucas, last season's freshman phenom Raven Preston and Stony Brook post presence Sherese Pittman, a variety of breakthrough candidates are poised to play key roles in the campaign.
These x-factor players fill assorted roles central to their teams' conference championship and March Madness aspirations, whether it's providing scoring pop, lockdown defense or interior physicality. Keep the following five CAA talents on your radar throughout 2023-24.
Deja Bristol, Forward - Northeastern
2023-24 season🔜

Here's a look back at stats from our first-ever CAA Sixth Player of the Year Deja Bristol‼️

Looking forward to seeing her back on the court!🤩#HowlinHuskies #CAAHoops pic.twitter.com/skpmiTtf4q

— Northeastern Women's Basketball (@GoNUwbasketball) September 15, 2023
A signature of many great x-factor players is that it doesn't matter when they come onto the court so much as they deliver an impact on the final result. Deja Bristol only started two games in 2022-23, but her eight points on 61 percent shooting from the floor and five rebounds per game in a little more than 16 minutes per game provided a profound positive impression the Huskies.
With Northeastern welcoming back All-CAA guards Derin Erdogan and Gemima Motema, the Huskies already boast the kind of backcourt strength capable of contending for a championship. With Bristol looking ready to evolve into a dominant force on the inside with an uptick in playing time — she opened the season with 17 points and 16 rebounds in nearly 28 minutes logged — Northeastern is especially dangerous.
Khari Clark, Forward/Center - Stony Brook
𝗠𝗘𝗘𝗧 𝗧𝗛𝗘 𝗦𝗘𝗔𝗪𝗢𝗟𝗩𝗘𝗦 👋

We're so happy that Khari Clark now calls Stony Brook home ❤️💙

🌊🐺 x #CAAHoops x @khariclarkk pic.twitter.com/kjDHuMQGTt

— Stony Brook Women's Basketball (@StonyBrookWBB) October 18, 2023
Loyola Marymount transfer Khari Clark joins a Stony Brook frontcourt that returned one of the top forwards in the CAA, Sheresse Pittman. The 6-foot-2 Clark was a reliable rim-protector for the Lions, averaging more than a blocked shot per game the previous two seasons.
Clark's outstanding debut for the Seawolves in the 2023-24 season-opening win over Columbia also demonstrated how she can be an important offensive presence to keep defenses honest against Pittman. Clark scored 18 points on 6-of-9 shooting from the floor, giving her a double-double with her 10 rebounds.
Anika McGarity, Guard/Forward - Charleston
College of Charleston heads into 2023-24 building around a veteran backcourt that includes preseason 1st Team All-CAA selection Jada Logan. The attacking Logan's offensive style works well with Anika McGarity providing support from 3-point range.
McGarity shot 38.2 percent on nearly seven 3-point attempts per game a season ago. Her presence as a consistent long-range shooter exploits defenses collapsing on Logan to kick out to the arc off of the dribble.
Alexia Nelson, Guard - Towson
Alexia Nelson is the kind of do-everything guard who can be an x-factor for a team with championship aspirations in a bevy of ways. Towson returns CAA Player of the Year Kylie Kornegay-Lucas, a dynamic scorer from the perimeter, and a career high-50s percent field-goal shooter on the inside with Quinzia Fulmore.
Complementing the Tigers inside-outside duo, Nelson can provide additional scoring punch and showed off just such an ability against her former program, UMBC, in Towson's season-opening win. Her 15 points on 6-of-9 shooting helped set the tone, but Nelson also demonstrated the importance of her playmaking ability with a win-sealing dish in the closing seconds.
Alexia Nelson finds Quinzia Fulmore for the layup!!!!
📺: https://t.co/RaDnreWXo8
📈: https://t.co/VZF9XfyTLu
📻:https://t.co/E1fBVBPF5j #GohTigers x #NCAAWBB pic.twitter.com/z3CLJ5NEc6

— Towson Women's Basketball (@Towson_WBB) November 7, 2023
Nelson can pitch in with her shooting, ball distribution and as a tough on-the-ball defender. She's averaged more than a steal per game each season in her college career.
Grace O'Neill, Guard - Drexel
No team in the CAA lost more statistical output than Drexel with the graduations of veteran guards Keishana Washington, college basketball's most explosive scorer a season ago; and Maura Hendrixson, the terrific table-setting point guard. With the voids left in the Dragons backcourt, returning starter Grace O'Neill is positioned to step up as a leader in all phases.
O'Neill had an impressive freshman season in which she scored seven points per game — tops among all Dragon returners — and shot the team's best 3-point percentage on the second-most attempts. O'Neil was also Drexel's leading rebounder as a first-year guard, most notably averaging two offensive caroms a contest.