2023 St. John's vs Monmouth - Women's
CAA Women's Basketball Standings Predictions & Player of the Year Pick
CAA Women's Basketball Standings Predictions & Player of the Year Pick
After three teams split tied in first a season ago, and a surprise newcomer won the automatic bid to March Madness, the CAA remains wide open in 2023-24.
Nov 8, 2023
by Kyle Kensing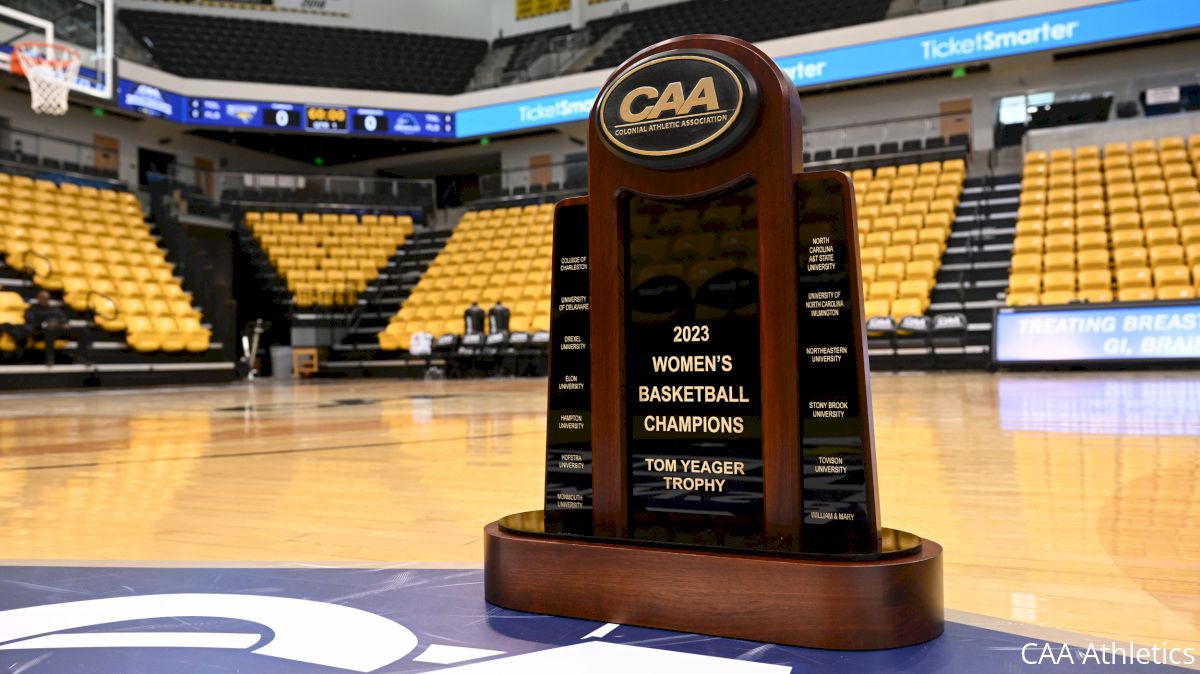 First-year Coastal Athletic Association member Monmouth's run to the NCAA Tournament last March served as a reminder that CAA basketball is wide-open.
The 2023-24 season is no exception. Multiple teams embark on the new campaign with the depth and balance necessary to claim the CAA championship and move on to March Madness.
Before Monmouth shocked the conference with its run through the CAA Championship, the regular-season race finished with three teams tied on top: Drexel, Northeastern and Towson.
Two of the three retain much of their corps from last season, and add key playmakers. The third, Drexel, faces the unknown of life after the supremely talented CAA Player of the Year Keishana Washington graduated.
With the explosive-scoring Washington gone, the CAA is guaranteed a new banner carrier in 2023-24.
CAA Women's Basketball Player of the Year: Kylie Kornegay-Lucas, Towson
Few players anywhere around college basketball can match the versatility of Towson's veteran leader Kylie Kornegay-Lucas. After a promising start to her college career at Virginia, Kornegay-Lucas transferred to Towson and made an immediate splash at CAA Sixth Player of the Year.
Last season, she added CAA Defensive Player of the Year to her trophy case. This year, she's the preseason favorite to claim Player of the Year as her offensive repertoire fast catches up to her defensive prowess. Kornegay-Lucas averaged more than 14 points per game to lead the Tigers a season ago, while also grabbing more than seven rebounds a game, generating more than steals and blocking almost a shot per contest.
She is back as the focal point of an all-around strong Towson lineup coming off a 21-win season last year.
1. Towson
After being stunned in the CAA Championship Game by Monmouth, Towson heads into 2023-24 with reason to be especially motivated. This is an NCAA Tournament-quality team with plenty of talent up and down the roster at multiple positions.
Preseason All-CAA selection Quinzia Fulmore is among the conference's best rebounders, and Alexia Nelson is an electric playmaker at the one. Gabby Scott showed the ability to stretch the floor as a 3-point shooter at times in 2022-23, and could make the leap into a consistent offensive weapon this year.
2. Northeastern
Not many teams can match the one-two perimeter punch Northeastern packs from the duo of Derin Erdogan and Gemima Motema. The pair combined to lead the Huskies at 15 and 12.6 points per game a season ago, with Erdogan shooting a solid 37.4 percent from 3-point range.
The continued development of 2022-23 Sixth Player of the Year Deja Bristol into an All-CAA level performer gives Northeastern the interior presence necessary to set the pace in the CAA championship chase.
3. Stony Brook
Frontcourt play promises to be a decided strength of Stony Brook in 2023-24, as the Seawolves look to claim the CAA title in their second year as league members. Sherese Pittman made a huge splash last season, scoring 13.7 points per game on near-50 percent shooting from the floor. her 8.2 rebounds per game led Stony Brook, and she averaged more than a steal and nearly a block per on the defensive end.
.@sherese__12 ➡️ All-@CAABasketball Second Team 💪

🌊🐺 x #CAAHoops pic.twitter.com/5eZVRBysGB

— Stony Brook Women's Basketball (@StonyBrookWBB) March 7, 2023
Complementing the breakout sensation Pittman this year up front, Loyola Marymount transfer Khari Clark gives opponents further pause when taking shots in the paint. Clark's shot-blocking promises to bolster the Stony Brook defense inside, while Gigi Gonzalez's presence keys perimeter defense. Gonzalez is a standout all-around playmaker able to score and facilitate on offense while creating turnovers on defense.
4. College of Charleston
The Cougars made quite the impression in their 2023-24 season opener, blasting Pfeiffer in a record-setting 117-30 blowout. The rout sets the tone for College of Charleston in the season to come, as it was the Cougars outstanding swing player Jada Logan leading the way.
Logan hit four 3-pointers en route to 29 points in the opener, continuing on her 18-point per game output from a season ago. Logan's return lays the foundation for a Charleston team that finished just 11-18 in 2022-23, but has a bevy of talent that gained invaluable experience as young contributors.
5. Delaware
One of the nation's top shot-blockers and Delaware's leading scorer a season ago, Klarke Sconiers, leads the Blue Hens into 2023-24 as they look to return to the CAA mountaintop.
Sarah Jenkins took over as head coach last season and was faced with considerable roster turnover from a 2021-22 Delaware team that went 24-8 behind the sensational Jasmine Dickey. Despite losing one of the best players in recent CAA history, the Blue Hens reached .500 in league play under Jenkins.
Delaware faces more roster turnover this year, with the top three scorers behind Sconiers all gone. However, the return of Tara Cousins gives the Blue Hens a high-potential perimeter scorer and an aggressive on-ball defender.
6. North Carolina A&T
Replacing Jazmin Harris, whose 13.2 points and 7.3 rebounds per game had North Carolina A&T in contention in the CAA last year, is a tall task for the 2023-24 Aggies. However, A&T welcomes back Maleia Bracone and Jordyn Dorsey, a duo that gives this year's Aggies a potent one-two combination from the perimeter.
Maleia Bracone game high 29pts to lead North Carolina A&T State University WBB over Hampton University 75-70 OTpic.twitter.com/u1W8iTurpT

— HBCU Premier Sports & More (@HBCUSports1) January 22, 2023
Bracone and Dorsey averaged nearly 26 points per game combined, and were the Aggies leading facilitators with 100 and 99 assists. Should someone step up to successfully fill the interior void Harris' exit leaves, A&T is a dark horse to watch.
7. Monmouth
Last year's CAA representative in the NCAA Tournament, Monmouth was a surprise champion that relied on its defense down the stretch. The Hawks head into 2023-24 still with questions on offense, evident in a 56-51 season-opening loss at Rutgers.
However, holding the Big Ten member Scarlet Knights to 56 suggests Monmouth could again find ways to grind its way to the top of the CAA.
An early-season home game with St. John's could be a huge potential building block for Monmouth to turn its postseason CAA championship into regular-season title contention.
8. Campbell
First-year CAA member Campbell arrives coming off a 16-15 season in its last year as a Big South Conference member. The Camels kicked off the CAA era with a 108-37 blowout of North Carolina Wesleyan that showcased the variety of returning contributors leading the way in 2023-24.
Enjoy some highlights from our season opener!

🔸 Christabel Ezumah - 16 pts, 8-8 shooting, 6 rebs
🔸 Sarah Hammack Fitzgerald - 14 pts, 5 rebs, 2 stls
🔸 Jessica Woods - 13 pts, 7 asts, 3 rebs
🔸 Hadleigh Dill - 13 pts, 3 rebs#SweatAndServe | #RollHumps 🐪🏀 pic.twitter.com/9K0k2O16c1

— Campbell WBB (@GoCamelsWBB) November 8, 2023
Shy Tuelle and Christabel Ezumah, Campbell's top two scorers last year at 13 and 10.6 points per game, are All-CAA caliber performers. Ezumah is a force on the boards, having averaged just shy of a double-double per game in 2022-23, and she blocked nearly two blocks a contest.
9. William & Mary
A new-look roster at William & Mary will look to match last season's 18-win mark and finish just beyond first place of the CAA. Gone from the 2022-23 Tribe lineup are Riley Casey, Sydney Wagner and Bre Bellamy, who combined to average almost 42 of William & Mary's 66.3 points per game.
Rebekah Frisby-Smith is the top returning scorer at 7.1 a contest, and was second on last year's team with 5.4 rebounds per game. Frisby-Smith is also an excellent defender and could help set the tone for the Tribe on both sides of the ball.
10. Elon
Although 2022-23 was a trying season for Elon basketball, the Phoenix saw plenty of promise from frshman Raven Preston. Preston scored in double-figures in 12 of Elon's final 14 games, and finished the year leading the squad in scoring at 12.7 points per game. Preston was also the Phoenix's leading rebounder with 8.1 per.
"It's good defense, but I'm going to show you better offense." 🗣🗣🗣

10 points & 10 rebounds for @ElonWBasketball's Raven Preston#CAAHoops on @FloHoops:
📺 https://t.co/wNpIZzBZpS pic.twitter.com/E8Cpv9mLUx

— CAA Basketball (@CAABasketball) December 31, 2022
Along with forward Ajia James, a capable stretch-four who shot the 3-pointer with some consistency in 2022-23, Elon could defy expectations in 2023-24.
11. Drexel
No team faces more significant turnover than Drexel with the departure of CAA Player of the Year Keishana Washington. The Dragons must also replace excellent point guard Maura Hendrixson, whose playmaking was critical to driving Drexel to the top of the CAA regular-season standings.
Kylie Lavelle, the only other double-figure point-per-game scorer from 2022-23, is also gone. Grace O'Neill, a consistent 3-point shooter, leads the returning Dragons. Interior presence Hetta Saatman shot almost 55 percent from the floor and put up 5.7 points per game a season ago.
12. Hofstra
The Pride limped to a 4-14 CAA finish in 2022-23 with a 58.2-point per game offense. Hofstra will try to reverse course in 2023-24 replacing one of two double-figure point-per-game scorers, Brandy Thomas, who posted 14.1 points a contest.
Sorelle Ineza is Hofstra's top returning scorer at 10 points per game, while center Zyheima Swint put up 8.1 points and seven rebounds a game in 2022-23.
13. Hampton
Camryn Hill is back from a 10.5-point per game 2022-23 campaign, providing Hampton with firepower primarily in a reserve role. Hill's the most experienced Pirate back in the mix for 2023-24 with a mostly new-look roster around her.
Young players like center Ariana Wilkes and freshman Arlisha Boston should get plenty of opportunity to contribute and develop as the season goes along.
14. UNC Wilmington
UNC Wilmington went 5-25 in 2022-23 and finished at the bottom of the CAA going 2-16. The good news for the Seahawks is that there's little room to go anywhere but up.
It's a mostly different lineup, however, with the top three scorers from a season ago gone. Lexi Jackson and Britany Range both saw significant minutes in 2022-23 and should be cornerstones for the 2023-24 season.