2023 Vermont vs Providence - Women's
BIG EAST Women's Basketball: Final Standing And Award Predictions
BIG EAST Women's Basketball: Final Standing And Award Predictions
Here's all you need to know about the BIG EAST women's basketball season, including standing and award predictions, and previews on FloHoops.
Nov 10, 2023
by Briar Napier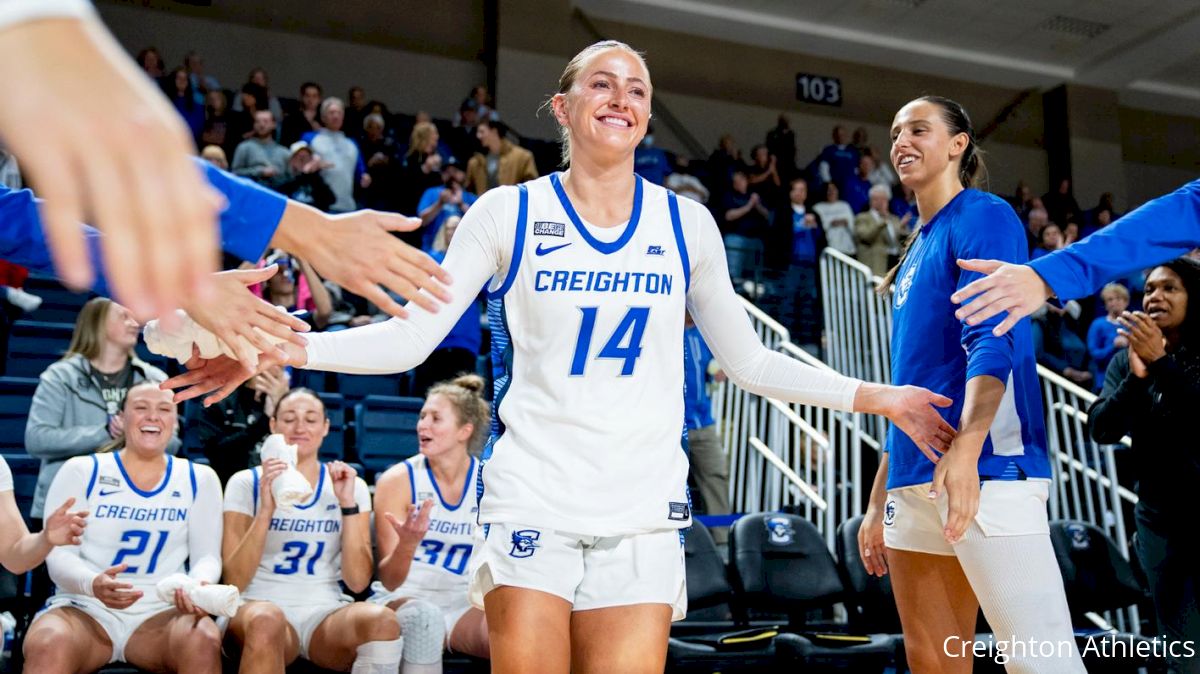 Welcome to BIG EAST basketball.
One of the finest women's hoops leagues in the country tipped off yet another season this week, and once again, some of the best players across America will compete night in and night-out within it.
Women's basketball in the BIG EAST is often full of its share of twists and turns and surprise stars each season, making a predictions list … well, just about unpredictable. But if you're stumbling upon BIG EAST basketball for the first time or just want to get up to speed after a college hoops hibernation, that's what FloHoops' outlook below is for.
League games — most of which you can find throughout the season on FloHoops — won't get going for some time. But as the nonconference slates get underway and the grind toward the NCAA Tournament trudges on, the hoops are only going to get better and better as the temperatures grow colder and the in-conference showdowns become more and more frequent.
And now that you're here, stick around and stay awhile while you're at it.
Here's all you need to know about the BIG EAST women's basketball season, including standing and award predictions, previews, and insight ahead of all of the conference action on FloHoops:
2023 BIG EAST WBB Final Standings Predictions
11. Xavier
New coach Billi Chambers steps into the fire after spending a decade leading Iona, taking the Gaels to two NCAA Tournaments. She has an uphill battle on her hands in Cincinnati; the Musketeers didn't win a single BIG EAST game last year and didn't win a game at all after Dec. 9. There is some proven production, like returning leading scorer Mackayla Scarlett (10.9 points per game), but Chambers may go through some growing pains before XU begins to climb up the league ladder.
10. Providence
The Friars also have a first-year coach in Erin Batth, formerly on staff at Michigan and NC State, to go along with four returning starters. Still, Providence's 4-16 record in BIG EAST play a season ago wasn't great, though it did have bright spots like a 79-75 win over Creighton in early January. Returners Olivia Olsen and Grace Efosa looked fantastic in the Friars' season-opening win against Hampton this week as they combined to score 46 points, but leading scorer Janai Crooms' graduation does hurt.
The Erin Batth Era has officially begun.@CoachErinBatth | #BIGEASTwbb pic.twitter.com/YkZntO2BhP

— FloHoops (@FloHoops) November 8, 2023
9. Georgetown
Tragedy struck the Hoyas' program shortly before the season began as coach Tasha Butts, hired on from Georgia Tech in the offseason, died after a two-year battle with breast cancer. Darnell Haney, formerly the coach of Jacksonville, is now the interim head coach as GU looks ahead at where to go from here. Senior Kelsey Ransom is one of the league's most underrated guards (12.6 points, 6.6 rebounds, 2.6 steals per game last year), but keep an eye on Wagner grad transfer Alex Cowan (14.0 points per game with the Seahawks in 2022-23) in the backcourt, too.
8. Butler
The Bulldogs could easily outperform this projection and fly around the top half of the league standings after what coach Austin Parkinson did in his first season with Butler last year, turning a 1-win team into an 11-win squad with six victories in BIG EAST play. Grad transfer Rachel Kent played under Parkinson at IUPUI two years ago and was a First Team All-Horizon League selection for the Jaguars last season, and she should pair nicely with key returners like Sydney Jaynes and Caroline Strande.
Coast 2 Coast #4us pic.twitter.com/MKgFhBHrWB

— Butler Women's Basketball (@ButlerUWBB) November 2, 2023
7. St. John's
St. John's was the surprise squad of the 2022-23 BIG EAST women's hoops season, winning its first 13 games as the Red Storm earned a bid back to the NCAA tourney after a seven-year absence. Joe Tartamella deservedly earned the league's Coach of the Year award for a job well done, but with a lot of departures from that team to replace, expect a bit of a return to Earth for St. John's. Forward Jillian Archer is the only starter back as there will likely have to be breakout players on the roster for the Red Storm to get back to the 20-win mark once again. Last year's BIG EAST Sixth-Woman of the Year, Unique Drake (27 points in a win this week over Long Island), might be one of those players ready to make the leap.
6. DePaul
Coach Doug Bruno's teams are usually fast, furious, and high-scoring, but a lot of the fuel has been taken from the Blue Demons' engine. All-American Aneesah Morrow jumped ship and transferred to national champion LSU, while double-digit scorer Darrione Rogers is now at Mississippi State, meaning DePaul has some massive holes to fill. Guard Anaya Peoples should at least have an expanded role running the show after 9.5 points per game last season, with her 20 points and 13 rebounds in the Blue Demons' win over Western Michigan on Monday a very good sign.
Too nice with it @sheball5 😎

📺: @FloHoops @DePaulWBBHoops | #BIGEASTwbb
pic.twitter.com/64d6XzD1wH

— BIG EAST WBB (@BIGEASTWBB) November 10, 2023
5. Seton Hall
The Pirates are kind of the wild card of the BIG EAST this season, as they usually have been under coach Anthony Bozzella in the decade he's now been in charge. Still, players now gone from the program like Lauren Park-Lane and Sidney Cooks, who averaged around 36 points per game between them last season, don't grow on trees. A career year for grad student and guard/forward Azana Baines could be in the cards, however, especially considering how better she got as the season went along, shooting 56.1% from the field in conference play. Northern Illinois grad transfer A'Jah Davis, a two-time All-Mid-American Conference First Team pick, was a double-double machine at center (16.2 points, 12.4 rebounds per game in 2022-23) for the Huskies and could easily finish as the BIG EAST's best newcomer at season's end.
4. Villanova
No Maddy Siegrist, no problems? The two-time BIG EAST Player of the Year, the league's all-time leading scorer, and current Dallas Wing took 'Nova to 30 wins and a trip to the Sweet 16, so yes, it's safe to say that the Wildcats are going to miss her. But Villanova isn't suddenly going to become a BIG EAST basement-dweller without her, either. Junior Lucy Olsen was a great second-scoring option (12.4 points per game last year) and will be tasked with leading the offense most nights as Christina Dalce (who had a double-double in an exhibition win over Jefferson last week) is one of the conference's best forwards on top of it.
𝐎𝐍𝐄. 𝐖𝐄𝐄𝐊. pic.twitter.com/x9NBWXwEgE

— Villanova WBB (@novawbb) November 3, 2023
3. Marquette
Coach Megan Duffy has won at least 13 BIG EAST games in each of her four seasons in charge of the Golden Eagles, making the NCAA tourney twice in the past three years. Can that stretch of success continue, even after the graduation of All-BIG EAST First Team nod Chloe Marotta on the low block? Early signs point to yes. Returners Jordan King and Liza Karlen were a great one-two guard-forward punch already, but Marquette made it a trio of standouts when it snagged Lehigh grad transfer and guard/forward Frannie Hottinger from the portal after she averaged over 20 points per game for the Mountain Hawks last season, winning the Patriot League's Player of the Year award.
2. Creighton
Only Creighton and UConn had multiple players selected to the Preseason All-BIG EAST Team, and with the core group from one of the greatest stretches in program history back once again, the Bluejays are going to have a squad which may push the Huskies to their limit. Lauren Jensen, Morgan Maly, and Emma Ronsiek are just about as good of a trio as it gets in the BIG EAST, and Creighton as a whole shot 37% from 3-point range while holding opponents to a 27.4% clip from beyond the arc in the meantime. Creighton at minimum should reach its third straight NCAA Tournament; can it unseat UConn atop the BIG EAST, too?
Jays are feasting!!

Lunchtime hoops on @FloHoops@CreightonWBB | #BIGEASTwbb
pic.twitter.com/2gR0B70RHJ

— BIG EAST WBB (@BIGEASTWBB) November 10, 2023
1. UConn
Surprise, surprise. UConn hasn't lost a conference regular season title since 2013 and that streak isn't stopping now. A healthy Paige Bueckers means trouble for the rest of the conference (and, arguably, the rest of the country) as the oft-injured Huskies sputtered without her on the floor last season. Aaliyah Edwards' breakout season in her absence (16.6 points, 9.0 rebounds per game) down low, however, gives UConn another fantastic, proven scoring option to turn to if defenses hone in on Bueckers. The Huskies should take care of business in the BIG EAST, as they so often do, but their biggest goal is to get back to the women's basketball mountaintop as national champions.
2023-2024 BIG EAST Women's Basketball Award Winner Predictions
Sixth-Woman of the Year: Aubrey Griffin, UConn
This would be a bit ironic considering that Griffin started 30 games last season, but that was more due to the Huskies' horrible injury luck and staying healthy than anything else. It's hard to see UConn's current loaded starting five changing much without someone missing significant time, so Griffin's move to being one of coach Geno Auriemma's first players off of the bench may make her even more dangerous following 11.3 points per game last season.
Most Improved Player: Anaya Peoples, DePaul
DePaul likes to put a ton of points on the scoreboard, yet is without many of the players who were the best on the squad at doing that a season ago. That opens the door for a Peoples explosion as the Blue Demons' primary ball-handler and someone who's used to playing in the Blue Demons' offense already. Plus, she's an elite defender as is anyway; her 2.1 steals per game last season ranked fourth in the BIG EAST.
And the BUCKET😤@sheball5 x @DePaulWBBHoops pic.twitter.com/rixqTHzj0N

— FOX College Hoops (@CBBonFOX) March 5, 2023
Defensive Player of the Year: Christina Dalce, Villanova
A rock down low for the Wildcats, Dalce started all 37 games in 2022-23, and even though she played under 24 minutes per night she still set the 'Nova all-time single-season blocks record with 86 swats — a 2.3 blocks per game rate that was No. 1 in the BIG EAST. She'll need to keep her fouls down as Dalce had over 100 whistles called on her last season, but the rapidly-improving junior will be entrusted to help give the Wildcats a spark without Siegrist.
Freshman of the Year: KK Arnold, UConn
Already tabbed by most to be Bueckers' (and Nika Muhl's) eventual successor in a long, ever-growing list of outstanding UConn point guards, Arnold — the No. 6 recruit in America — will probably be seeing most of her action off of the bench this season, but the Preseason Freshman of the Year is already one of the Huskies' best passers and fastest players. UConn churns out superstar guards on a seemingly routine basis, so even if Arnold isn't a major name right away, she will likely be in due time.
Coach of the Year: Jim Flanery, Creighton
Now in his 22nd season in Omaha, Flanery has somewhat surprisingly never been named a league Coach of the Year in either the Missouri Valley Conference (which Creighton was a member of until 2013) or the BIG EAST. That changes this season. Barring disaster, the Bluejays should be in line to make it three consecutive NCAA Tournament appearances for the first time in program history as they're the clear favorite to be the "best of the rest" outside of UConn — and do not be shocked if Creighton makes the title race a tough one for the Huskies down the stretch.
Player of the Year: Paige Bueckers, UConn
Let's not overthink this. As long as Bueckers stays healthy and there's no regression following her highly-publicized knee injury which forced her to miss the entirety of last season, she won't just be the best player in the BIG EAST, but also one of the best in all of America. The 2021 league Player of the Year is a bonafide superstar and one of the brightest names in college basketball, and after some rough years (by its lofty standards) at UConn with her recovering on the bench, a clean bill of health on her end should get the Huskies right back into the national title picture.
BUECKERS IS BACK 🏀 #BEmediaday pic.twitter.com/GIylpyf928

— FloHoops (@FloHoops) October 24, 2023