Nov. 13 Women's AP Top 25: Colorado Stampedes To No. 5 After Beating LSU
Nov. 13 Women's AP Top 25: Colorado Stampedes To No. 5 After Beating LSU
Colorado and North Carolina State scored monumental opening-week wins over LSU and UConn to jump start a thrilling 2023-24 season reflected in the polls.
Nov 13, 2023
by Kyle Kensing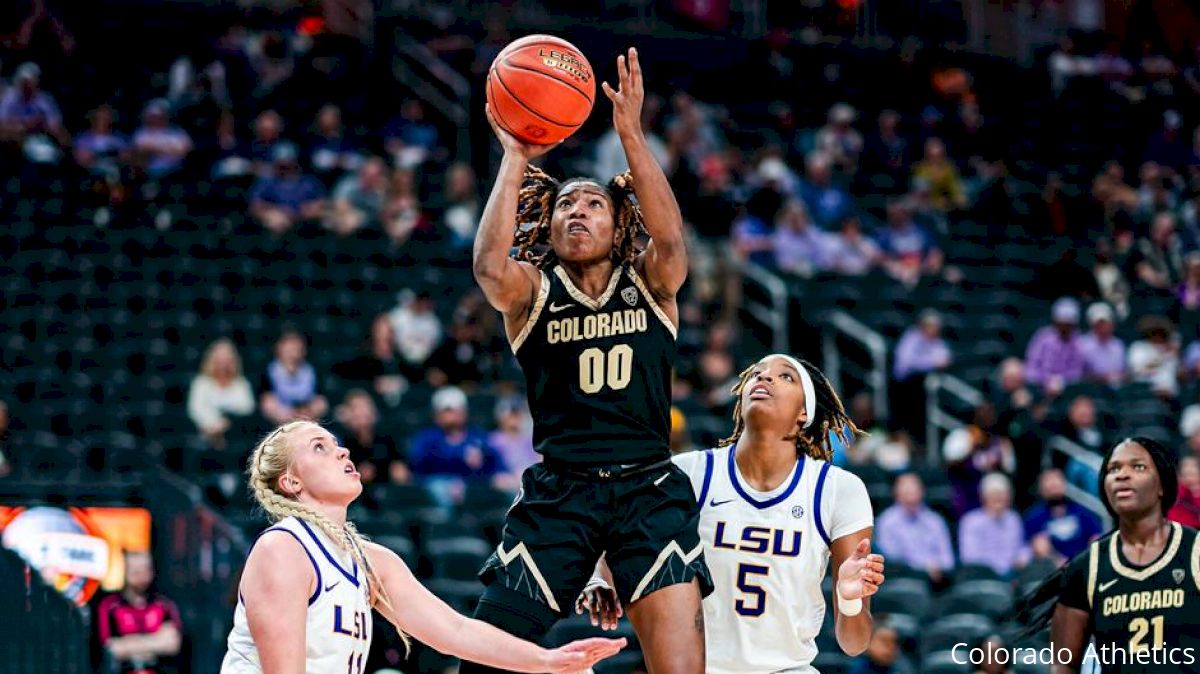 A season-opening shocker in which Colorado dominated top-ranked defending national champion LSU set the tone for immediate upheaval in the Associated Press Top 25.
LSU came into this season an easy choice for No. 1, welcoming back media sensation and national Player of the Year-caliber forward Angel Reese to join one of the most impressive transfer classes ever signed. With the additions of guards Hailey Van Lith from Louisville and Aneesah Morrow from DePaul, the question was less if the Tigers should be No. 1 and more who could knock them from that perch?
The Buffs answered that emphatically.
Frida Formann's 27 points, 24 from Aaronette Vonleh and a strong all-around showing of 19 points, eight rebounds, six assists and three steals from Jaylyn Sherrod delivered a three-punch combo that left LSU on the mat in Las Vegas.
The 92-78 launched Colorado from No. 20 to No. 5 in the AP Top 25, and sent a resounding message that the 2023-24 season will be wide-open — and the echoes were heard throughout the week all over college basketball.
Hosting perennial power and second-ranked UConn to end the season's first week, NC State dominated after digging an initial hole to win, 92-81.
"When you fall down, give up 25 points in the first quarte against a great team like that, it would've been real easy to say, 'Oh wow, we're just overwhelmed here,'" Wolf Pack coach Wes Moore said in the postgame press conference. "But they kept their composure, kept fighting. ...We talked about how we had to take care of the ball and limit mistakes because when you make a mistake against [UConn], they make buckets."
And, speaking of buckets, this was a UConn team in just its second game with Paige "Buckets" Bueckers back in the lineup. She didn't disappoint with 27 points, but Saniya Rivers' 33 points for NC State stole the show.
The Pack jumped from unranked to No. 14. Coincidentally, they meet Colorado later this month at the Paradise Jam in a matchup that takes on far greater significance now.
Rounding out an opening week rife with top-10 upsets, USC tipped off the campaign with an 83-74 defeat of then-No. 7 Ohio State in Las Vegas. In perhaps the wildest game of a wild week, USC took a commanding lead at halftime with a 31-10 second quarter, only to fall behind when the Buckeyes answered with a 30-10 third quarter.
JuJu Watkins' outstanding fourth quarter powered the Trojans to another ally and ultimately the win. She scored seven of her 32 points in the final frame and dished two of her five assists in the decisive period.
Beating such a highly ranked opponent to tip off the season wasn't the highlight of USC's week, however. A game later in the Trojans' home-opening rout of Florida Gulf Coast, Aaliyah Gales made her debut after a long, courageous comeback to basketball after being shot multiple times in a random act of violence in 2022.
Gales' inspiring journey is the biggest win of the season.
As for her Trojans, they moved to No. 10 in the AP Top 25. USC is one of five Pac-12 Conference teams ranked in the top 10 as of Nov. 13, for of which check in at Nos. 3 through 6.
The following is the complete AP Top 25 for the week of Nov. 13:
1. South Carolina
Record: 2-0
Previous: No. 6
2. Iowa
Record: 3-0
Previous: No. 3
3. UCLA
Record: 3-0
Previous: No. 4
4. Utah
Record: 2-0
Previous: No. 5
5. Colorado
Record: 3-0
Previous: No. 20
6. Stanford
Record: 2-0
Previous: No. 15
7. LSU
Record: 2-1
Previous: No. 1
8. UConn
Record: 1-1
Previous: No. 2
9. Virginia Tech
Record: 1-1
Previous: No. 8
10. USC
Record: 2-0
Previous: No. 21
11. Texas
Record: 2-0
Previous: No. 13
12. Florida State
Record: 2-0
Previous: No. 18
13. Ohio State
Record: 1-1
Previous: No. 7
14. NC State
Record: 2-0
Previous: NR
15. Tennessee
Record: 1-1
Previous: No. 11
16. Notre Dame
Record: 1-1
Previous: No. 10
17. North Carolina
Record: 2-0
Previous: No. 16
18. Indiana
Record: 1-1
Previous: No. 9
19. Louisville
Record: 2-0
Previous: No. 17
20. Maryland
Record: 1-1
Previous: No. 14
21. Baylor
Record: 1-0
Previous: No. 19
22. Creighton
Record: 2-0
Previous: NR
23. Ole Miss
Record: 1-1
Previous: No. 12
24. Washington State
Record: 3-0
Previous: NR
25. Oklahoma
Record: 3-0
Previous: NR