BIG EAST Women's Basketball
Paige Bueckers, Lauren Jensen Among BIG EAST WBB Players To Watch
Paige Bueckers, Lauren Jensen Among BIG EAST WBB Players To Watch
Five standout players from the BIG EAST to watch out for as the women's college basketball season gets rolling on FloHoops.
Nov 13, 2023
by Briar Napier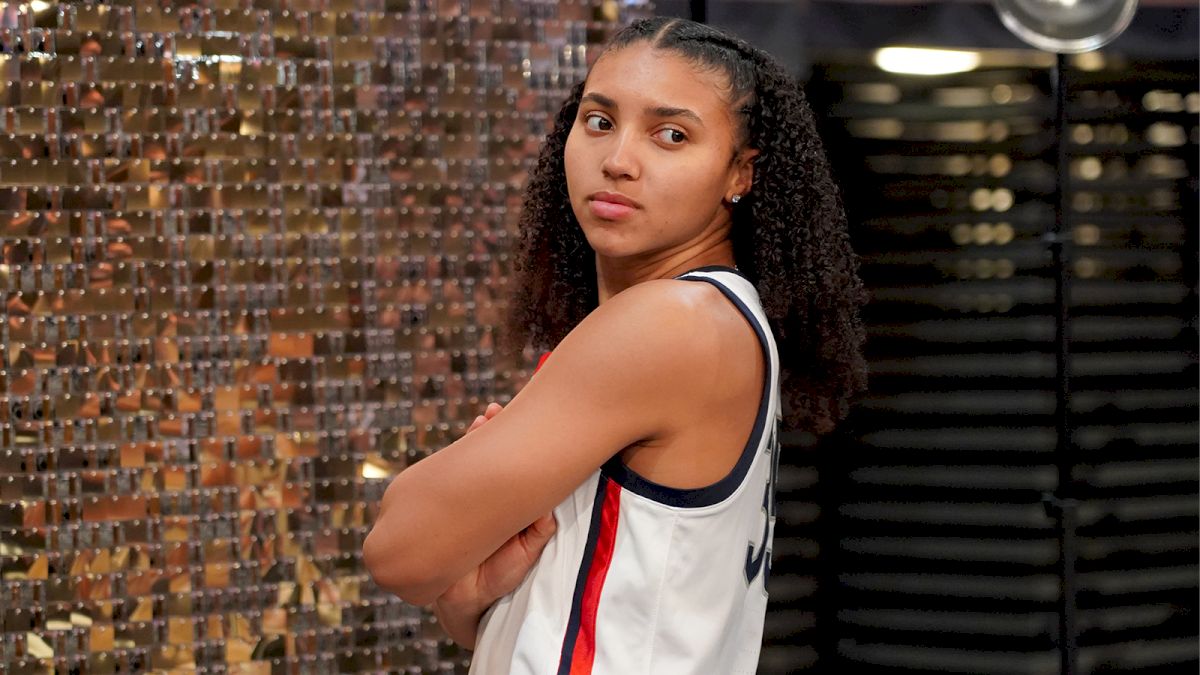 If you're a BIG EAST women's basketball fan, you've waited a long time for this week.
Early November means the tipoff to another college hoops season, and after a fantastic 2022-23 season in the BIG EAST in which multiple programs made the NCAA Tournament and countless incredible performances dotted the league landscape, the offseason wait especially seemed as if it was dragging on.
But for those who stuck with it and kept patient, here's your reward.
The BIG EAST is one of the best and most historic conferences in all of college basketball for all the epic rivalries, storied programs, and standout players throughout the league. There will undoubtedly be names that break through their ceilings and become stars over the next few months, but if you're looking for a place to start and a set of difference-makers to look forward to right away, look no further than this list.
Here are five standouts from the BIG EAST to watch out for as the college basketball season gets rolling, with many of the league's games being streamed all season long only on FloHoops:
Paige Bueckers, G, R-Jr., UConn
An obvious choice for good reason. Bueckers was responsible for arguably the greatest freshman season produced by a college basketball player ever in 2020-21, with the Minnesotan winning just about every award she possibly could have that season as she rocketed to superstardom for the Huskies.
Less than a month into her sophomore campaign, however, she suffered a knee injury in early December which sidelined her for nearly three months — an absence that UConn felt heavily as the Huskies temporarily slipped out of the top 10 of the Associated Press Top 25 for the first time since 2005. However, it was the injury Bueckers picked up before her junior season — a torn ACL suffered during a summer pickup game — which especially showed how much she meant to UConn's success as it failed to reach the Final Four for the first time in 15 years last season.
Fully cleared and ready to roll as a redshirt junior, Bueckers will first and foremost be hoping for a clean bill of health again, but secondly will be looking to reclaim her and UConn's thrones atop the women's college hoops universe.
The Preseason All-American and BIG EAST Preseason Player of the Year started in the Huskies' season-opening rout of Dayton on Wednesday and had a short line of work, scoring eight points and bringing down seven rebounds in 21 minutes, but UConn's clash with NC State on Sunday in Raleigh should tell much more on just how much Bueckers is back up to speed.
It was no surprise when @paigebueckers1 was named 2023 @BIGEASTWBB Preseason Player of The Year.

But can she further stamp her @UConnWBB legacy during her return year? 🤔https://t.co/mAMLEwDZJA

— FloHoops (@FloHoops) October 24, 2023
KK Arnold, G, Fr., UConn
Stop us if you've heard this before — UConn has brought in one of the top freshman recruits in the country and she should be a major part of the roster right away. Geno Auriemma is a master at turning budding standouts into world-beating stars, and his latest challenge will be developing the 5-foot-9 Wisconsinite into yet another UConn bucket-getter.
ESPN's No. 6 recruit in the 2023 class, Arnold twice won the Wisconsin Gatorade Player of the Year and scored nearly 2,500 points in her high school career as a highly-touted point guard, likely seeing her learn under the tutelage of veterans Bueckers and Nika Muhl in the backcourt before being handed the reigns as the main ball-handler later on in her college career.
Without Buckers in the lineup for UConn's three-game European tour, however, Arnold frequently took the keys to the offense and went wild. Though the opponents that the Huskies faced abroad were likely nowhere near the quality that they'll see most nights in the BIG EAST this season, Arnold's average scoring numbers above 13 points per game were impressive for someone being exposed to the speed and complexity of a college offense for the first time.
She played 19 minutes off of the bench in her official college debut Wednesday and showcased her dynamic distribution skills, notching eight points with seven assists, and the Preseason Freshman of the Year in the BIG EAST should see her role and importance continue to grow while her skillset continues to thrive as the season goes along.
KK Arnold's first career points as a Husky! pic.twitter.com/Ss3AsgN9JS

— UConn Women's Basketball (@UConnWBB) November 9, 2023
Lauren Jensen, G, Sr., Creighton
The only team not named UConn to be ranked in the first AP Poll of the season, No. 22 Creighton on an extended list of players to watch would probably have multiple names worth checking out like senior guard/forward Morgan Maly and senior forward Emma Ronsiek. But if only one of those names can make the cut, it's Jensen, the leader of the Bluejays' efficient and effective backcourt.
It was a career year for the Minnesota native in 2022-23 as she progressed even further after capturing the BIG EAST's Most Improved Player award in her sophomore campaign, Jensen's first in Omaha after transferring in after a year at Iowa.
During her junior season, Jensen averaged 16.1 points and 3.5 assists per game (both career highs) to be named to the All-BIG EAST First Team as a member of the soaring Bluejays, who earned a No. 6 seed — the program's highest ever — in the 2023 NCAA Tournament. Few teams in the country were better at taking care of the basketball than Creighton, which had just 11.7 turnovers per game last season, and Jensen's sure hands had a lot to do with that number as the Bluejays often peppered opponents with great looks and high-percentage attempts.
Creighton's season opener against North Dakota State on Monday, a 75-52 Bluejays rout, indicated more of the same is probably coming this time around; Jensen popped off for a game-high 23 points on 10-for-15 shooting (including 10 for 11 on 2-pointers) in just 24 minutes of action against the Bison in Sioux Falls, South Dakota, 15 of which came in the second half in a showcase that revealed just how hot Jensen can get on the floor.
Back to back steals + assists for Jensen as the lead grows 💰#GoJays pic.twitter.com/wYyCNy1MOF

— Creighton Women's Basketball (@CreightonWBB) November 10, 2023
Lucy Olsen, G, Jr., Villanova
How in the world do you begin to succeed Maddy Siegrist? Short answer — you can't.
The two-time All-American and the BIG EAST's all-time leading scorer became a Wildcats icon as she smashed school and conference records left and right and took 'Nova to the Sweet 16 in last year's tourney for just the second time in program history.
Siegrist (now with the Dallas Wings) deservedly received most of the attention and accolades on the Wildcats' squad from a season ago, but playing second fiddle around her was a very talented sophomore in Olsen. She averaged a somewhat quiet 12.4 points per game in 2022-23, a big leap from her freshman campaign (7.0 points) and an effort that saw her be named to the All-BIG EAST Second Team at the regular season's end.
A ginormous hole in production has now opened up in Villanova's lineup, however, and if the Wildcats want to get anywhere near the heights they reached in the Siegrist era anytime soon, Olsen will likely have to take the initiative — and be given opportunities with help from those on the court around her — to become a night-in, night-out top scoring option that 'Nova can rely on for buckets.
Siegrist is among as immediately irreplaceable as a player as it gets, though as Olsen is a strong asset who can score, pass (4.4 assists per game last year) and defend (1.4 steals per game), it's not as if the Wildcats will be completely helpless without their program's greatest-ever player anymore. In fact, with that in mind, they might just surprise some people in the BIG EAST this season.
🔵Back-to-back 20-point outings
⚪Career-high 24 points against Oregon State

First appearance on the @BIGEAST Weekly Honor Roll for @LucyOlsenbball! #GoNova pic.twitter.com/BCoxaGBjxV

— Villanova WBB (@novawbb) November 13, 2023
Jordan King, G, Sr., Marquette
It's been a gradual rise for King over the years at Marquette, all the way to where she had a true breakout season last year as the Golden Eagles' leader in points, assists, steals, and 3-point percentage to earn her first All-BIG EAST First Team selection.
Now a fifth-year senior for a program that has now made five NCAA tourney appearances in its past six tries, King is as entertaining as it can get at times for what should be another strong Marquette team picked to finish third in the BIG EAST by the conference's coaches. She scored at least 20 points 11 times and at least 30 twice — her career high of 31 was reached in a BIG EAST win over Providence in January — as King helped the Golden Eagles achieve big-time milestones, like beating UConn for the first time in February and earning a No. 9 seed in the NCAA Tournament.
Her tipoff to the current season largely went to plan in Marquette's 84-51 victory Monday against UT Martin; King scored 14 as one of six Golden Eagles in double figures, with her output done in just 21 minutes as she was saddled with four personal fouls.
👑 @_jkinggg_ taking over as the Golden Eagles head to the 4th!

Watch on @FloHoops @MarquetteWBB | #BIGEASTwbb
pic.twitter.com/Dav2dALutL

— BIG EAST WBB (@BIGEASTWBB) November 11, 2023