Skills Breakdown - Oregon Guard Tyler Dorsey
Skills Breakdown - Oregon Guard Tyler Dorsey
by Dane Carbaugh Tyler Dorsey has never been more important for the Oregon Ducks. News came on Jan. 7 that senior Dylan Ennis was out for the year after re-
Jan 10, 2016
by Brett Pickert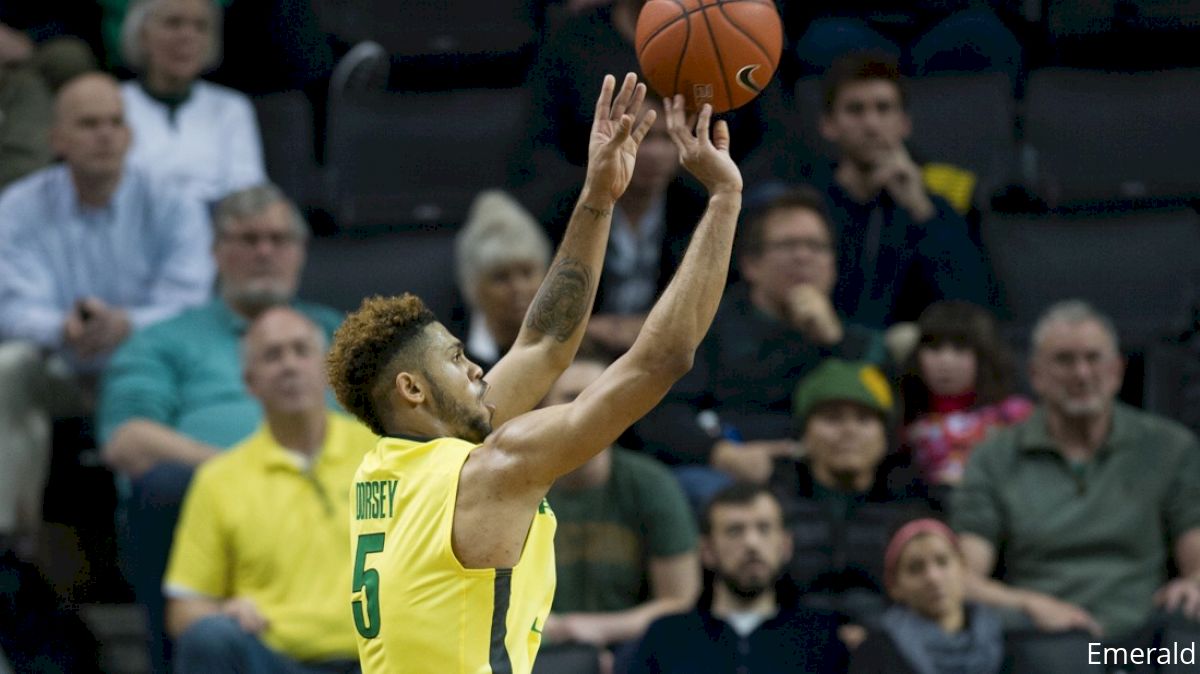 by Dane Carbaugh
Tyler Dorsey has never been more important for the Oregon Ducks. News came on Jan. 7 that senior Dylan Ennis was out for the year after re-aggravating a foot injury that kept him out at the beginning of the season.
Dorsey, a 5-star recruit out of Los Angeles, is Oregon's second-leading scorer and will now be looked upon to carry the Ducks into the NCAA Tournament along with Dillon Brooks, Elgin Cook, Dewayne Benjamin and Chris Boucher.
For the uninformed, Dorsey's arrival in Eugene was no small feat. The 18-year-old has been on national scouting lists since before high school, and fielded offers from top programs across the country. Originally committed to Arizona, Dorsey flipped to Oregon in February of 2015.
His impact this season has been stark. Dorsey is shooting 48 percent from the field, 49 percent from 3-point range and is a solid passing and rebounding combo wing.
Dorsey's first half of the 2015-16 season has set the stage for a successful run at Oregon. Let's take a look at the skill set that makes him so impactful in the Conference of Champions.
Passing
Despite his reputation as a scorer and a long-distance shooter, Dorsey is unafraid to move the ball in the chain with his teammates. He's hardly a ball-stopper, save for against tougher opponents when his isolation instincts take over.
That's not to say he's merely a cog in the team offense. Dorsey shows the ability to find unique passing lanes that surprise even astute viewers to the college game.
In the example above, Dorsey runs a simple left-to-right pick and roll with Jordan Bell.
Alabama's Jimmie Taylor is in ICE off the pick, meaning he's sagging back trying to prevent Dorsey from penetrating into the lane.
Thanks to Dorsey's reputation as a shooter, both Taylor and the trailing Retin Obasohan try to close on the Oregon guard as he rounds the corner.
Dorsey gives the Crimson Tide a two-footed, two-handed pump fake, which causes both players leave their feet and jump to the left side of the lane.
With Bell cutting to the basket, Dorsey passes around and to the right of the lane in order to get him the ball. It's not textbook but it gets the job done.
Dorsey sets up his teammates through awkward-but-inventive passing lanes with frequency. Sometimes he tries to do too much, winding up unbalanced and turning the ball over to try and find these windows of opportunity. But for the most part, Dorsey's vision does him credit as an expandable strength.
Old man game
There's no better way to categorize this part of Dorsey's game. There's a part of him that likes to drive like an old cat at the YMCA, and that's a good thing.
Let's explain: Even as a high schooler, Dorsey wasn't touted for his ability to blow by guys so much as he was able to get by them.
Without a next-level explosive first step, Dorsey shows commendable patience on the drive. He dribbles with both hands with purpose, guards the ball across his wide frame and uses all the steps the officials will give him to lull defenders to sleep.
When his teammates move and cut off the ball, Dorsey is able to find those unique passing lanes we talked about earlier.
In the example above, you see that Dorsey gets the switch on the pick-and-roll against Cal, with forward Kingsley Okoroh trying to match him at the 3-point line.
With just one dribble and a simple hesitation move, Dorsey pushes past both Okoroh and the help defender in the corner.
The result is a strong finish.
Opponents get suckered into thinking they can slap at the ball or collapse on Dorsey thanks to his slow drives. Dorsey often takes advantage of his own pacing through quick passes to cutting teammates when that is the case.
3-point shooting
Coming out of high school, scouts saw the deep ball as Dorsey's weakness from a true wing position. Luckily, he's appeared to turn that around at Oregon.
Dorsey has made the most 3-pointers out of anyone on the team and leads the Ducks in percentage. In fact, he's so good that if he wasn't 0.3 3PM/G short, he would be a Top 8 shooter in the NCAA.
Dorsey can hit both off a quick pick-and-roll and in more traditional wing roles, running off pin downs and flex cuts to the corner for 3-point buckets.
This success appears to be due in large part to the fact that Dorsey's load and fire is relatively quick.
In the play above, you can see that the Ducks have a relatively simple down screen play set for Dorsey at the top of the key.
Jabari Bird actually does a pretty good job of getting around the pick set by Dillon Brooks, but Dorsey's elevation allows him the bucket.
Most promising about Dorsey's 3-point acumen at this juncture isn't that he's hitting them at such a high clip, but rather that the way he's getting deep bucks is varied. Being able to hit off the bounce or as a true wing will serve him well through his college career and as scouts from the NBA prepare for the draft in a few years.
Deficiencies
At times, Dorsey's drives are unbalanced and a bit forced. If the rest of the team is ball watching, it can lead to disaster.
In this example from the Cal game, we see his flitter from good to bad decision making all in one possession.
Let's start with the good. In the example above, Dorsey cuts down the middle of the lane off a weave. His path is thoroughly blocked by Tyrone Wallace, so he kicks back to Dwyane Benjamin.
But just seconds later, off the exact same action, Dorsey goes out of control. This time, he's guarded by Stephen Domingo, who has his arm up and ready for a shot.
The Ducks guard decides to try and go up and into Domingo's arm -- which doesn't move, thus no foul is called -- instead of kicking to Chris Boucher in the corner. The result is a badly placed shot and a California fast break the other direction.
Not only does Dorsey lead all guards at Oregon in turnovers per 100 possessions, but in personal fouls per game. He gets caught reaching in help situations as he's trying to rebound the ball, or trap in Dana Altman's soft trap.
But, if we're going to point out weaknesses here, the main one would be age. These are mistakes of a young player that should even out with minutes played. Considering the contribution he's made on other areas of the floor, there's no doubt everyone in Eugene is happy with Tyler Dorsey being a Duck.