Oglethorpe, Inc. Tournament of Champions (Boys)
Zion Williamson's Monster 50-Point Performance Steals ToC Show
Zion Williamson's Monster 50-Point Performance Steals ToC Show
Zion Williamson goes off for 50 points and 16 rebounds during the Oglethorpe, Inc. Tournament of Champions.
Nov 24, 2016
by Brett Regan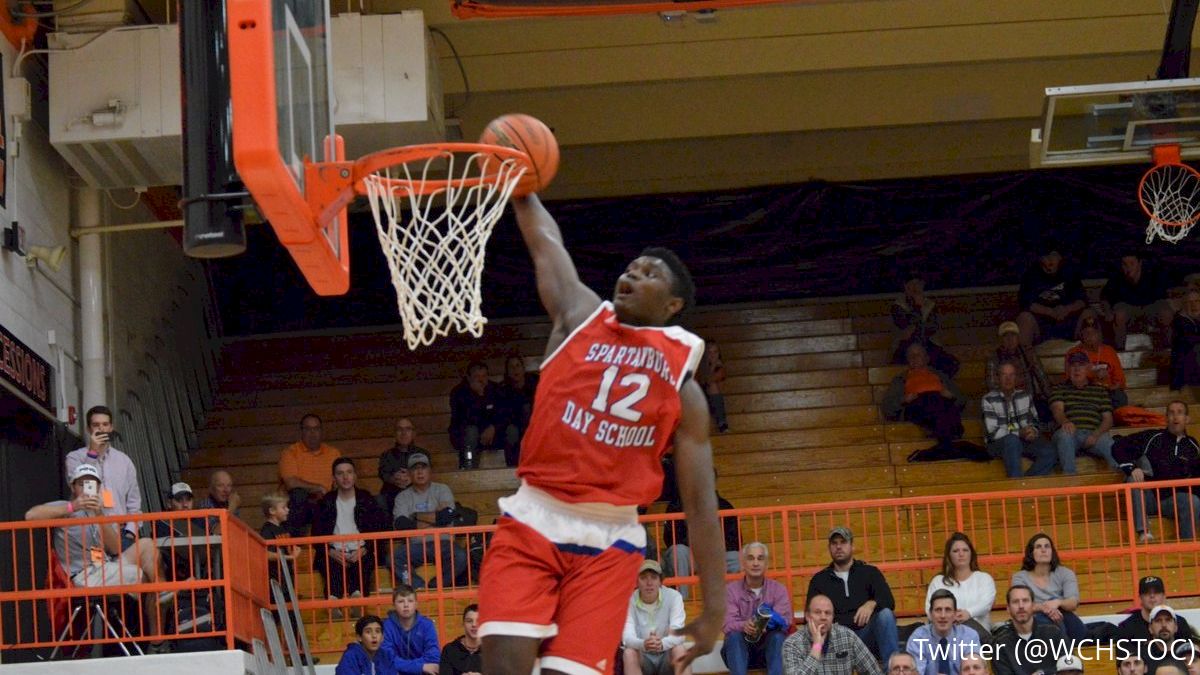 WASHINGTON, Illinois -- When most people think of Illinois, they think of two things: Chicago, which is arguably the nation's hotbed of high school hoops, and corn. Miles and miles of corn. However, on Thanksgiving weekend, these corn fields evolve into one of the premier prep showcases in the country.
For 11 years, the Oglethorpe, Inc. Tournament of Champions has taken over this quaint farming community. The ToC, as the locals like to call it, attracts some of the top talent from all over the country, too. Names such as Anthony Davis, Andrew Wiggins, and Nerlens Noel -- all current NBA stars -- have drawn thousands of people to Torry Gymnasium at Washington Community High School, and all three left crowds buzzing with highlight-reel plays and above-the-rim dunks.

But none ever left the impact one player did on Wednesday.
In the nightcap of Spartanburg Day School (SC) against Proviso East (IL), one player made a strong case to have his name mentioned with the all-time greats of the ToC. Zion Williamson, the No. 2 prospect for 2018, put on a show that left more than 1,000 fans in attendance in awe from warmups to the final buzzer.
The 6-foot-7, 230-pound Williamson dropped a career-high 50 points on 21-for-26 shooting with 16 rebounds and five blocks to help the Griffins prevail 89-77 over the Pirates. And while the numbers are huge, it is only a small glimpse of what he can do.
[tweet url="https://twitter.com/FloHoops/status/801655438186020864" hide_media="0" hide_thread="1"]
With his strong frame, it should come as no surprise Williamson rocked the rim with 10 thunderous jams, while also displaying his silky smooth handles and finesse around the rim. He made easy work of the Proviso East defenders all night and reminded us all of a guy they refer to as "King James" during his St. Vincent-St. Mary days.
As the comparisons to superstar LeBron James continue to be whispered, Williamson and his Spartanburg Day teammates will be back in a action Thanksgiving night when they face Stanford commit Kenzie Okpala and the Esperanza Aztecs (CA) at 7:45 CST live on FloHoops.
FULL WEDNESDAY RESULTS
Other Top Performers:
On the night the featured a tournament-record 50 points, there were also a few players who made a case for early consideration for the FloHoops All-Tournament Team with impressive performances.
Taylor Bruninga (2017, 6-8, F, Illini Bluffs): 37 points, 17 rebounds
Kezie Okpala (2017, 6-8, CG, Anaheim Esperanza): 32 points, 11 rebounds
Courvoisier McCauley (2017, 6-5, CG, Indianapolis Manual): 28 points, 10 rebounds
By Evan Thomas

How to Watch
OGLETHORPE, INC. TOURNAMENT OF CHAMPIONSWHEN:
Wednesday November 23 - Saturday, November 26
ON TV:
Now available on Roku and Apple TV 4 via the FloSports app
STREAMING:
Available only on FloHoops - $20 monthly or $150 yearly. Yearly FloPro access is to ALL FloSports sites.
SIGN UP HERE