2017 Nike Boys EYBL 17U Session #1
Starting Five Storylines To Follow At Nike EYBL Session I
Starting Five Storylines To Follow At Nike EYBL Session I
The best teams and players to follow during Session I of the 2017 Nike EYBL at Boo Williams Sportsplex In Hampton, VA.
Apr 21, 2017
by Brett Regan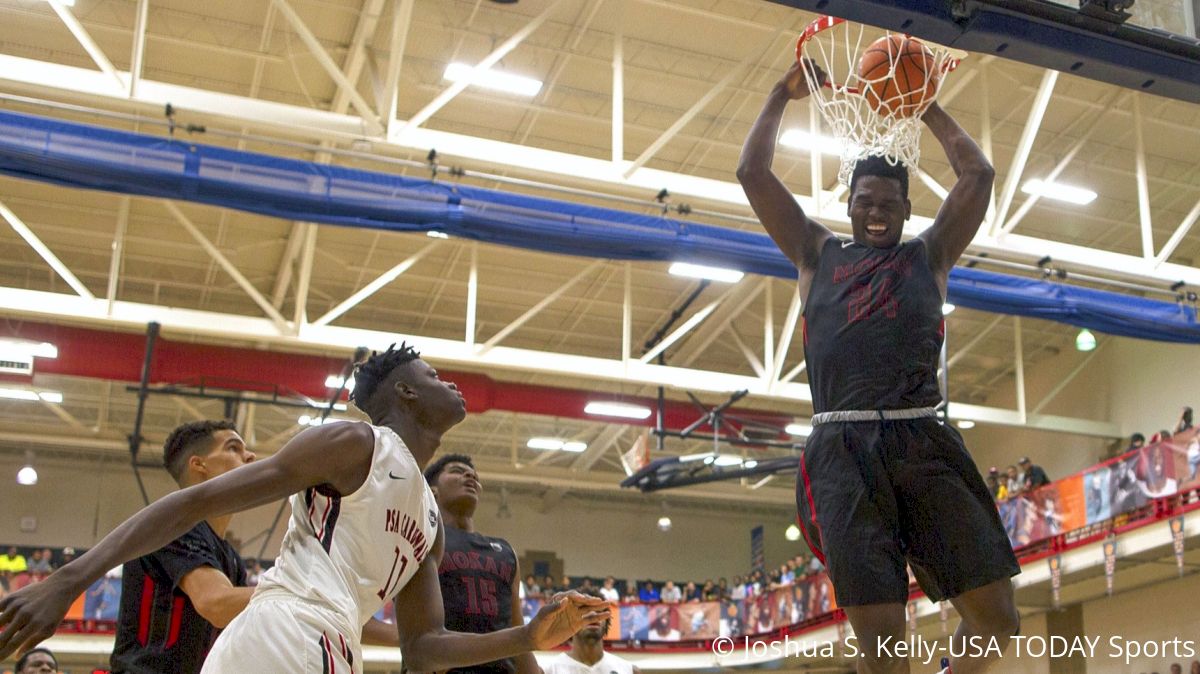 HAMPTON, VA -- For anyone thinking this is the offseason, guess again. What took place these past few months in high school was big time. What is about to happen is on a completely different stratosphere of greatness.
Welcome to Nike EYBL, a 40-team gauntlet mixed up into four sessions, where the elite stick out like a sore thumb and newcomers rise to the occasion.
With Session One for 17U and 16U set to begin here Friday at Boo Williams Sportsplex, here are the top storylines to follow all weekend long:
THE RISE OF THE No. 1s
All eyes will be on Marvin Bagley III and RJ Barrett this weekend. Not only are they the Flo40 No. 1 players in 2018 and 2019, respectively, but they are also looked upon to carry the torch after the graduation of a loaded class. Both players are more than capable to takeover prep hoops completely, and you better believe the lines of coaches to watch these two will stretch around the gym.
CAN BOO WILLIAMS GET BACK TO PEACH JAM?
It would be impossible to talk about the key things to watch and not include the host squad, especially one as historic as Boo Williams and one looking to right the ship. It has been two years since it has made it Peach Jam, which is incredibly rare, and going winless in its own gym a season ago didn't help. It might happen. It might not. That's all that can be said about a team virtually full of newcomers, but look for 2018 Flo40 No. 16 Keldon Johnson to take charge.

WHAT WILL MOKAN ELITE LOOK LIKE?
It's not often you question the identity of the defending Peach Jam champions, but that's what happens when a program loses its star players in 2017 Flo40 No. 1 Michael Porter Jr. and No. 12 Trae Young. The good news is there is still plenty of talent returning, including 2018 Flo40 No. 23 Jontay Porter and No. 24 Carte'Are Gordon, to compete at a high level. No team has ever repeated as champions so the pressure is on the star frontcourt to carry the load and to possibly rewrite history.
HOW DO THE NEWCOMERS IN 17U FARE?
There were certainly some
notable changes to the league this year
, and so now it's time to see how Team Melo (MD), Mississippi Express (MS), Portland Basketball Club (OR), and UPlay Canada stack up with the rest of the field. Odds are it's UPlay that will have the most success with RJ Barrett as the star, but that team is also pretty young. The unknown is fun and that's exactly what this is.
IS TEAM UNITED (NC) THE FAVORITES IN 16U?

The amount of talent in North Carolina is just crazy. Seriously, it's amazing how many elite players the state boasts year after year. And although the 17U might not be a frontrunner or anything, there is plenty to love about the 16U team, which features 2019 Flo40 No. 18 Juwan Gary. This squad is long and dangerous. Don't be surprised if it makes some big statements early.
HOW TO WATCH:
Nike EYBL Session 1 17U & 16U (Hampton, VA)
When
: Friday, April 21 - Sunday, April 23.
On TV
: Now Available on Roku & Apple TV 4 via the FloSports App
On Facebook
:
FloHoops Facebook Page
Streaming
: Available only on FloHoops.com for FloPRO Subscribers.
SIGN UP HERE